My family's Eggplant Parmigiana
11 September 2018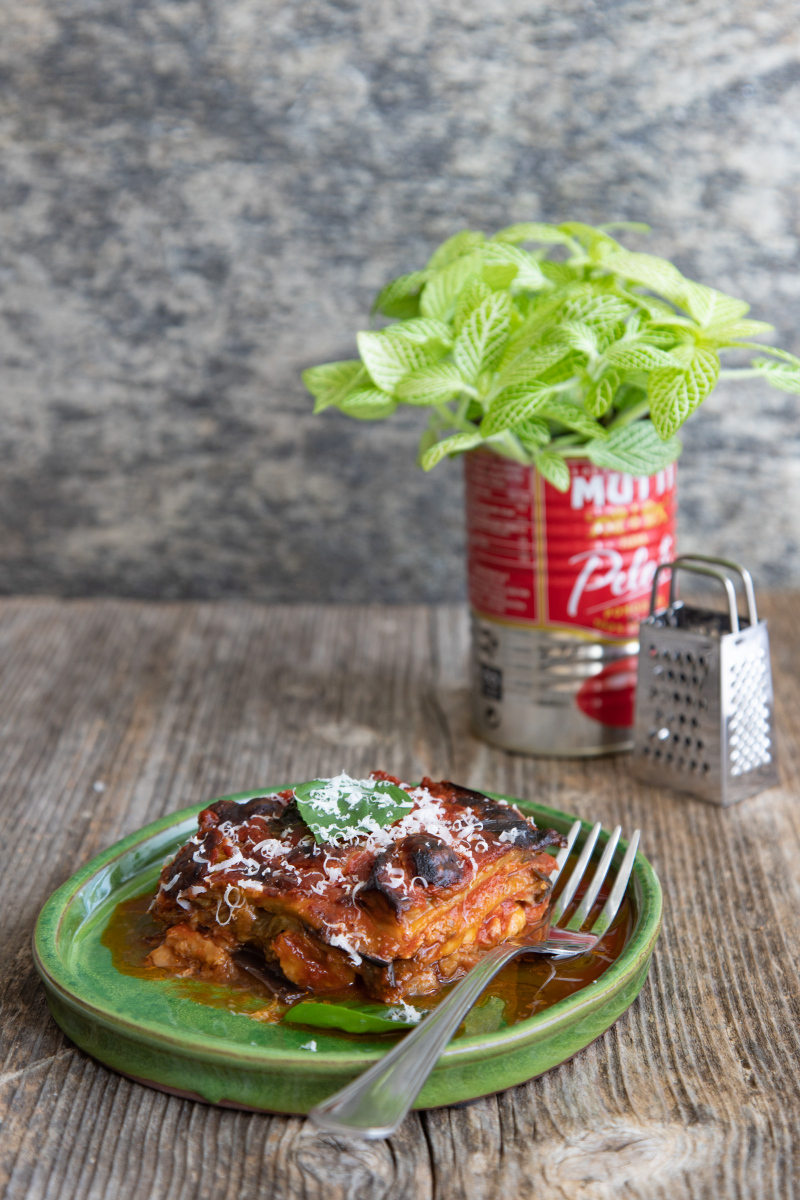 Ingredients
4 eggplants
salt
500 ml of tomato sauce
3/4 tablespoons of extra virgin olive oil
Salt, pepper and a pinch of sugar
some basil leaves
seeds oil for frying
200 g of mozzarella
200 g of thinly sliced ham
100 g of grated Parmesan cheese
I'm arriving late, at the end of the summer, but in fact there is a valid reason.
The eggplant parmigiana is definitely my favorite dish: I can hardly refuse a second portion, it would only mean that the first was shamefully abundant. Warm, steaming, but also heated the next day, for me it is the ultimate comfort food, with those eggplant becoming melting and combined with tomato sauce and mozzarella.
I love to cook them in heavy aluminum pans, I find they are rustic and perfect for these food: I like to look through the oven door and see that the mozzarella on the surface turns from small white polka dots to delicious crispy crusts, I like to see that the tomato sauce slowly boil and is alive under the slices of eggplants.
Usually while the eggplants are in full season, I prepare and consume immediately, or maybe I prepare a couple of pans to freeze for the dinners and immediately following occasions: the first days of September instead are for the winter stocks, to create a parmigiana treasure in the freezer to exhume with a smile on the coldest days of the year.
I'm not looking for summer, I'm more of a winter kind of girl, but for every season there is the perfect vegetables match: I would never prepare a parmigiana with eggplants that I found in January, tasteless, with a dull skin and without any memory of bright and firm fruits that only August can give us.
This recipe is the version of the eggplant parmigiana that you can eat at my house: I don't know where the truth is, there are so many regional versions to lose our head and I would like to try them all. Here we have always used fried eggplant, neither floured nor breaded, and we have always used ham to add flavor and texture to the layers. But this is only my version, which I hope you will take between the pages of your recipe books.
Note
Valentina's parmigiana, which I find really delicious and above all very high and juicy, includes breaded and fried eggplant. Its filling is made up only with cheeses but I would say that you don't miss anything. You can find the recipe by clicking HERE. https://www.profumodilimoni.com/recipe/parmigiana-di-melanzane/
Giulia's parmigiana has the addition of the egg in a way I had never seen before: I must say that it intrigues me a lot and I have to try it. Giulia love parmigiana as much as I do, so If you want to try her version, and read her story, you can find the recipe HERE. https://it.julskitchen.com/vegetariane/melanzane-alla-parmigiana
Tamara instead prepares it in white and it can be a good idea for those who can not tolerate the tomato, which is actually a vegetable that gives problems to many. You can find the recipe here https://www.perleeciambelle.it/parmigiana-melanzane-in-bianco-provola-basilico/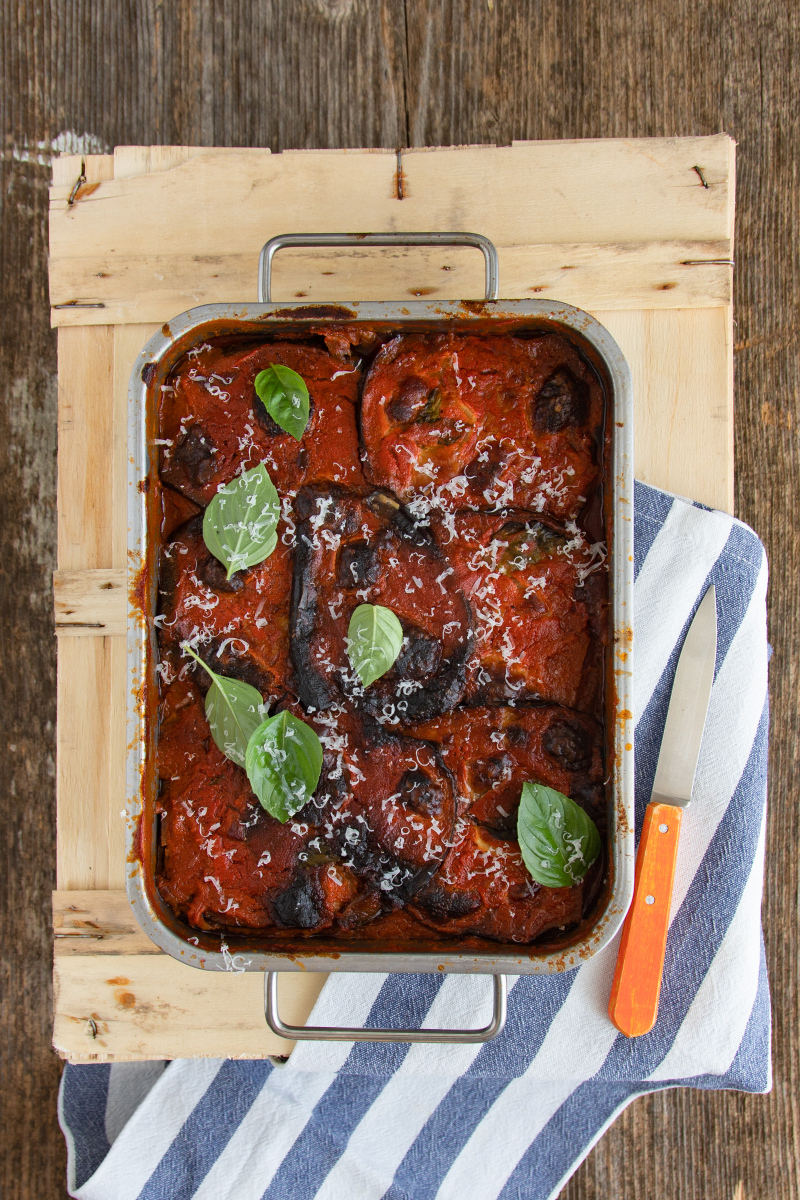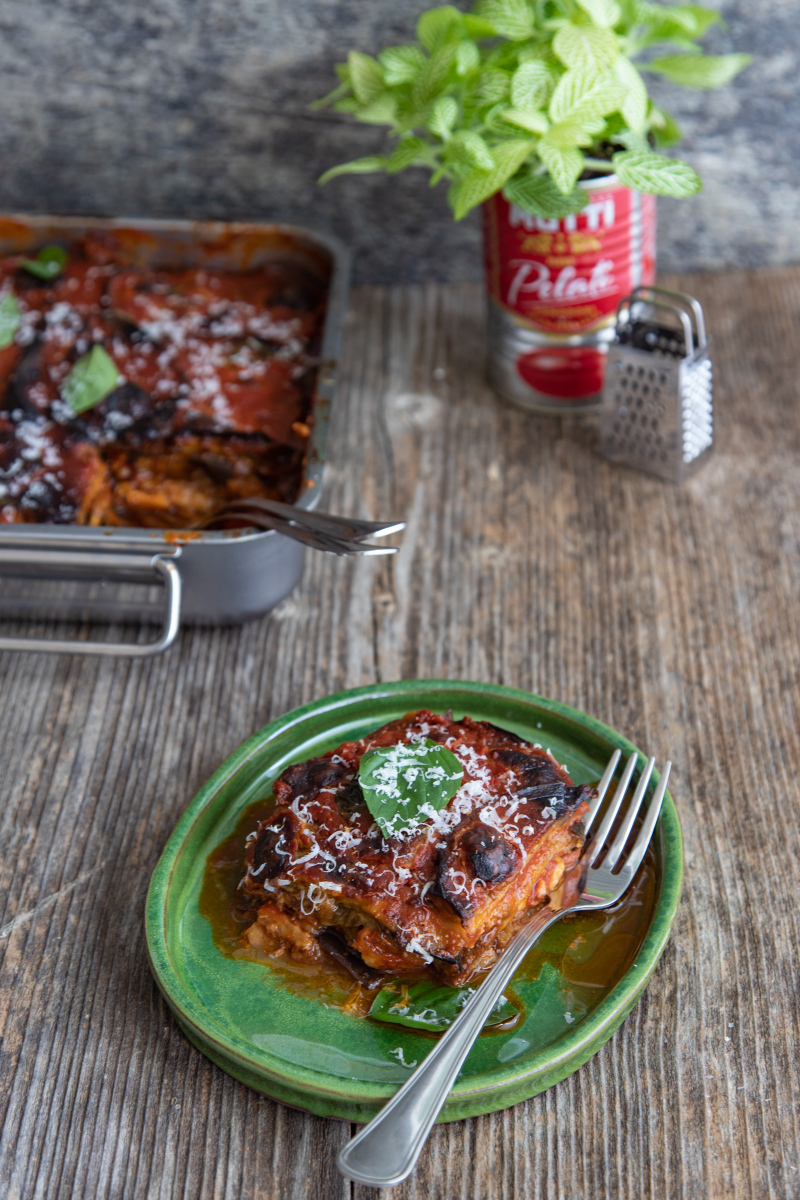 Steps
Wash the eggplants and remove the two ends, then cut them in slices that are not too thin.
Arrange them in a colander in layers interspersed with a few handfuls of coarse salt, then cover with a sheet of baking paper and place something heavy on top, maybe a meat tenderizer, so that they can purge all the bitter liquid out. It will take about an hour.

Meanwhile, you can prepare the tomato sauce by heating the extra virgin olive oil in a saucepan, then pouring the passata and adding a few leaves of fresh basil. Now adjust the salt and pepper, add half teaspoon of sugar and cook for about ten minutes.

Rinse the aubergines very well under running water and dry them very carefully by dabbing with a clean cloth or paper towel.

In the meantime, start to heat the oil in a large pan: check that it is at the temperature sacrificing a slice of aubergine or dipping a toothpick, which if it makes the bubbles around it means that it is hot enough.

Fry the slices, a few at a time, in order to brown both sides, then collect them with a pierced ladle and place them in a dish covered with paper to absorb the excess of oil.

Now prepare the parmigiana: in a baking pan suitable for cooking in the oven, pour a few tablespoons of sauce so as to dirty the whole bottom then make a first layer with fried aubergines.

Proceed now covering with some ham, then the mozzarella cut into small pieces, tomato sauce and grated Parmesan cheese. Now start again with the aubergines and so on, until you finish the ingredients, making a last layer with the tomato sauce, a few pieces of mozzarella and a generous dose of Parmesan cheese.

Bake in a preheat oven at 180 ° C for about 45 minutes, until it become golden on the surface.

I serve parmigiana after a few minutes of rest: I find that are better when warm and even better the next day