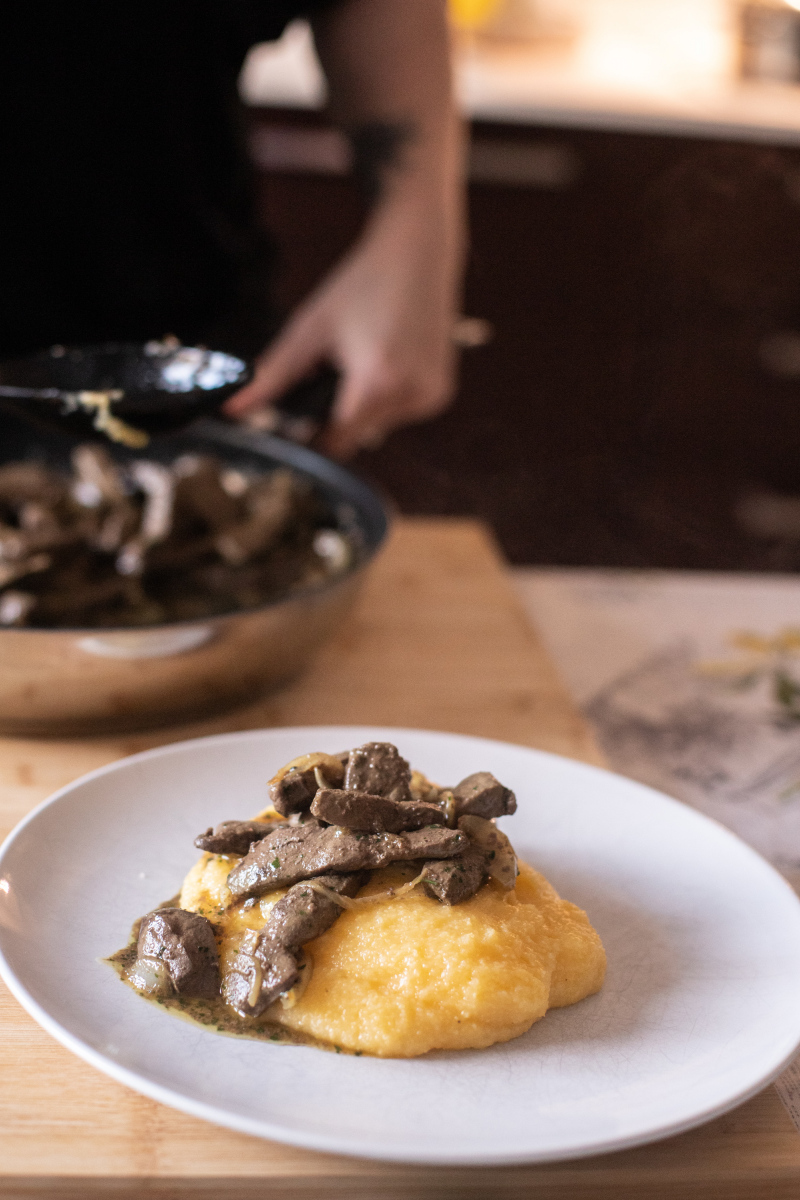 Ingredients
For the liver:
A large golden onion
A bay leaf
4 tablespoons of oil
About 80 g of butter
500 g thinly sliced ​​veal liver
salt, freshly ground black pepper
2 teaspoons of balsamic vinegar
For the polenta:
1/2 kg of corn flour for polenta
I am well aware that talking about liver on social networks or on the blog is not exactly like talking about a chocolate tart or a plate of spaghetti alla carbonara: we often prefer to propose recipes that can be pleasing to most people, leaving out those pieces of history which instead risk being lost forever.
When I started talking about Venetian cuisine, I decided that I would write indifferently about delicious recipes such as a macafame cake made with leftover bread sweetened with apples and raisins, as well as liver or tripe: they belong to the culinary culture of my region and are in danger of disappearing from tables of us young people.
In the butchery where I usually do my meat shopping there is always a lot of coming and going customers, often in this period there is a queue such as we have to wait for our turn outside the door: but if you remain seated on the sofa they have set up inside, in an hour, probably only one person, or perhaps none, will ask to be served with liver or tripe or, in season, with the "ossi del mas-cio", pork bones with pieces of meat attached wasted from the processing of more noble cuts.
Slices of beef are preferred, but if cooked badly they are as soft as a shoe sole… chicken drumsticks (not even whole chicken!) or preparations like hamburgers flavored with the addition of radicchio or cheese.
We have somewhat lost the sense of respectful and intact use of the animal: some more fibrous parts, if cooked long and with the right precautions, as well as being super cheap are also nutritious and delicious.
But let's get back to the liver: always eaten since childhood, it never impressed me as it could be for someone who approaches this particular cut when grown-up.
It is one of the cornerstones of Venetian cuisine: a very simple, poor recipe that can be made in a very short time.
If it impresses you, I will not be able to convince you, I already know: this is not my intention.
But if you want to give it a chance, this is the right recipe.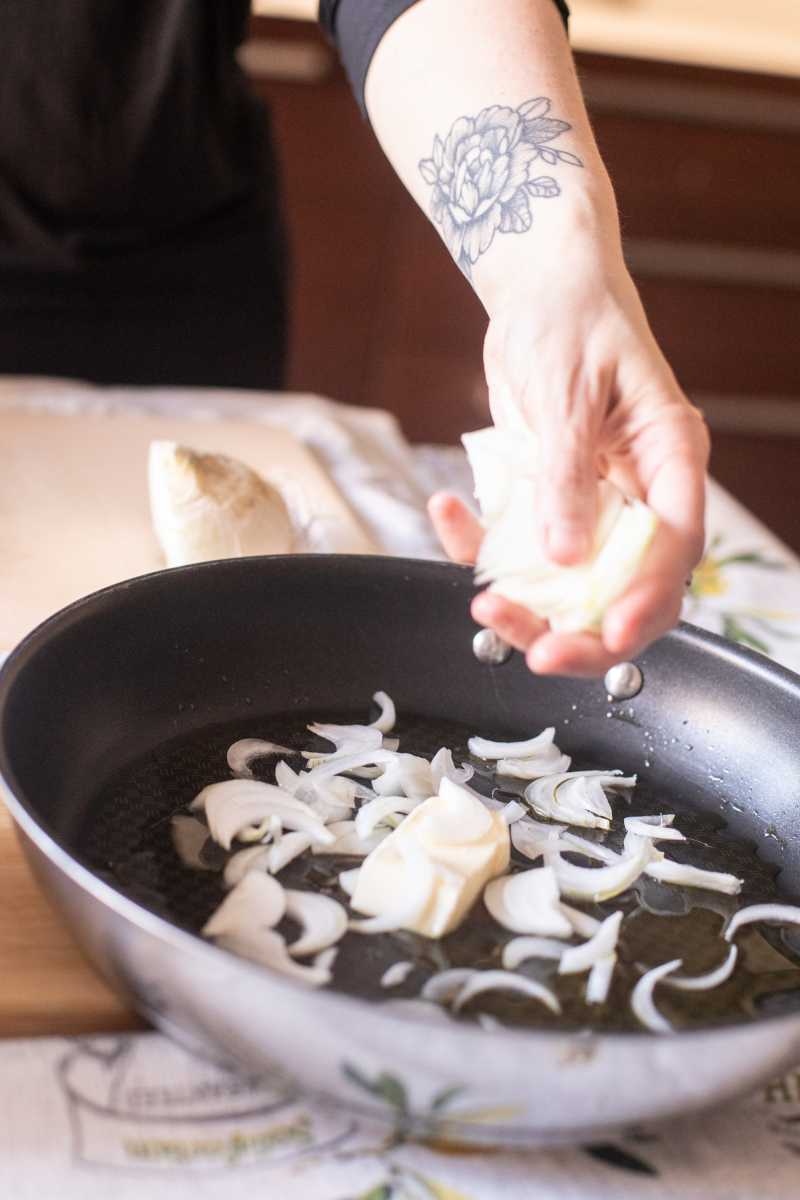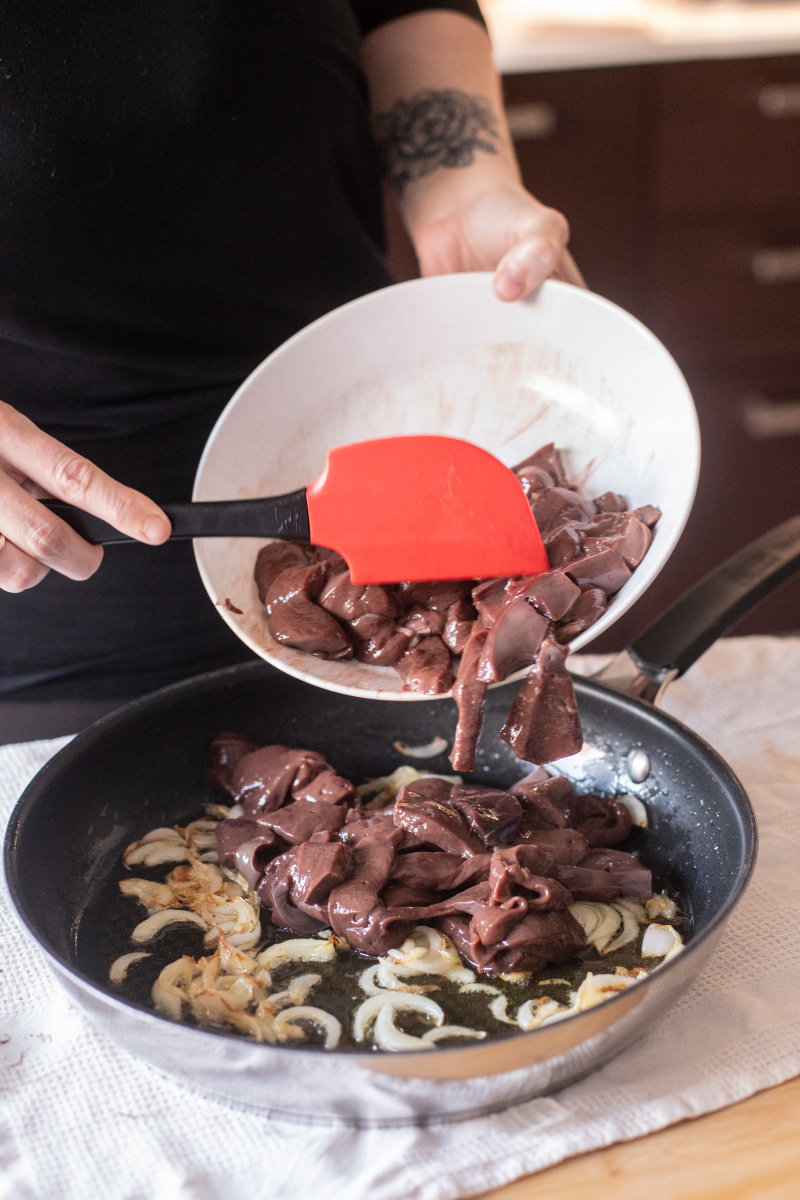 Steps
Clean the onion by discarding the outermost peel, similar to a dry leaf.
Slice it very finely and place it in a large cold pan together with the bay leaf, oil and butter.
Over a very low heat, melt the butter and at the same time the onion will be stewed: it must never brown, it must soften and be translucent.
Meanwhile, cut the liver into small irregular pieces, about 2/3 cm per side.
As soon as the onion is cooked, add the liver and remove the bay leaf.
Cook gently and as soon as it changes color uniformly on the outside, going from red to brown, and will firm up, it will be cooked.
Don't overcook it or you'll risk eating pebbles.
Raise the heat a little, add the vinegar, let it evaporate well.
Salt and pepper and serve very hot with the sauce of butter and onions and the polenta.


Prepare the polenta: heat the amount of water indicated on the polenta package of your choice in a very large saucepan, then add a pinch of salt and cook it following the instructions.
Serve it soft with a spoon with the liver and its sauce on top.