Fusilli with zucchini and zucchini blossoms, ham and mint
12 July 2018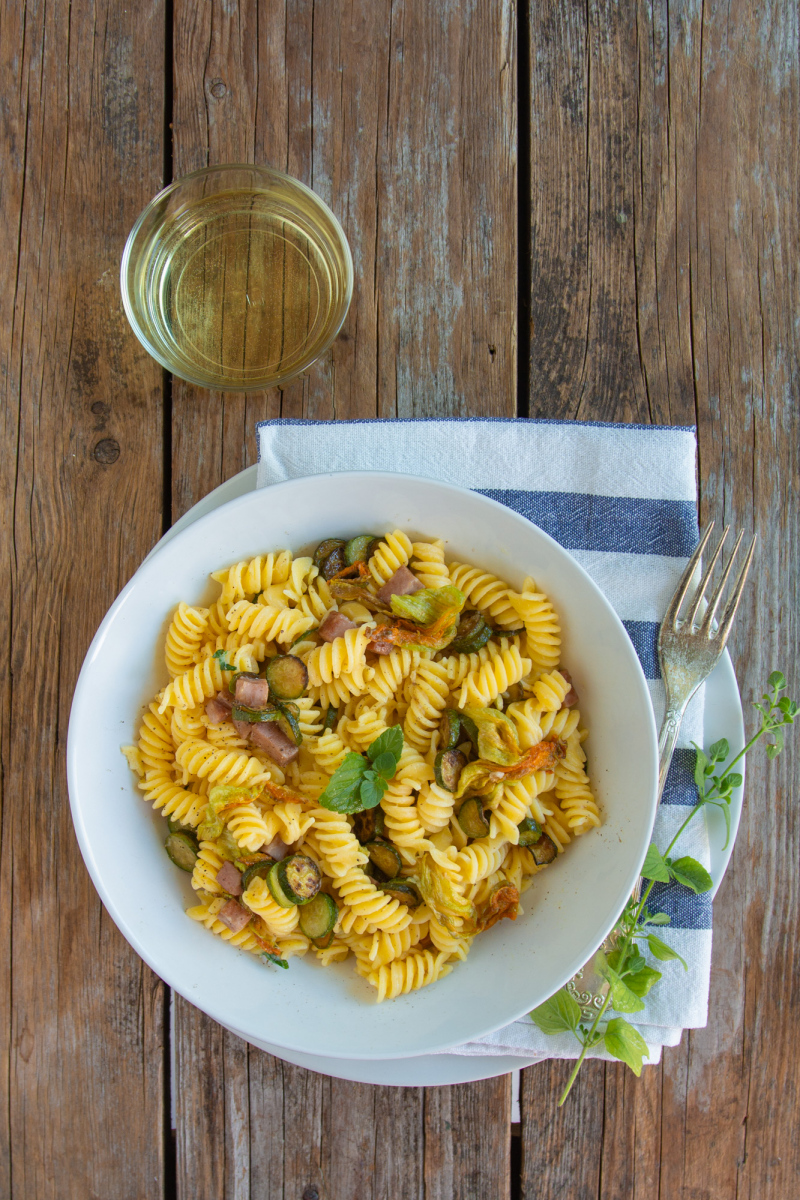 Ingredients
6 baby zucchini
Extra virgin olive oil
salt, freshly ground black pepper
200 g of ham cut into a single slice
6 zucchini flowers
2 large spoons of fresh ricotta
320 g of corn pasta
A few leaves of fresh mint
There are always plenty of zucchini in my house when in season and when my dad had the garden even more. I like them with pasta very much, as part of a fresh sauce: today there's a recipe that smells of summer.
A few days ago I saw on Instagram the help request of my friend Genny who, invaded by zucchini from her garden, asked if anyone had any idea to how to cook them differently from the usual ... in her case there are also three small mouths to please (read, deceive too) with flavors that are not too strange to entertain them but comforting to let them recognize the "good" they are used to.
To me, zucchini there are always plenty when it is season and when my dad had the garden even more. If I cook them alone, as a side dish for example, I always prefer them very simple and in purity, as it is fashionable to say: I like them grilled, with that dazzling of the lines of the cast iron pan on the fire that enrich the watery taste, or in a pan, stewed with a good extra virgin olive oil that rounds up their presence in the dish.
I have also learned to insert them as an ingredient for example in meatballs, to reduce animal proteins and add freshness and even unexpected softness to each bite.
I discovered that they are very well paired with ricotta, frothy and fresh, perhaps as a condiment for a pasta, and with mint, balsamic perfume that gives to zucchini that part of the character that, let's face it, miss them.
I like them very much in pasta, as part of a fresh sauce: today I cooked corn fusilli, more yellow and also with a more pronounced taste of wheat pasta, and I seasoned them with baby zucchini, flowers and cubed ham. It was a good lunch, made with no effort and ingredients that at home we can easily have in the refrigerator.
I hope you like it too.
NOTES
Some friends from the web help me with interesting ideas.
Giulia, for example, prepared the baked eggplant: I used her method with the sliced ​​round zucchini and they were very appreciated, because the pulp in the oven becomes creamy and the gratin remains crisp and pleasant.
Margherita, in addition to being an excellent restaurant advisor in Montreal (thanks again!) also makes zucchini pancakes that you remember them for a long time and become one of those dishes to be proposed at every dinner.
Daniela cooks zucchini in the oven and perfume it with mint, then wraps them in a breadcrumb that encourages you to take them with hands and to lick the crumbs that remain on the fingers.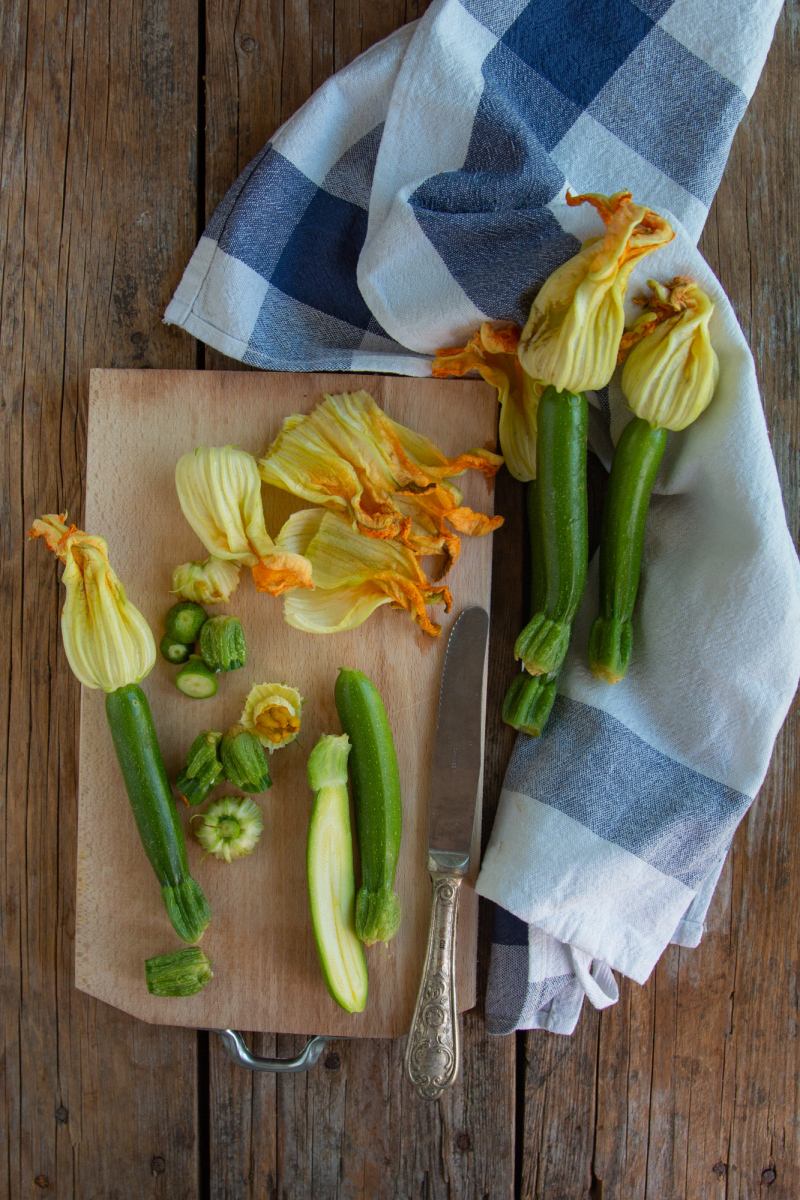 Steps
Cut the zucchini into small slices.
Clean the flowers by removing the inner pistil.
Cut the ham into small cubes.

Boil the water for the pasta and as soon as it reaches the boil, add salt and cook the pasta.

Meanwhile in a large pan put the zucchini slices, a generous dose of oil, salt and pepper to season and cook briefly over medium heat until the zucchini are tender.
At that point, raise the fire, add ham cubes and let it brown quickly.

Add the flowers and turn off the stove, they will cook with the residual heat from the pan.

Add now drained pasta, ricotta, chopped mint (with your hands) and mix everything well.
You are reading:
Fusilli with zucchini and zucchini blossoms, ham and mint