Ingredients
1 kg of mixed fish like monkfish, codfish or red snapper;
500 g of molluscs like shrimps, prawns, scampi, also cuttlefish, squid and/or moscardini;
500 g of mixed mussels and clams
4 scallops
1 clove of garlic
1 white onion
1 celery stick
1 carrot
½ glass of dry white wine
Extra virgin olive oil
Fresh ground black pepper
To accompany, bread or polenta.
Finally we begin to breathe the summer air even in the Pianura Padana: after the winter fog, spring has made a little effort to start, but then it's exploded in great colors and, unfortunately, even pollen and various predominantly allergenic spores.
Summer here also means humidity: in recent years I have really hardly endured the torrid temperatures, when there is not even a bit of air, and I found myself living between the air conditioning at home and the air conditioning and the shopping center.
But if you move a bit from Vicenza you can find the sea in a short time, with its refreshing breezes: I don't like day trips so much, traffic jams makes me nervous more than spending 4 hours at an airport, but for a walk in Jesolo or Caorle is what it takes.
I love eating fish and buying it always fresh, ready to throw on a pan or on the grill and to be savored in all its softness and buttery consistency; I really like shellfish sauces but I go crazy for a properly made fish soup.
Whether it is with or without tomato, it does the same for me: I really eat it so greedy, with the fear that someone can steal it from me. Fortuitous the experience of the cacciucco for example: I loved it, too bad the spiciness due to a chef's heavy hand probably.
Fishermen from Chioggia certainly did not have the problem of freshness: "el broeto" (the brodetto) was born as a dish for using that fish that they did not sell, for size or because not liked by customers, and that was cooked to please their stomach.
The traditional accompaniment is now a nice slice of rustic bruschetta bread, but it was not what the fishermen used to be… the white bread was very "precious": a slice of white polenta or a nice crunchy "bussolà" was the choice of the time.
It is a quick preparation, because fresh fish takes short times of exposure to heat: but be careful because the risk to obtain stubborn and unpleasant meat is high.
You will soon make it and your friends and family will smile at you with their eyes and their mouth.
NOTES
The recipe is by Annamaria Pellegrino from the blog "La cucina di QB", great source for everything related to the Venetian cuisine and not only (http://www.lacucinadiqb.com/2016/03/brodetto-delladriatico-o-broeto -de.html).
The only replacement I have made is white wine instead of vinegar, which I really do not appreciate unfortunately.
The fish has a seasonality: the brodetto was obviously prepared with what was available time per time. My advice is to find a good fishmonger in your area and to get advices from him: in the recipe there are all the alternatives.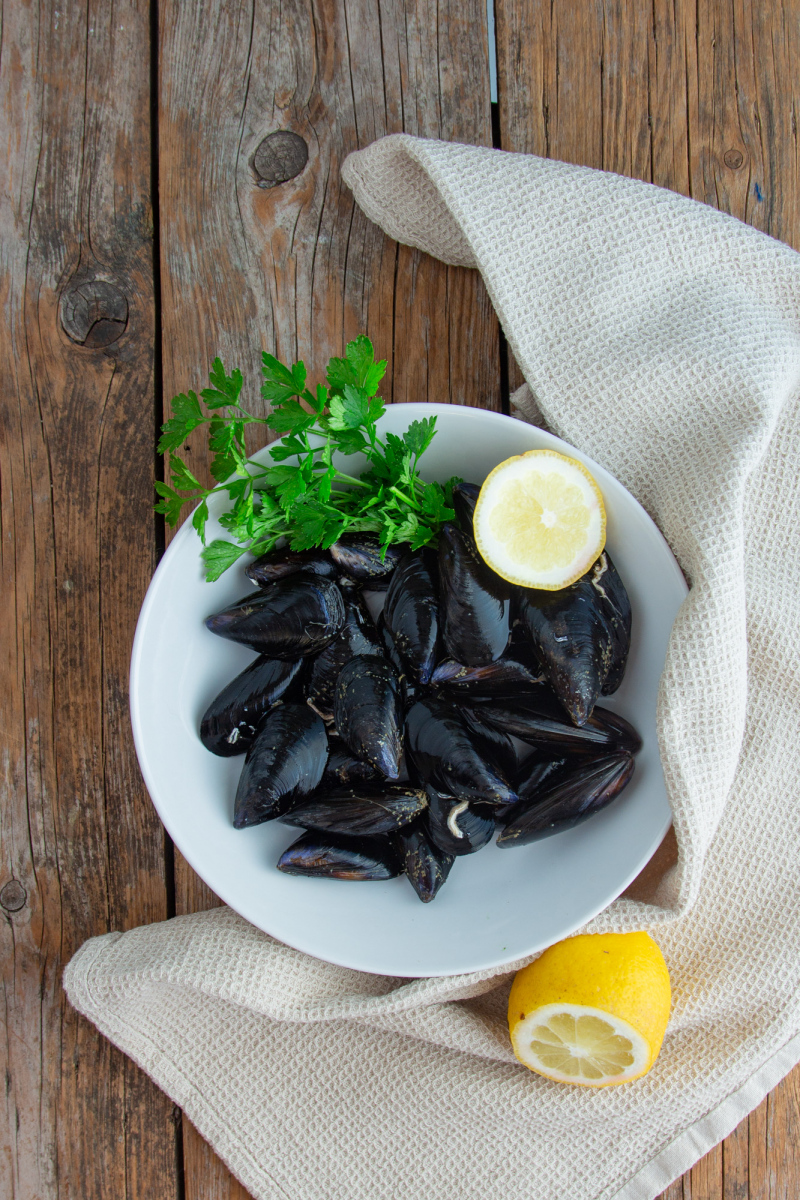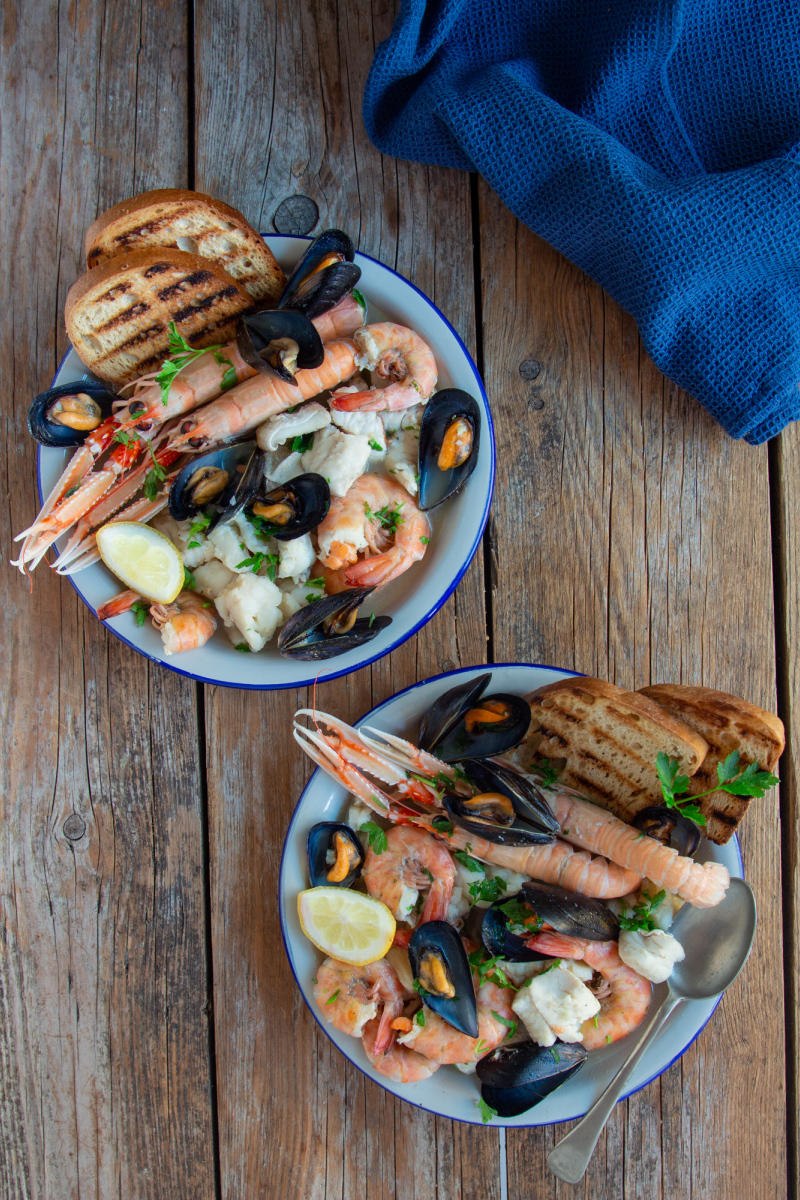 Steps
Clean the mussels, scraping the outside and removing the beards: leave them in cold water and salt, together with the clams.
Eviscerate and clean all the fish, cut in fillets and put the carcasses aside (ok, you can have it done by the fishmonger, but you have to ask for the carcasses because you need them for the stock)
Arrange the fillets in a tray, cover with foil and place in the fridge.

In a saucepan, heat a couple of tablespoons of olive oil, press hard with a wooden spoon the carcasses until brown, then pour 3 liters of cold water and a few ice cubes.
Bring to a boil, add the celery and carrot, then low the fire: you have to froth when it forms on the surface and reduce the liquid in half.
Filter, set aside keeping it warm.

Finely chop the onion and garlic.
In a big pan, brown the chopped onion and garlic on a low heat, add the molluscs you have chosen, some ladles of stock, let the wine evaporate and then continue cooking over low heat and covered for 15 minutes.
Now add the mussels and clams and leave them to cook until they open and at that point add the fillets cut into small pieces and cook for another 5 minutes, without ever stirring.

Add salt and serve hot with its sauce.