Red and black rice salad with seared salmon, spring vegetables, lemon peel
28 March 2021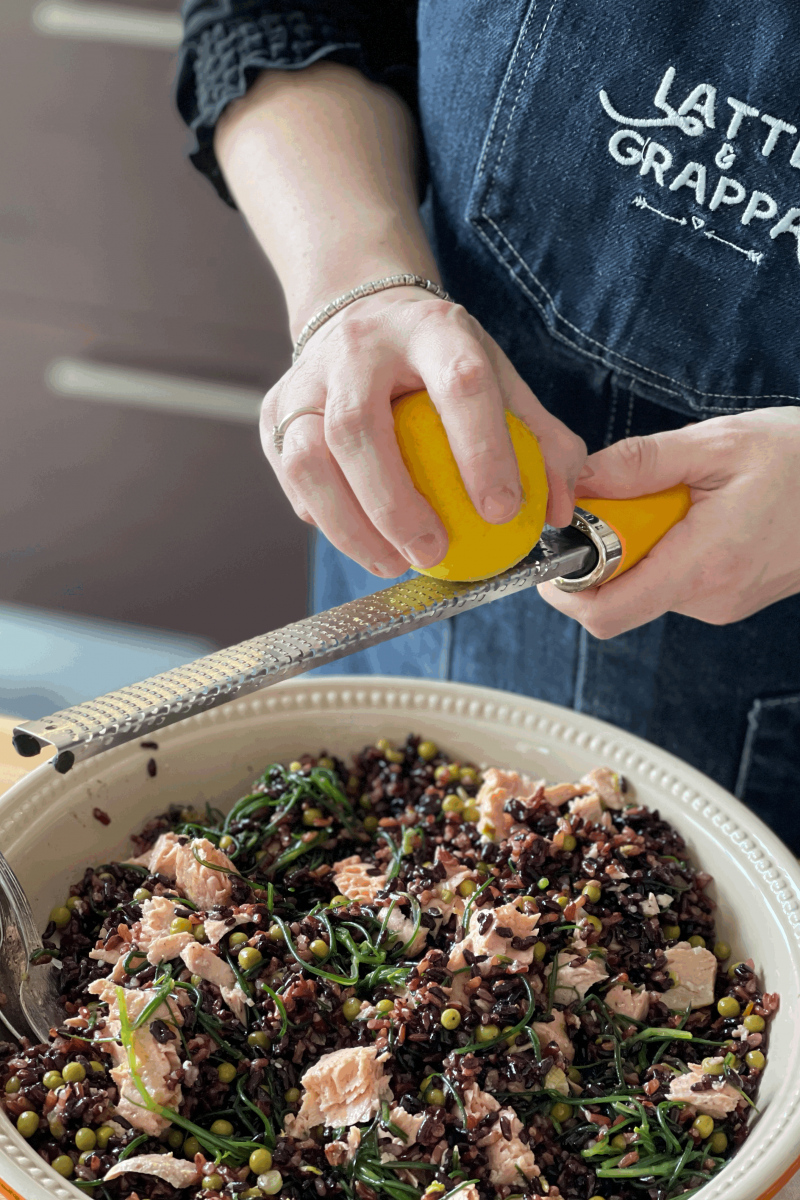 Ingredients
Agretti, 1 bunch
Extra virgin olive oil, 4 tablespoons
Spring onion, 1
Black rice, 160 g
Red rice, 160 g
Fresh shelled peas, 150 g
Fresh salmon fillet, about 500 g
Salt, black pepper
Half a lemon grated lemon peel
About a year ago, back in March, I published my first video recipe on the blog: it was a baked chicken, light and quick to bake but flavored with lemon, lots of herbs and the Mediterranean scents of olives and capers (you can
find the recipe here
).
In the meantime, I made two more video-recipes (yes, there aren't many, but for me they're challenging!) and I had a lot of fun: setting up the ingredients on the table, arranging the kitchen well so that the truth of a kitchen used every day couldn't be seen behind my back, preparing the pans I need and planning my moves in advance, mentally going over them before starting.
Then came the Reels, and I feel a little late with my slow motion video, but I like being vintage and I'm going my own way, while experimenting with new technology because it's just right.
When we published the chicken video we were talking about the search for simple dishes, given the lockdown situation we were about to experience a completely new situation for an entire planet that no one knew how to deal with or what to expect or for how long: I must say that at the beginning it was scary but new, we all had the energy needed to cope with it, while now we are quite exhausted and we count the past months, which weigh on our backs, on our wallets and on our moods.
Spring is coming again and we are still here, still barricaded in a distorted and limited reality, a Matrix that until now existed only in a movie: we still talk about light meals to not overdo the calories given the sedentary nature that distinguishes us and looking for the new spring vegetables because we are tired of cauliflower and broccoli.
And spring is coming, with the green of the new peas, with the first spring onions, sour but delicate and tender, with the agretti, pungent a lemon and fleshy as a succulent plant, and available for such a short time!
So I cooked some colored rice, which by now is an ingredient that has made its way into Italian kitchens especially of those who love healthy cooking and are attentive to flavor and food variety: I added quite a bit of these new green vegetables and paired it with a good fillet of salmon, seared violently on the outside to keep it juicy on the inside.
And I shot another video recipe with it: after all, I'm staying vintage.
If you too in this period would like to learn more about how to combine healthy foods without sacrificing taste, if you like to cook, if you are passionate about learning about foods and their properties, you can learn more by reading on the Aboca website about the Peak Glycemic Awareness Diet Method and then
send your recipes here
You can find my recipes and the community recipes!
Steps
Clean the agretti by removing the filaments that are not green or a little damaged and cutting the final piece of the roots. Wash them thoroughly.
Clean the spring onion and slice it thinly.

Prepare three saucepans by filling them with water and put them on the stove, adding a pinch of salt when it comes to a boil. Cook the red rice in one and the black rice in the other, following the minutes indicated on the package, then drain and set aside; in the other saucepan cook the agretti and peas, blanching them quickly, then drain them too.

In a non-stick pan pour the oil and the spring onion and brown them, then place the salmon on the skin side, let it sing well until the crust forms underneath and until you see that the pulp starts to turn pink on the base. Turn with a spatula, cook another two / three minutes over high heat and set aside.

Combine the rice with the vegetables, season with salt, pepper and oil if necessary, add the chopped salmon, the grated lemon peel and serve warm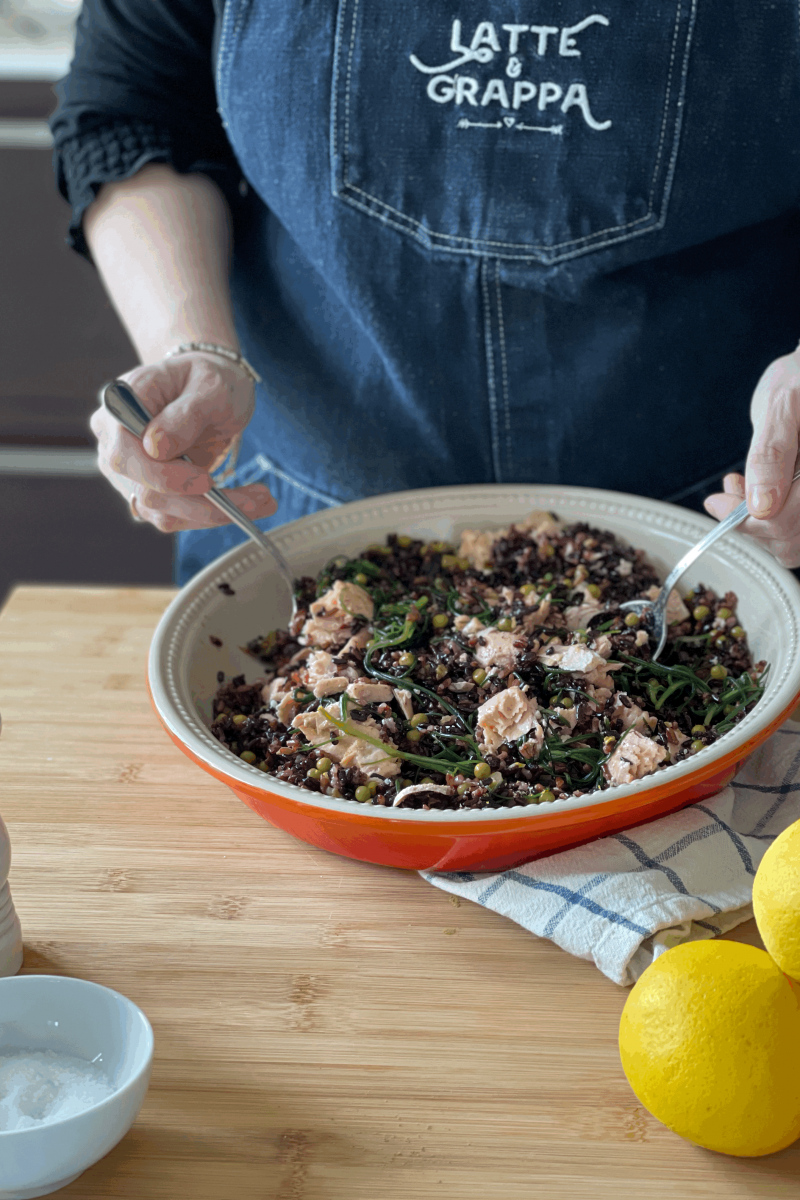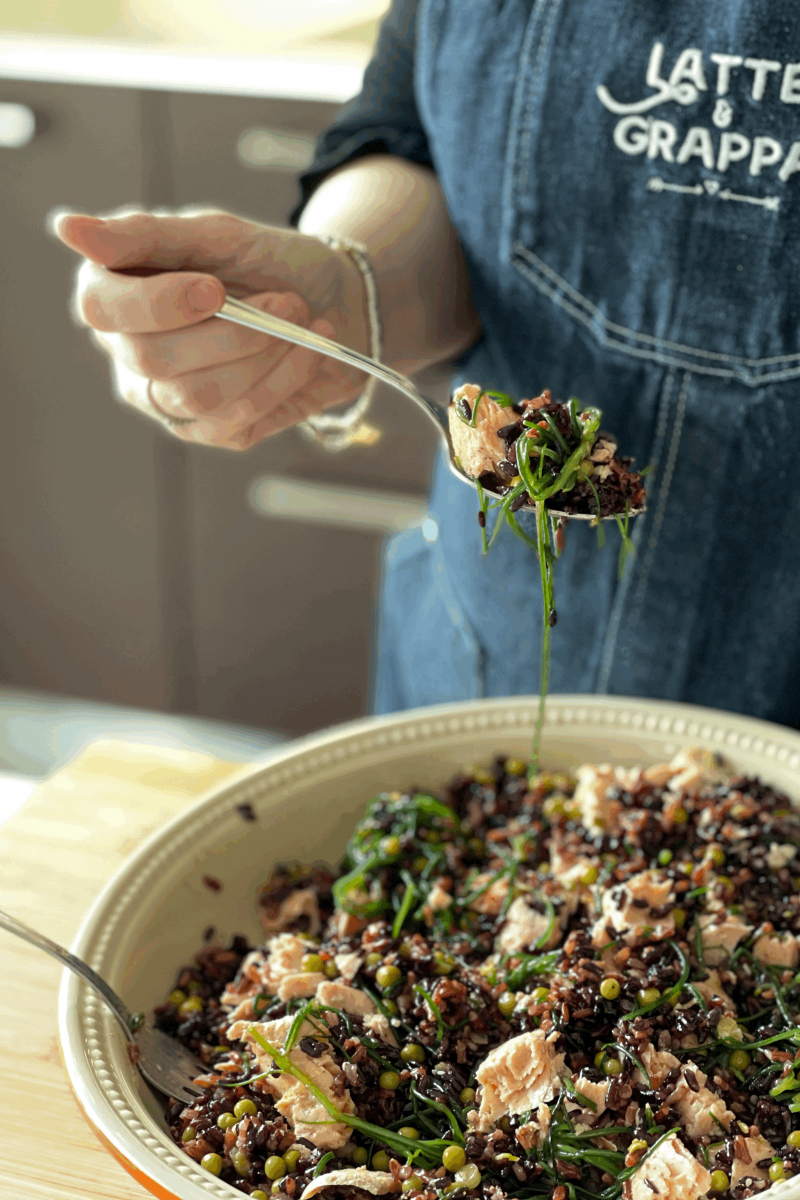 You are reading:
Red and black rice salad with seared salmon, spring vegetables, lemon peel