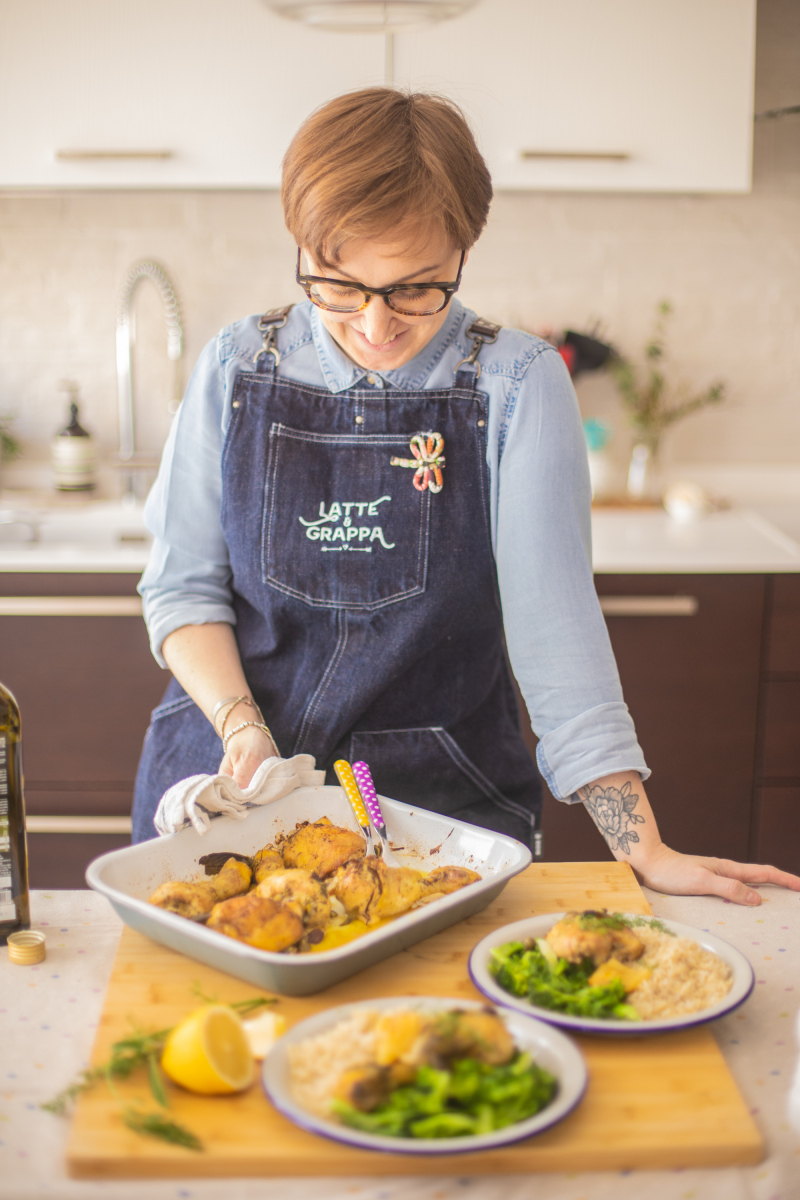 Ingredients
Extra virgin olive oil, 5/6 tbsp
Garlic cloves, 3
Leek, 1 small (or half if large)
Lemon, 1
8 pieces of chicken (thighs, better)
Dried oregano
Salt and freshly ground pepper
Sage, a few leaves
Fresh wild fennel
Desalted capers, 10/15
Taggiasca olives, without the stone, 10/15
Dry white wine, 1 cup
Brown basmati rice, 250 g
One of my favorite things is to go into the houses, mine or that of others, and to smell good cooking, roasted food, soup simmering on the fire.
The feeling of welcome and familiarity strikes straight to the brain and stomach, immediately predisposes us to friendship, makes us feel welcomed.
The same happens to me when I smell the scent of burning embers, ready to mark the meat by burning the grills.
When I host some friends for dinner, I always try to provide a dish cooked in the oven, because it heats the kitchen well, smells it and makes waiting for the meal more bearable:
that's why I love cooking in the oven, for this reason but also because while one dish is cooking I can do something else, without the need to systematically check the cooking.
Chicken is perhaps the most versatile protein used in cooking: I like it in any way, it's light and I digest it much more easily than a red meat steak.
I enjoy cooking it with different flavors every time, so as to always give it a new aspect, never boring.
By the way, at a time when we are really limited in movement and therefore we try to eat healthy and nutritious but balanced things, chicken is a food that if accompanied with vegetables and maybe whole grains satisfies our stomachs.
This chicken was also the occasion to try to make my first video recipe: I hope you will like it and you can find it clear and complete!
If you too want to learn more about how to combine healthy foods without sacrificing taste, if you like cooking and if you are passionate about knowing foods and their properties, you can learn more by reading on the Aboca website about the Aware Diet Method of Glycemic Peak and then send your recipes here >>
https://bit.ly/2U9VoLf
I hope my chicken inspires you!
Steps
In a baking dish place the garlic, the finely sliced leek, half a lemon cut into 4 parts and the oil.

Take the chicken pieces and season them with oregano, salt and pepper, massaging them a bit, then place them in the baking dish.

Add a few sage leaves, wild fennel, capers and olives and dip with some dry white wine.

Bake at 180/190 degrees for about 1 hour, checking that the chicken is cooked well inside before taking out of the oven (pass a blade near the bone, the meat must be white without traces of blood otherwise prolong cooking for a while)

In the meantime, boil the rice and steam the broccoli, divided into small florets.

Serve the chicken with rice and broccoli, sprinkling the juice of the remaining half lemon over it.