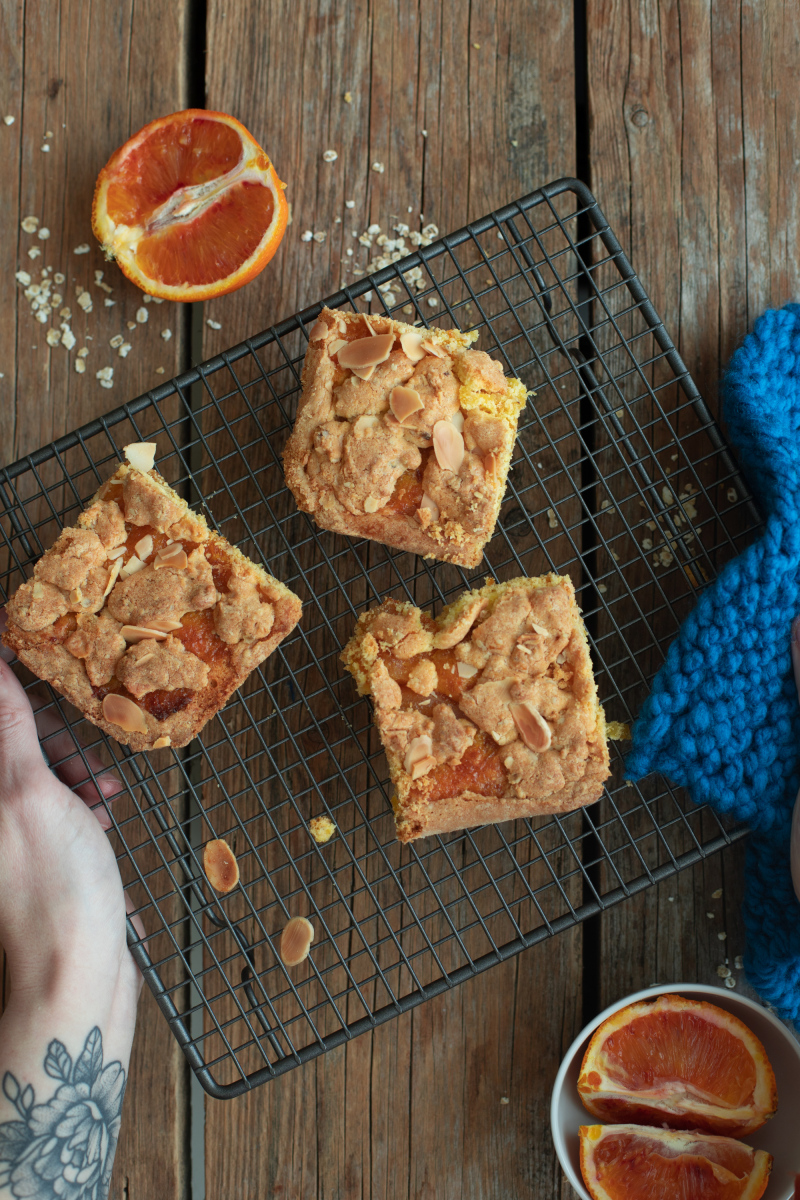 Ingredients
300 g of mixed flour (prepared with 130 g of rice flour, 30 g of corn meal, 70 g of potato starch and 70 g of corn starch) (¶)
4 egg yolks
115 g of icing sugar
150 g of butter
Grated orange peel
2 tablespoons of oat flakes
2 tablespoons of flaked almonds
1 marmalade jar
Yesterday I felt as if winter had not ended yet, as if I needed to hold back the feeling of cold hands, solved with a cup of hot tea, the warmth of a fireplace, which smells of smoked, while the wood logs crackle .
It is a moment of transition, in which we still wrap ourselves in the morning in a big scarf but on the market benches we already find strawberries: they are middle months, in which the desire for the sea collides with the still sparkling temperatures.
So I took 1 kg of natural oranges, with the outer skin untreated, and wondered if preserving the aroma in a jar could prolong that feeling that warms the heart. I started slicing them and while the knife met the resistance of the thick skin, streams of juice descended from the cutting board, perfuming the house with citrus scent.
It was not enough, definitely: a spicy touch is needed to remind me of winter during the summer.
I followed a recipe by Donna Hay: I diligently executed, adding cinnamon sticks, cloves and star anise. But then I put a vanilla bean and, while the black seeds melted in the liquid, I felt a little cheaters and I winked at myself laughing.
And so, while the jam was boiling, some thoughts were dissolved together with the oranges: and so it comes a very clear idea of how to use the first jar.
And a delicate but well-defined Crostata took place in my oven.
The pastry recipe is gluten-free and is made with the Gaia's flour mix from the blog La Gaia Celiaca. If you have a favorite pastry dough recipe, feel free to use it, it will be fine: if you want, however, give this pastry dough a chance because the touch of corn flour and the fragrance it releases during cooking are truly unique.
You can find here
the orange marmalade recipe.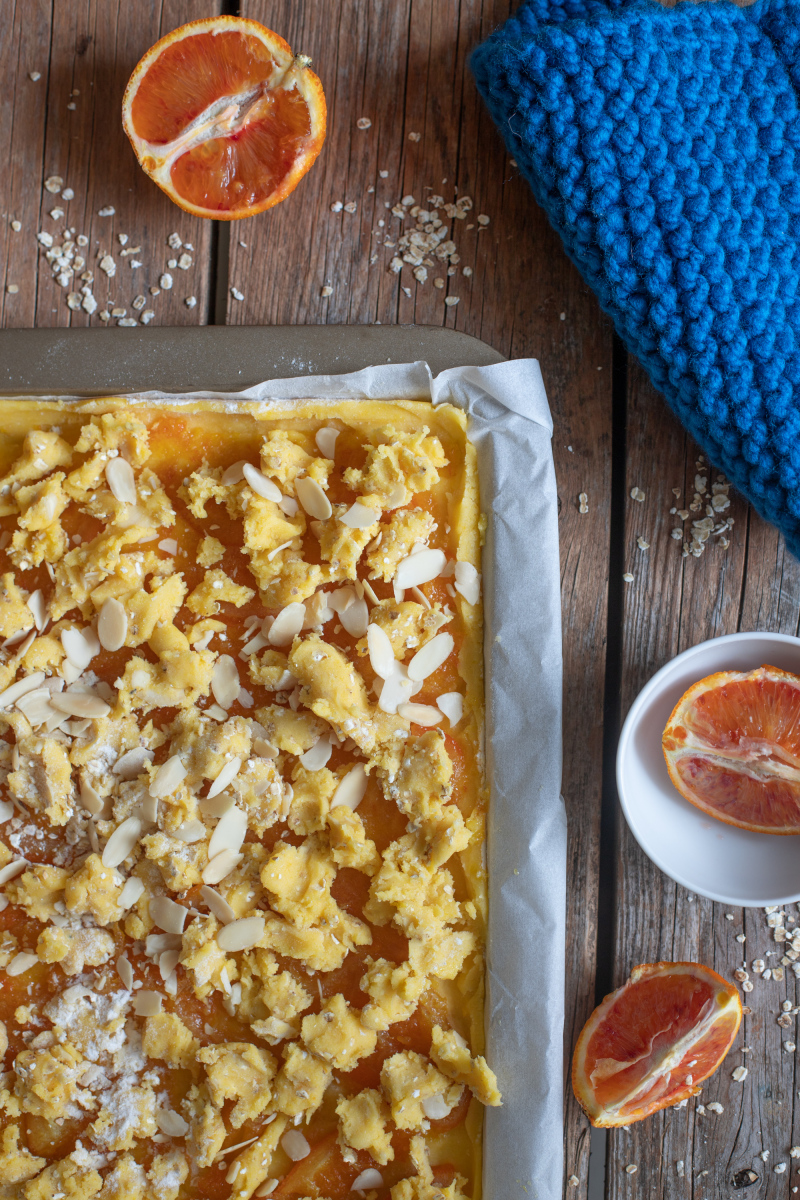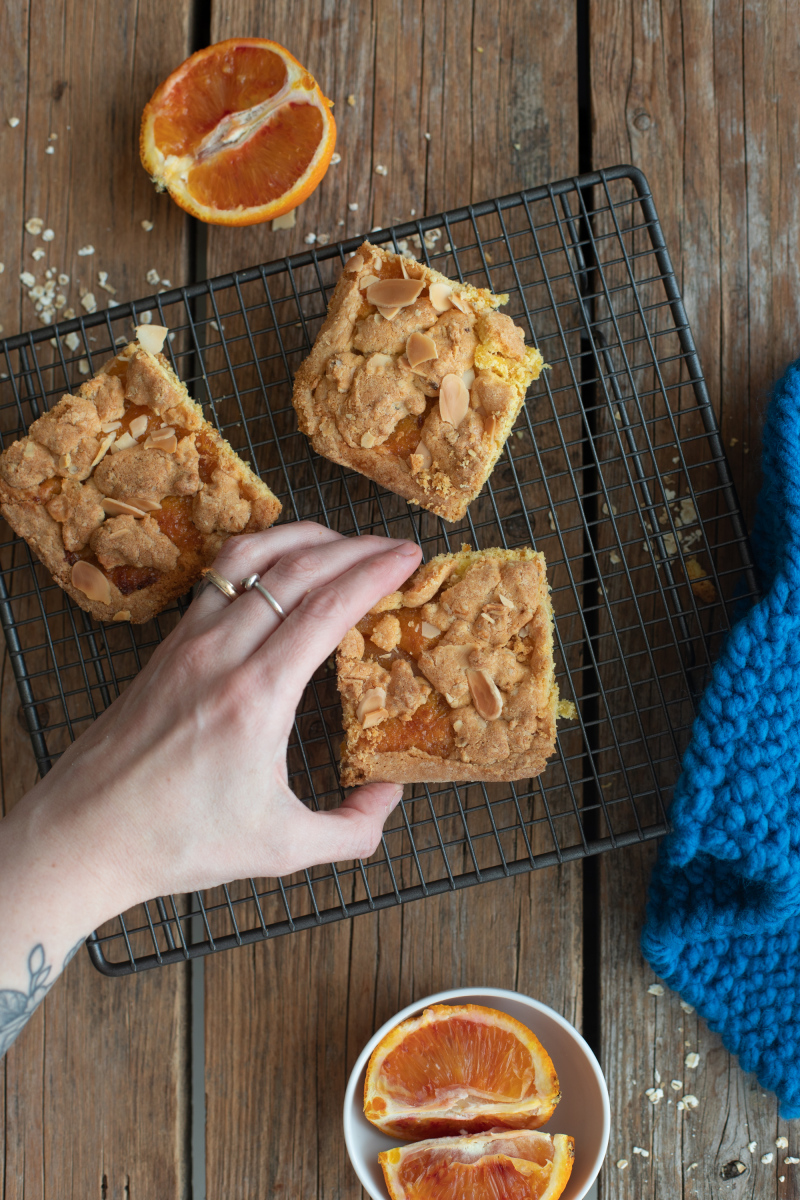 Steps
Put the flours in a bowl and add them to the icing sugar and the butter. Work with your fingertips so that the butter will be slowly absorbed into the flour, until you get a consistency similar to sand.
Now add the eggs and the orange peel and compact, working the dough well and creating a dough ball. Let it rest in the fridge for at least half an hour.

Divide the pastry: roll two thirds into a rectangular pan and cover with the orange jam, spreading it gently.

Combine the remaining third of the dough with the oats and the sliced almonds and distribute it in pinches on the jam, so as to create an uneven coverage.

Cook at 160 degrees for about 45 minutes. Check the browning: remember that as it cools down it will then harden so don't touch it when you take it out of the oven until it is completely cooled.

You are reading:
Crumbled Crostata with Spicy orange marmalade