Aunt Luigina's fusilli with tomato and eggplants
24 August 2018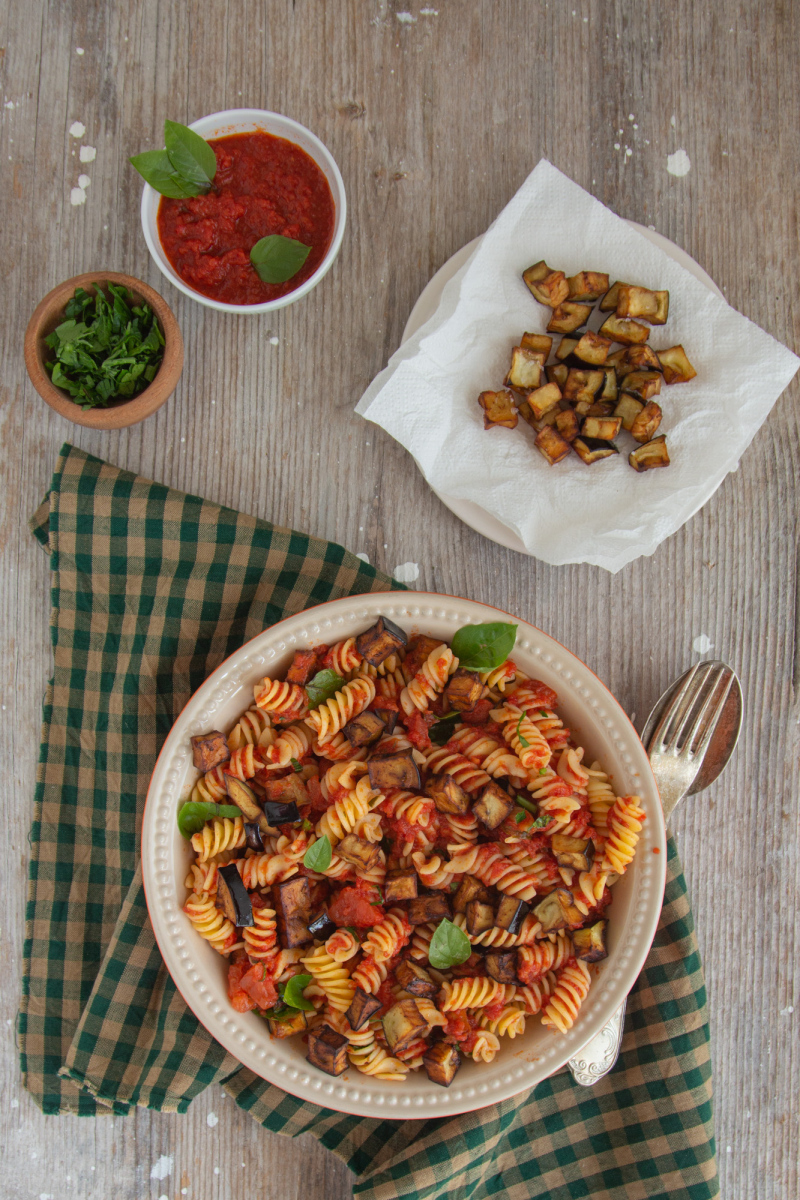 Ingredients
extra virgin olive oil, for sauce and for frying
about 150 g of tomato sauce
salt and pepper
10 leaves of basil
1 eggplant
160 g of fusilli
fresh parsley
A few days ago, I received a phone call from my aunt Luigina for updating. As we are both talkative, as we told each other the latest news, she prepared a lunch and described what she would bring to the table. That's how I wanted these pasta, which I had not prepared for a long time, but have now returned to my repertoire of flavors. The eggplant harvesting period is almost over, but before they are irreparably filled spicy seeds, I want to enjoy it and maybe prepare some sauce to freeze. Due to my intolerance, I cooked this first course with corn pasta, but I must say that I particularly like it in combination with the rustic sauces and the intense color of the tomato. When you come home from work, the need for a comforting dish does not pass, at least for me, even in summer: I always light a fire to cook and even the oven, brave temperatures and boil, fry with open doors and smile just thinking that I should wash my hair, but that does not bother me at all. I would like to have a stove in the garden, to enjoy the late afternoon breeze, think it would be nice. In this dish, the intense tomato gives a familiar sensation of pasta al pomodoro, the golden eggplant cubes, fried in a good oil, surprise with each bite. And so, it's just the end of summenzionato coming.
NOTES:
If you want to make the pasta even better, I recommend a spoonful of butter when you mix it together. Some ricotta salata cheese or freshly grated Parmesan cheese is just as good and will complete the taste even more.
You can also fry with good seed oil for frying, nothing serious happens if the fries are made to the right temperature. Like everything, do not go over it.
The best eggplant for this dish is dark purple, with a round belly, uniform and firm. I do not like to cook with light purple or white ones, I find them more spongy, but maybe you can refuse me.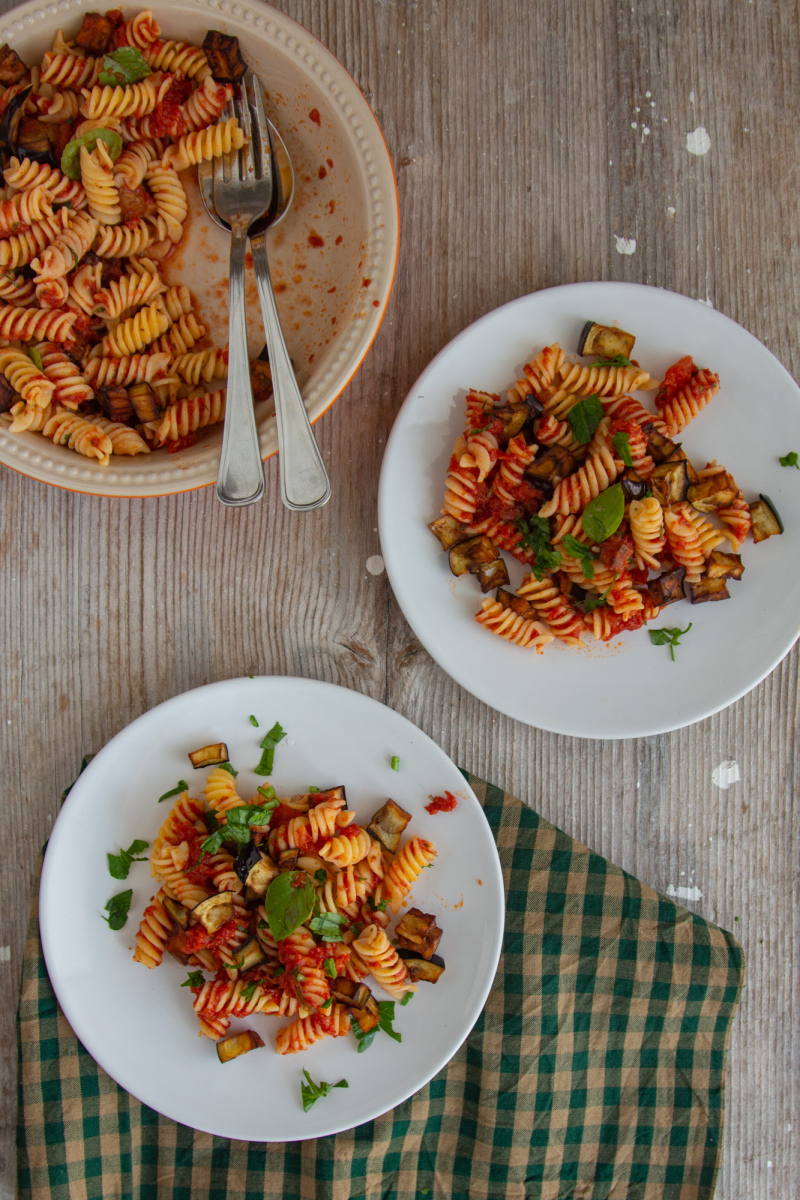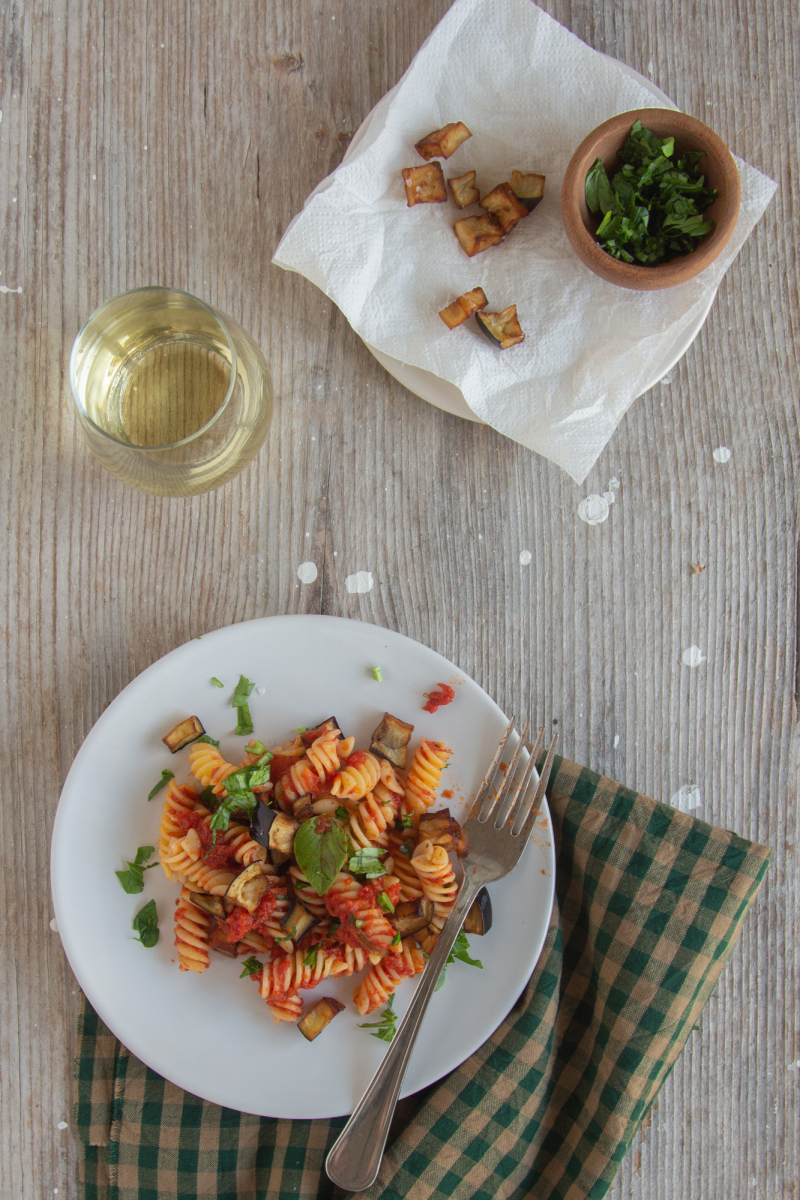 Steps
Put a pan on the stove with a few tablespoons of oil and tomato sauce, a pinch of salt and pepper and basil leaves. Simmer to flavor for a quarter of an hour to let it become thick and flavored.

Cut the eggplant into small cubes, heat a golf quantity of oil in a pan and fry until all sides are crisp and golden, then drain on paper towels.
Cook pasta in plenty of salted water: once drained, season with tomato, eggplant, parsley and freshly chopped basil.

You are reading:
Aunt Luigina's fusilli with tomato and eggplants