Tagliatelle with carrot leaves' pesto
05 August 2018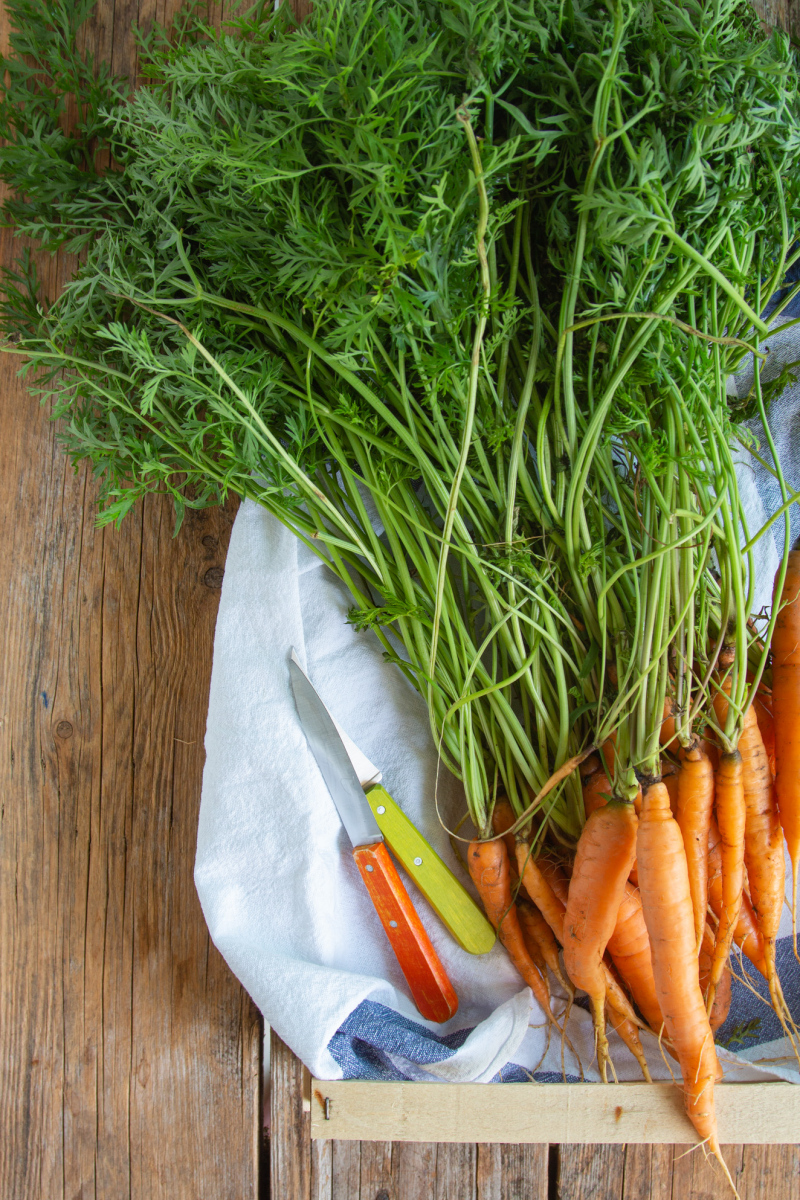 Ingredients
- 100/150 g of leaves and stems of organic carrots
- 40 g of almonds
- 30 g of Parmigiano Reggiano
- 150 g of extra-virgin olive oil
- salt and freshly ground black pepper
- 350 g of Tagliatelle pasta
- a tablespoon of butter
- some fresh cherry tomatoes
In Veneto, who has a very productive vegetable garden, in spring and summer spreads its products to relatives and friends, and is a habit, a normal rooted way.

The beauty of receiving gifts of fruit or vegetables has a truly primordial meaning, of sustenance and closeness, of care: I remember that when my grandfather was alive in the summer the evenings were occupied by the harvesting of the vegetables that from day to day ripened in the garden and that habit taught patience, waiting for the rhythm of nature.
Sticking among the luxuriant plants of beans up to the knees, which for us little girls was also up to the thighs, walking among the tomato plants and feel the aroma of the leaves rubbed on the skin: the mosquito bites were exhausting, even with no repellent because they seemed even more interested in our blood.
The long green peppers were collected and then kept aside for a single large processing of pickles in a jar, which I could not stand the smell of and still are not a fan of acid foods.
The aubergines were my favorite because the shape of the fruit, immediately that characteristic, grew and came back to be ripe and we could observe its growth and be amazed every day more.
Nonno cultivated also a whole small plot of parsley, who knows why, as if we were using it in kilos: a little 'space was reserved for other aromatics, including a huge rosemary.
We always had few fruit plants,: a fig tree with black fruit, a plum tree and raspberry bushes, which our little African neighbors liked so much to steal them all before we could taste them.

And every evening large plastic bags were also prepared to give the excess to the aunt, to the neighbor, to someone.
Every action performed by others awakens memories in us and for this I thank Lisa Mum Cake Frelis for giving me the carrots of her garden: I hope I have honored to this extraordinary product, using it from head to toe and discovering that the pesto of leaves carrot is one of the preparations that can enter right into my personal top 10 of taste.

Smell of freshly cut grass, but not that moist smell that makes you sneeze: rather dry, balsamic, different from the basil pesto we are used to. The taste is rough, intense and enriches pasta dishes, bruschetta and if for me it is also the caffellatte.
Use a good oil, a non-delicate extra virgin olive oil that can soften and complement the scent of this pesto, but not even so robust and acidic to compete. I find perfect an extra virgin of Garda or a Tuscan, for example.

Drain a nice portion of pasta and let me know if you liked it.

NOTES:

- Use carrot leaves only if they know their origin: in this case, knowing that they are organic products and grown without pesticides is at least essential.
- There are no precise doses, do not worry if the leaves are a bit 'less or a bit' more, you will then adjust with oil. Do not add much oil immediately, go slowly, so it will be easier to mix without exaggeration of fat.
- I do not put garlic for personal taste but it is very good: you can enrich even with a few leaves of mint and when you season the pasta there are very well together shrimp, fresh salmon, tomatoes or even a scratch of peel of untreated lemon.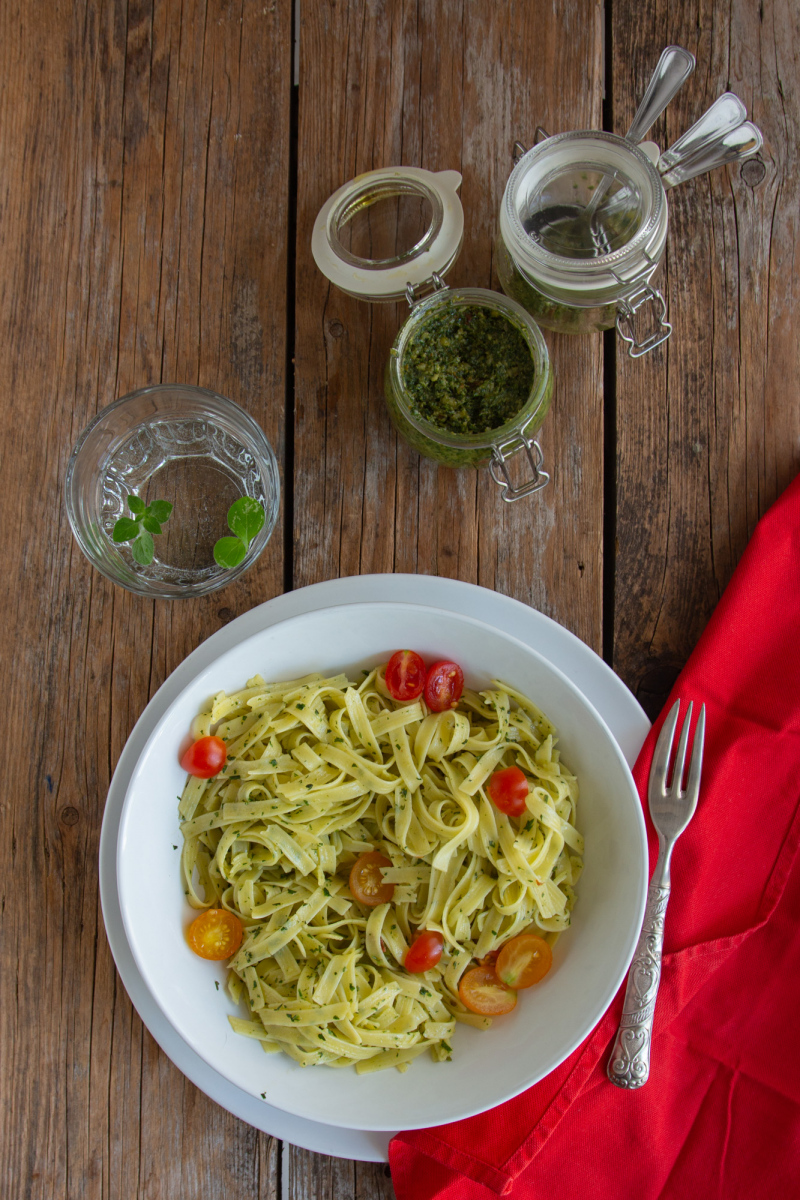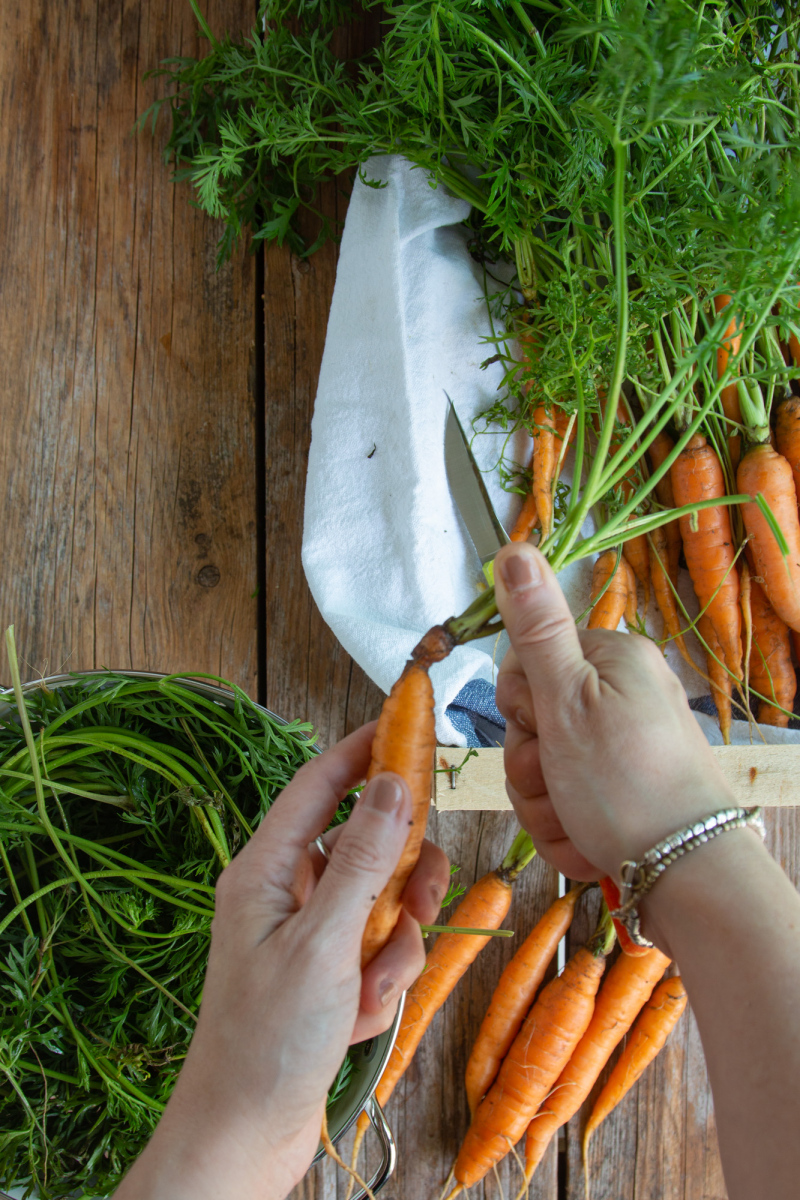 Steps
Carefully clean the leaves of the carrots: leave them to soak in cold water for about ten minutes and then rinse them under running water.
Let them drain well in a colander, then dry them with kitchen paper or a clean cloth and remove the larger and harder stems.
In a mixer place the leaves, the almonds, the Parmesan and a little salt and pepper, then blend by adding the oil to the top, until a smooth and homogeneous pesto is obtained.
Add salt and pepper if still necessary then use it immediately or store it for a maximum of a couple of days in the refrigerator in a hermetically sealed jar with the surface always covered with a layer of extra virgin olive oil.

Boil the water for the pasta, add a tablespoon of salt at the boil and cook the tagliatelle.
Once drained, put them in a pan in which you had put the pesto (the dose is up to your taste) and I suggest you also some butter and some tomatoes.
Mix everything well together and serve hot.

You are reading:
Tagliatelle with carrot leaves' pesto