Baby courgettes with stuffed flowers
02 August 2018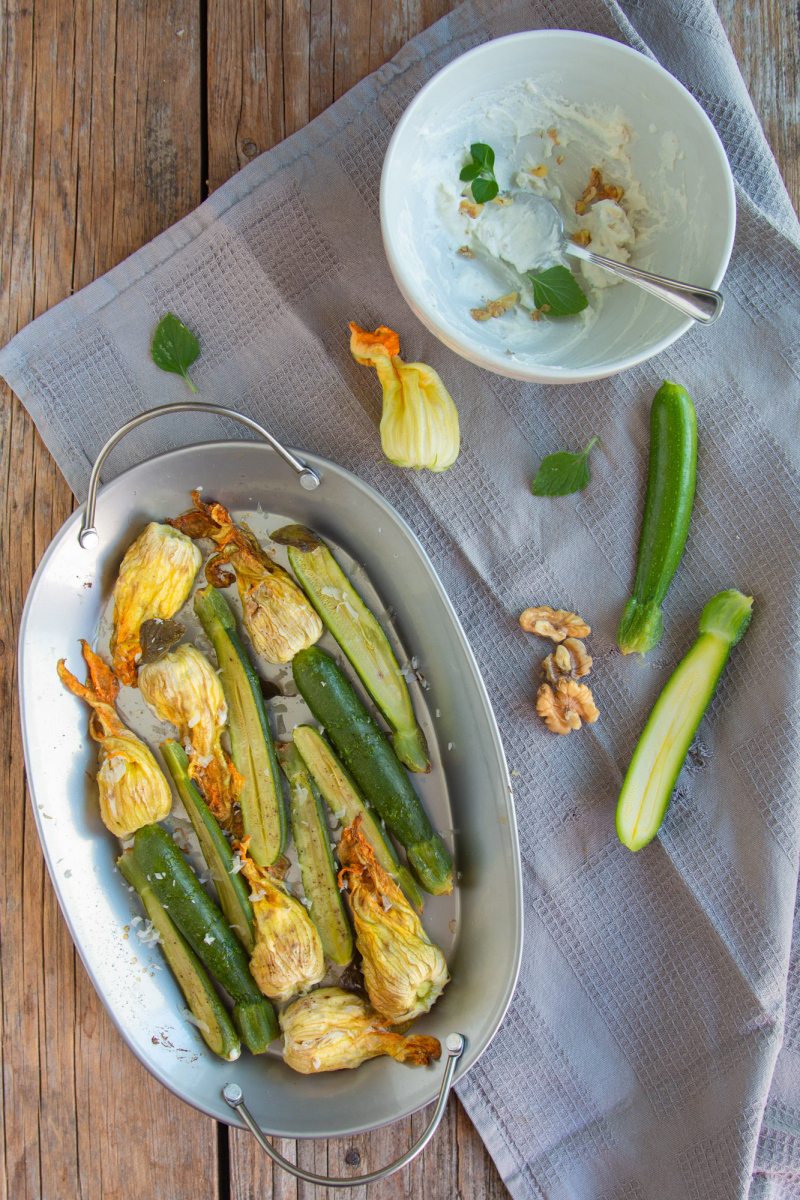 Ingredients
8 small zucchini with their flower
Ricotta, 250 g
Grated parmesan cheese, 2 tablespoons
Fresh ground black pepper, salt
A few leaves of fresh mint
A dozen walnut kernels
Extra virgin olive oil
A few weeks ago I went to the greengrocer with the simple intention of buying some courgettes and if possible also their flowers, because I planted a couple of potted plants but I cannot expect them to produce enough zucchini for the whole season.
Instead of buying a couple of pounds, I took a whole box: they were baby courgettes and I could imagine its sweet, slightly watery, almost crunchy taste. They had their flowers still attached and they were a guarantee of freshness, because they were still turgid and not humid, consistent as just picked.
For me, I would have a bouquet of zucchini flowers just above the kitchen table, like tulips or roses, because I find them unique.
I had so many recipes mixed in my mind and I gave in to the compulsive purchase of that quantity, which for sure was a bit too much for two people: to tell the truth then they were so delicious that we used them in a short time. At its best courgettes has even a taste, I joke on it, but in fact in winter if you try to eat a courgette for sure the only taste is that of water, that is none.
In particular, the small ones are perfect cut into thin round slices, floured quickly shaking the excess and then fried in boiling and sizzling oil, like small chips chips that are bought in bag. I also like very much as a sauce for pasta, l
ike this I had prepared
(with the addition of some sweet cooked ham) or simply grilled and seasoned with a good extra virgin olive oil, mint leaves torn with your hands and some salt.
The flowers are perfect battered and fried, there is nothing to do, they are delicious.
In the tradition of my family, this is the only version I know, with the only difference that sometimes they were battered and some others only floured and fried.
I then asked to my online friends how they prepare them and have come out so many variations: Emanuela, a pastry that you can find on Instagram as La Dolce Peonia, advised me to prepare them stuffed with ricotta and parmesan, and by myself I added some walnuts to make them crunchy.
We are still in time to make some more feasting.
NOTES
- Do not cook them too much, I recommend, otherwise they become ugly and brown. The flower is very delicate and cooks quickly and the filling doesn't need prolonged cooking so it remains fresh and soft. It is a dish suitable for vegetarians, it is gluten-free and if you use lactose-free ricotta it is also suitable for those suffering from this intolerance.
- Use the flowers to enrich a zucchini risotto: when the rice is ready, a couple of minutes before serving, add the flowers chopped with your hands, a few leaves of fresh basil, a bit of freshly ground black pepper.
- Be careful to clean the flowers well: if you want to use them whole, open the petals gently, remove the pistil and rinse well under running water, while if you use them in small pieces is easier because you can open them entirely for cleaning.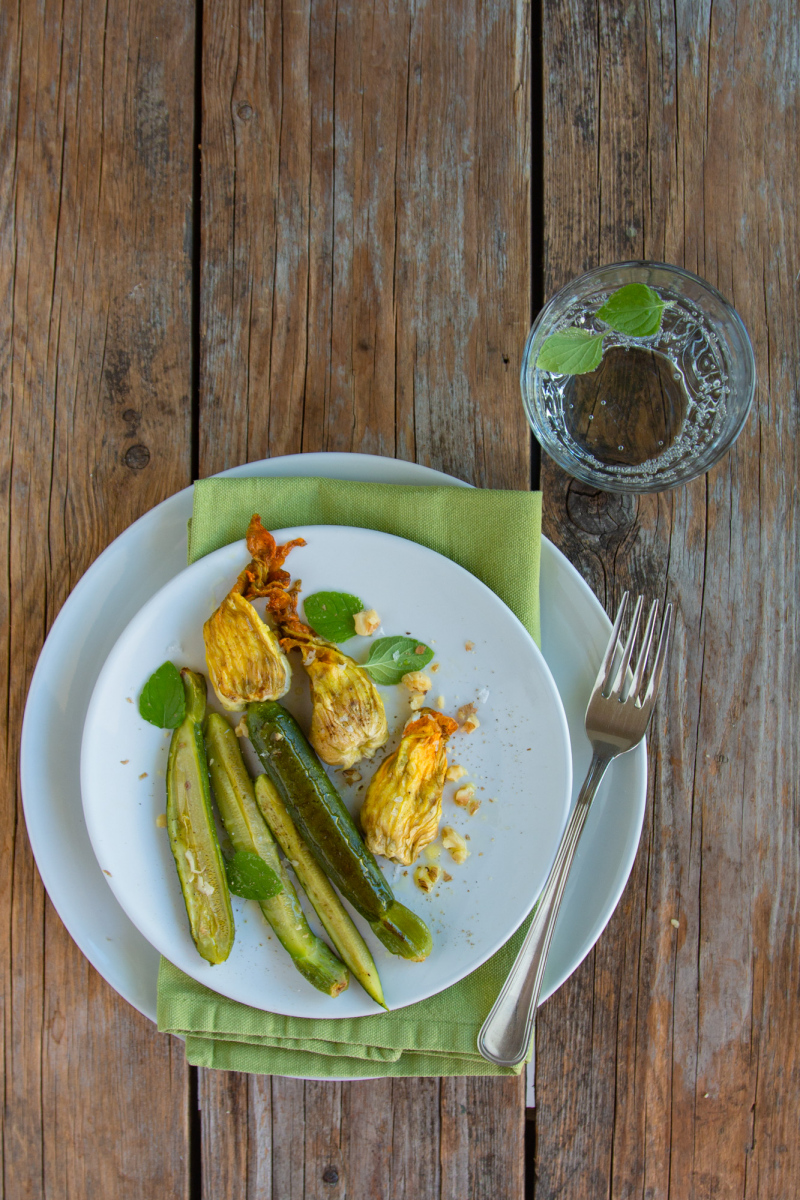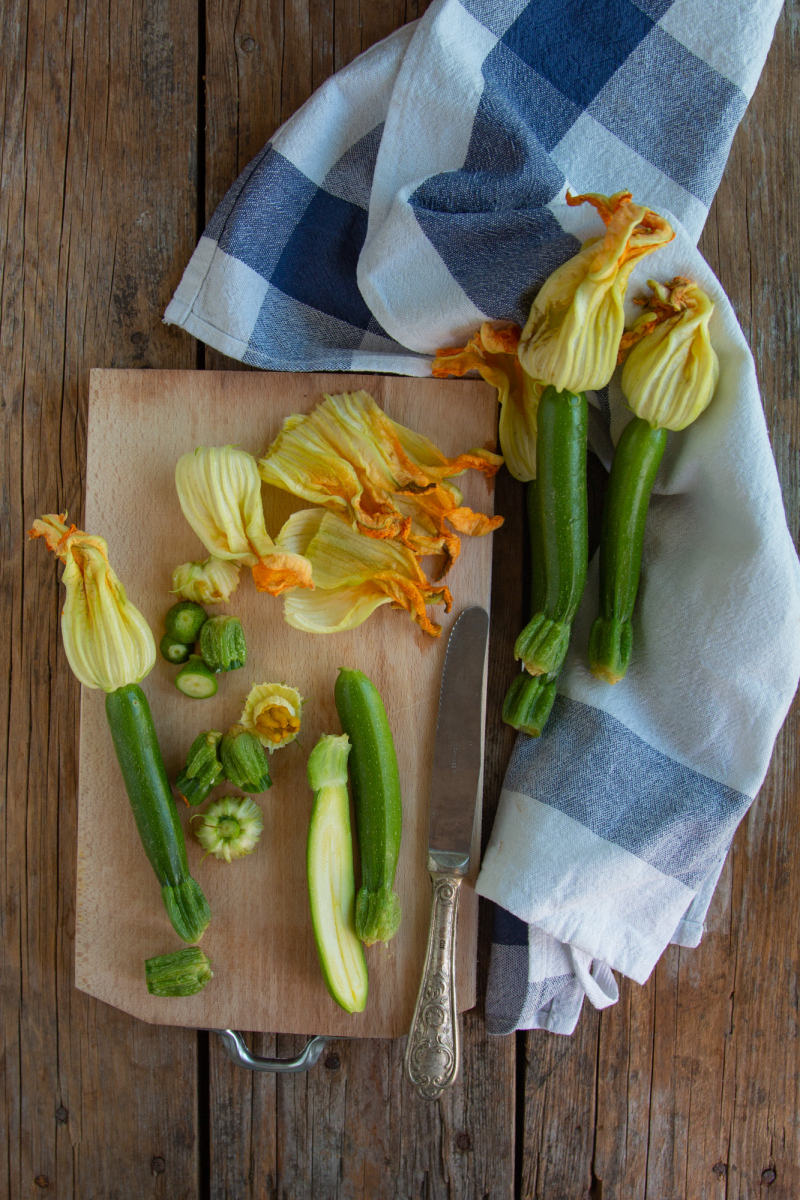 Steps
Clean the flowers well as I described in the notes: if you can, do so by holding the flower attached to the zucchini, but otherwise do not go crazy, detach it and stuff it separately.

Cut the zucchini for half along, so they will cook faster.


In a bowl mix the ricotta, the Parmesan, a bit of salt and ground black pepper, a little bit of chopped mint and the nut kernels cutted with your hands.

Help yourself with a teaspoon, stuff the flowers with a bit of stuffing then gently close the tips of the petals twisting.


In a baking pan place the half-sliced ​​courgettes and the stuffed flowers, then season with oil, greasing the vegetables well.

Bake at 180 degrees for about 20 minutes: if the flowers become too much golden, you can cover with aluminum foil.

Before serving, discard the ends of the courgette if you haven't done it before and complete with flaked salt if you have it, otherwise it will be fine even normal sea salt.

You are reading:
Baby courgettes with stuffed flowers