Ingredients
The shortcrust:
Cold butter 150 g
Caster sugar 100 g
Yolks 40 g
Flour 00 250 g
Half lemon zest (Non-treated)
A pinch of salt
The cream:
Flour 00 50 g
Yolks 4
Milk 1/2 liter
Sugar 130 g
A pinch of salt
A pinch of cinnamon
To garnish:
Strawberries, about 300 g
Apricot jelly or jelly cake for 'shiny' strawberries
When the season comes, I can't resist doing a strawberry binge despite the itching they give me. And well, first I eat them all and then I scratch myself. Today I want to share the recipe of my favorite tart and some secrets for a delicious match with cream.

This year I also planted in my garden six of these little plants in a box, along with a little mixed salad, zucchini and different colors of cherry tomatoes and I am looking forward to the first flowers which will then turn into fragrant sun-colored fruits.

My mum used to prepare fruit tart very often, in different occasions such as school parties or dinners with friends we were invited to. However, I remember that in the 80s and 90s there they did not pay too much attention for what was genuine or not, the 100% homemade food and some ready stuff we used to eat back then they would not have long life nowadays, and that is better. Even the tart was no exception, because although my mother was good at cooking, she often bought the "packaged cakes".

When I figured out that in the bag there was basically only flour and sugar and other unhealthy things, I tried to avoid all of it, the cream was really terrible too.

It kind of pretend to taste like lemon but maybe if you tried the plastic lemons at the toy shop they tasted better.

I still clearly remember that she used to prepare these huge tarts in baking pans that could not be opened: one day I saw one flying through the window, because my mum crumbled one in several pieces, got mad and threw it into the garden. I swear, it was so funny.

No jokes, it was usual to prepare cakes like this: these were the years of the "Quattro salti in padella", of frozen vegetables, of fruit in syrup in cans. But when you find out that for preparing a very good shortcrust all you need is just 4 ingredients and roughly 10 minutes, then you just have to surrender to the fact that convenience food is no good.

Today I will tell you about my tried and tested shortcrust: no yeast, it just doesn't go in the classic shortcrust, a pinch of salt for a tasty flavour, good butter (I use the clarified one because I don't tolerate lactose) and a bit of non-treated lemon zest to favour it a bit. Cold hands are essential, as well as the speed in kneading and patience in leaving it in the refrigerator, all of this is definitely necessary.

My cream is also very basic: depending on the fruit I use, however, I aromatise it with different flavours. A little lemon zest left in the milk while warming, for example, is perfect for giving a fresh flavor to the cream used in mixed fruit tarts or pineapple tarts. A fresh vanilla pod is perfect for giving the cream a delicate, fragrant and sweet spice flavour, to share, for example, with ripe peaches or mint finely minced for an apricots tart.

My secret for strawberry tart is a pinch of cinnamon in the cream: try it to believe.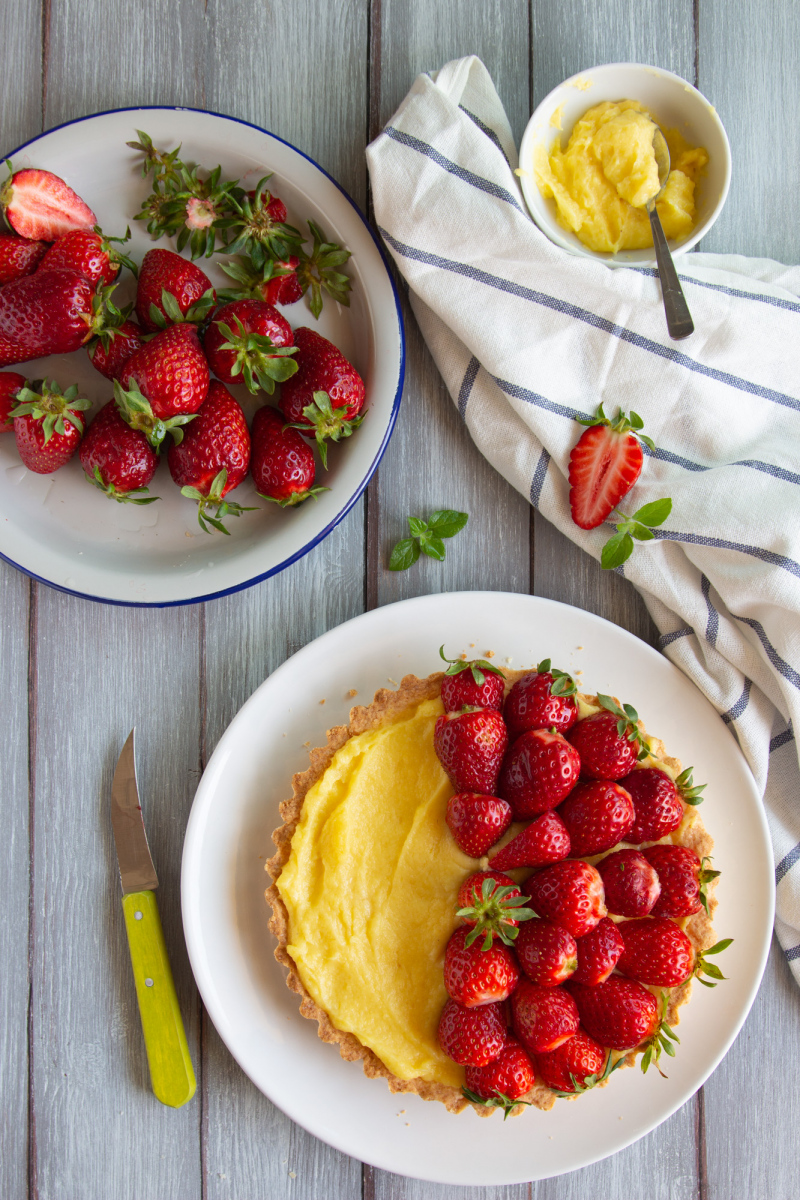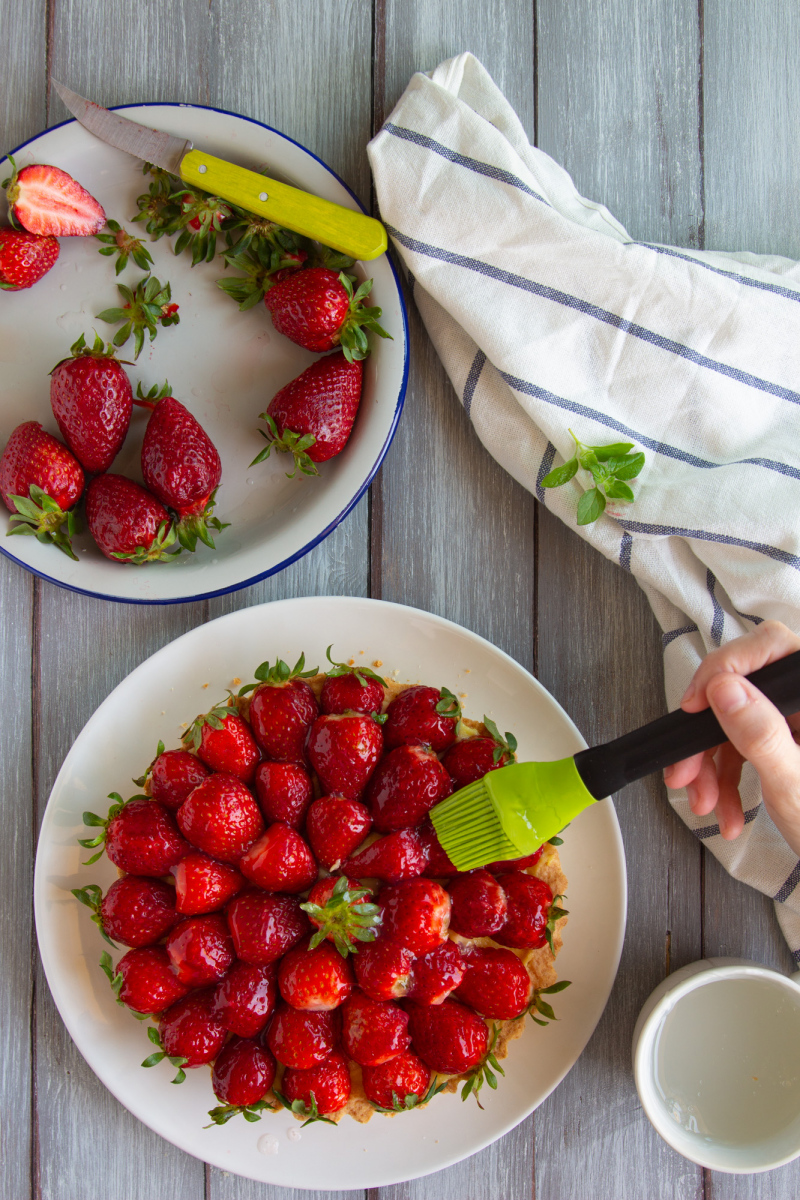 Steps
First of all we need to prepare the shortbread, so that it has time to rest in the fridge. Cut the butter into small pieces and mix the sugar with the tips of your fingers, then put the yolks all together one at a time, a pinch of salt and finally the flour. Quickly work it all compacting everything into a soft but well condensed dough.
Put in the fridge for at least half an hour: if you are in a hurry, just 15 minutes of freezer are enough but do not forget it too long otherwise it will get too hard.
Spread it on a sheet of baking paper with a rolling pin, helped with a little flour and coat a cake mold, preferably with a removable bottom.
Prick the surface with a fork, then bake it empty. It is recommended to use ceramic balls for baking blind or dried beans to prevent it from rising while baking, but since this is a yeast-free shortbread if you prick it well it should not grow or create unpleasant bubbles.
Meanwhile, prepare the cream: first of all heat the milk in a saucepan. In another one out of fire mix well the egg yolks, flour, sugar, salt and a pinch of cinnamon.
When the milk is hot, pour it over the cream of eggs always stirring out of the heat. As soon as all the milk has been poured, put the saucepan back on the fire until the cream boils and becomes thicker, it will take about 10 minutes and it is important to keep stirring. Then leave it aside to cool down completely.
When both the shortcrust and the cream are cold, pour the latter into the shell and decorate with strawberries, arranging them as you wish.
Finally, prepare the jelly according to the instructions on the packaging or briefly heat the apricot jelly and brush it to smooth the fruit.
Notes:
To avoid the formation of peel on the surface when cooling down it is often recommended to put a food film in contact with the cream. I don't particularly love this method because, perhaps it is silly but the idea of plastic in contact with a hot food is weird to me. Another idea is to spread a little granulated sugar or lightly grease the surface of the cream with the butter. I simply stir it once in a while hoping that the peel does not show up, in that case I just eat it.
I don't like strawberries when they're cooked, because I find that the taste is amplified in an unpleasant way. In Giulia's recipe however, she adds blackberry jam to the fresh strawberries: in this way the sweetness, the sourness and the shortcrust's buttery flavour are balanced and mixed in a truly harmonious whole.
"Fragole a merenda" is Sabrine D'Aubergine's delicious book. She is known as being a blogger who thanks to her writing of posts first and then the book, is able to be really evocative and her familiar and simple recipes have a genuine taste. I loved the book and it is part of my shelf of favorite cookbooks, I strongly recommend it for its delicacy and the truthfulness on recipes.