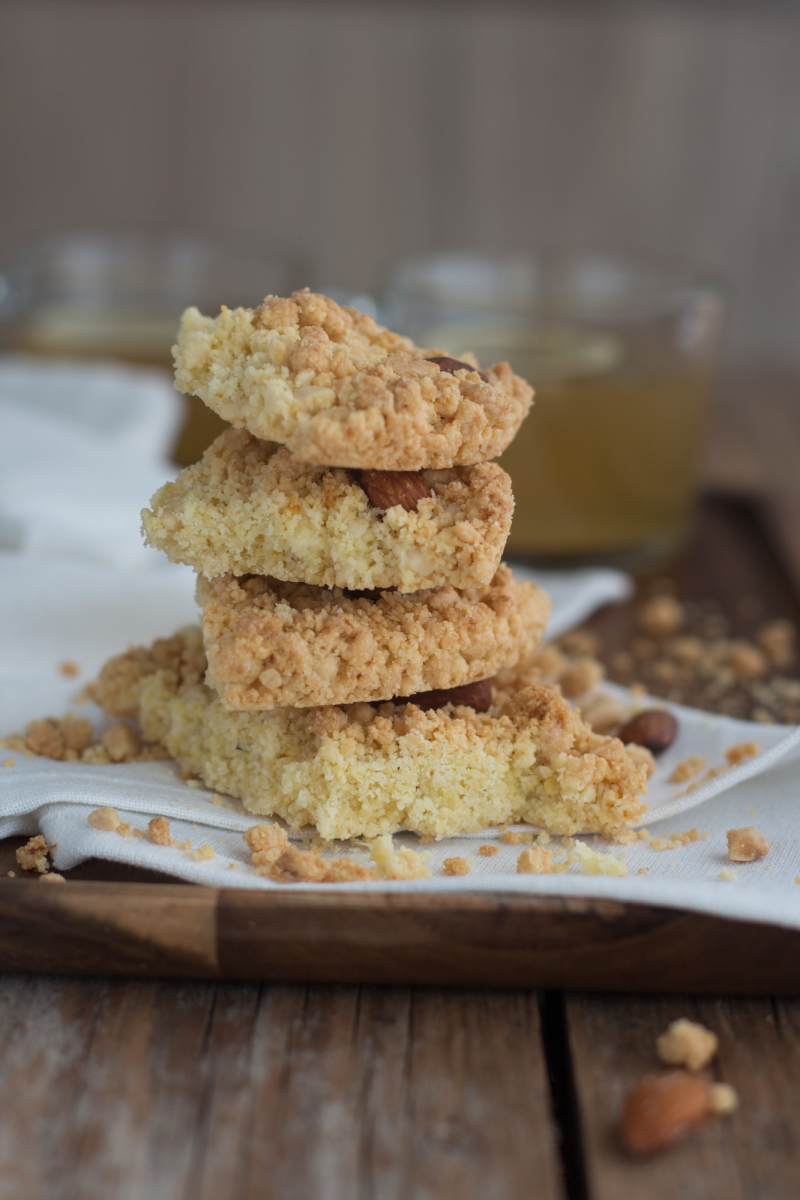 Ingredients
300 g of peeled almonds
300 g of flour
200 g of caster sugar
A pinch of salt
The grated zest of an organic lemon
200 g of butter (kept at room temperature for one hour)
2 egg yolks
A tablespoon of butter for the pan
Powdered sugar
Some whole unpeeled almonds to decorate
Time:
10 min. + 30 min. baking
Last February, at the end of an evening with friends, after everyone had left, I had a thought that I promised myself to write here, and so now here I am.
While sweeping away the gift paper which the children had played with and while collecting plastic dishes (yes, I gave up, but we were a lot), I thought how difficult it is to invite guests at home but also to what you have then in exchange.
Opening the doors of your home requires the courage to get naked in your "natural" environment: I think of when I enter someone's home for the first time and I find myself observing every detail, maybe they might even think I am curious, but that's what I do to immerse myself in someone else's world. I always take off my shoes, I don't know if the owners are appreciate it and maybe it's something they are just too embarrassed to ask for. I always look at the photos that people choose to put in the frames, I would like to ask many things about the stories of those images, but I hold back. I am curious to see if the kitchen is new or has some stories to tell, if there are aromas of food in the air.
And what do the others think about our house?
When I host someone, I usually plan the menu in advance, except when my friend Lisa comes to dinner and goes from "let's eat what we have" to the "fresh Fiorentina found in Siena, what do you say?".
Days before I prepare a list and I think about the preferences, allergies and intolerances of my guests: sometimes I try something new but usually I prefer simple dishes that can leave me quiet and happy to enjoy the company.
Then I like to set the table well, clean the floors, perfume the bathrooms and hide a bit 'of paperwork and books that I regularly leave around, collect the clothes I have to wash.
Then when friends arrive, I calm down.
The pots and the oven now know what they have to do, I have instructed them in time: they usually leave me quiet to be able to talk and celebrate with my guests, even until late at night.
And when everyone is gone, the dishwasher must be loaded, the cast-iron pans must be washed by hands because otherwise they take all the room by themselves, the oven a bit greased and the tablecloth stained... but that's how it should be. Everytime I tell myself that I get tired of organizing all of this, but everytime I find myself taking the same steps with a smile on my face.
And everytime I learn something more and spend time with those who are happy to share it with us.
I like very much to host, but also to be a guest: and I reply to each invitation with a dessert. Promised!
And at the end of the meal this traditional Venetian dessert is perfect: fragrant, crumbly, very simple in its flavors. Choose the best butter, which must be fresh and smelling of milk, and the almonds, which must be also as natural as possible.
It is called fregolotta because it consists of "fregole", crumbs, of dough that with the heat of the oven become a single cake: it is excellent with a coffee and is really convivial. It is always the youngest of the family to punch the center of the cake and smash it in irregular pieces, which everyone will take by himself and dip in the coffee to finish the dinner in the best way.
___________
NOTES
The fregolotta cake stays fresh for several days: to preserve it at its best, close it in a tin box or in a cellophane food bag.
Last year I used this cake to make some Christmas gifts to my friends: I joined in a cookie swap, an exchange of cookies. It was my first time and it was a wonderful experience: I packed bags of homemade granola, chocolate biscuits and these fregolotte I prepared in single portions using a little tart mold and once they were very cold I closed them in small bags and shipped around Italy.
The fregolotta is very similar to the Sbrisolona cake of Mantova: the recipe of Sbrisolona also includes corn flour. You can also prepare it without gluten, because since it is so crumbly it does not need gluten to keep all the ingredients together; instead if you have problems with dairy products I suggest you to try the recipe from the blog Acqua e Menta, at this link.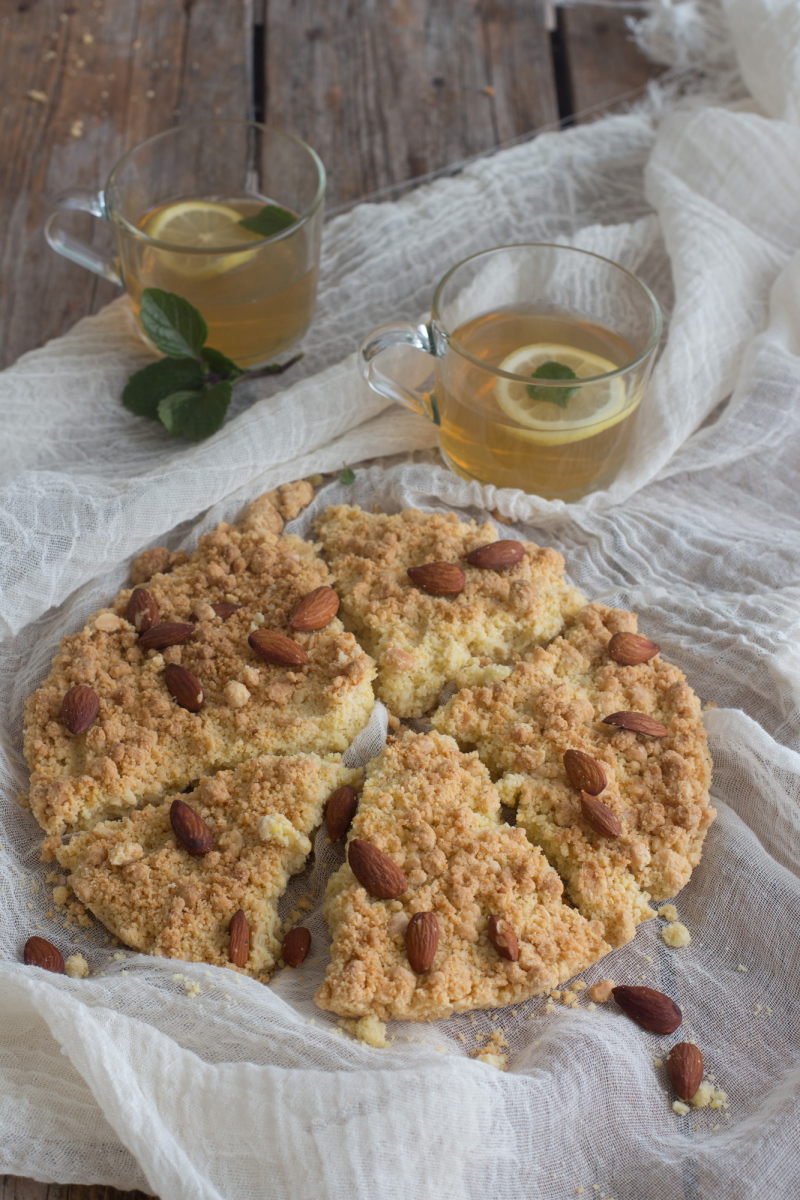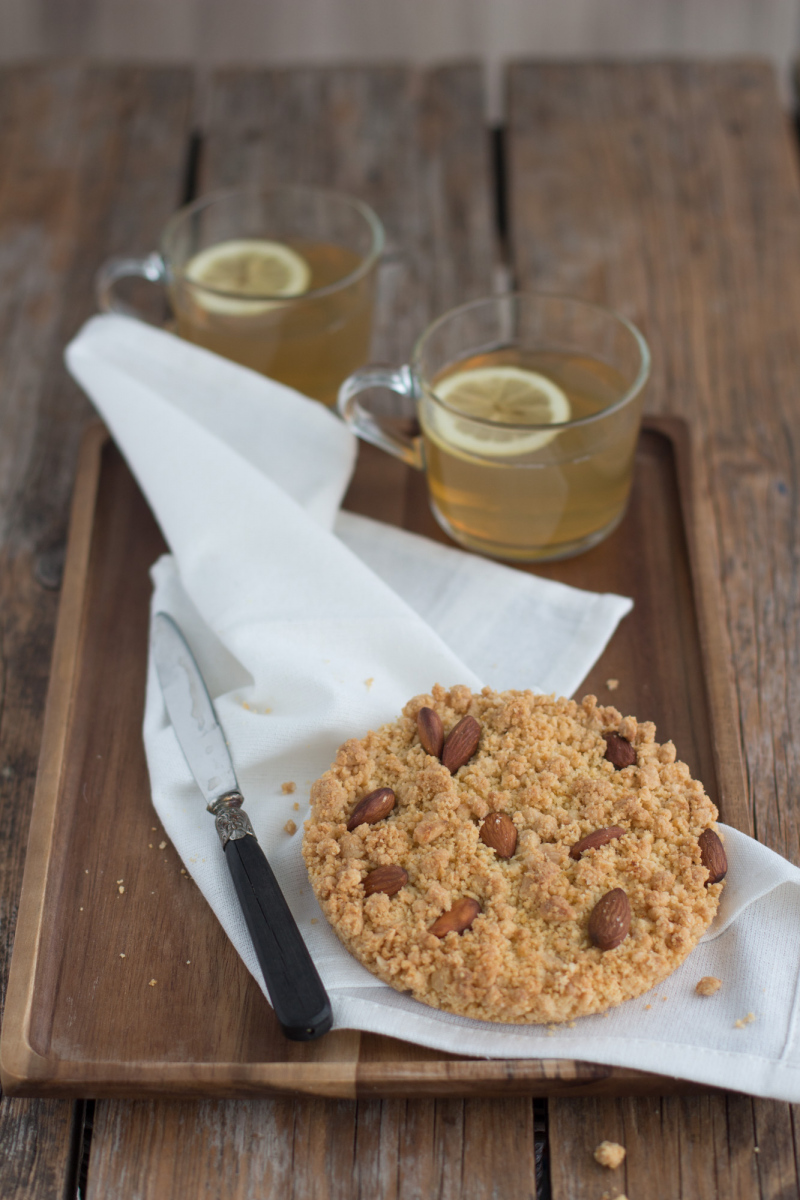 Steps
Heat the oven to 180 degrees, static.

Roughly chop the almonds: if you do it with a blender, use it intermittently to avoid heating the blades and let the almonds oil out.

Combine the flour, the sugar, the pinch of salt, the lemon zest.

Add the butter and the egg yolks, working the mixture gently with the fingers, making it absorb well from the flour. Knead it without compacting, but rather rubbing it in your hands to get big crumbs.

Butter the pan well: place the mixture now without pressing it, add some unpeeled almonds here and there and bake it for about 30 minutes.

It must be golden on the surface and on the edges and think that cooling off from the oven will solidify just like it happens with biscuits.

Leave it to cool completely before serving.