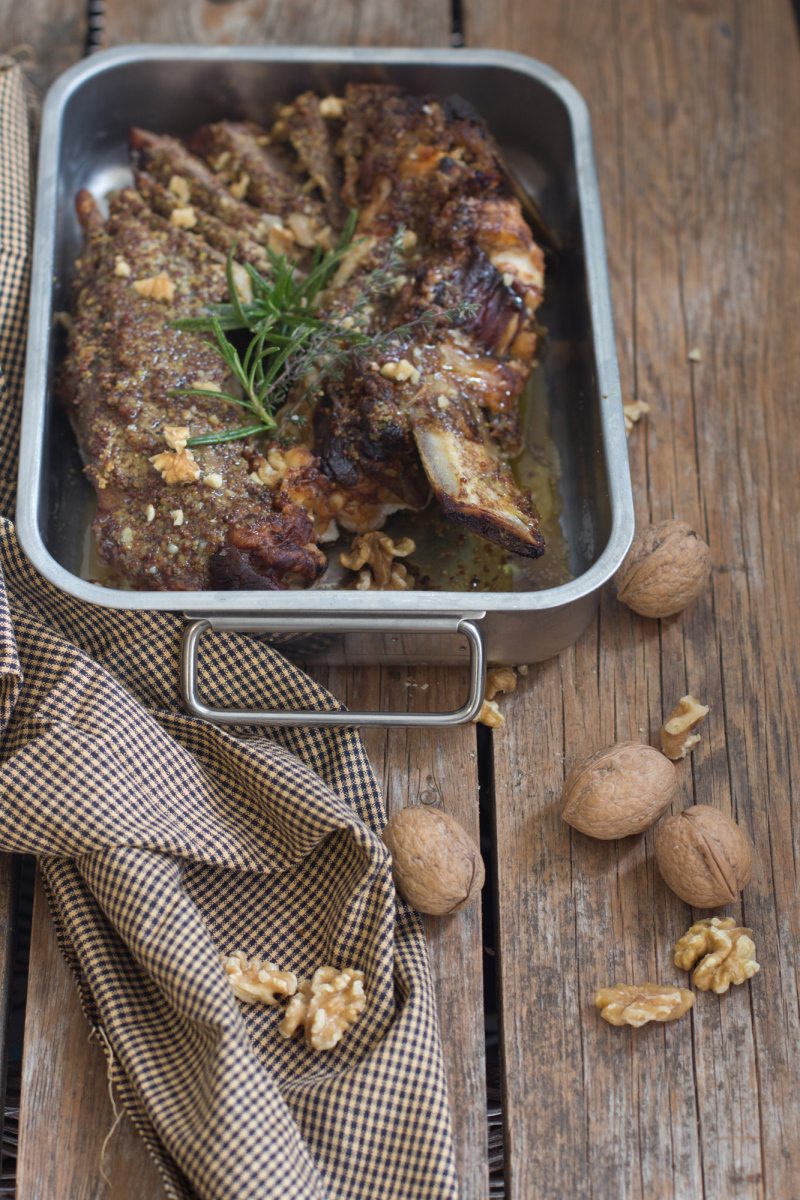 Ingredients
1 glass of white wine
1 clove of garlic
1 bay leaf
pepper in grains
800 g of beef brisket
40 g of butter, softened at room temperature
3 sprigs of fresh thyme
salt
2 tablespoons of acacia honey, my choice is Mielbio Rigoni di Asiago
4 tablespoons of mustard with seeds
A dozen of walnut kernels
I'm not very able at cooking meat.
I don't particularly love it… I appreciate more a good fresh fish for example: perhaps for this reason when I plan to cook it I always try to put a little 'imagination' not to bore me and my guests.
Even in my family, from both my grandparents, no one has never had too much fantasy when cooking the main dishes. On Sundays at lunch my grandmother Angelina used to cook always the same chicken or rabbit "in tecia" (cooked in a pan) with some "long slice potatoes", as I used to call them: they were fresh potatoes sliced ​​in length in a not too regular way, fried way in advance and then served on a dish covered with kitchen paper. You can easily imagine that crispness was certainly not one of the main feature.
My grandmother Antonietta instead, usually used to cook roasts, mostly veal roast: enormous quantities of meat that were systematically leftover and proposed again in the following meals, until you couldn't stand them any longer.
However, it is true that thinking about those "long slice potatoes" and the giant roast together with my sister and my family after twenty years, it still makes us smile: that's all about the conviviality beyond the food served, beyond the gastronomic craziness in which we sometimes fall.
The almost all over Italy, grilled meat is one of the most convivial preparations, and leaving Matteo at the fire I can save myself from a lot of work and satisfy all the guests because the variety of cuts that can be cooked at the same time is wide. But it's not always possible, especially in the cold months: I can't force Matteo in the garden with the winter jacket, the wool hat and a lamp lighting the barbecue. We don't have an indoor fireplace, unfortunately.
So I usually look for help on the thousands of cooking magazines I purchase and subscribe to, and it's usually the meat recipes that I try the most. I found this recipe on "Sale e Pepe" last October: I was immediately struck by the use of the "punta di petto" (beef brisket), which is normally considered a poor cut and therefore cheap, destined to be "bones for the broth". I found it interesting so I gave it the chance to play the leading role, along with special flavors such as honey caramel and aromatic mustard.
To complete, crispy crumbs of nuts, which can only add beauty to the dish.
____________
NOTES
For this recipe, acacia honey works fine because it is a liquid honey. If you like a more full-bodied flavor, even if It's not needed, I suggest you a Miele del Bosco Rigoni. I avoid a chestnut honey, even if liquid, as it would cover the taste of the meat.
This dish is fine with a soft mashed potato, with a soft polenta (both yellow or white) or with steamed green broccoli. Another idea is to serve it with boiled white rice, maybe a "vialone nano" rice, to mop up the sauce.
For these kinds of cooking I prefer cast iron pans for their heat conduction. Have you ever tried one? You will fall in love.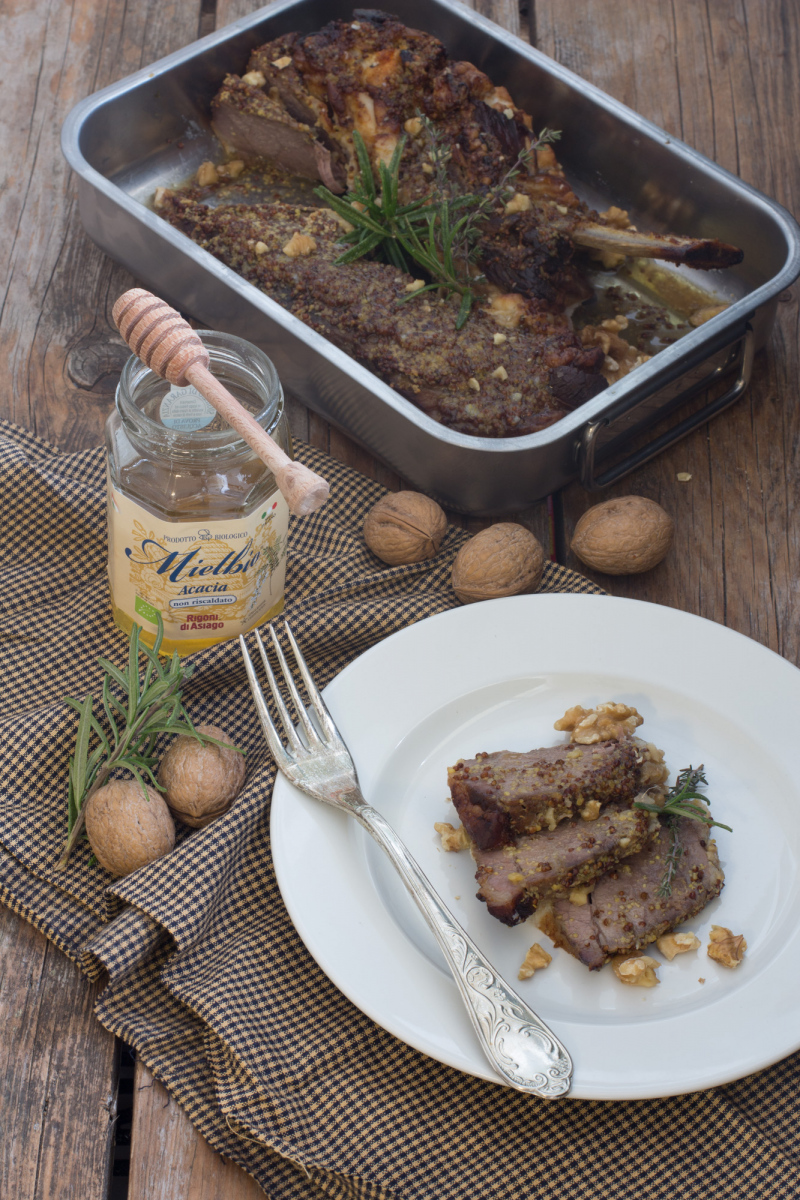 Steps
Simmer, on medium-heat, the wine with the bay leaf, the peeled garlic and 3 or 4 grains of pepper until the liquid will be half reduced.
Filter it and set aside.

Meanwhile, turn the oven on and bring it to 220 degrees.

Place the brisket on a baking tray and spread it well with butter then bake for 15 minutes.

After this time, add the filtered wine, the thyme leaves, a pinch of salt and lower the temperature to 170 degrees.

Cook for 45 minutes, flipping the meat every 15 minutes.

Mix the honey with the mustard and pour the mixture over the meat, continuing cooking for another 20 minutes. I leave it for a bit more, covered with aluminium foil.

Leave it to rest for about 15 minutes.

Before serving, slice the meat and place it on a serving dish, adding the chopped walnuts.