Tastasale Risotto
09 April 2018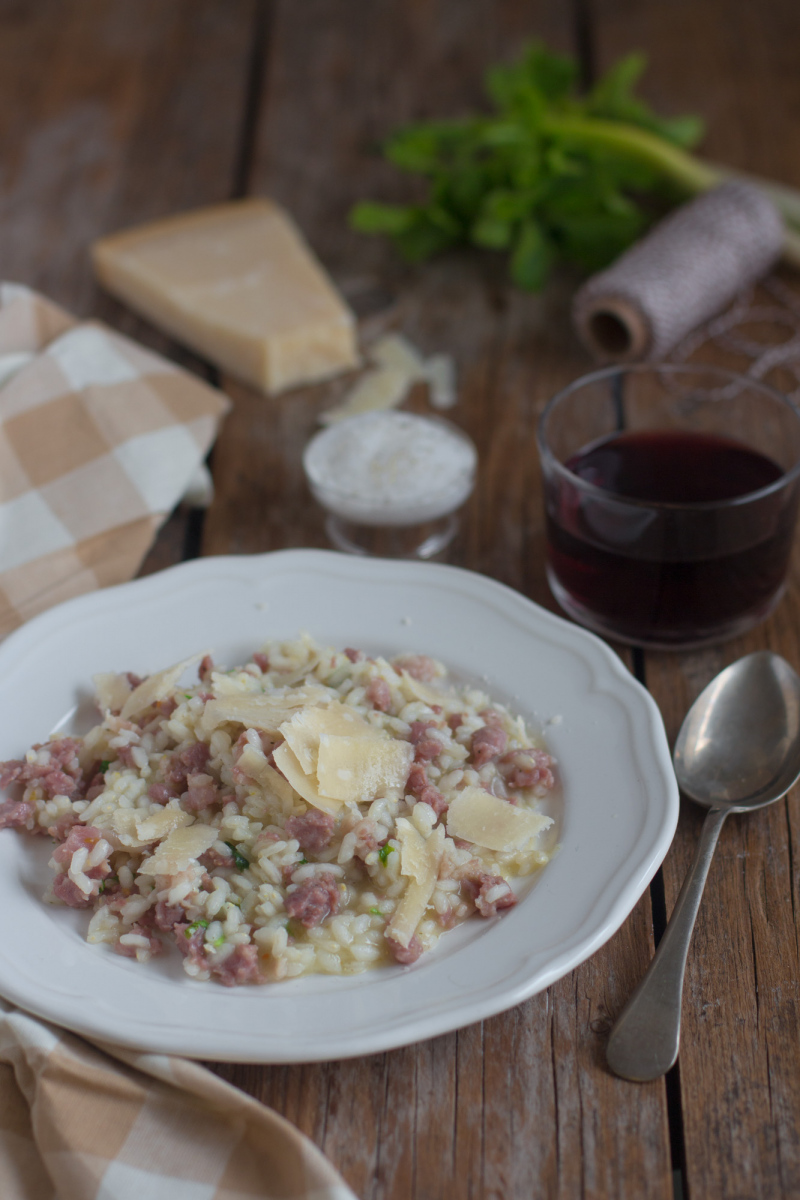 Ingredients
Shopping list for the meat broth:
1 carrot
1 celery stick
half golden onion
1 sprig of parsley
3 peppercorns
400/500 g of beef shoulder
1/4 of a hen
1 teaspoon of salt
Shopping list for risotto:
1 tablespoon of extra virgin olive oil
1 shallot
200 g of touch probe
280 g of whole Carnaroli rice
½ glass of white wine
1 liter of meat broth
2 tablespoons of grated Parmigiano Reggiano or Grana Padano
1 tablespoon of butter
Fresh ground black pepper
Time:
Roughly 2 hours the broth, 20/25 minutes the rice.
I can vividly remember the smell of meat broth that my grandmother or my mother used to put on the stove at least once a week, to be used in several meals like with "risi and tajadee" soup (rice and tagliatelle, fresh pasta, in a soup) or as ingredient of other dishes.
Such fragrances are sometimes perceived as smells, almost slightly violent and unpleasant, but growing up we find ourselves using them as a relief to a sore throat, a bit of warmth on a cold evening or simply for recognizing a familiar scent.
And that's how a beautiful piece of marbled meat shoulder, which the butchers in Vicenza call the "cappello del prete", literally 'priest's hat', ended up in a big pot with at least a quarter of a hen: the water poaching and foaming for quite a long time, then once the meat was tender enough, my grandmother would take it out with a long fork, placing it on a plate and covered it with a sheet of foil, ready to be sliced ​​and served with a pinch of salt.
The broth often became an ingredient in some risotto: if you ask what my favorite dish is, I can't give an answer but I certainly know that risotto occupies a special place in my heart
.
Probably, because I was born a couple of kilometers from the rice fields of Grumolo delle Abbadesse: I was fascinated especially when they were flooded to allow the plants to grow in the right way and the farmers turned their fields into geometric ponds.
In Grumolo delle Abbadesse rice has been grown since the sixteenth century, brought by the Benedictine nuns of San Pietro di Vicenza: these holy women have provided for the rehabilitation of the land and have built the waterways for transporting the product, creating a booming market. The result is a production of a great Vialone nano, now a Slow Food presidium: a rice with small grains, perfect for a lot of risotto such as the best known Carnaroli.
And my favourite risotto is with the tastasale.
The tastasale (litterally "taste the salt") is a mixture of minced pork meat, which is then arranged to make sopressa, salami and sausages: so called because it's the portion that is salted, flavored with a nice grind of black pepper and cooked to taste the composition of what will become the cured meats before stuffing them.
It is already a tasty risotto on its own: in winter it can be combined with good radicchio di Treviso and in spring it can be enriched with tender peas. A slightly more 'rebel' but still delicious version would be with a hint of saffron.
____________
NOTES
Every september, we enjoy the "festa del riso" (the Rice Festival) in Grumolo delle Abbadesse (Vicenza). Check this link https://www.festadelriso.it/menu-della-31a-festa-del-riso to find all the information to enjoy the party and to taste different kinds of risotto, often also called "limited edition".
In Isola della Scala (Verona), the "fiera del riso" (Rice Fair) is a very big opportunity to discover the world of rice: it was born in 1967 and every year it evolves and expands. Check this link to find all the information: https://www.fieradelriso.it/it/ It lasts more than 20 days, so you have no excuse for missing a nice trip in the city of the Arena.
Christian and Manuel Costardi are two chef brothers who made rice their trademark. (http://www.christianemanuel.it/pdf/menu.pdf). Their respect for this ingredient in their territory (Vercelli) is clear in a Rice A la Carte Menu which is a true declaration of love. The next restaurant I'm going to try is definitely theirs.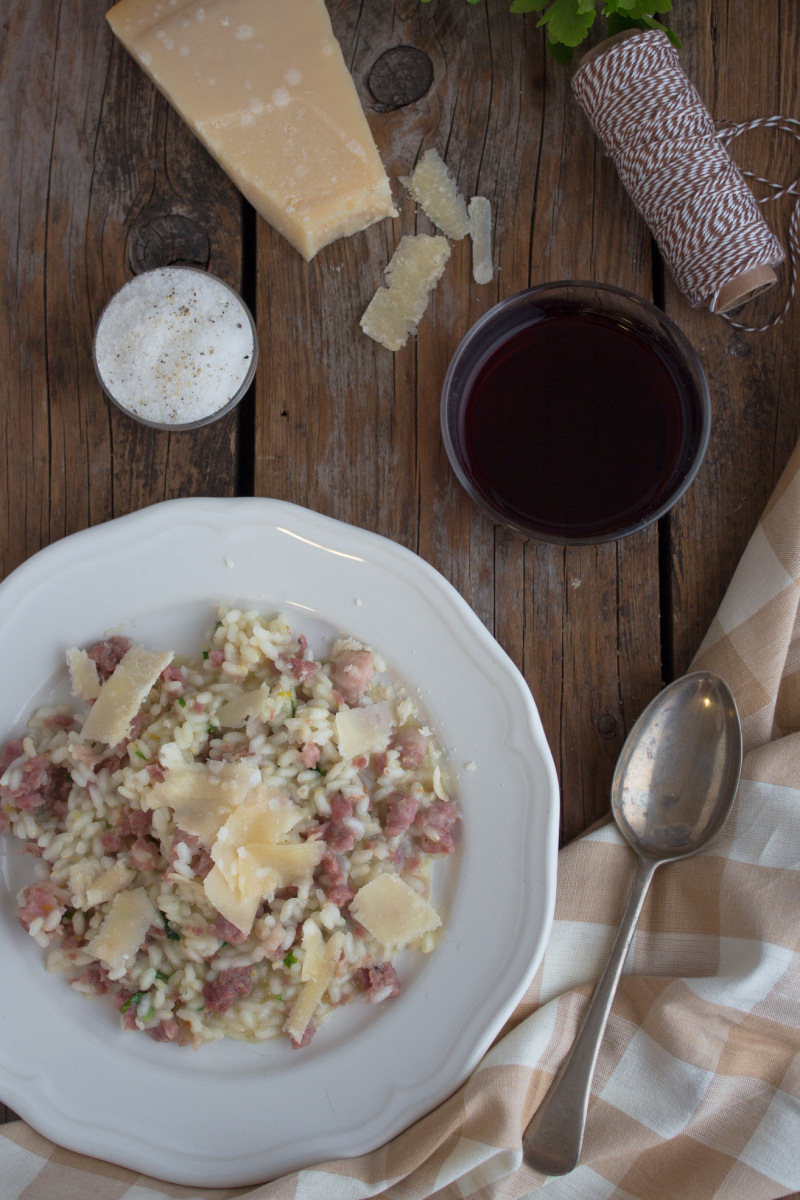 Steps
The meat broth:

You can prepare a nice pot of meat broth slowly, maybe on Sunday morning.

Peel the carrot and the half onion, wash the celery rib, put them in a large pot with two liters of water or a little more, together with the three grains of pepper (I personally put one white, one black and one green, but maybe I'm just a bit crazy) and meat.

Then add a sprig of parsley and place everything on the fire and let it slowly simmer ...

it will take a couple of hours, but to check when it's ready use a fork to poke the meat and feel if it's tender.

Then extract the meat and vegetables, let the broth cool completely down so the fat will come up on surface and you can remove it easily with a slotted spoon: add the salt as the last step.

Now you can use your broth for a good risotto or a soup.

The risotto:

Chop finely the shallot and put it in a pan with oil.

Cook it over on low temperature until it becomes soft: add the tastasale and cook it, spreading it out at the same time with a wooden spoon.

When the meat is no longer raw outside, add the rice and toast it for a few minutes, constantly stirring, until it will appear completely clear.

Now pour the wine and let it evaporate, then gradually add the broth, waiting every time for the rice to absorb well before adding more.

When the rice is cooked 'al dente', remove the pot from the heat, add the butter, the cheese and a some freshly ground black pepper. Stir it one last time then serve it immediately, that the risotto is way tastier when it's warm.