Tagliatelle with artichokes and sausage
19 April 2021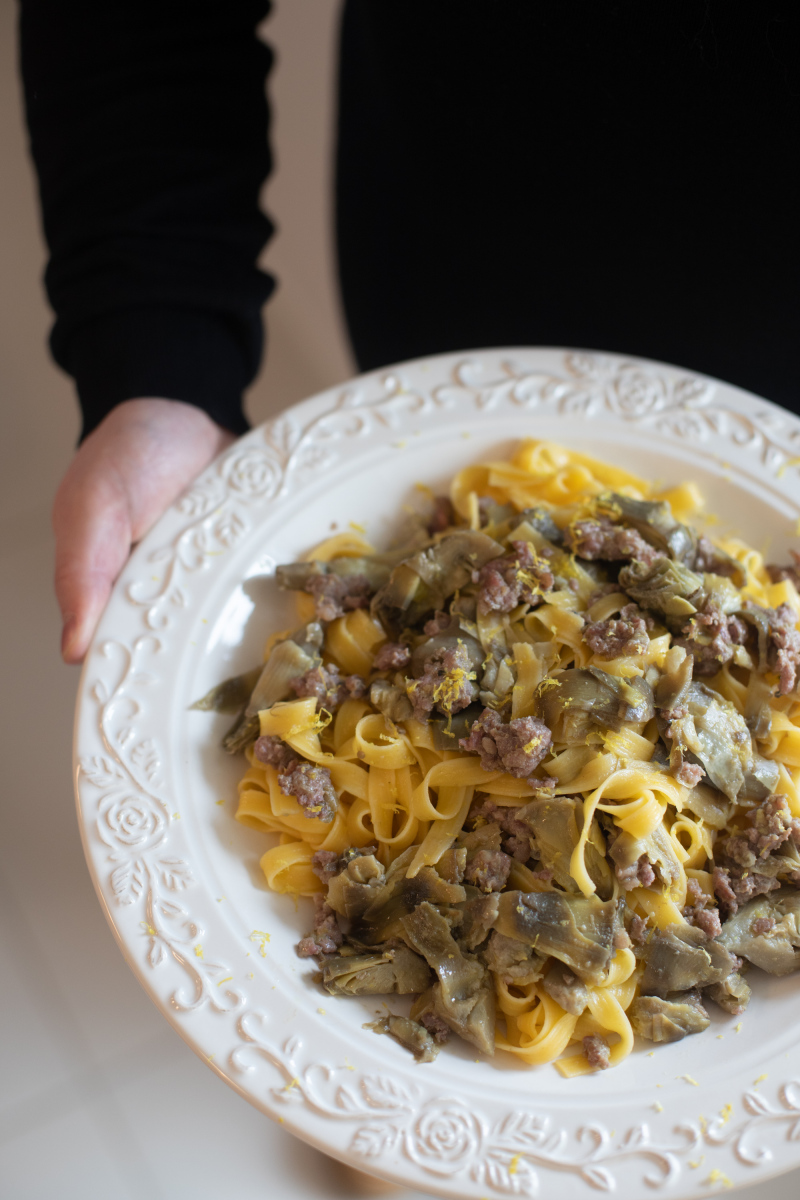 Ingredients
Artichokes, 3
Lemon, half
Extra virgin olive oil, 3 tbsp
Garlic, 1 clove
Fresh chopped parsley, a sprig
Salt, freshly ground black pepper
Fresh sausage, 2
Dry pasta tagliatelle, 350/400 g
Butter, about 50 g
Parmesan or parmesan, grated to taste
A bit difficult to clean, it's true ... but if we don't notice this first initial difficulty, or we cheat every now and then with the frozen ones that there is nothing dramatic, the artichokes will give us a lot of satisfaction.
They are perfect sautéed for a side dish suitable for meat or fish, but also on a bruschetta with fried eggs; if you don't know how to prepare them, just follow the first part of the tagliatelle recipe and you will be fine.
I arrive in the final part of the season but they are still very good and it is worth stocking them up: this sauce, if you like, you can also prepare it in quantity and freeze it for first courses, but also as a base for a risotto or as a filling. of a savory pie, perhaps combined with soft ricotta.

If you want to make the recipe in a gluten-free version:
Use a gluten-free pasta of your choice, it will be equally delicious!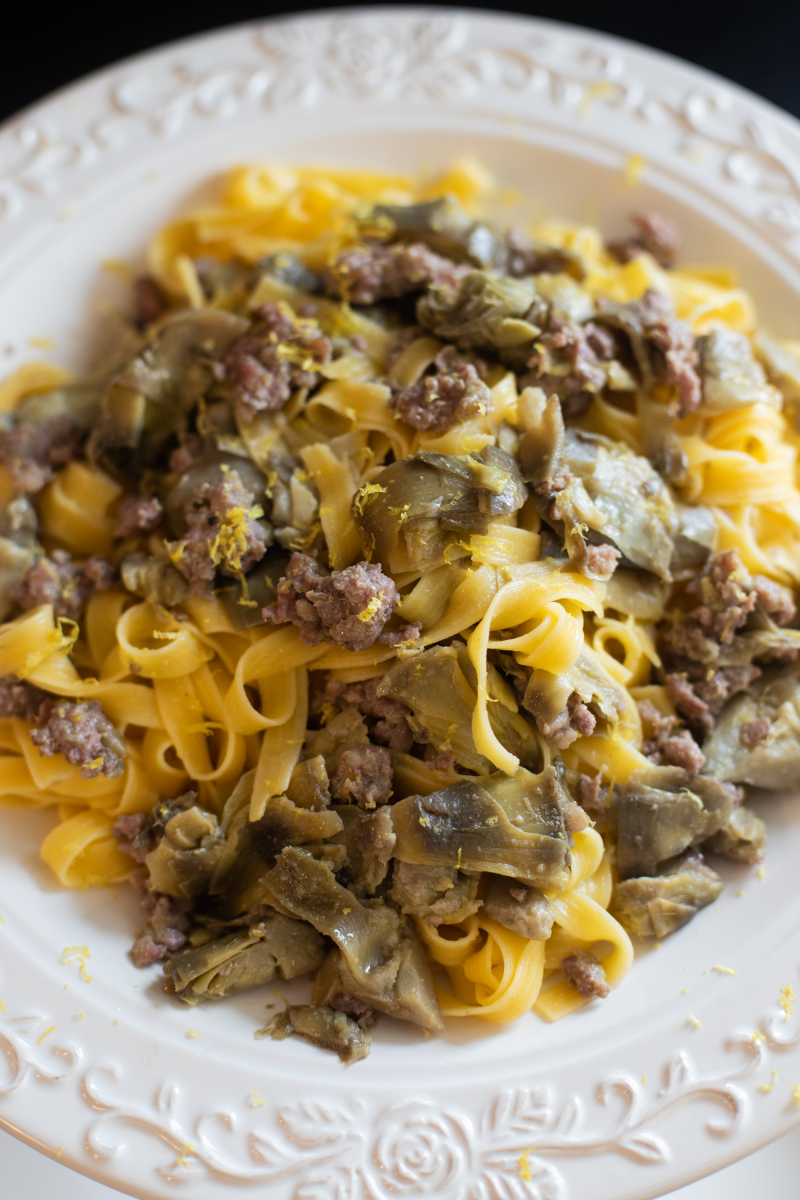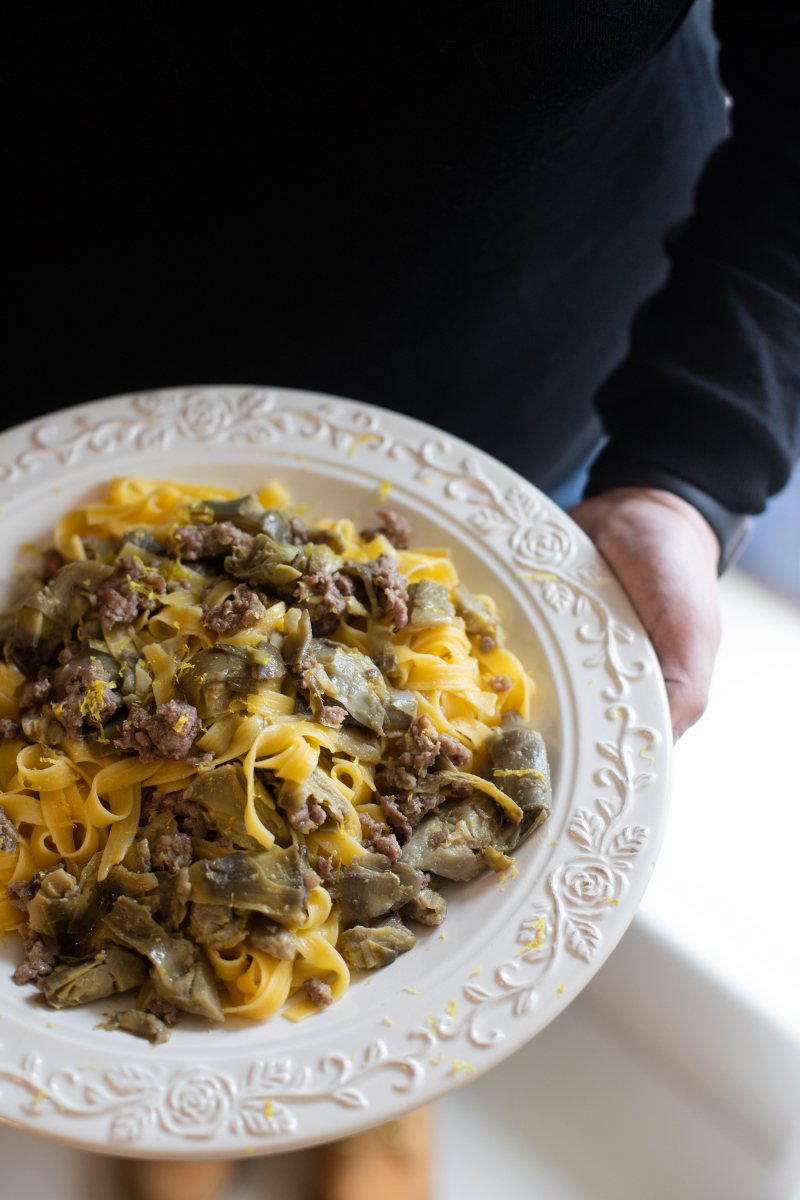 Steps
First, remember to protect your hands with gloves to prevent them from turning black after cleaning the artichokes.
Clean the artichokes by removing the harder outer leaves and the top. Cut them into thin slices and put them in a bowl with water and a little lemon juice.
In a pan, crush the garlic and pour the oil, then brown it slightly.
Add the artichokes cut into wedges and the well-drained stems reduced to small pieces and sauté them for a few moments.
Begin to wet the artichokes with water, adding it every time they dry, then pepper and salt. The cooking will last about 25/30 minutes, they must be very tender otherwise they are not pleasant in the mouth: season with parsley at the end, eliminating the clove of garlic.
At this point add the sausage removed from the casing, broken into small crumbs, over medium heat until it is well browned and cooked.
Meanwhile, boil the water for the pasta, add a handful of coarse salt to the boil and cook the tagliatelle.
Once drained, put them back in the pan in which you cooked artichokes and sausage and stir in the butter and cheese to taste.

You are reading:
Tagliatelle with artichokes and sausage