Potato balls
19 April 2021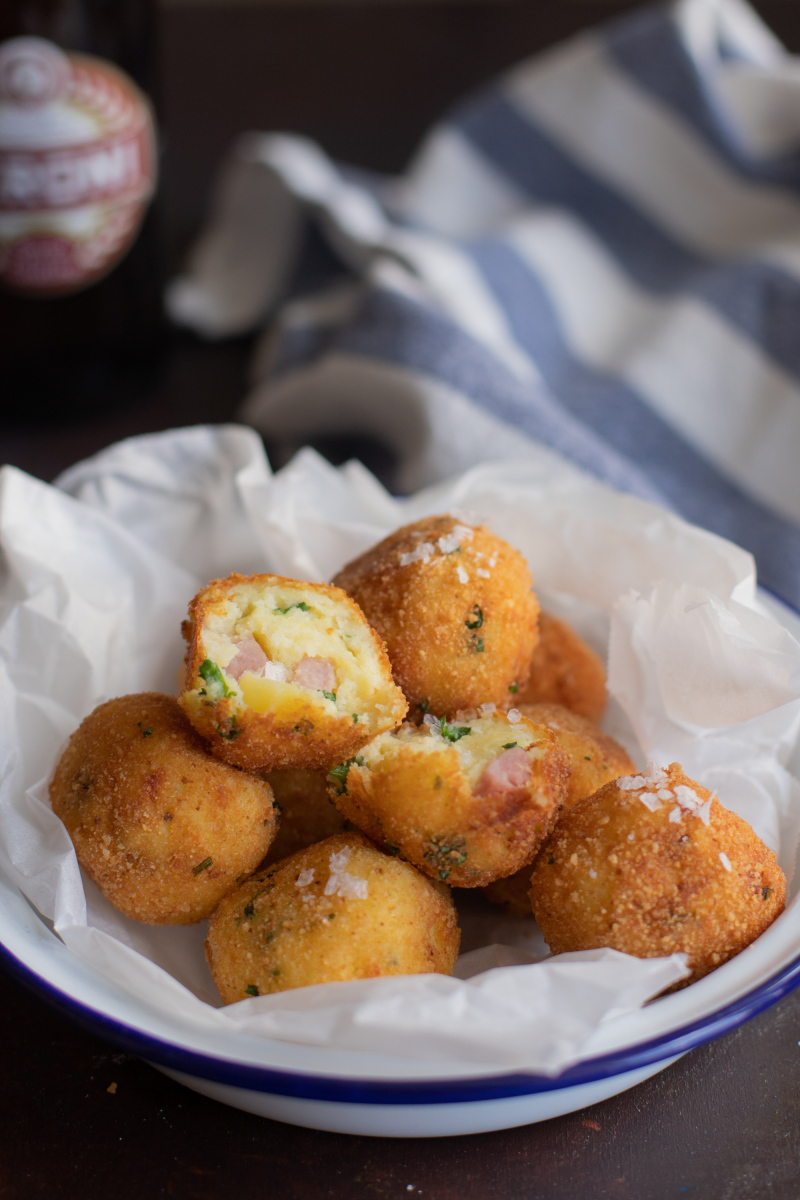 Ingredients
Potatoes, 4/5
Ham in a single slice, 50 g
Grated Parmesan cheese, 20 g
Egg, 1
Chopped fresh parsley, to taste
Black pepper, salt
nutmeg
Breadcrumbs, just enough
Frying oil
Portions:
About 15/18 potatoballs
When Elisabetta @lamagiadellespezie and Nicole @lemongrassandoliveoil invited me to participate in their column "A spice a month" I was really pleasantly surprised and happy to give my contribution to the collection.
My spice drawer is now famous on social media because I have a rich and maniacally tidy collection that ranges from powder to whole ones, stored in glass jars to prevent them from losing their fragrance: I still choose quite common spices, which I can use in the kitchen of every day, and above all I don't risk too exotic flavors because I know I wouldn't appreciate them. I also have all the dried herbs, which I use regularly to flavor my preparations, and I gladly follow the explanations that the girls publish monthly to tell about one or the other spice.
In short, when I got assigned with the nutmeg, I was happy!
The nutmeg that we know with its round shape and its brown color is the fruit of an Indonesian tree: externally it is covered with a coating called Mace, which in nature is red and when you buy it is dried, colored brown, and is more easily found in the form of powder.
Its aroma is very elegant: I always use it in béchamel sauce, in the mixture of meat for meatballs, in meat fillings for tortellini pasta and, inevitably, with mashed potatoes.
It softens and rounds the flavor, which immediately becomes recognizable: a potato puree without nutmeg is not finished, you feel that something is missing.
I chose to use it in these potatoballs, which were an experiment but which will rightfully enter the list of unmissable appetizers or greedy main courses for dinners on the sofa in front of a movie.
We have certainly eaten too many, here.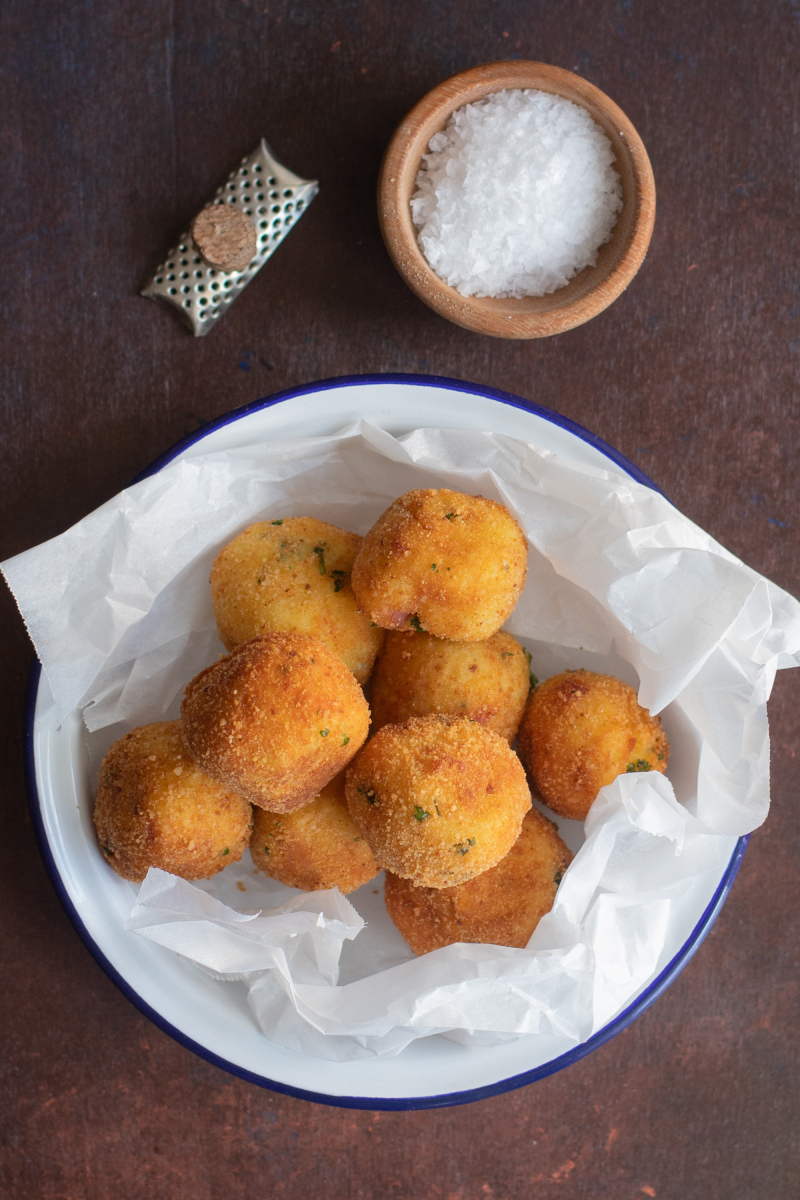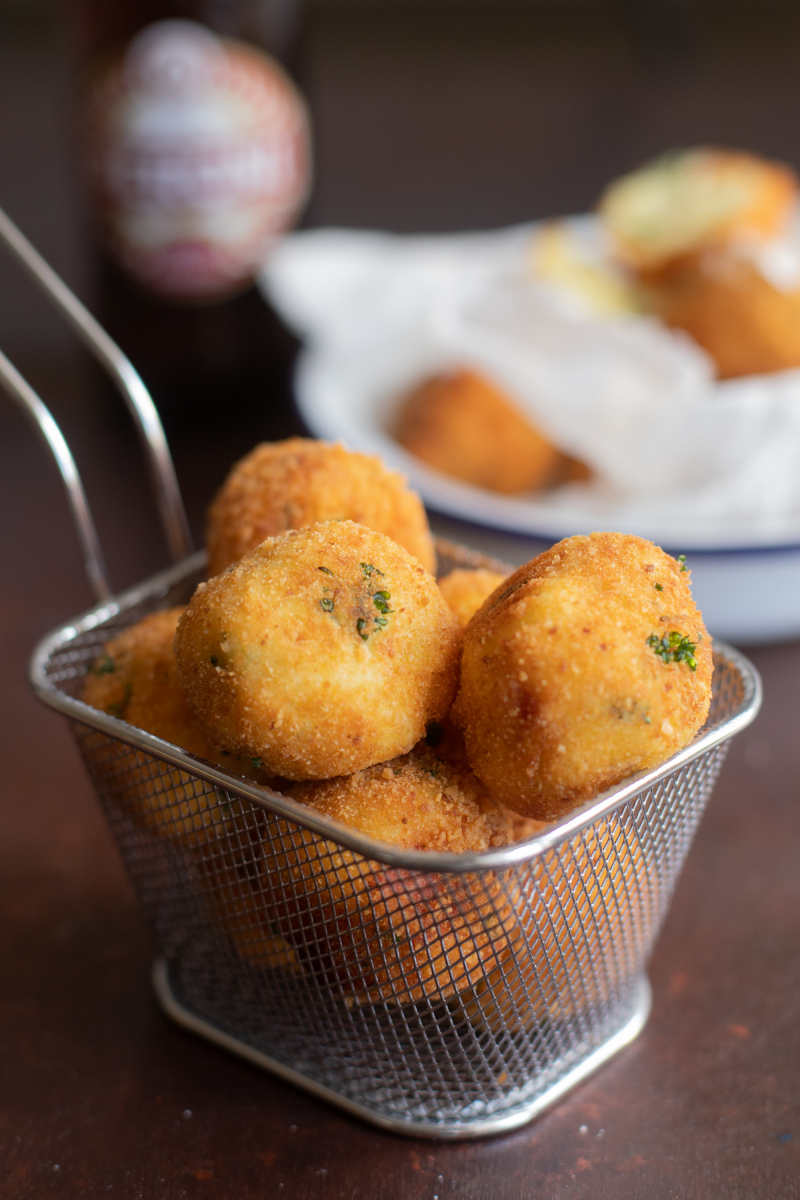 Steps
Wash the potatoes well in their skins, place them in a saucepan full of water and boil until they are tender to the heart.

Drain, let them cool a little and then pass through a potato masher: you will need to obtain 350 g of mashed pulp.

Cut the ham into very small cubes.

Combine the crushed pulp, ham, parmesan, egg, parsley, salt and pepper, a generous grating of nutmeg: mix well, then with moistened hands form small meatballs (you will get from 15 to 18).

Roll them well in breadcrumbs and fry them in plenty of vegetable oil for frying.

Serve them hot!