My pumpkin risotto
22 October 2020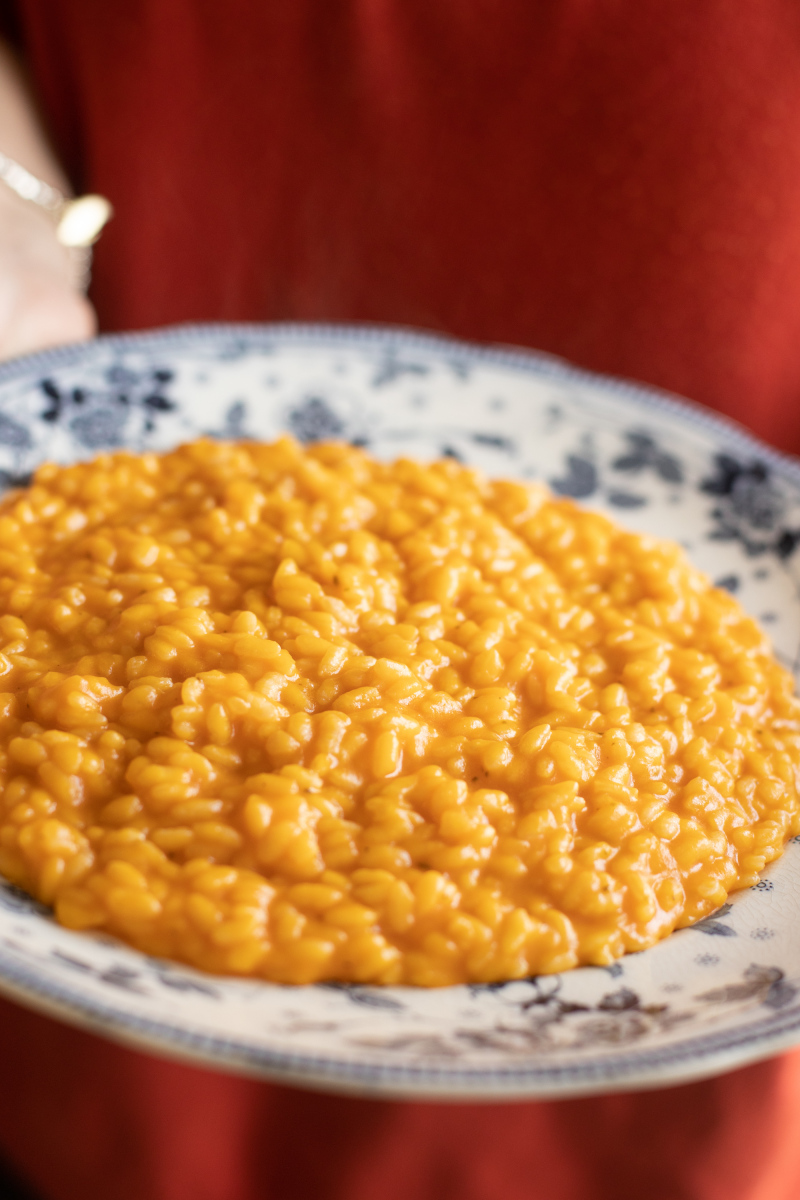 Ingredients
A small pumpkin
Shallots, 2 small
Liquid honey, 1 tbsp
salt
black pepper
Sage, 4 leaves
Extra virgin olive oil, 6 tbsp
Vialone nano rice, 320 g
Dry white wine, 1/2 glass
Vegetable broth, about 1 liter
Grated Parmesan, about 30 g
Butter, 30 g
I know I said my favorite dish is eggs, potatoes and crispy speck, I know.
But that's my superfavorite dish.
In second position I put the eggplant parmigiana and the pumpkin risotto on a par.

On pumpkin risotto I'm annoying, I realize that.
I don't like "white" risotto with pieces of stewed pumpkin, because for me the rice has to absorb the flavor of the sauce and the pieces so boiled do not allow it.
I like it creamy, well added with butter and grated cheese, with the sweetness of pumpkin even emphasized by honey and with that hint of sage, that with butter it is perfect and that helps the sense of taste to perceive the complexity and delicacy of the pumpkin pulp.
I keep it a little soupy at times, so that I can't eat it with a fork.
Other times, however, I thicken it, well, almost like a cream of rice: it almost looks like a dessert.

It is one of my masterpieces of autumn dinners with friends, but as soon as I see the first pumpkins I can't resist, I don't wait for the air to become pungent, because risotto for me is perfect even in August.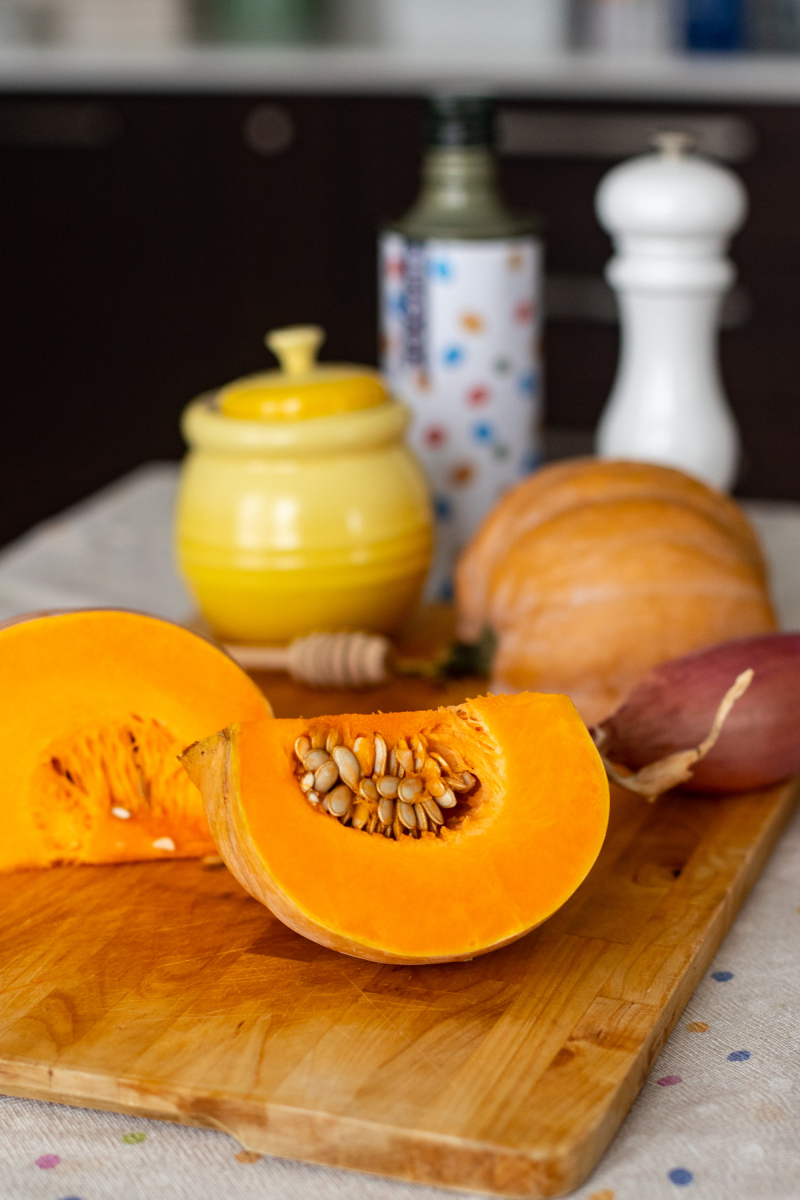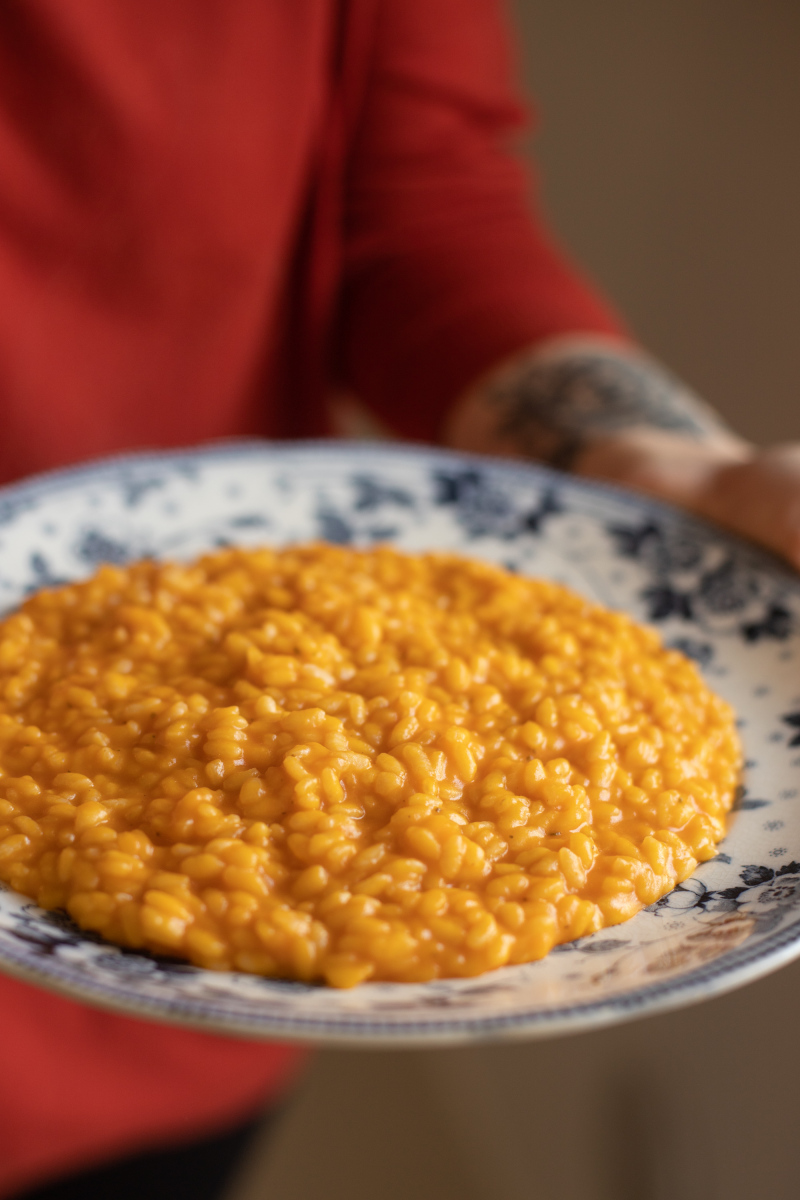 Steps
Prepare an oven tray by covering it with a sheet of parchment paper, then also prepare a risotto casserole.
Wash the pumpkin well and cut it into medium pieces, without removing the skin, eliminating only the seeds and filaments. Place the pieces thus obtained on the oven plate with the peel behind.
Cut 1 shallot into large pieces and spread it over the pumpkin.
Season with honey, salt, pepper, sage and half of the oil.
Bake at 180 degrees for about 35/40 minutes, until the pumpkin is tender.

Let it cool for the time necessary to be able to handle it, then scoop the pulp out of the slices with a spoon and put it in a mixer. Throw away the peel then take the entire contents of the parchment paper and add it to the blender, then operate the blades and reduce to cream.

Heat the broth.

Put the rest of the oil and the other chopped shallot in the risotto casserole, brown briefly and then throw the rice.
Toast, always stirring with a wooden spoon, then over high heat pour the wine and let it evaporate.
Lower the heat and add alternately a ladle of broth and one of pumpkin cream until the rice is cooked (about 20/25 minutes). Maybe you won't use all the broth and all the pumpkin pulp.

When the rice will be "al dente" cooked, turn off the heat, season with salt and pepper if necessary and stir in the butter and cheese.