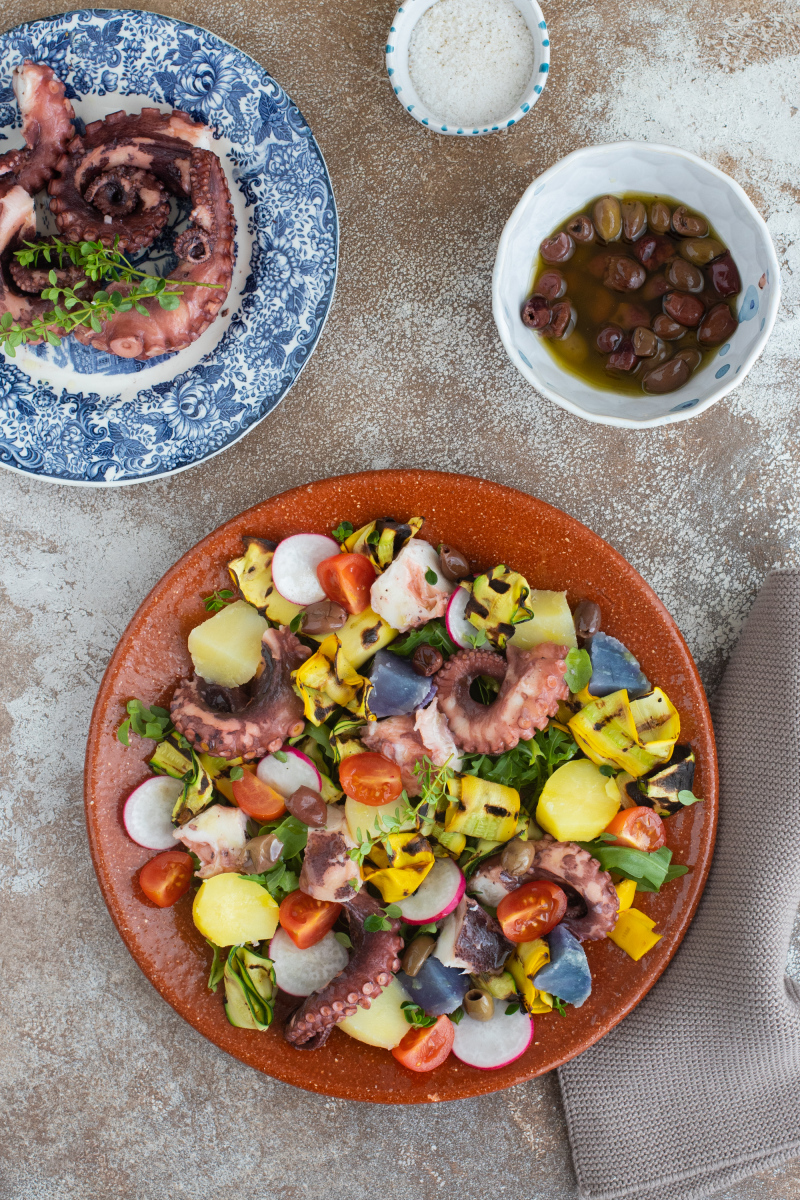 Ingredients
- Octopus, 1 large, cleaned
- Garlic clove, 1
- Green and yellow courgettes, 4
- Colored new potatoes, 8
- Rocket salad, 3 handfuls
- Radishes, 4
- Taggiasca olives, 15/20
- Red cherry tomatoes, 4
- Lemon thyme
- Extra virgin olive oil
- Whole salt
- Freshly ground black pepper
Like every month, since the start of the lockdown, me and my friends Marianna from the blog Dalla Ada and Daniela from the blog Timo e lentchie are virtually together to cook, sharing seasonal ingredient and propose it, each in its own way, with the tag #cucinaadistanza .

This month we choose zucchini, courgettes: a vegetable that we are used to finding on supermarket counters all year round, in reality it is typical only of late spring / summer and above all it has a more intended flavor only in this time of the year. During the rest of the year, being a greenhouse or intensive agriculture product, it tastes of water, has no firm pulp and its typically fresh and herbaceous flavor is lost.
I really like courgettes: I don't just relocate them as a side dish, but I make them protagonists of more dishes.
I like to slice very thin a fresh spring onion, sizzle it in oil and then brown the diced courgettes, to season a plate of rice or pasta, perhaps adding a spoonful of fresh ricotta and some grated lemon peel.
I like to grate them with a large hole grater, combine them with egg, flour and milk, a pinch of yeast, and so on, spoonfuls of fritters.
I like them very much grilled, I find that the slightly smoked flavor suits the courgettes.
The herbs that I love to combine with zucchini are undoubtedly basil, lemon thyme, mint and spices instead are paprika, vanilla and dried garlic.

For this proposal, I thought of the octopus.
Octopus and courgettes are one of my usual dishes: if, however, I add a little more spring vegetables and lots of color to it, it turns into an inviting salad to be served warm or cold, depending on when I decide to eat it.
I'll tell you my secret, which has nothing secret, to cook octopus and to grill zucchini in very thin slices.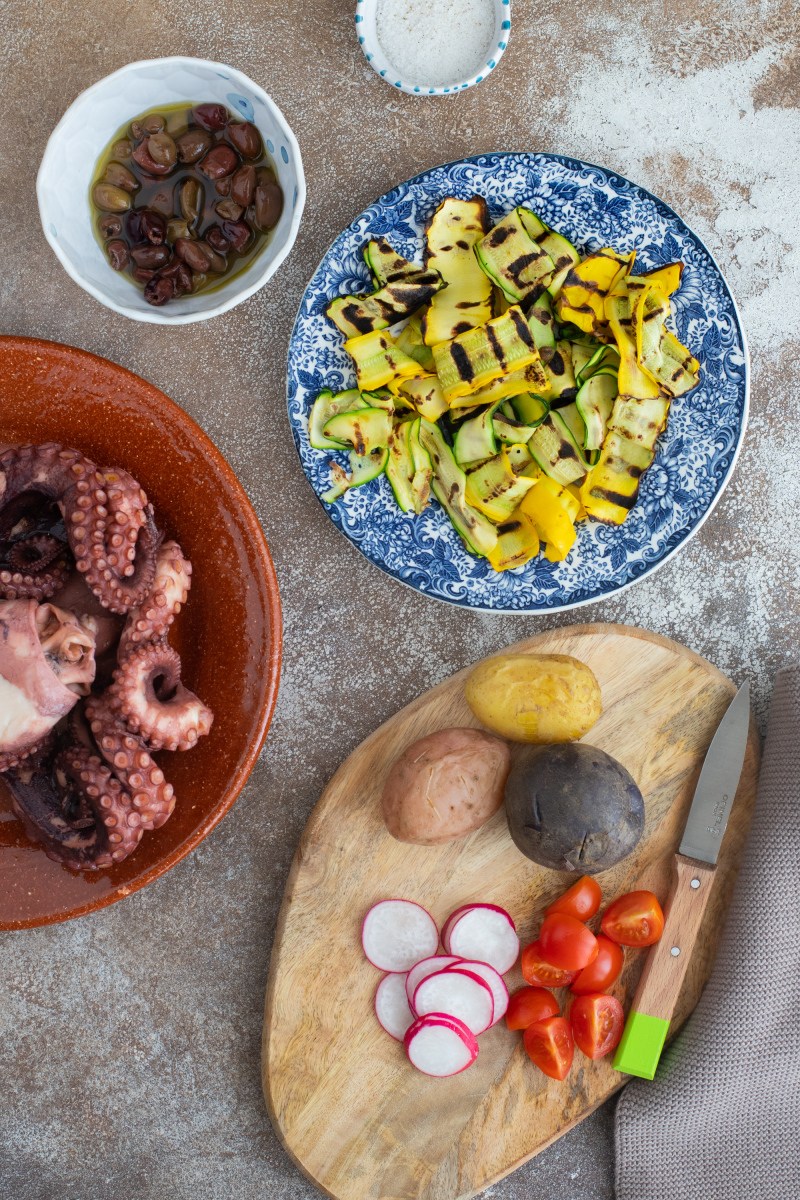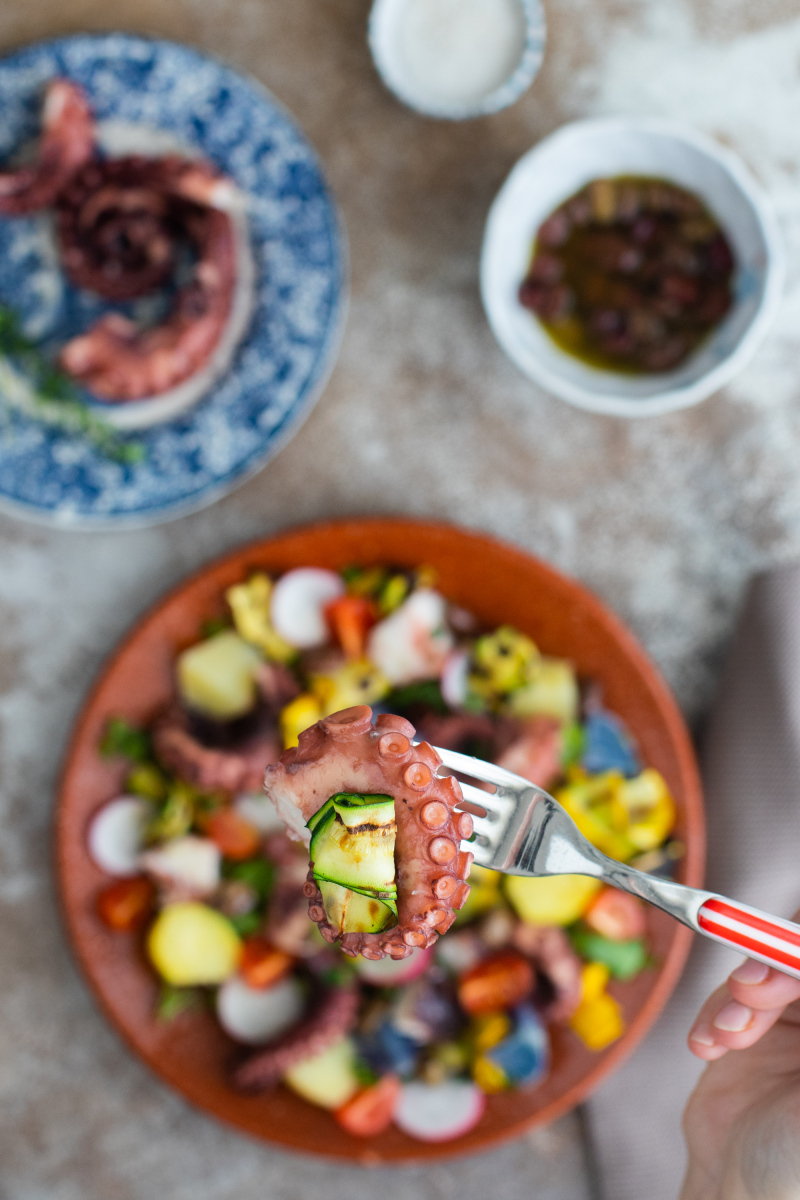 Steps
In a heavy-bottomed pan with a lid, preferably cast iron or earthenware, put a drizzle of oil to cover the bottom, place the octopus and the clove of garlic, pour half a glass of water into it and cover with the lid. Turn on the low heat and cook until, pricking with a fork, it is soft (it must yield like chicken meat).
At that point, remove the excess wate and the garlic and cut into pieces.

In the meantime, remove the ends from the courgettes and slice them using a potato peeler, to obtain long and very thin strips. Pair them two by two and grill them on a striped pan over high heat.
They will cook quickly because they are very thin, do not lose sight of them.

Meanwhile, boil the potatoes in their skins, until stinging with a fork is not tender. Let them cool then remove the peel, or if you like and are organic, leave it as well. Cut it into 4 parts and set aside.

Thinly slice the radishes, wash the rocket, cut the tomatoes into 4, drain the olives from the conservation oil.

Arrange the rocket, radishes, cherry tomatoes, olives, potatoes, courgettes and octopus in a large serving dish: season with salt, pepper, oil and thyme leaves and bring to the table cold or warm, at your taste.