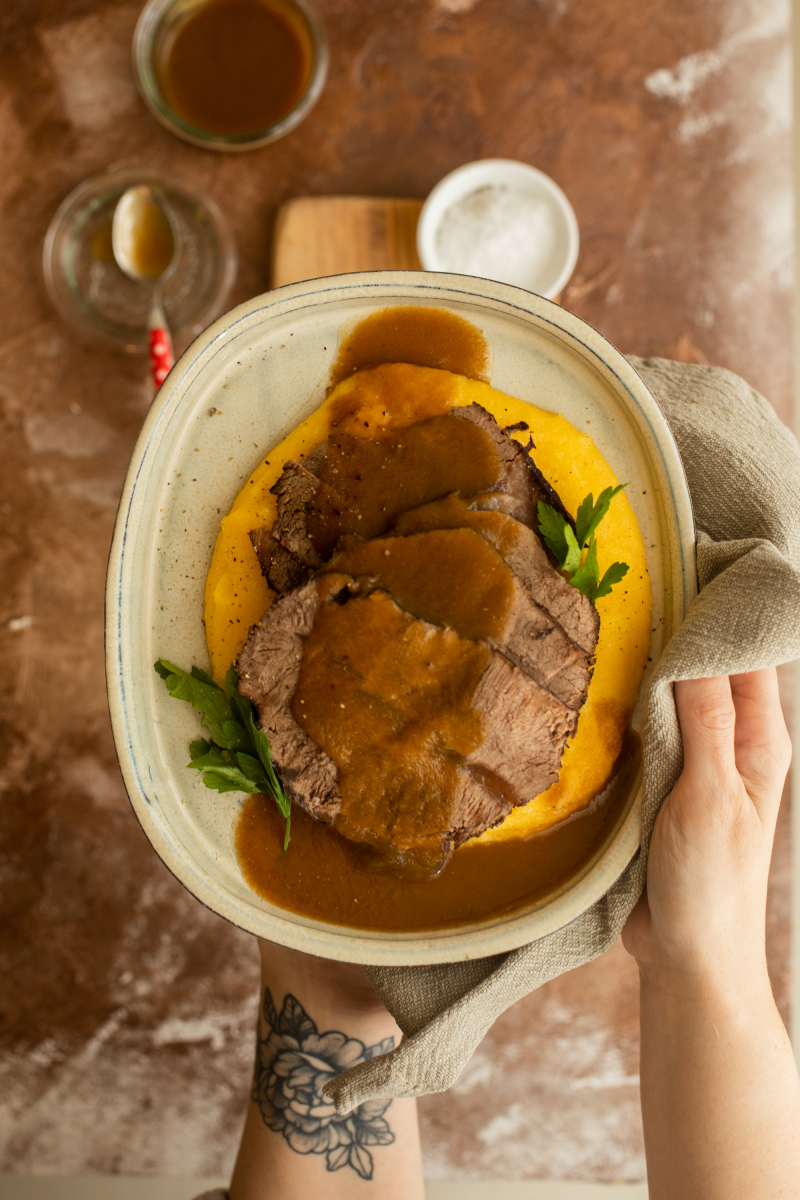 Ingredients
For the broth:
1 carrot
2 celery stalks
1 onion
1 potato
2 grains of black pepper
For the stew
1 carrot
2 celery stalks
1 onion
8 tbs of extra virgin olive oil
1 kg of veal meal
1/2 liter of red wine, I used cabernet
1 liter of the broth obtained
1 tablespoon of 00 flour
Salt and pepper
For the polenta
1/2 kg of cornmeal for polenta
At this moment I would need to lock myself in a Spa and throw the key, pretending it happened accidentally and even simulating calmness when someone discovered my presence.
I would also need a few extra hours, to make beautiful things like finishing a book and starting another or maybe to fry two carnival crostoli and eat them until I have stomach burn.
I would need to lose three or four kilos and possibly without effort, but I am always hungry and not very disciplined, in short, a combination that doesn't help the result.

I would need many things, but I will try to be satisfied with a plate of stew with polenta, which for now is the closest thing to wellness that I can imagine.

Stews, or braised meats, are food that I love: I like to see meat that at first resists to heat and retires nervously, almost as if it doesn't want to allow cooking, and then gives up, after a few hours, to the effect of heat becoming soft and juicy.
I also like to use poor cuts, the more tenacious ones, because by cooking them for a long time they soften and become so dark, creamy and comforting.
It's a bit like that for people too, isn't it?
Insist and insist, even the strongest fibers sooner or later give way, in better or in worse.

To help my meat soften, I chose to give a bath in red wine which, once reduced, created a persistent sauce that with polenta is also good on its own, even without the pieces of meat on top. I used classic yellow polenta, but if you happen to use it also use white corn polenta, it will be equally delicious.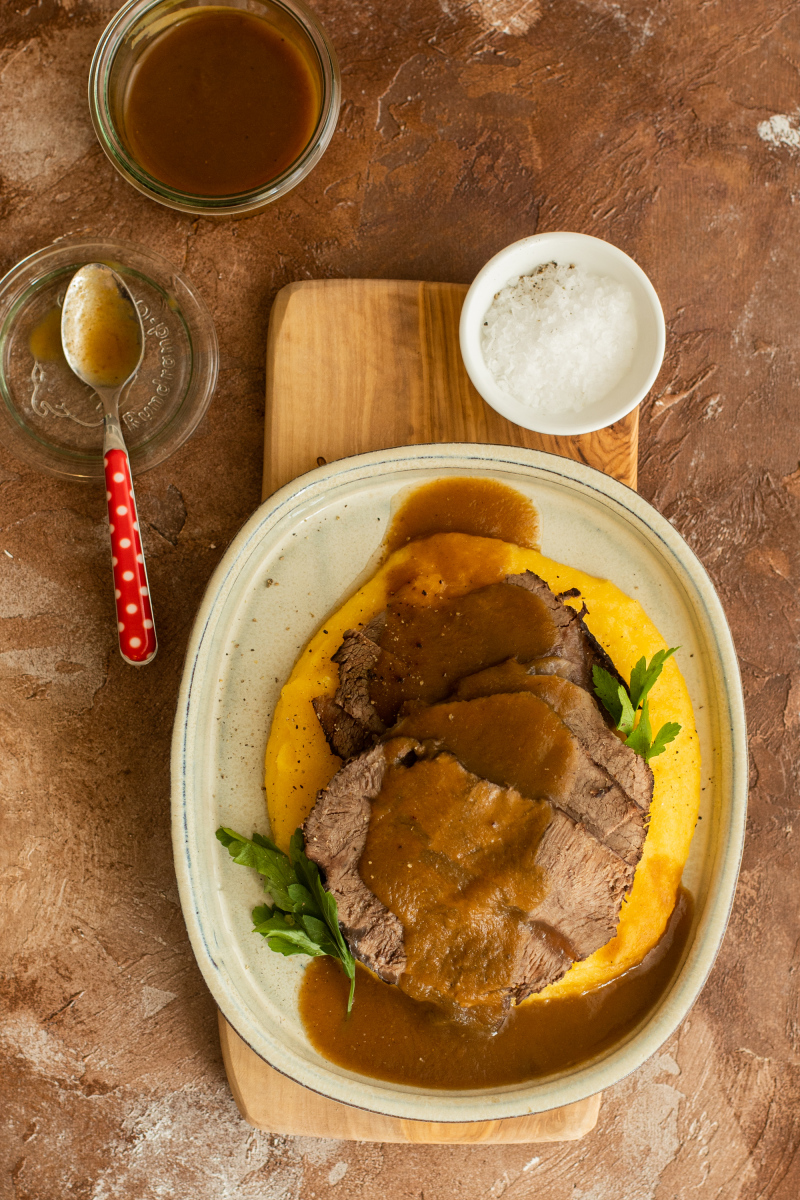 Steps
Prepare the broth: in a large pot pour two liters of water and add the clean carrot, celery, the onion cut in half, the peeled potato and the peppercorns. Boil over medium heat for about an hour, until the vegetables are tender and the broth is well-scented. Filter and keep warm (you can eat the vegetables as they are or use them in the meatballs if you prefer).


Now prepare the stew: clean and cut the carrot, celery and onion, in small to medium pieces without being too precise and accurate.
In a large saucepan, preferably in cast iron or in any case with a thick bottom, put half of the oil and the vegetables into small pieces, then cook carefully with medium-high heat until they are golden brown and smell of soffritto. Now set them aside on a plate.

In the same pot, put the rest of the oil, and brown the meat on all sides, making it brown well.
When all the sides are well browned, bring the vegetables back into the pot, pour the red wine and a liter of broth, cover and cook for at least 2 hours.

The meat, by pricking it, must not pose any resistance, but you will almost seem to break it with a single wooden toothpick.
At that point, you can remove it from the liquid and put it warm on a plate.
With a slotted spoon, also remove the pieces of vegetables and put them in a blender with half a liter of cooking liquid (the rest can be eliminated).

Blend the vegetables and put them back in the pan with the flour, cooking over low heat and stirring with a whisk to prevent lumps and thicken the sauce.

Prepare the polenta following the instructions on the package and serve it hot, with the sliced ​​meat (salt and pepper rule) and the reduced sauce on top.