Crepes with ricotta and fiolaro broccoli
02 February 2020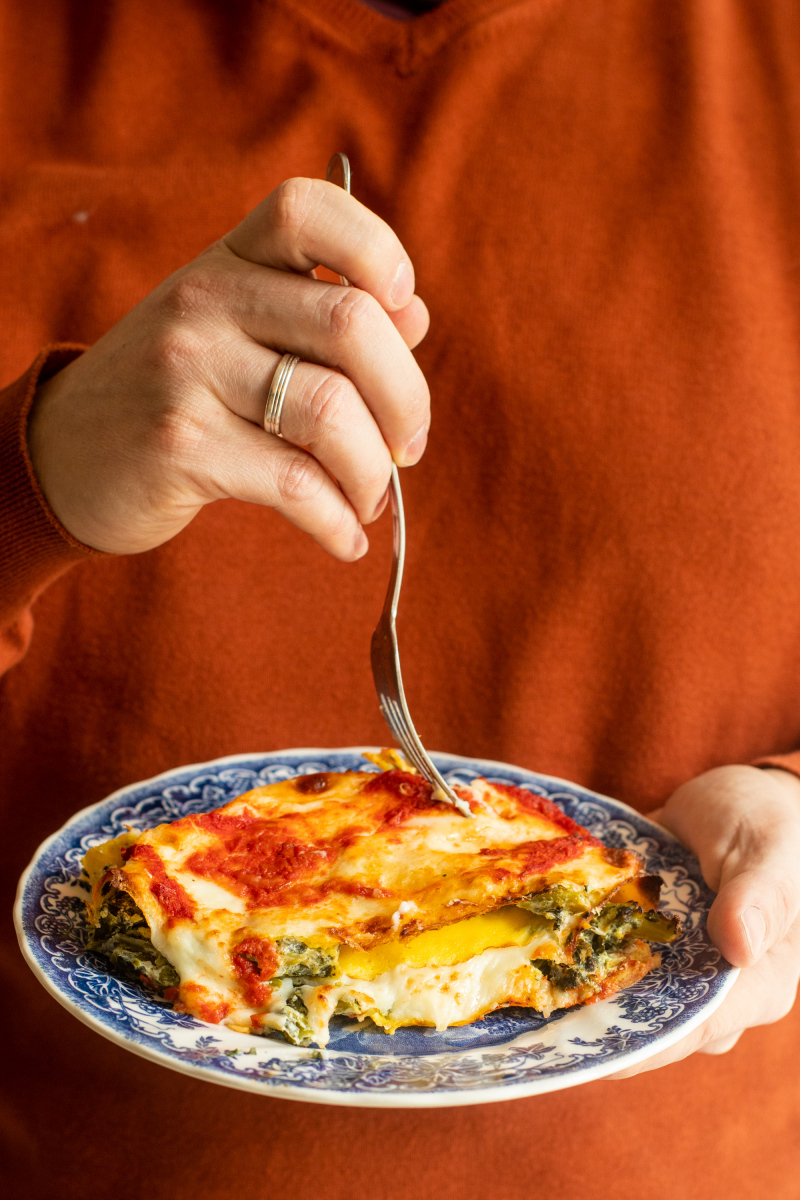 Ingredients
For the stuffing:
Fiolaro broccoli, 1kg clean
Extra virgin olive oil
Garlic cloves, 2
Spring onions, 2
Ricotta cheese, 400 g
Grated peel of half a natural lemon
Parmesan or Grated Parmesan, 30 g
Nutmeg
Salt, freshly ground black pepper
For 10 crepes:
Eggs, 3
00 flour, 150 g
Milk, 400 ml
Salt, a big pinch
For the bechamel:
Milk, 500 ml
00 flour, 50 g
Butter, 50 g
salt
Nutmeg
For the tomato sauce:
Extra virgin olive oil, 2 tbsp
Garlic clove, 1
Tomato sauce, 200 g
Grated Parmesan or Grana cheese to gratin
A few days ago on Instagram I asked my readers if they preferred to start the month of February with a vegetarian dish or a main meat course. The choice fell on a vegetarian dish.
Probably, given to the dishes that I usually propose, the expectation was of a quick first course, a not too elaborate sauce: instead this time I wanted to exaggerate, I brought out the heavy artillery.

I love baked pasta, bechamel and gratin, but obviously I can't always dedicate myself to it because they require some time and concentration: this time instead of pasta I wanted to resume my mom's recipe for crepes, more satisfying and soft, which fill very well the pan first and then the belly.
It is a slightly niche recipe, for the difficulty of finding broccolo fiolaro, but do not be discouraged and try it with friarelli, or cime di rapa, or bitter herbs mixed with spinach.
Eventually chard and, why not, black cabbage may also be fine.
The broccolo fiolaro, the real one, is found only in Creazzo, in the province of Vicenza: it is a product that is available for a limited period, so I stock it up and put it in the freezer for periods of shortage.

This crepe recipe is not a short or simple preparation for someone who is a beginner in the kitchen: however it is not impossible, it is easily managed in several times with a little organization.
You can prepare the crepes in advance and freeze them, for example, as well as the broccoli for the filling: in this way when you want to cook them, just mix the filling and prepare the béchamel and tomato.
Or you can also prepare the crepes and the stuffing, pack them and freeze them: when you defrost them, you will season them with bechamel and tomato and you will make them au gratin.
Feel free to customize them: you can omit the tomato sauce and leave it "white", or season it with only the tomato sauce and parmesan cheese for a lighter gratin.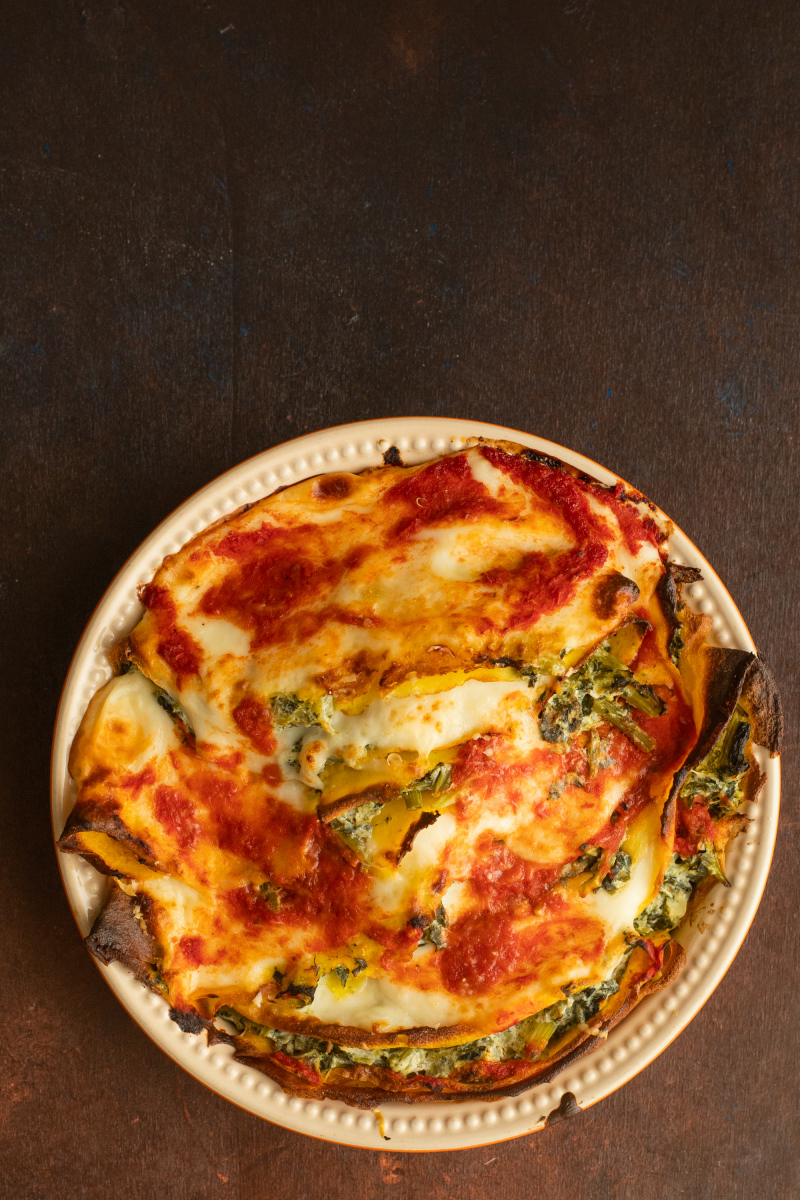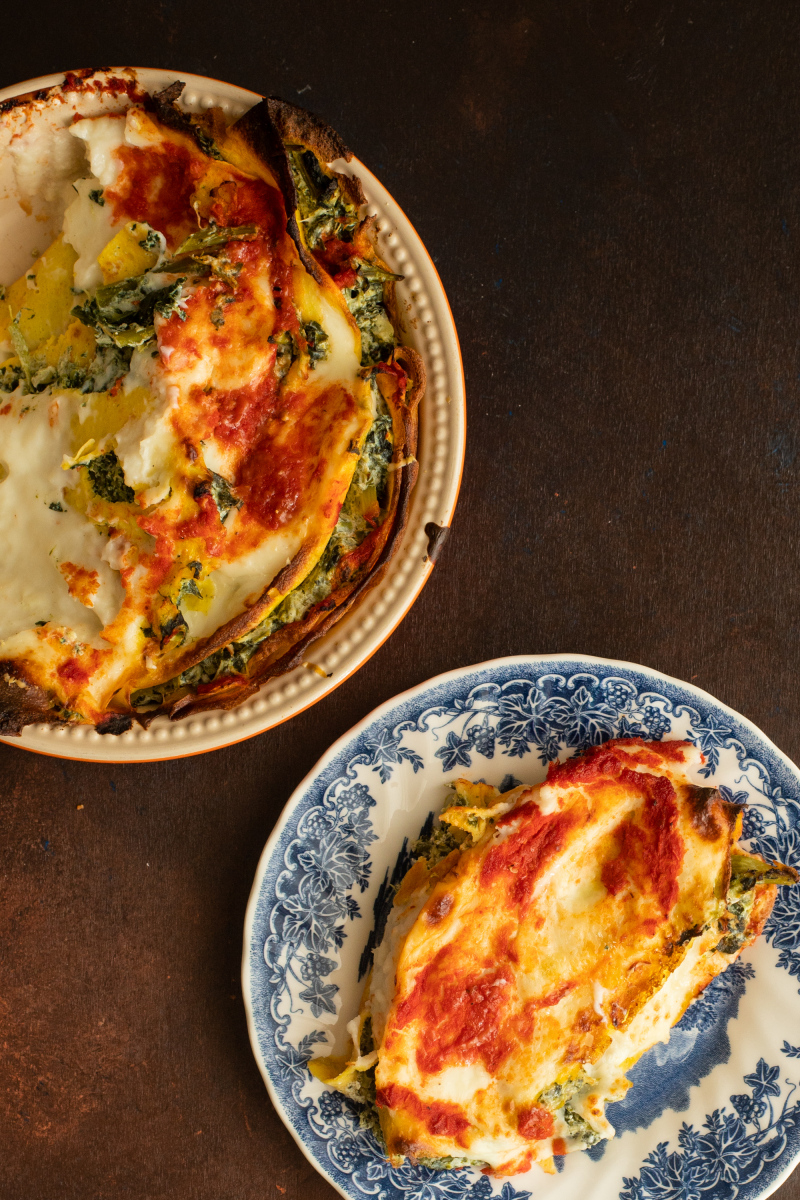 Steps
Prepare the broccoli: boil it until they're tender (it will take at least half an hour), then drain it and cut it into small pieces.
Now cook them quickly in a pan with oil, salt, pepper, garlic and finely sliced ​​spring onion. When it is well dried and flavored, remove the garlic and let it cool completely.

In the meantime, prepare the crepes: with a whisk mix the eggs with the flour, add a pinch of salt and milk little by little. Leave to rest for half an hour at room temperature then heat a pan about 24/26 cm in diameter well and lightly grease it with oil.
Pour a ladle of batter, spread it by twirling the pan a little and cook on both sides.
Pass them on a plate, using parchment paper to separate each one.

Now prepare the filling: add the ricotta, the lemon peel, the grated cheese, a sprinkling of nutmeg, salt and pepper and the cooled broccoli.

Stuff each crepe by spreading a little filling on half, fold over the empty flap, then fold again in half. Place all the stuffed crepes on a baking dish and let them rest.
Put a saucepan with the milk to heat and another saucepan with butter, flour, salt and nutmeg on the fire. With a wooden spoon, mix the latter carefully until they become a cream (roux) and now gradually add the hot milk, stirring constantly so as not to form lumps. It's ready when it's thickened.
Pour it on the crepes.

On another saucepan, heat oil, garlic and tomato, cook for about twenty minutes over low heat, shrinking a little. Add the tomato sauce on the crepes, on top of the béchamel: sprinkle with grated cheese now and cook in the oven for about 20 minutes to gratin.

You are reading:
Crepes with ricotta and fiolaro broccoli