Fennel gratin
06 January 2020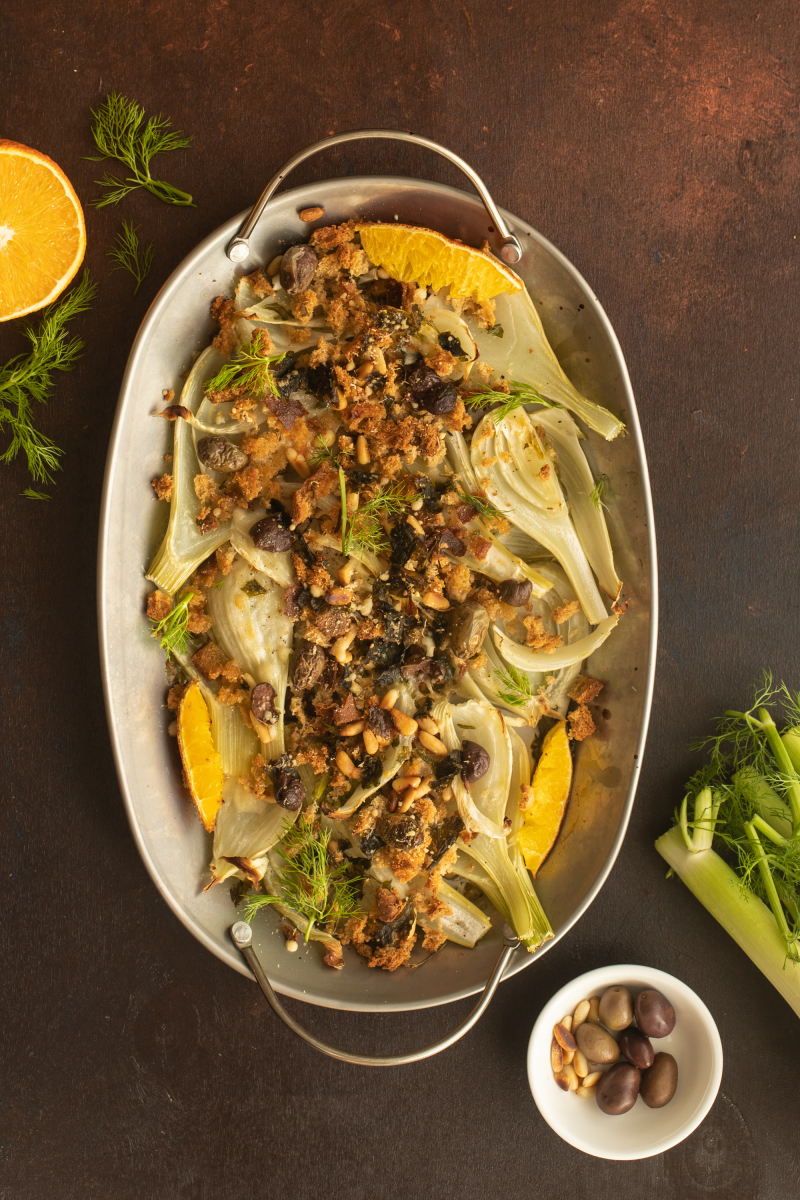 Ingredients
2 fennel
extra virgin olive oil, 3 tbsp
the juice of an orange
salt and freshly ground black pepper
an handful of pine nuts
2 slices of stale bread
fresh parsley
a dozen pitted black olives
2 tablespoons grated Parmesan or Grana cheese
Butter
January is the month of my birthday and I like that bitter and merciless cold that it brings. It is a moment of transition: January doesn't have the magic of December, the lights on the balconies and the shimmering parties, and it doesn't even have the joy of February that approaches the Carnival passing through Valentine's Day.
But it is the month of recollection, the one in which the rhythms slow down even if the year starts again, the one in which in the kitchen we return to preparing simpler foods not intended for the party table. I prefer it for that.
My December passed like in a bubble, I was still waiting for it to pass as quickly as possible and now that the page on the calendar is new and untouched, I feel better and the desire to cook has returned.

I want vegetable dishes right now.
Winter vegetables have strong colors and flavors, such as the anise you feel when you bite a raw fennel for example, or the strong smell that is spread around the house cooking broccoli.
I learned to appreciate them since I was grown up, like many of us.
I love fennels and I always look for some new way to enhance their fresh, herbaceous and slightly balsamic flavor.
I want them to remain light, seasoned with simplicity, but worthy of supporting a vegetarian lunch accompanied by a soft yolk egg or a portion of soft cheese like a brie for example.
I put them in the oven to brown them, give them a crispy crust and make them feel protagonists: here they are, in all their delicious lightness.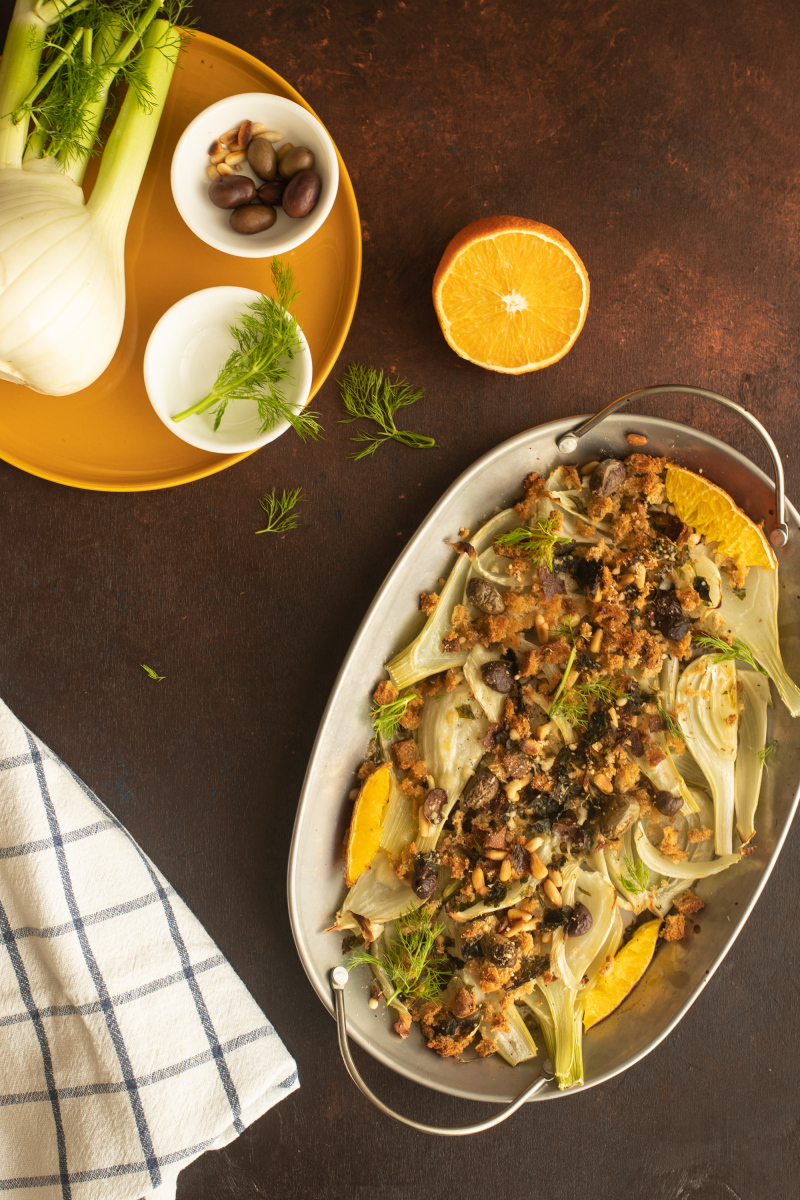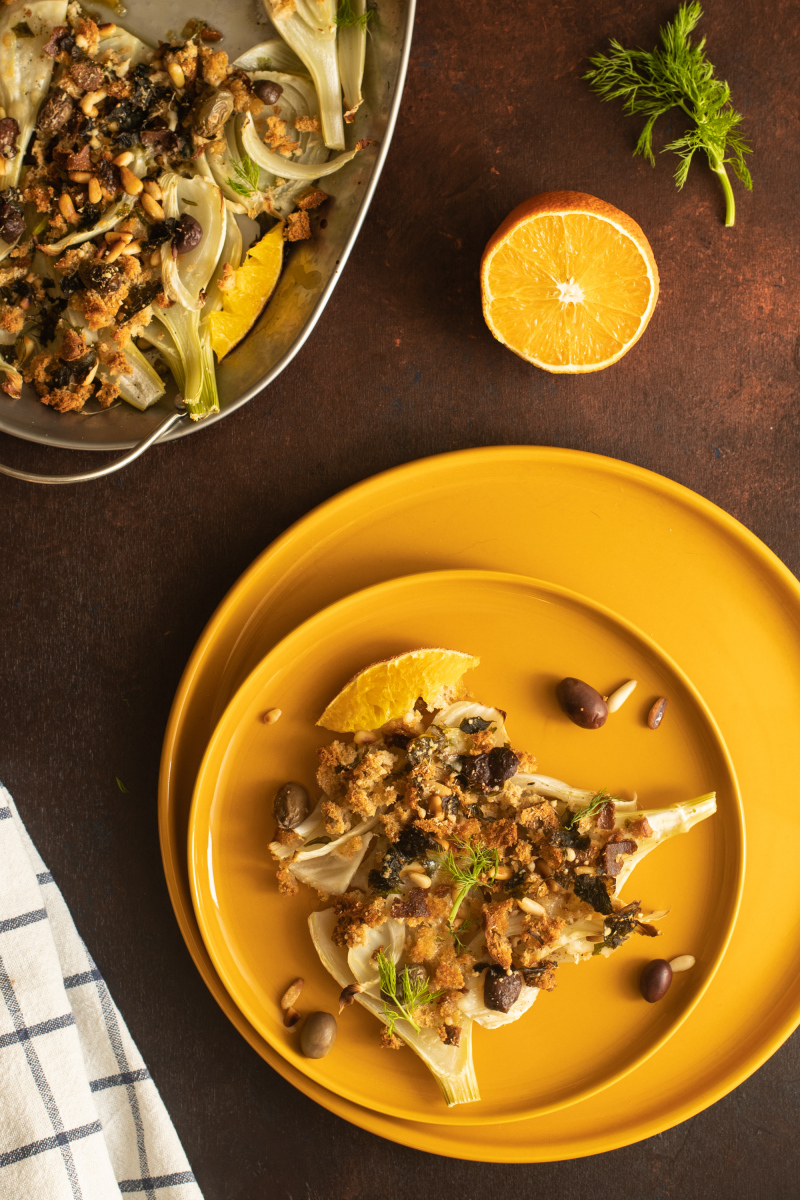 Steps
Slice the fennel into 3/4 mm thick slices, then boil them or cook them in the microwave (I prefer the microwave so they don't break!).
Pour the oil on the bottom of a baking tray, lay the fennel on it, season with salt and pepper and sprinkle with orange juice.
Toast the pine nuts in a non-stick pan (without oil), but be careful that they burn quickly.
Finely chop the bread, parsley and olives and mix them with the grated cheese and pine nuts, then distribute the mixture on the fennel. Add two or three curls of butter here and there and bake at 180 degrees until golden brown, it will take about 20 minutes.