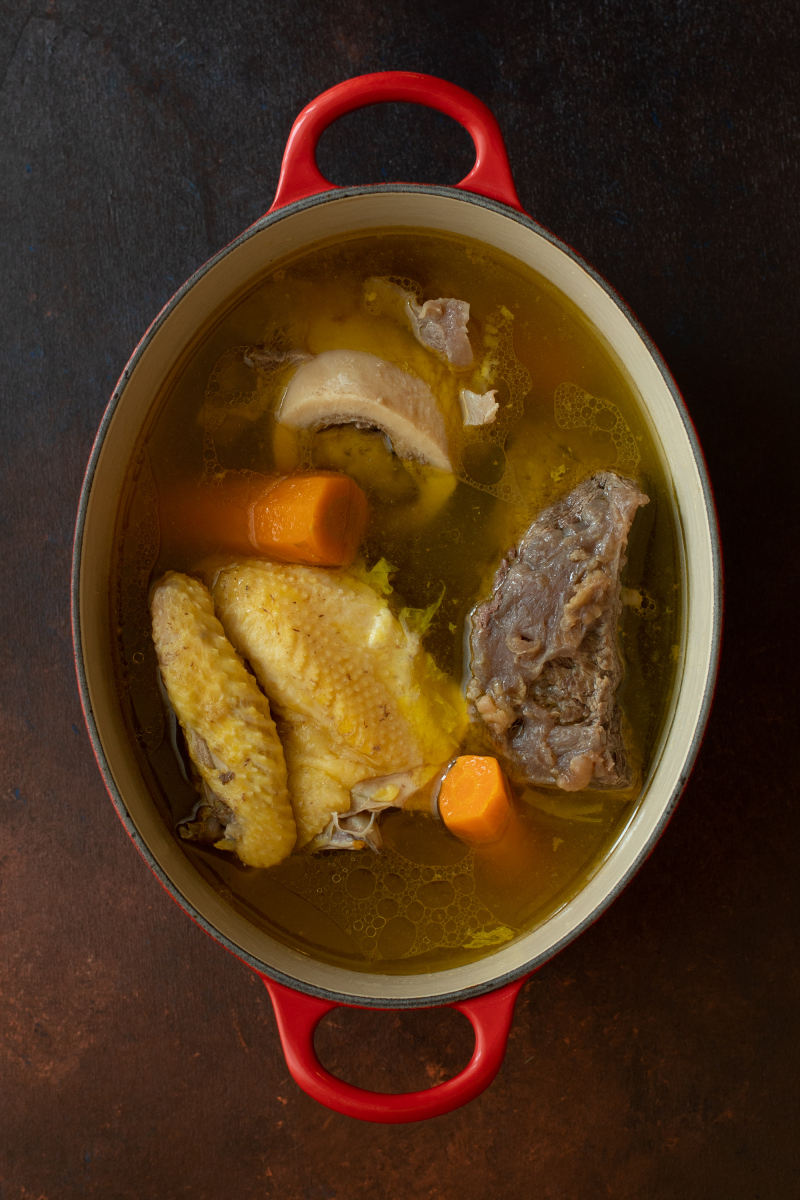 Ingredients
"Cappello del prete" (bovine shoulder part) - 400 g
Hen - a quarter part
Water - 4 litri circa
Peppercorns - 4/5
Parsley - an handful
Carrot - 1
Onion - half
Celery - 1 stick
The broth: the simplest but most comforting preparation that exists, the one that awaits you after a day of work, which when you sip it slowly warms even your frozen feet. I usually reserve the preparation for Sunday mornings, so then I have both a good cup of broth and also boiled meat for lunch and the rest I freeze it for the days to come. The boiled meat is typical both in Piedmont, where my aunt Lorena serves it with the green sauce "salsa verde", and in my region, where we also add some cotechino, cooked separately, which is quite fat and would not be good for the broth.

But let's go with order: mixed boiled meat is a dish of old Italian tradition, which every family definitely prepares with their taste and enjoy to get a very good broth and a rich dish of meat that have to remain soft. It is an excellent main dish: we spoke of Piedmont, first, and it is from there that it started to become part of the tradition of many other Italian regions. It is very easy to prepare, but it is as insidious as all the "poor" dishes of raw materials: the choice of meat cuts is very important. I have found news about a "historical" recipe which would include seven cuts of pulp (tenerone, scaramella, muscolo di coscia, muscoletto, spalla, fiocco di punta, cappello del prete), seven items (tongue, head with nose, tail, zampino, hen, cotechino, rollata) and seven "bagnetti" or sauces (rustic green sauce, rich green sauce, red sauce, horseradish, mustard, cugna, honey sauce). Being a bit too rich as a preparation, usually the meat you choose is also suitable for obtaining a good broth, not too thin but also not too fat: I usually use a piece of a priest's hat, a quarter of a hen and a bone which enriches and rounds off the flavor.
Living on the border with Verona, I greatly appreciate the accompaniment of boiled meat with pearà sauce, a thick cream similar to a polenta composed of marrow, oil, bread, broth and a lot of black pepper.
Here is my version that guarantees a good dinner for two and a generous pot of meat broth suitable for at least 6 portions of soup, invigorating and satisfying.

To get a good broth start by adding all the ingredients to cold water: in this way the meat will release all the flavor and nutritive principles to the broth. The meat will therefore be more weakened and exploited.
To have a good boiled meat, on the other hand, start with hot water: in the pot put water with all the vegetables and aromas and add the meat only when the water is boiling, to allow the meat to seal and to retain flavor and juice.
I, actually, always start from cold water. The important thing is also the choice of meat: if it is of excellent quality it will be good to eat anyway and allows me with a single process to have both a dinner and a good broth.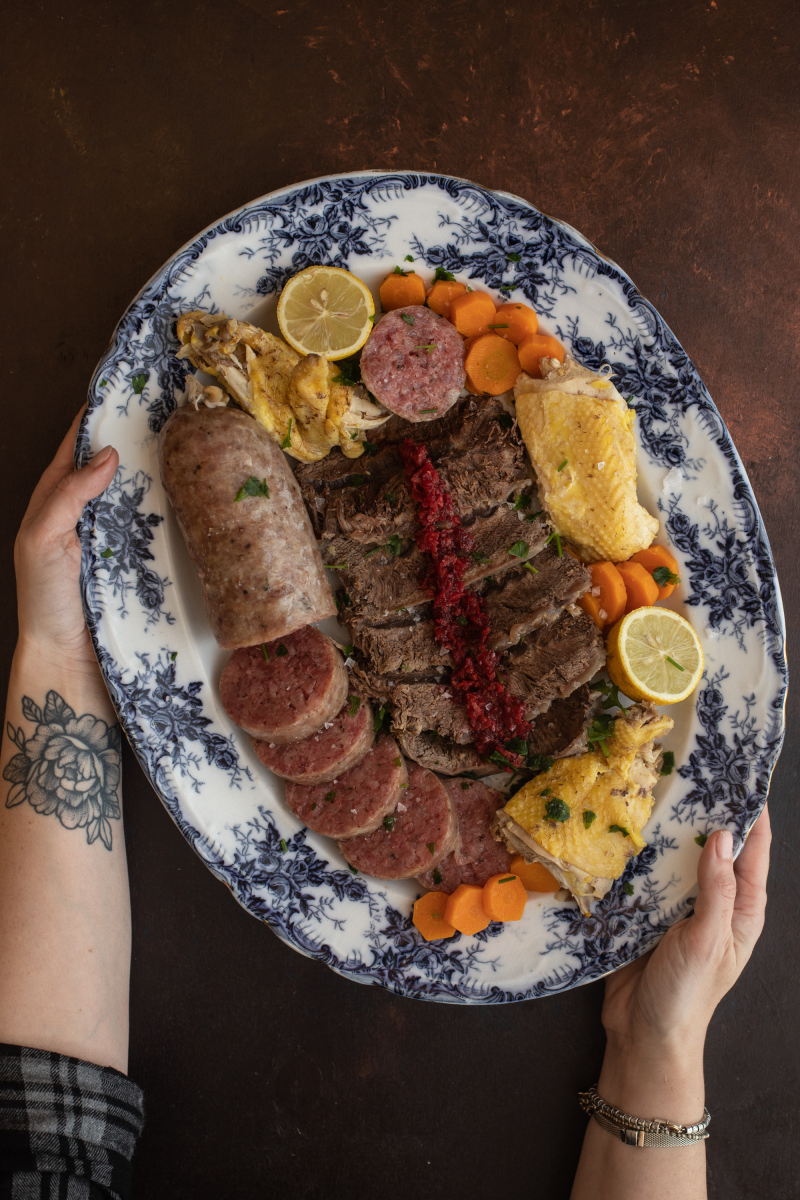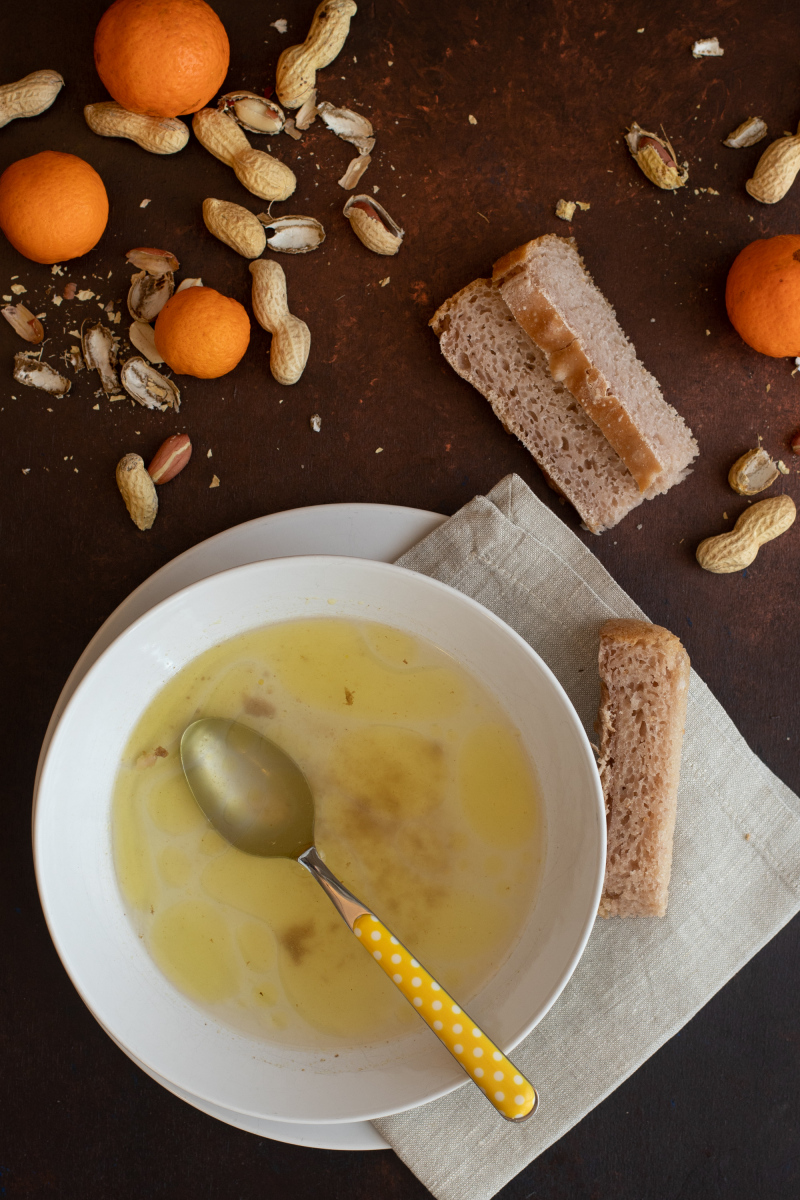 Steps
On a medium heat, place a big pot with all the ingredients indicated.

Cook until the meat is tender and serve hot with salt.
Optionally, serve with sauces or horseradish over all.