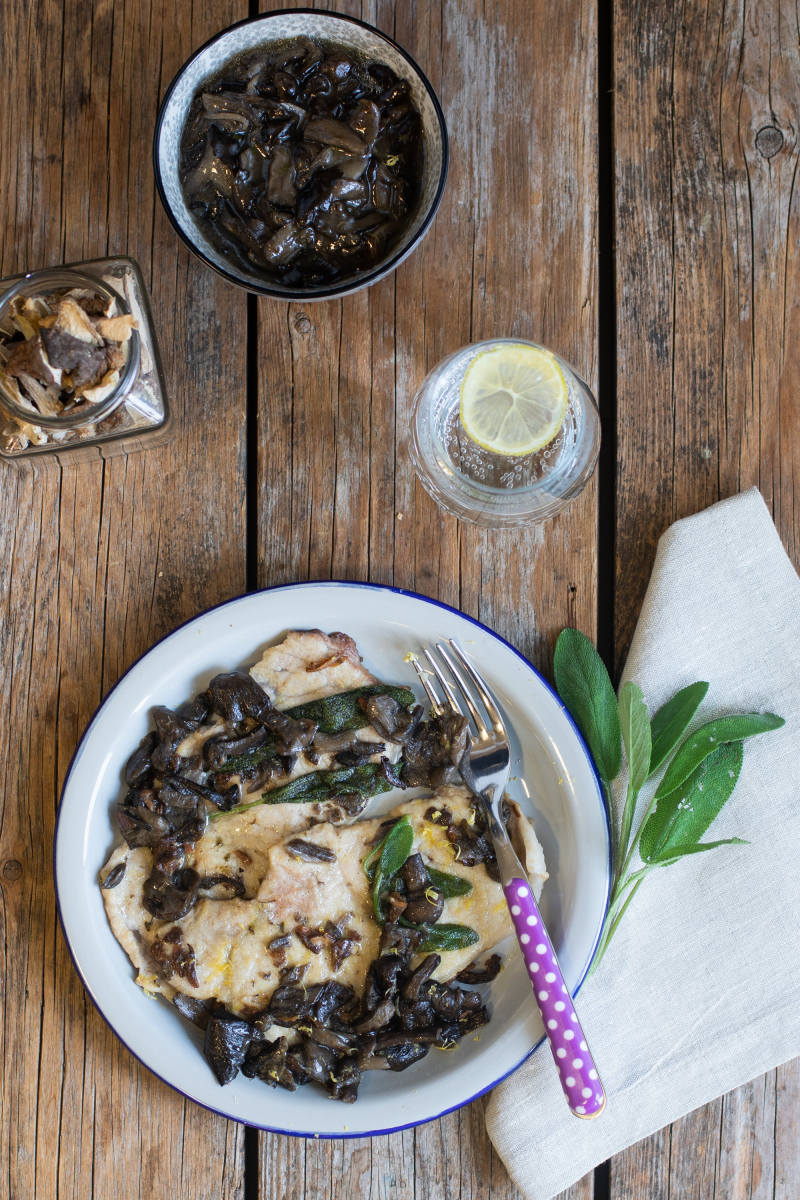 Ingredients
400 g of Chiodini
4 tablespoons of extra virgin olive oil
1 tablespoon of butter
1 clove of fresh garlic
Fresh chopped parsley
Salt and freshly ground black pepper
20 g of dried porcini mushrooms
8 thin slices of pork loin
00 flour
4 tablespoons of extra virgin olive oil
3 sage leaves
Half a glass of dry white wine
Grated zests of half untreated lemon
Salt and freshly ground black pepper
Time:
1 hr for the Chiodini + 10 min for the meat
I have few rules in my kitchen, but I have a really strict one: I do not serve my guests mushrooms of which I do not know the origin or collected from people who are not my dad, nor seafood or tiramisu.
I cook anything, even these foods and dishes, but being highly at risk of error, I prefer not to reduce a table of friends with a stomach ache or with far worse reactions due to an incorrectly selected mushroom, a damaged mussel or a tiramisu prepared with a not fresh egg.
Perhaps it will seem strange to you, but I feel happier like that, yet I know very well that I buy super fresh and guaranteed products and despite the fact that the mushrooms have always been part of my table because my dad is a passionate seeker and also very experienced.
Even though he knows each species, he prefers to collect only Chiodini and Porcini, which are also present locally or a little further on, on our mountains.
There is nothing wrong with buying cultivated mushrooms, preferably organic, to prepare the dishes we want in safety, rather than accepting them from someone who cannot guarantee their safety and whose we can't know where they were harvested.

The Chiodini, poorer and snubbed than the more famous and expensive cousins, are mushrooms with an intense taste of earth and wood, delicate but persistent and recognizable also in the nose as well as in the mouth.
I really like to use them as a sauce to season a fresh pasta but not to accompany them with tomatoes, you would kill them ... I also like to prepare a rich lasagna with a lot of béchamel, parmesan or grana and small bite of bacon or sausage to enhance and accompany the mushrooms or, why not, some creamy and tender pork Scaloppine.
Even a good risotto is a great idea!
Always carefully clean the Chiodini as I tell you in the recipe, but if you want to feel even more safe, you can also soak them in water and baking soda and then rinse them well: I prefer running water and a few minutes of more attention, rather than impregnate them too much. They can be eaten only after being cooked, and it is advisable to lather well during boiling.

Today there are Scaloppine on the menu, do you want to taste?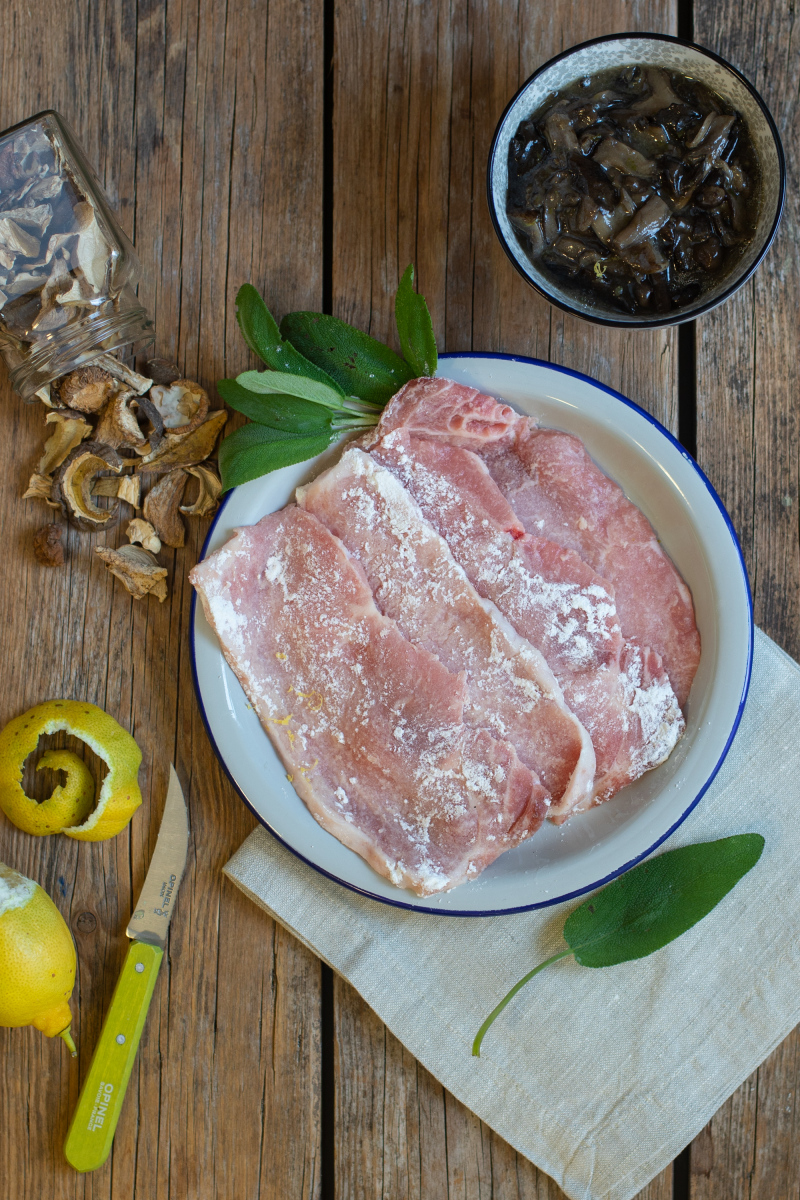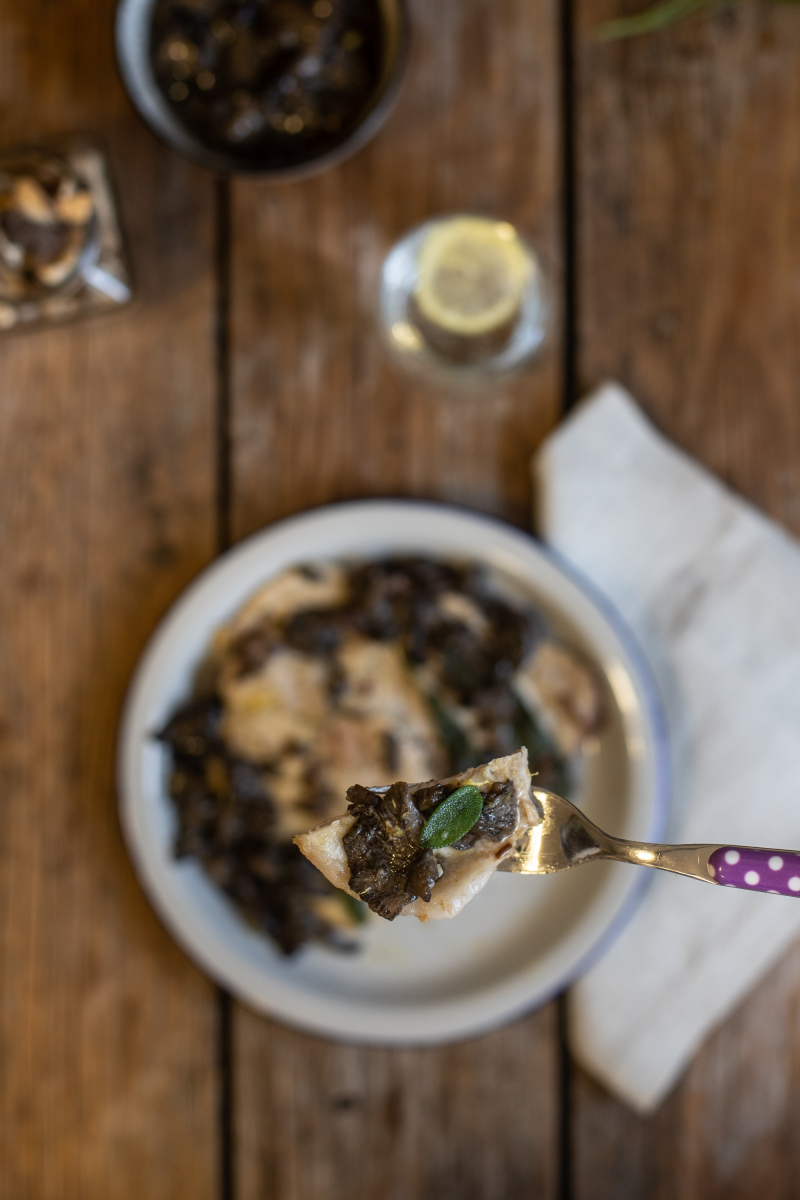 Steps
Thoroughly clean the Chiodini: remove the final part of the stem then wash them carefully under running water, checking that no traces of soil remain.
Bring a pot of lightly salted water to a boil, dip the mushrooms and as the foam forms, remove it with a slotted spoon. Boil them for 20/25 minutes then drain and dry them on absorbent paper or on clean kitchen cloths.

In a bowl, put the dried mushrooms and warm water and let them soak.

In a large pan pour the oil, butter and peeled garlic: melt over low heat then add the mushrooms and cook for another 20/30 minutes, to soften them further and to flavor them. When cooked, season with salt, pepper and chopped fresh parsley to your taste. Put the mushrooms aside in a bowl.

Dust the loin with flour and shake slices to remove excess.
In the same pan of mushrooms, put the rest of the oil, the sage, the soaked and drained porcini mushrooms, heat it and lay the floured slices. Cook until golden on both sides, it is very fast, it will take two minutes per side: add now the wine and let it evaporate then turn off the heat.
Add the cooked Chiodini mushrooms, grated lemon peel, salt and pepper to season and serve hot and creamy.