Potato and porcini gnocchi with pancetta and hazelnuts
27 October 2019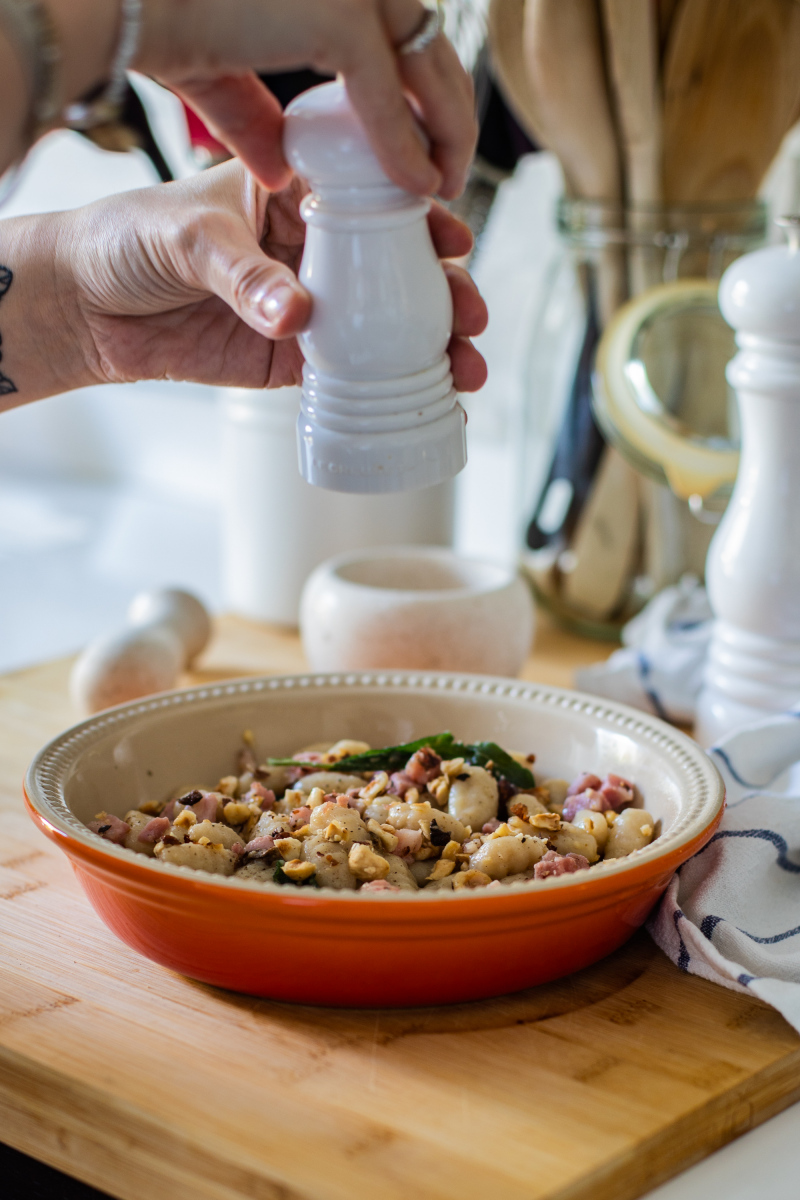 Ingredients
Old potatoes, about 500 g
Dried porcini mushrooms, 20 g
Flour 00, about 100 g
Egg, 1
Bacon, 100 g in a single slice
Butter, 2 tbsp
Sage, 4 leaves
Peeled hazelnuts, 20 g
Parmesan or Grana
Freshly ground black pepper
Have you ever tried to prepare gnocchi?
I've always seen my family do it at home, before my grandmother's and then also my mom did, but I have to say that before doing them on my own, it's been a while.
It has always seemed to me a preparation full of pitfalls, and in my opinion it is useless to minimize, they are really insidious.
But a nice plate of gnocchi pays for performance anxiety, with a nice abundant red sauce or even just with sizzling butter and crispy golden sage leaves.
So over time, mistakes over mistakes, I "drafted" my personal rules for kneading gnocchi and I decided to put them on paper (on the web!) once and for all, so that I could remember them first and not be surprised if they melt in the water once again.

First of all, it is important to choose the right potatoes: old, not new, and preferably with white pulp.
Old potatoes are richer in starch and drier, a very important aspect to obtain a firm dough.
Boil whole potatoes with the peel in salted water.
I don't add salt either in the dough or in the cooking water, but I won't bore you with the scientific principles of salt and water, I just tell you that it works.
I then pass them with the appropriate potato masher, never blend, and spread them on a work surface to cool off a bit and be able not to burn my hands.

Flour? The less you put it, the better you get out.
It is very difficult to dose it, I can give you an approssimative indication, but then potatoes will make you understand if they "stay together". The egg will help to bind.

Finally, the lining: the dumpling must be lined with the back of a fork or a grater, to be cozy with the sauce and to dress evenly.

So, my "secrets" are all here.
Today I prepared the potato gnocchi perfuming them with wood scent, with the addition of dried porcini mushrooms in the dough.
To season them, I choose crispy pancetta, sage, toasted hazelnuts and lots of Parmesan. What do you say about it?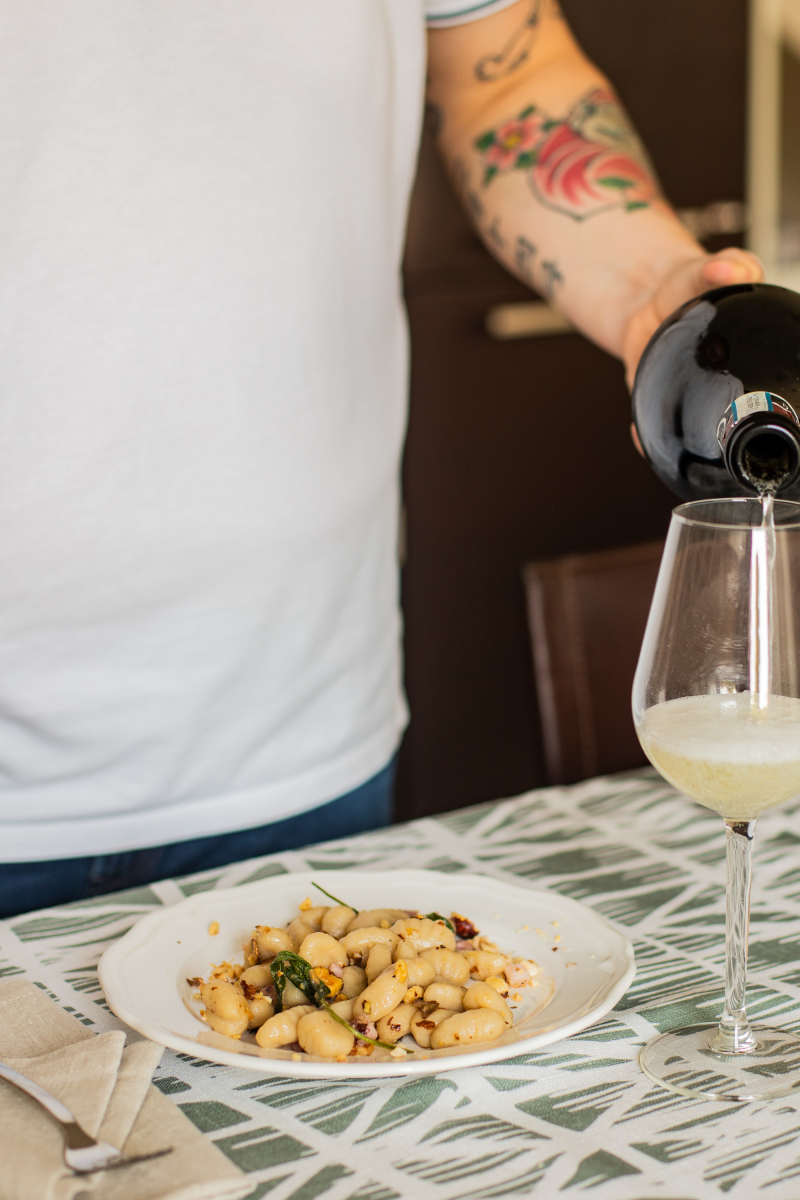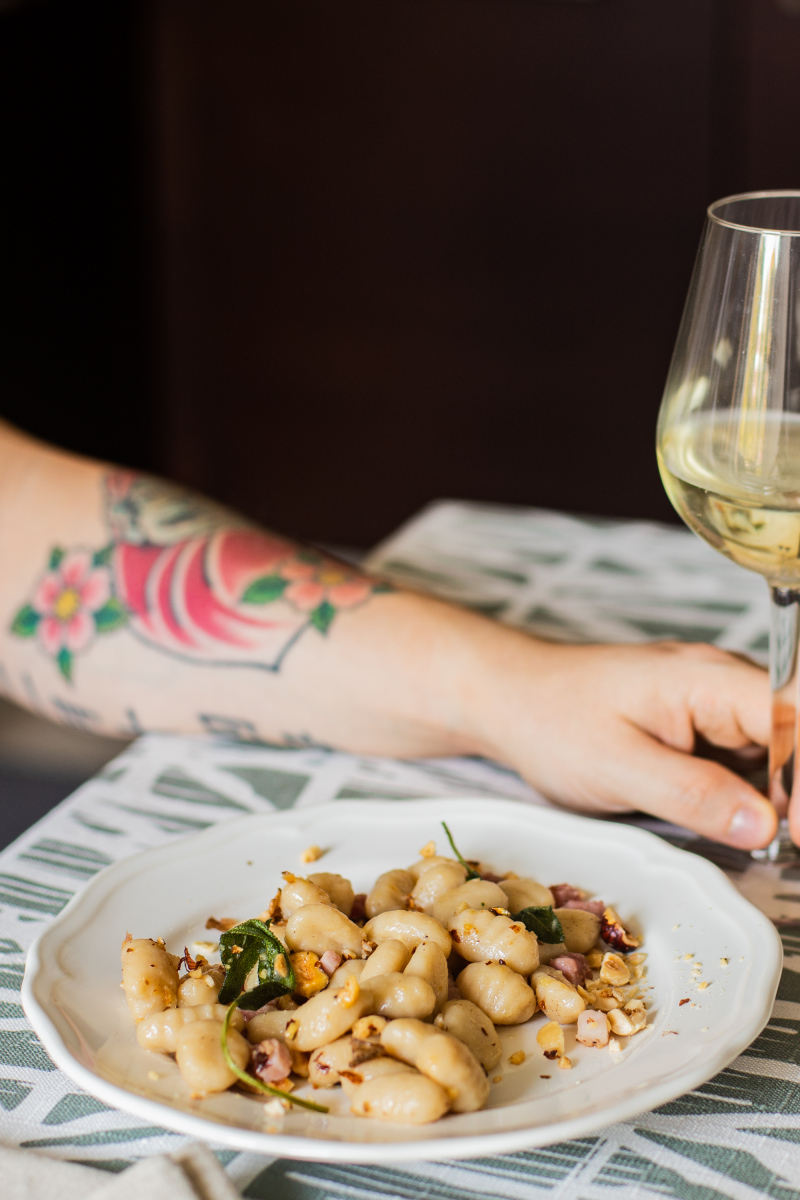 Steps
Wash the potatoes and put them whole with the peel in a pot full of water moderately salted. Boil until prickling is not tender, then drain and let cool briefly.
Meanwhile, in a small bowl, let the dried porcini mushrooms soften with a glass of warm water.
As soon as the potatoes are handled, peel them, mash them with a potato masher and spread them on the board to let the steam out: gradually add the flour, the mushrooms drained and finely chopped, the egg and compact until it forms a loaf.
Make some sausages by rolling the dough, cut lots of dumplings and pass on the back of a fork or grater to mark them.
Prepare the sauce now.
Cut the pancetta into strips and cook in the pan without adding fat, then set aside, removing the fat.
In the same pan melt butter and sage until golden brown.
Roast the hazelnuts in the oven for a few minutes and chop coarsely.

Cook the gnocchi in boiling unsalted water until they rise to the surface, drain, pour over the pancetta, butter and sage, freshly ground pepper, hazelnuts and some grated Parmesan or Grana to taste.

You are reading:
Potato and porcini gnocchi with pancetta and hazelnuts