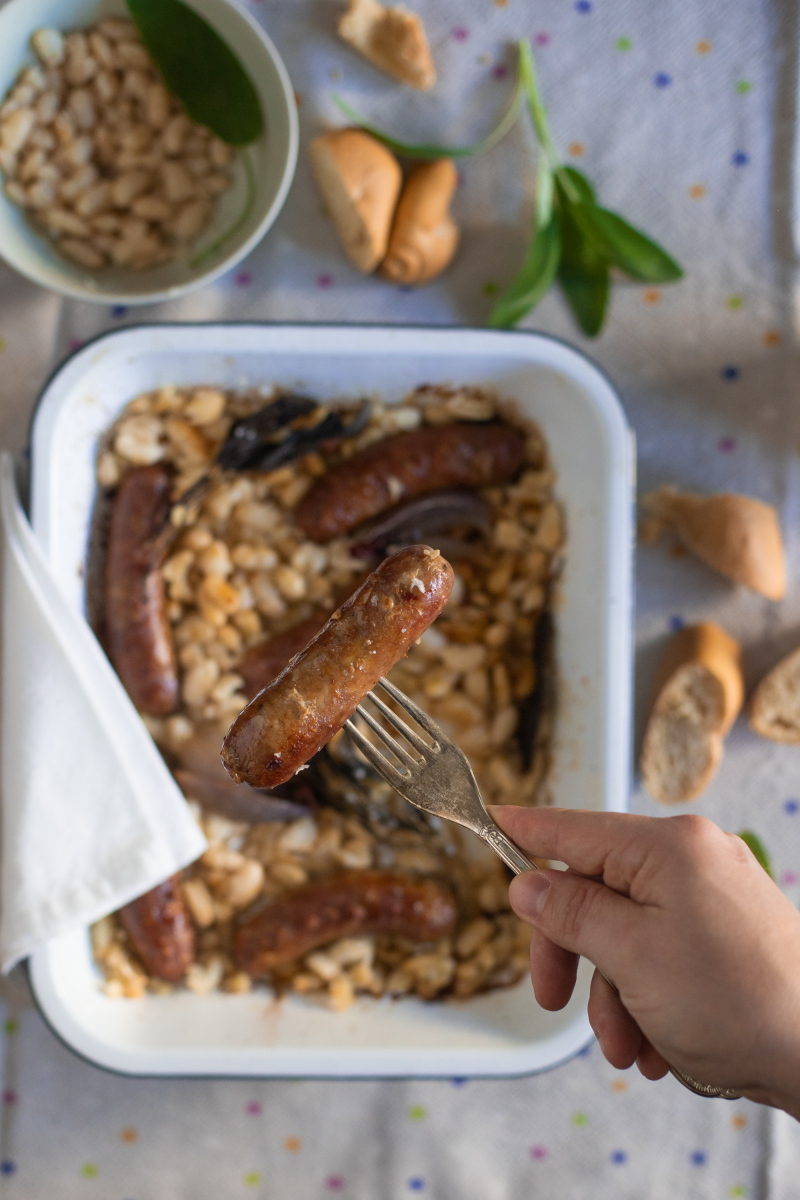 Ingredients
For 4 people:
Dried cannellini beans, 350 g
Sausages, 8
Sage, as you like
Red onion, 1
salt and pepper
If you want, some bread
Time:
a night of soaking + 2 hr.
I am often in doubt, preparing a dish for lunch or dinner, on marking the recipe and then proposing it on the blog: most of the time it seems to me to tell banality, basic preparations that not deserve to have a post of its own.
Driven by the desire to always propose something new or to remember the traditional recipes, we people who write about food often forget that for someone it could be useful and interesting to know those dishes that solve dinners with a few euros, which seem so homemade to risk being poor and a bit rough.
But the reality is that even the most passionate, or the most expert, of cooking, happens to eat in a frugal way but not for this without using the necessary precautions to make the preparation delicious and memorable.
A soft egg on a slice of toasted bread, a minestrone with cooked rice inside, thick and consistent sausages…

Let's talk about sausages: they are cheap, they are tasty and they immediately turn a simple meal in a feast but most of the cases are relegated to the mixed meat for the barbecue.
In Veneto we also prepare them stewed, perhaps with the "verze sofegae" (literally "suffocated cabbage") and at the butcher they are always available fresh: the average Venetian customer wants to know with what meat they are made, it takes that the butcher does not cheat with low quality mixtures.
When I have not too much time I cook them in the oven: the fat comes out and can be eliminated or used to season the side dish.
In this case I have added beans to it: I didn't use the Lamon, typical of the area, because I find them perfect for the "pasta e fasoi" (a pasta and beans soup) but as a side dish I prefer cannellini beans.
A complete and satisfying dish, warm for autumn evenings, frugal at the right point and not very elegant, certainly, but very good.
I'll leave you the recipe, let me know if this dish gave you a smile.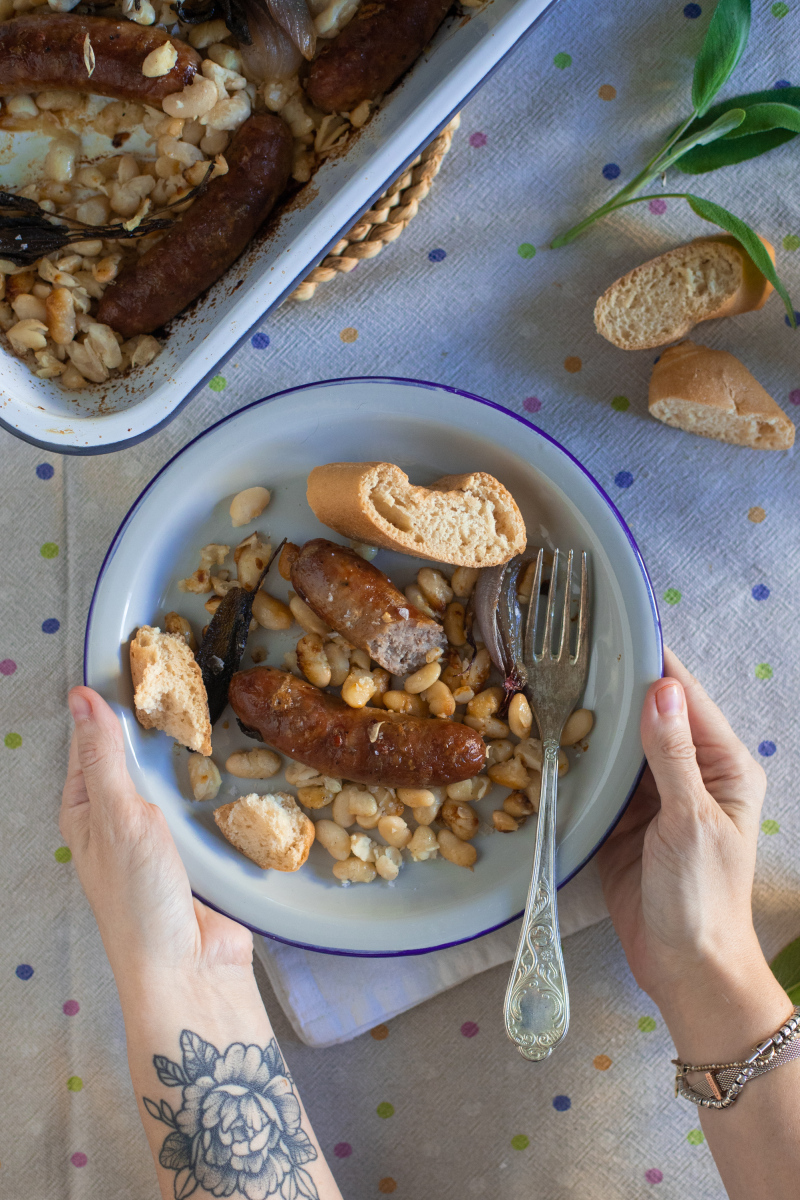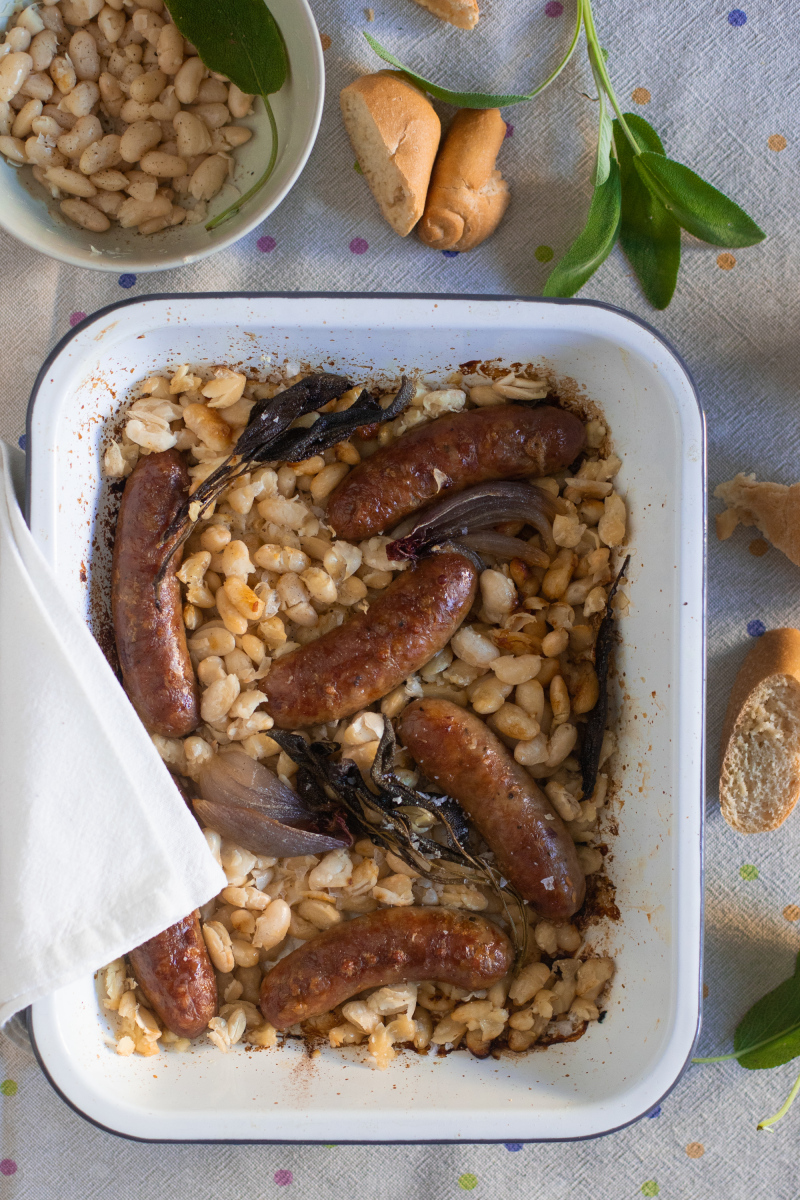 Steps
The night before, fill a bowl with water, add the beans and leave them to soak: they must remain about 12 hours.

Once the soaking time has done, rinse them with running water, put them in a saucepan with plenty of water and boil for about 1 hour and a half: do not salt the water.

Drain and set aside.

In a oven plate place the onion cutted into 4/6 parts, the fresh sage and the sausages and on each one practice some holes with a toothpick so that the gut does not explode ... Cook for about twenty minutes at 180 degrees, turning them a couple of times to a complete browning. When cooked, add the boiled beans to the pan, mix everything well, add salt and pepper and serve with warm, crusty bread.

You are reading:
Luganeghe e fasoi (sausages and beans)