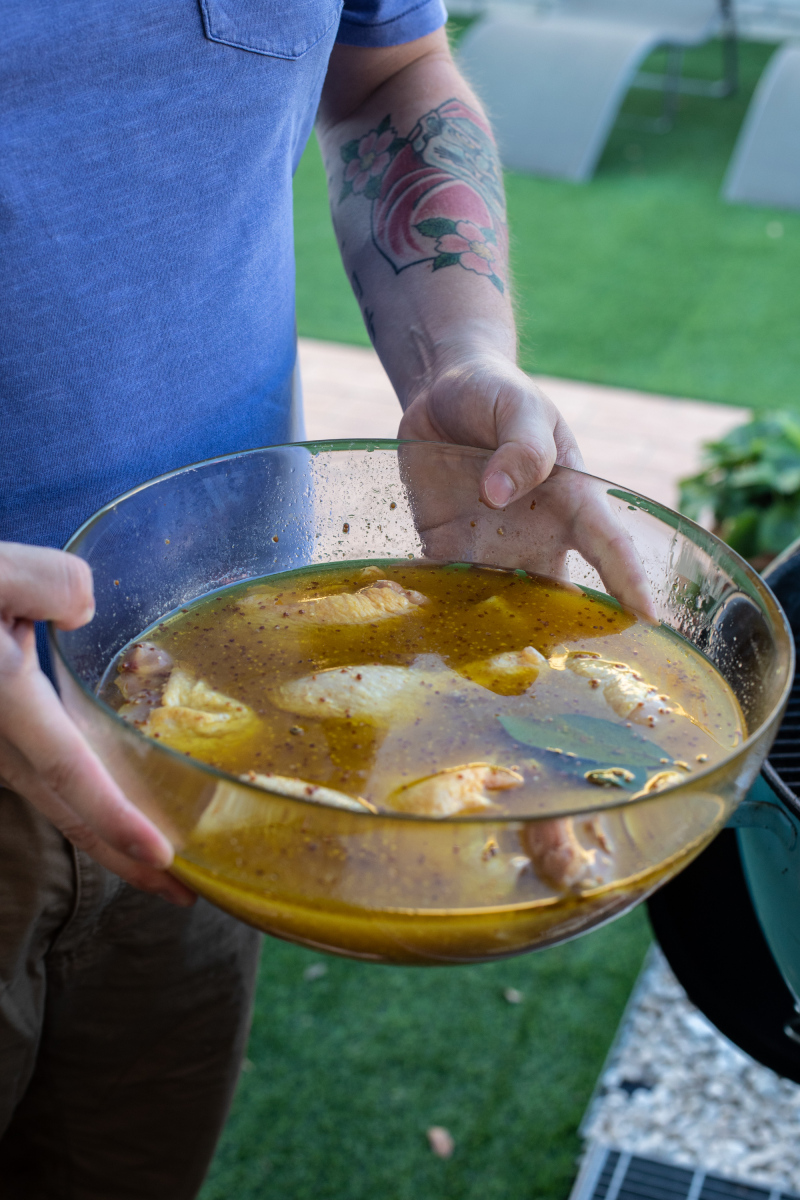 Ingredients
2 bottles (33 cl each) of blonde beer.
2 espresso cups of extra virgin olive oil
4 teaspoons of mustard
1 tablespoon of sweet paprika
6 grains of black pepper
1 blonde onion
2 fresh garlic cloves
2 bay leaves
1 free-range chicken of about 2 kg, cut into pieces
Salt in flakes
August slip away quickly from the hands and the calendar, like the eels that my dad caught when I was a little girl.
I'm really happy about it: in the last few days I had the chance to enjoy the climate of Livigno and I realized how much I missed cold climate in these months.
I had to wear a sweater, with a light jacket on it too: I felt still cold but the crispy air and the clear sky are priceless and gave us panoramas that we will remember for a long time.
I ate bresaola, a typical Valtellina cold cuts, with raw sliced ​​porcini mushrooms, so fresh and fleshy, scented with earth and wood. I also tried a dish of hot carrot soup flavored with ginger, which I enjoyed in great spoonfuls, like a good stomach medicine, like a warm autumn sip.
The only thing I love about the summer though, I also take it with me in the fall: we will not stop lighting the barbecue and throughout the winter we will continue to cook aromatic chicken, beautiful juicy steaks and vegetables seasoned with good oil.
You will start cooking this chicken in august, but I bet you will not abandon the aroma of this marinade even in autumn. Garlic, bay leaves and mustard, a touch of onion, the strength of black pepper: I loved it, I hope you too.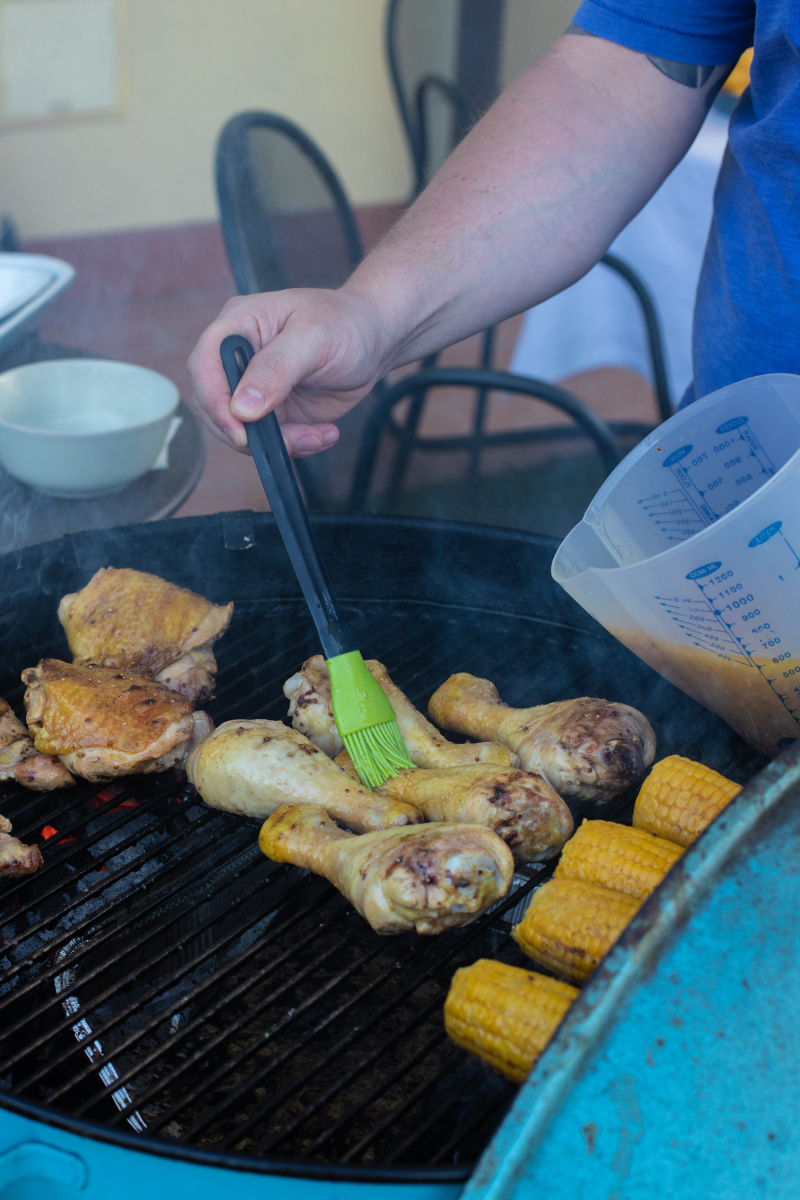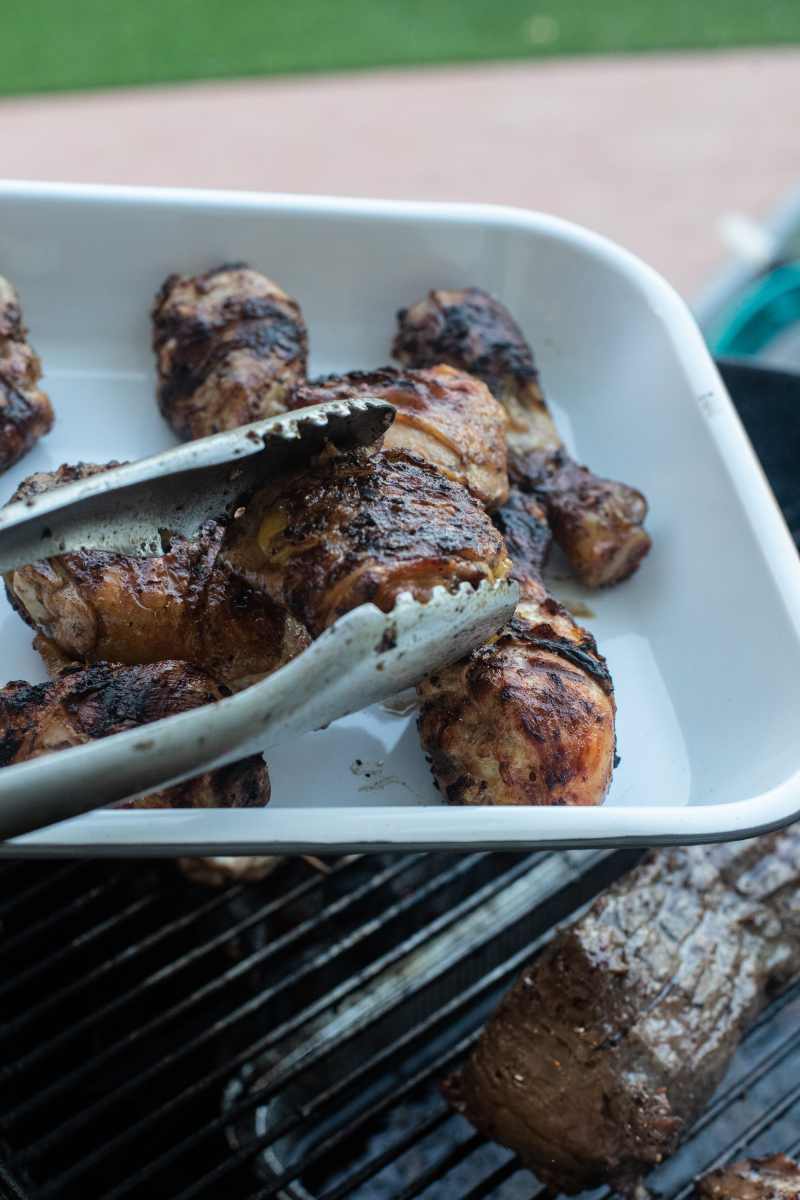 Steps
Pour beer, oil, mustard, paprika and black pepper into a large glass bowl and mix well.
Cut the onion into 6 or 8 parts and slice the garlic thinly (or crush the clove only slightly if you want to flavor the marinade but don't want to find any pieces on the chicken).
Now add the onion, garlic and bay leaves to the marinade, then add the chicken pieces, turning them well so that they are completely covered by the liquid: close the bowl with plastic wrap and place in the fridge to marinate for 8 to 10 hours.

Light up the barbecue: in this case, when the embers are ready, prefer indirect cooking, which means to not put the meat over the fire but laterally to receive heat and cook evenly.

When the barbecue is ready, take each piece of chicken from the marinade (keep it!) and dry it carefully with kitchen paper: add salt, oil the grill and arrange the chicken pieces with the skin downwards. The cooking time is about 25 minutes and the chicken must be brushed with the marinade constantly to keep it moist: cook for another 5 minutes at the end over the direct fire to brown the skin and make it crispy.
Always check the cooking level of the meat by cutting with a knife, close to the bone: raw chicken can cause very serious health problems and therefore it must be checked that there are no areas with traces of blood and that the internal pulp is white and firm.