Eggplant cake
14 July 2019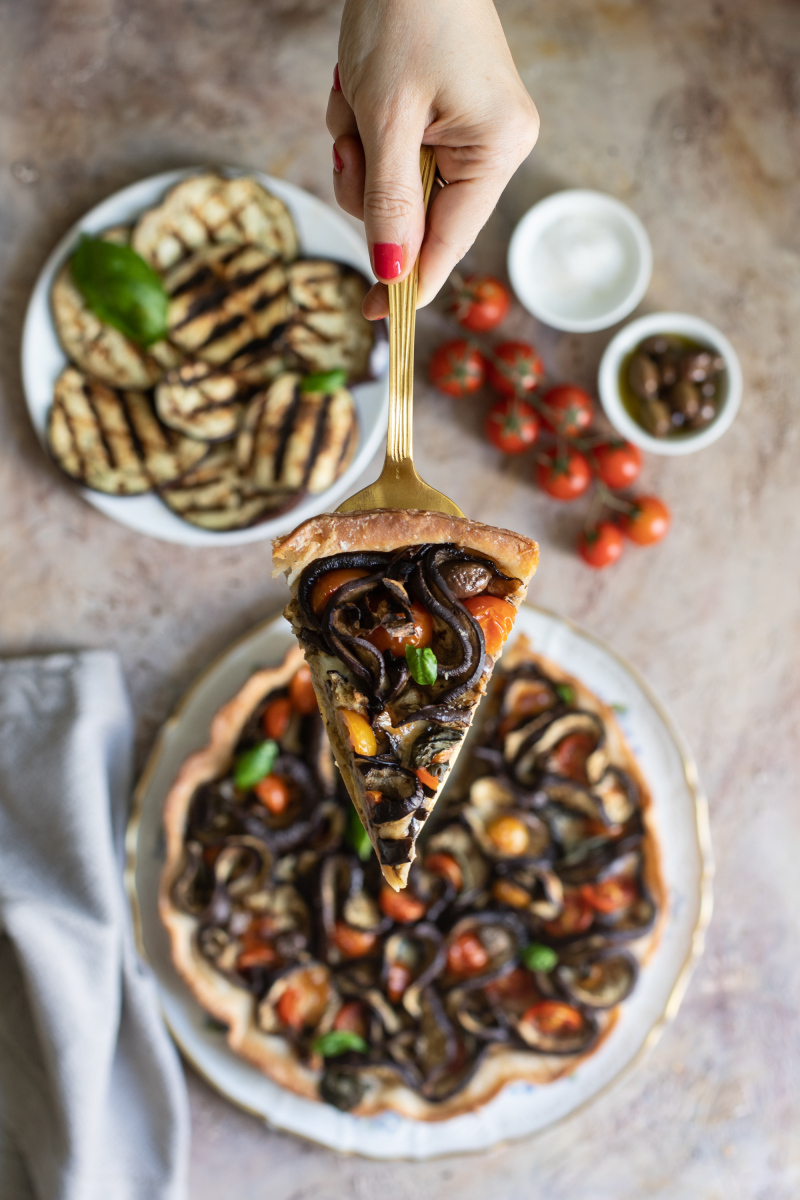 Ingredients
2 aubergines
salt, pepper
15/20 taggiasca Olives, pitted
10/15 cherry tomatoes
1 mozzarella cheese
1 ready to use puff pastry in roll
an handful of basil fresh leaves
grated parmesan cheese
I wait for the washing machine to finish to dry the clothes in the open air, that nothing beats the sun to leave the scented and warm linen.
I have a throat that seems to be crossed by blades and knives, because I am an alternative and I get sick in July: last year in August I was stuck due to hernias, this year I take it more lightly with a simple sore throat and flu.
And right now I can't wait for lunch to warm up a slice of aubergine savory cake made yesterday: how I liked it.

I always tell you about recipes that are very typical and very home-made, those things that we can easily prepare at home and that can easily trigger a smile and a memory: we often prepared this cake in the family, but not with this attention to detail that instead I wanted to give him in this case.
Be careful, it will be very good even if individually you will arrange the ingredients on the pastry, but in this way that I will tell you in the recipe you will also get an easy and pleasant decoration to make a good impression in a dinner with friends or, why not, with the mother-in-law.

Simple and lightened flavors: aubergines, tomatoes, mozzarella, olives and lots of basil, without putting in the egg or cream so you can taste better and keep it very well.
Nothing beat the grandparent's eggplant for taste and texture, but now we have to settle for looking for them as much organic as possible.
I liked it so much, I hope you too.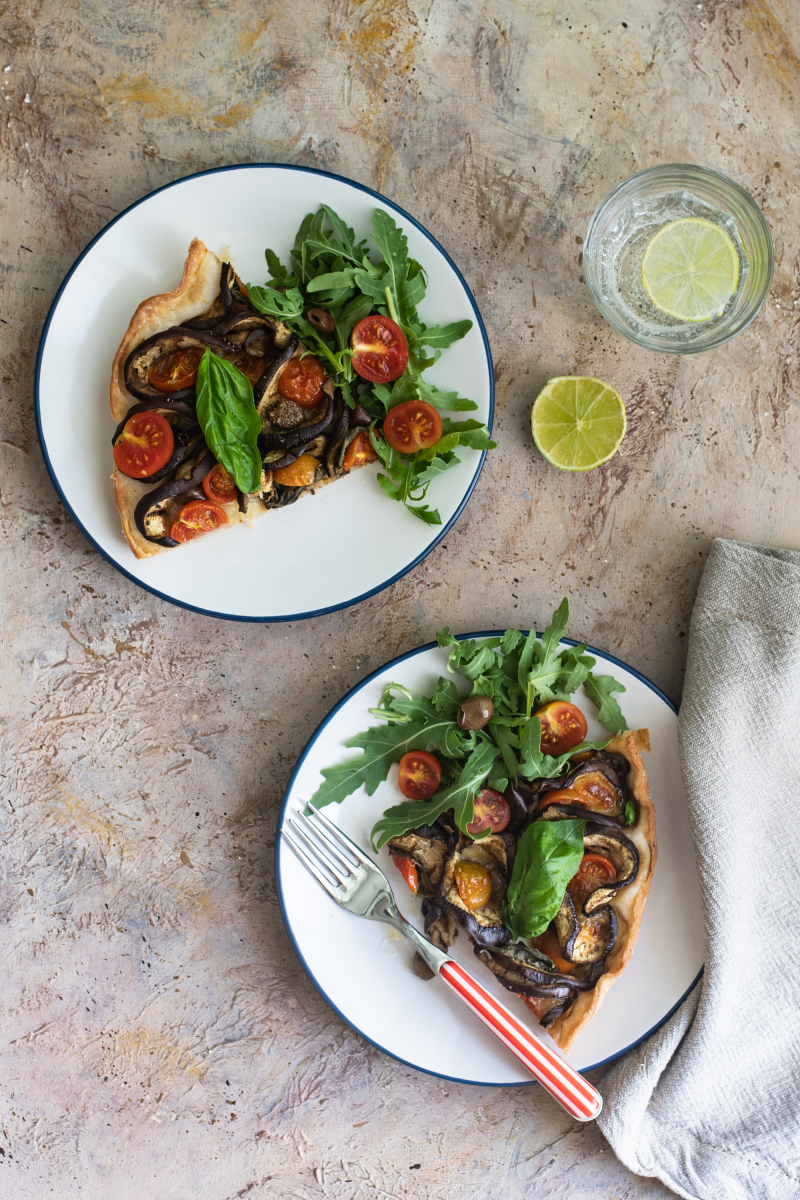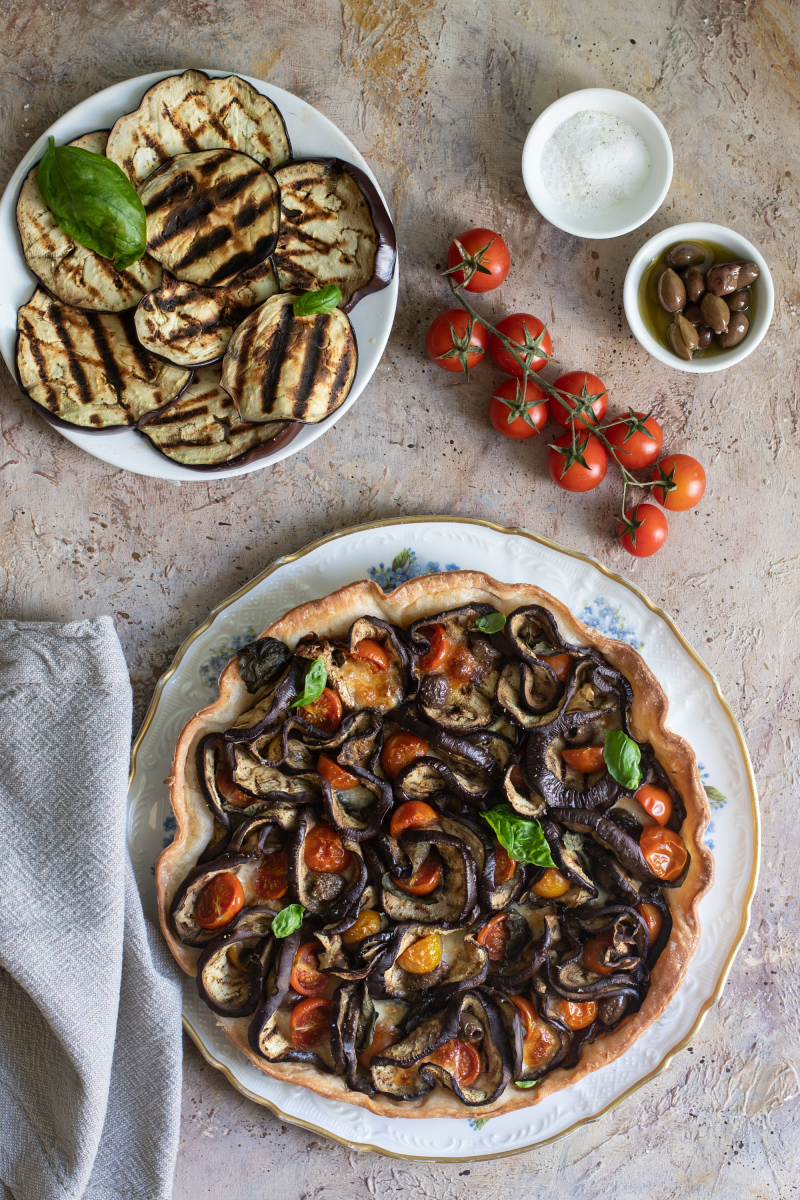 Steps
Thinly slice the aubergines and grill the slices on a cast iron skillet or on the grill, as you usually do.
Season them with salt and pepper and let them cool.

Meanwhile, cut the tomatoes in half and reduce the mozzarella in little cubes.

Unroll the puff pastry and place it in a cake tin.
Take each slice of grilled aubergine and open it on the palm of your hand: put over half of them a cube of mozzarella, half a tomato and an olive then on the other half, use mozzarella, tomato and basil.
"Close it" on itself and put it on the puff pastry: continue until the aubergines are finished, covering the entire surface and taking care that the edges of the slices remain at the top for a nice effect.

Grate some Parmesan cheese over the surface and bake for about half an hour at 180 degrees.