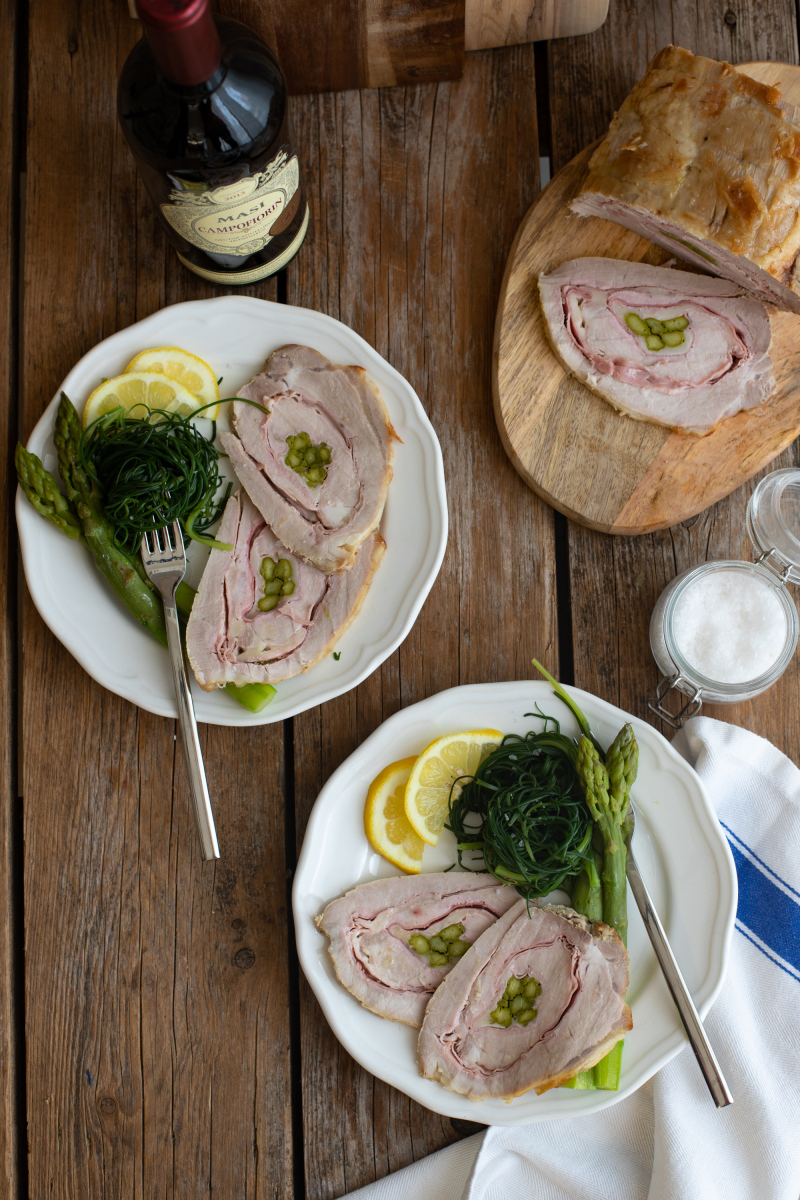 Ingredients
A pork loin of about 1 kg
5 slices of ham
1 mozzarella
5/6 green asparagus
Salt and freshly ground black pepper
Extra virgin olive oil
Half a glass of white wine
A couple of sprigs of rosemary
It's raining.
As I write the newsletter for the current month, thinking about how to get into your homes with some interesting news, with some recipes that you will want to redo, I distinctly feel the rain beating on the roof: with the wooden beams on the ceiling you can hear an amplified noise that is difficult to get used to immediately, while after a while it becomes a pleasant companion.
From downstairs comes a rather inviting scent: the roast is slowly browning in the oven, crackling with oil on the bottom, greedy with a soft filling and even a bit surprising.

I use the oven a lot in the kitchen: I think it solves the cooking times of the preparations, because while something is cooking in the oven, be they potatoes or a main dish, I can devote myself to fires and ideally I have two more hands to help me.
Even when I organize some dinner with friends or family, I use the oven for at least one course: I cook it in advance and then warm it up, so as not to have to spend hours standing around serving people but enjoying the opportunity myself. Often certain courses cooked in advance and then rested for a while are even better, like baked pasta for example and succulent roasts.

On the occasion of Easter I tried to think of a roast that could be differed from the usual, also making a nice aesthetic effect and giving a spring print to my table: I like pork loin because, cooked in the right times and in the right ways, it is a cut that remains soft and succulent and that slices well.
So I had a nice pork loin opened by the butcher because although I am not afraid of using knives, I wanted to be sure of the final result and not ruin the meat: it reduced it into a single layer that once I got home I seasoned it well with salt and pepper and stuffed with a delicious filling.

When cut, it makes its effect and your guests will be really surprised and fascinated.
If you want to try it, here you find how to do it: if you need help write to me here, on Fb, on Instagram or via email and I'll be happy to help you.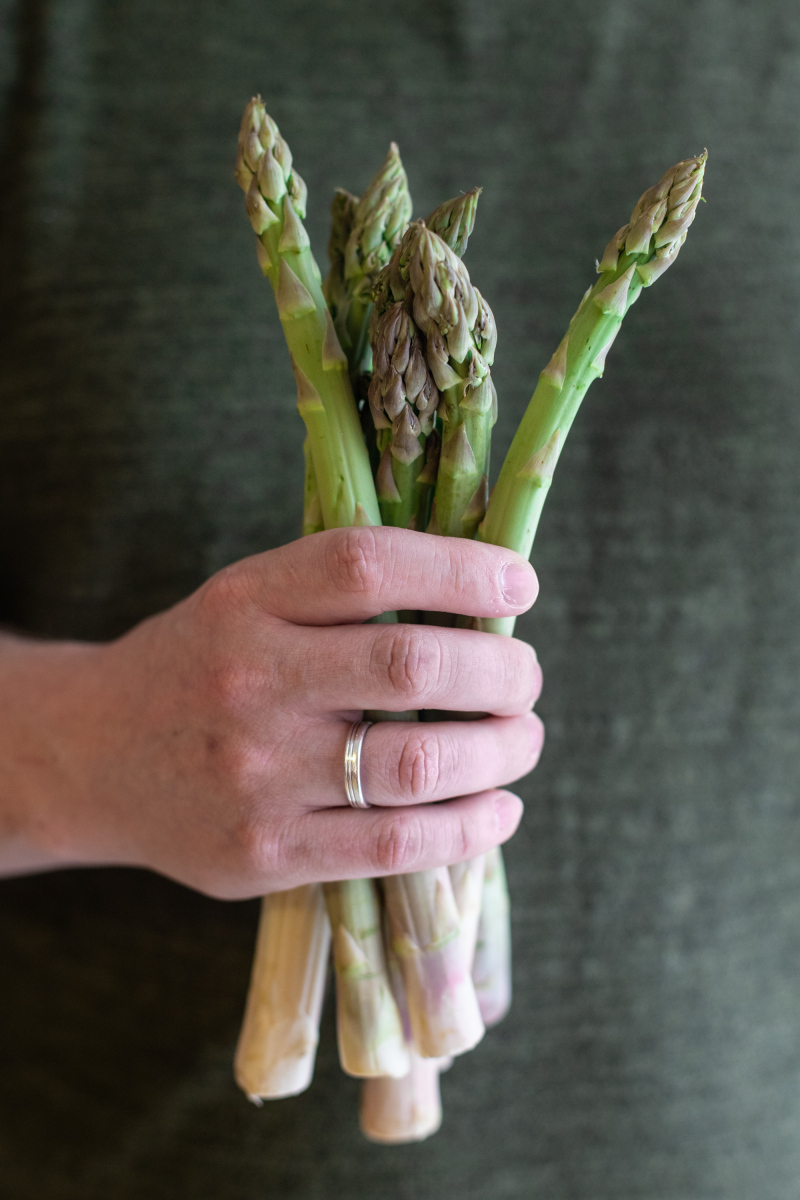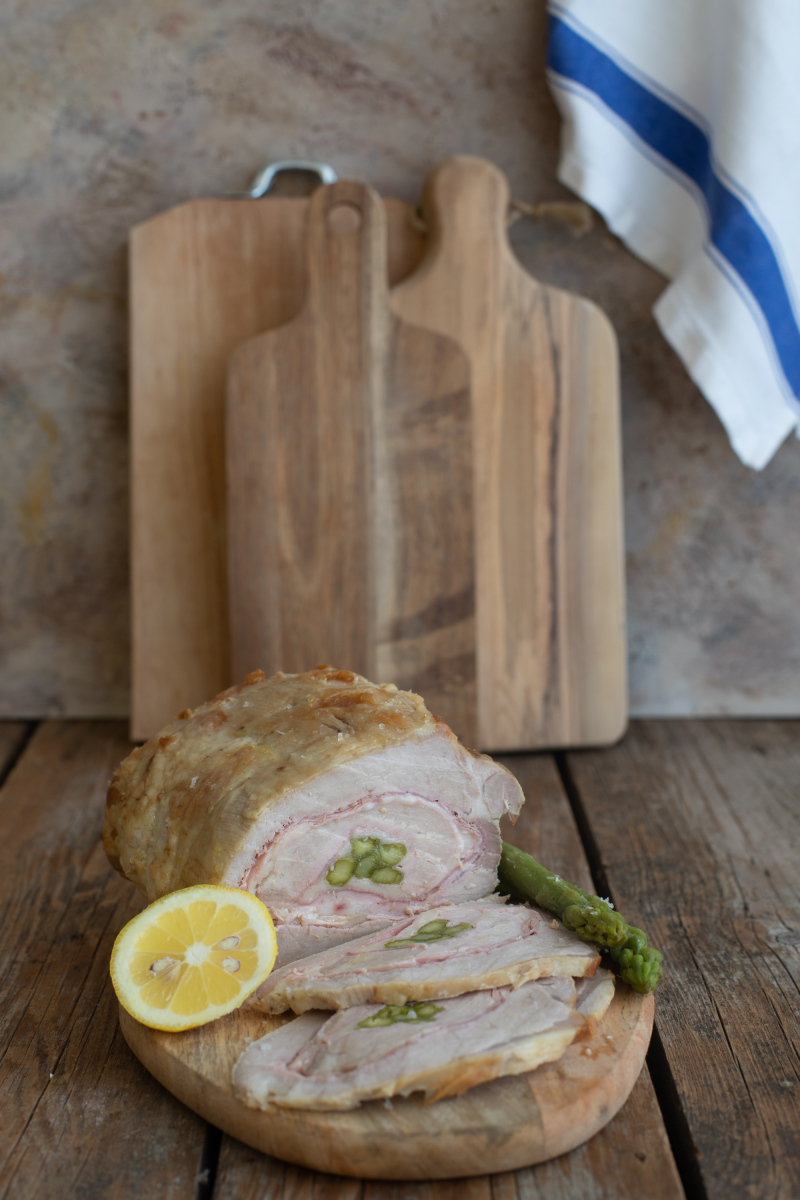 Steps
Get the loin to be cut by the butcher, so as to obtain a single slice of meat a couple of centimeters high. If you feel brave, you can try it by yourself: cut the loin with a cut that opens it in a spiral.

Boil the asparagus "al dente", not too cooked: you can boil them in water, steam or microwave them with the special lid.

Unroll the meat then season it well with salt and pepper: lay the slices of ham over the entire surface, cover with the slices of mozzarella and place the asparagus in a single heap.

Now roll the meat in its original shape, then tie it with some twine and brown it in a pan with a little oil over high heat.

Transfer the meat into a baking dish, wet with the wine, add a couple of sprigs of rosemary.

Cover it with aluminum foil and bake in the oven at 180 ° for 40 minutes, wetting from time to time with the cooking medium.
Now remove the foil and cook it for another 20 minutes.
Wait until it is well cooled before cutting it and, before serving it, heat it in the oven, always covered with aluminum foil, in its own sauce.