Ricotta cheese frittelle
26 February 2019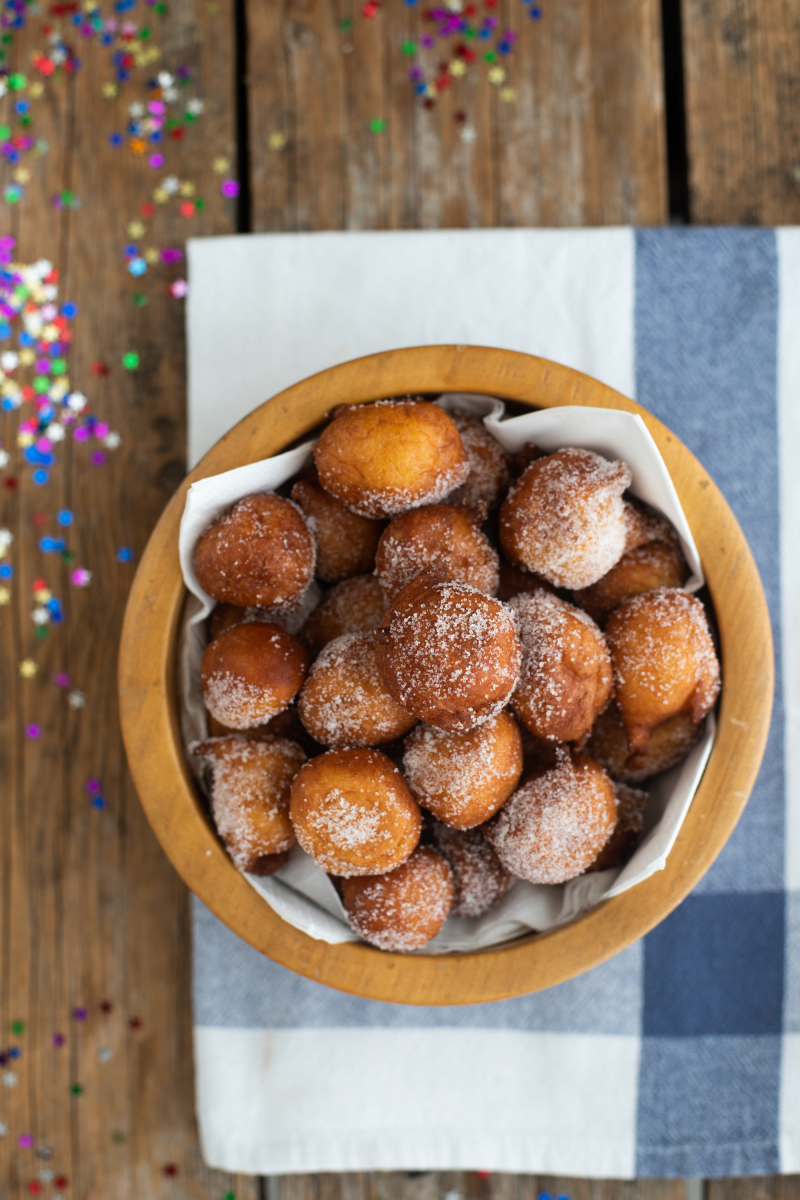 Ingredients
Ricotta cheese, 250 g
Caster Sugar, 50 g
Grated peel of half a lemon
Eggs, 2
Flour 00, 100 g
Two pinches of salt
1/2 pack of baking powder
Oil for frying
caster sugar
Portions:
35/40 frittelle
I procrastinated the time to write this recipe because I don't like Carnival, in fact, I hate it.
I never loved it even as a child, even though my mother sewed princess dresses for me and my sister, and after all, we liked to dress up like that.
The fact is that all this forced joy, the allegorical wagons that I never understood how they could really make you laugh and the confetti that go everywhere, oh man, no, really a don't.

Here where I live, certainly the parties are rather flat and sad, but the carnival of Venice is an annual event that, for its historical significance and its elegance, I really like it: the first official document that attests it as "public party" "dates back to 1296, when the Senate of the Republic declared a public holiday the day before Lent.
Originally, the Carnival lasted six weeks, from December 26th to Ash Wednesday, and it was a very popular occasion for the Venetians who, wearing masks and robes, could completely hide their identity and thus annul their belonging to a social class.
From that moment the trade of masks and tailoring for to this occasion began to flourish until it became as important as we know it now: spending a few hours in Venice in these days is magical and fun, to point and laugh at the most beautiful masks, walking in a atmosphere that seems surreal and out of time.
And what about to eat a frittella maybe?

I leave you my quick and homemade recipe, for a not too sweet but soft result that you cannot resist. Taste a still warm and thoughtful frittella between Venetian masks, to savor even a small piece of Venetian history along with it.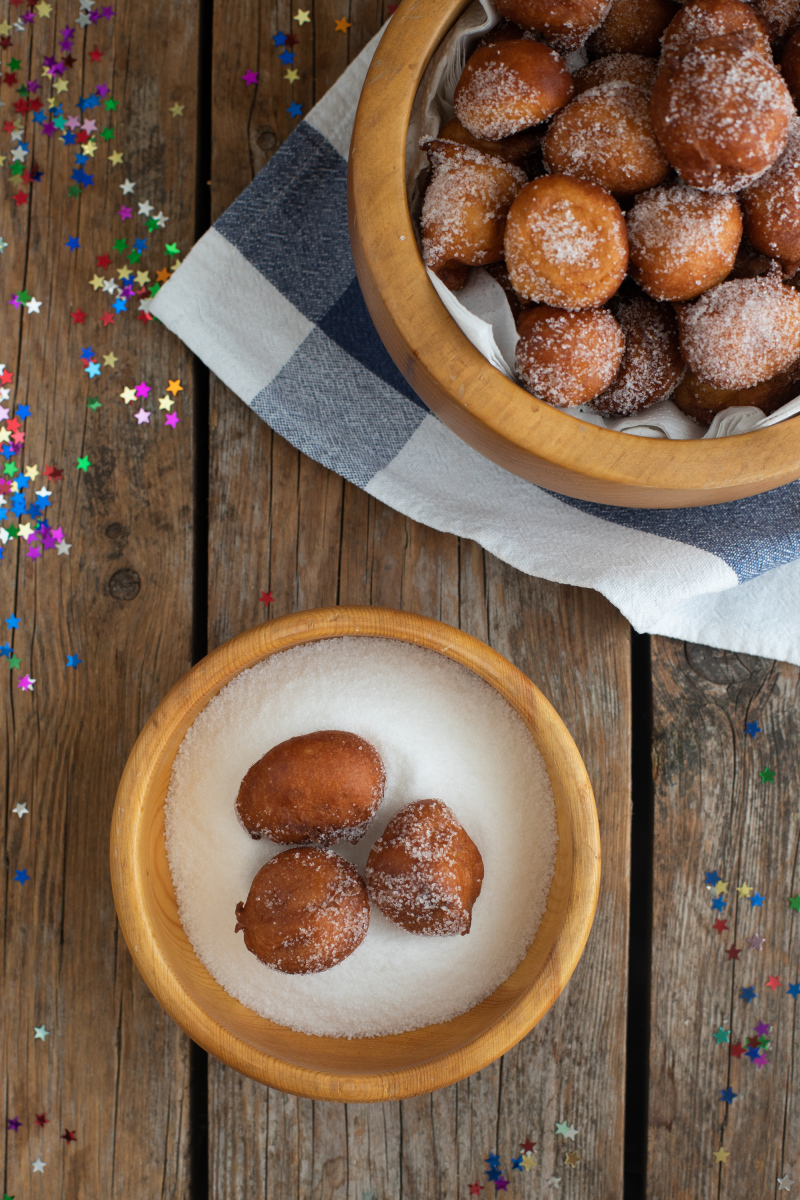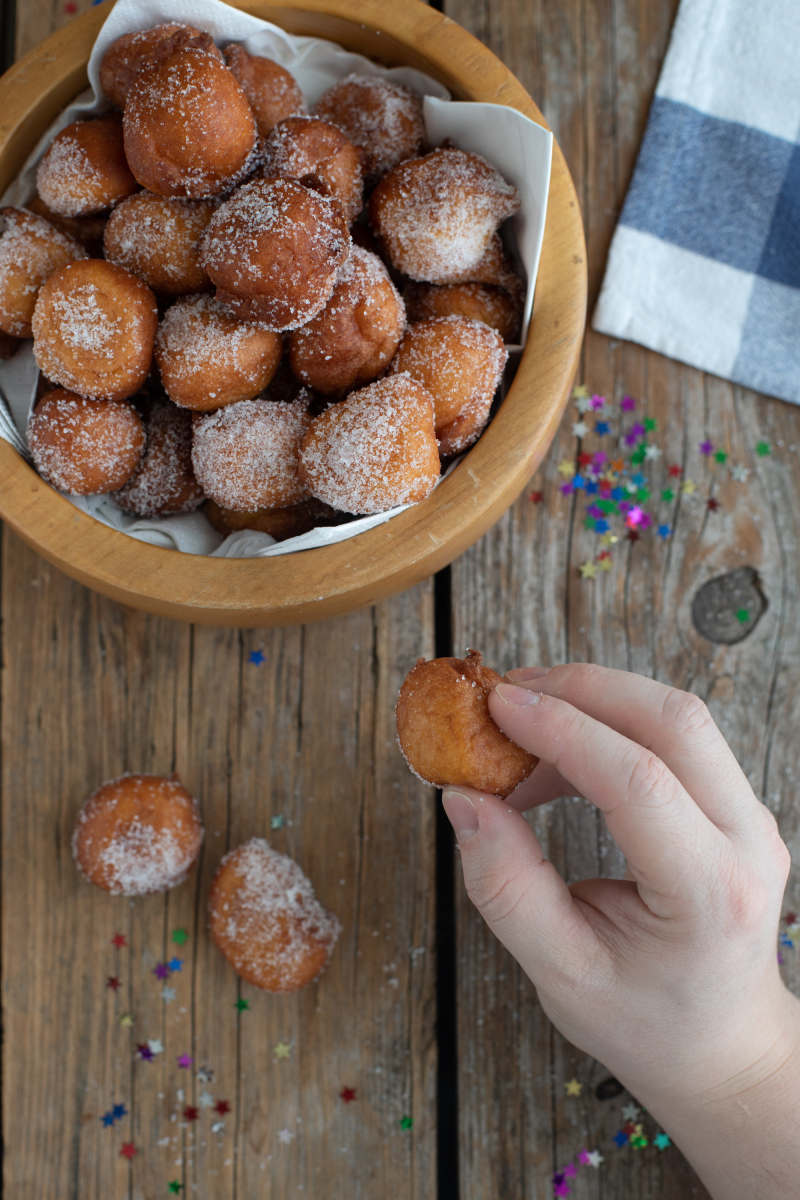 Steps
In a bowl, using a silicone spatula or a wooden spoon, mix the ricotta with sugar: you will get a cream, which you can perfume by adding the lemon zest.
Combine the eggs and mix them carefully, then add the flour, salt and baking powder and mix until you get a smooth, lump-free batter
Heat the oil in a large frying pan and prepare a dish with some kitchen paper, another with sugar and one in which you will put the frittelle to serve them.
With the help of two teaspoons, slide small quantities of dough at a time into the pan and cook on each side (they will turn on themselves, you'll see).
Drain on the absorbent paper, pass it in the sugar to sweeten and place it on the serving dish.

APPUNTI

If you want to make the recipe in a gluten-free version, make sure that the individual ingredients at risk are certified gluten-free and have the wording or the crossed ear on the package.
In this case, 00 flour you can replace it with 50 g of gluten-free bread flour and 50 g of rice flour: also check that the ingredients at risk (yeast in this case) do not contain gluten.