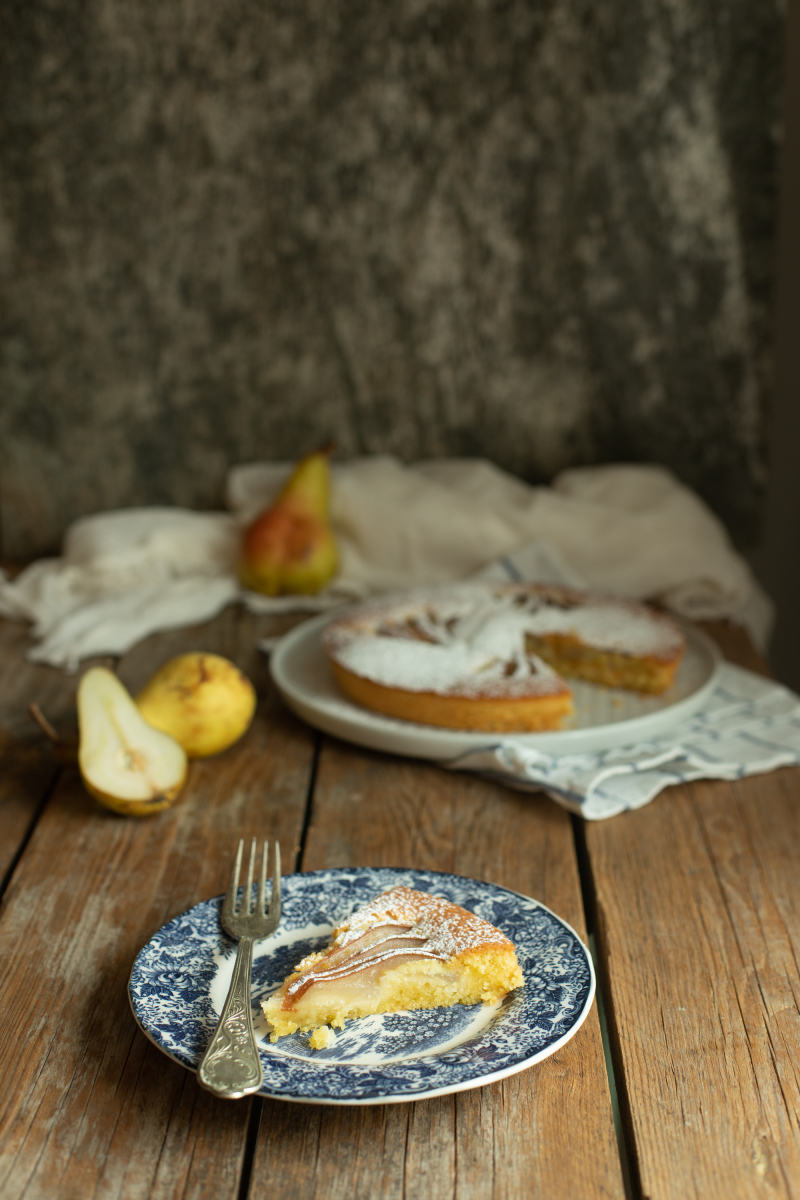 Ingredients
250 g of softened butter
250 g of caster sugar
4 large eggs
50 g of all porpouse flour
250 g of ground almond
1/2 teaspoon of almond extract
Grated peel and juice of 2 lemons
4 ripe pears
To decorate
4 tablespoons of apricot jam
Or
I decided it was time to cook some recipes from my favorite cookbooks.

This is mainly a blog of venetian recipes, but beyond some typical dishes that are part of the history of our region, I also like to tell the normality of a daily kitchen made of simple ingredients, not artifacts, with honest and genuine flavors.
Dishes prepared after eight hours of work in the office, simply cooking by everyone, without particular difficulties but only with the desire to bring the family together in front of something good, warm and that invites you to tell your day.

My collection of cookbooks is really big now and I have tried very few recipes, I have to be honest: I let myself be hit by a couple at the most, but maybe those two become part of my kitchen repertoire.
This is the case of this cake: I've found the recipe in the book "Meat free monday" written by McCartney family, which I have owned for many years and which I loved from the first reading.
It's a vegetarian recipe book, which offers healthy but delicious recipes for every season of the year, with a very inviting, rich aspect: although I'm anything but vegetarian, I approve the proposal of a day a week in which the consumption of meat be abolished, for a choice both ethical and health.

I have never been able to use pears well in pastry ... being a particularly sweet and watery fruit I do not like to use it in soft cakes, instead of apples for example, but I find that in more firm and consistent cakes they can give the best, especially in combination with dried fruit.
I hope this cake will also become part of your favorite recipes: you can serve it at its best with a touch of icing sugar or better, adding a scoop of vanilla ice cream and some cherries in syrup.

Notes:

- Remember to remove the butter from the refrigerator an hour before use, it will be at the perfect point of softness just to be worked.
- The dose of flour is very small: if you want to make it gluten-free, replace it without fear with the same weight of gluten-free mix flour.
- As with all dessert recipes, weigh and prepare all the ingredients before starting and you will see that the preparation will be clean, quick and more relaxing.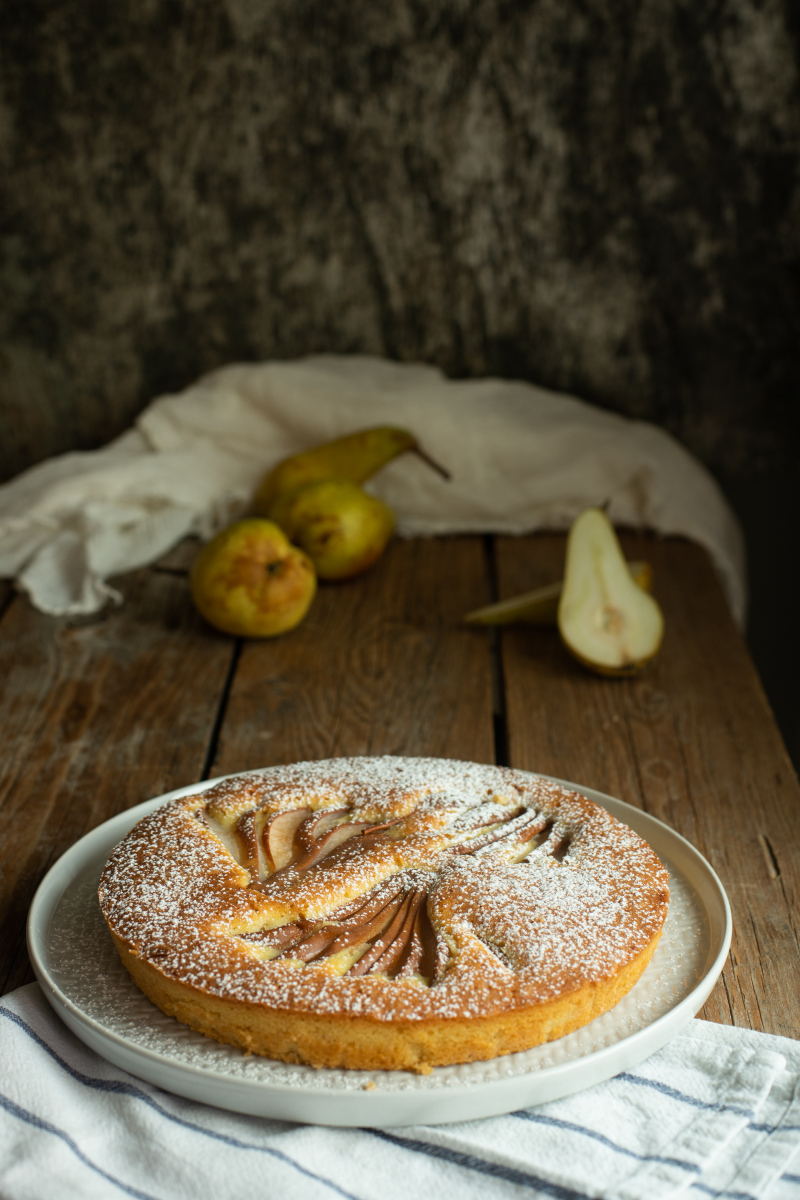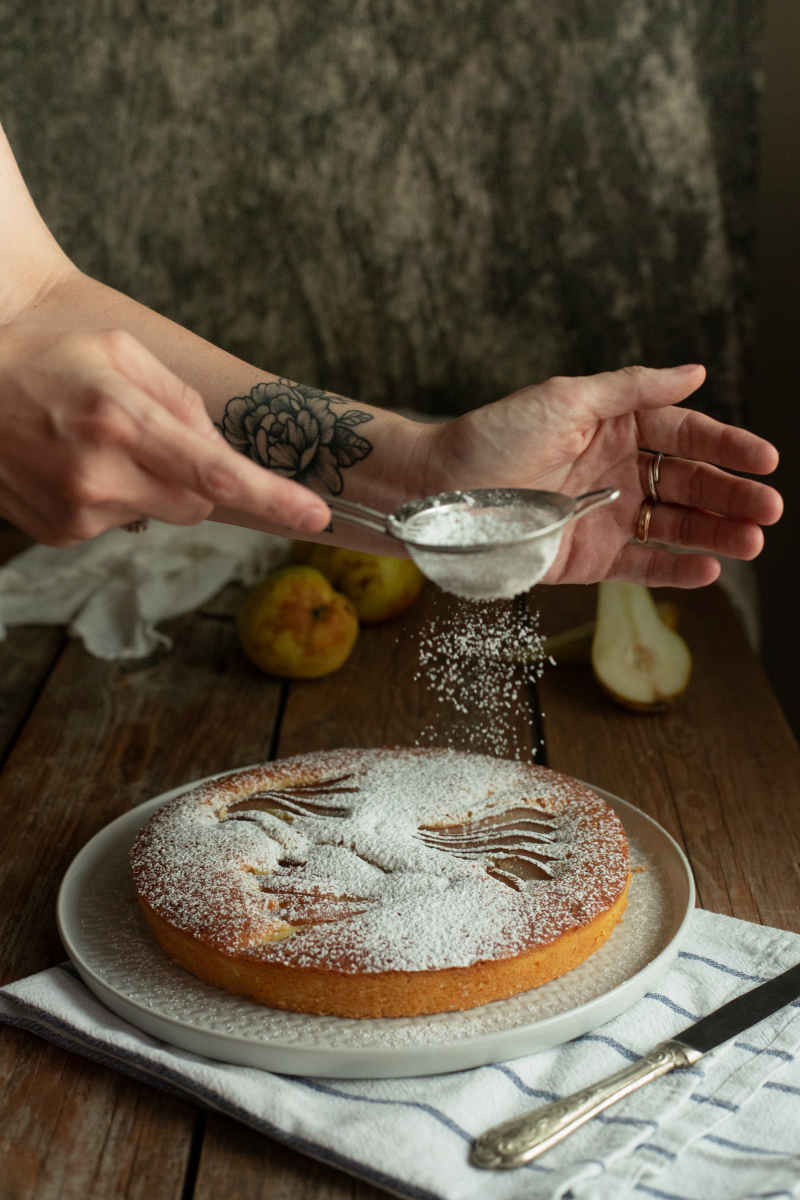 Steps
Pre-heat the oven to 180 C degrees while you weigh and prepare the ingredients. Also line the bottom of a 20 cm diameter openable cake tin with baking paper.

With the electric mixer, whisk the butter and sugar into a cream. Add one egg at a time, and after each one add some flour.
Now add the almond, the almond flavor, the juice and the lemon peel.

Pour the mixture into the pan, level the surface well (with a wet spoon you will easily manage).

Peel, divide in half and cut into slices the pears, then arrange them gently on the dough.
Cook in the hot oven for about an hour, but check with a toothpick (must come out clean and dry): once the cake is out of the oven, still warm, glaze it with apricot jam and then wait for complete cooling before removing it from the mold .

If you do not want to glaze it, wait until it is cold then sprinkle it with the icing sugar