Spaghetti with tomato and octopus sauce
11 November 2018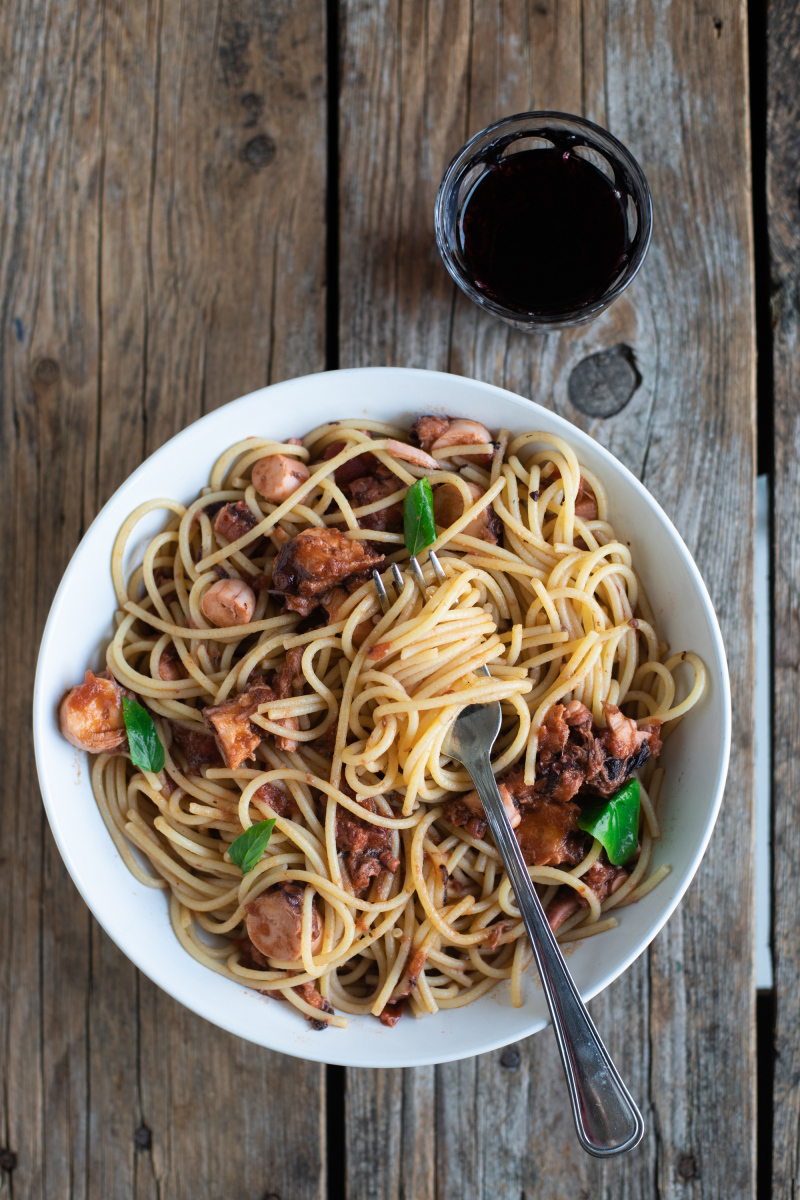 Ingredients
1 octopus of about 1 kg *
Extra virgin olive oil
1 can of peeled tomatoes
1 tablespoon of tomato paste
1 clove of garlic
parsley
salt and freshly ground black pepper
Spaghetti, 320 g
Last week, for a series of astral conjunctions, I was in Milan twice.

Milan is the Italian city that most remember me the metropolis I love so much, but it still remains on a human scale: it's the place where I can measure my ineptitude with the sense of orientation without risking to lose myself forever and where I can find all those products and objects that are not even taken into consideration in my country town.

After a rather tiring morning, aboard a very uncomfortable pair of black leather shoes, I had lunch in a small restaurant where I find good quality meat and fish and I often trust them when I'm in the area because they care for the intolerances e allergies.
I took a succulent fish cartoccio: I love the fresh fish and the softness that a proper cooking can leave to its pulp. In a container created with parchment paper, carefully closed, I found cod and large shrimps, seasoned only with thyme, good olive oil, some grated lemon peel and a spoonful of a thick bisque of shrimps.

Next to me a girl that in my mental movie was in Milan to do her work as a model: the thin physique, an elegant bearing, English spoken. To betray my movie, only the spaghetti alla chitarra with clams dish in front of her.
The carbohydrate is certainly not a friend of a physique so carved, you know, but in fact she left half a portion: I wondered if she had so much will power or if the appearance a bit 'dry seasoning was not just my impression and made her desist, as it would have been for me.

To me, pasta with fish is with red sauce.

I like to roll the spaghetti on the fork, cooked whole length, splashing some drops of sauce here and there, holding a napkin over my chest so as not to dirt even the clothes. You know that I love the long cooking time dishes: I like to use the sauce of a stewing to dress pasta and so is also for octopus.

I was always a bit 'impressed with those suckers: stupidly, I would say, because its flesh is so thick to support the comparison with a stew. Here are two dishes in one: first cook the octopus, and you can also eat it with a nice soft polenta maybe. If instead you decide to enjoy a good portion of pasta, go ahead and let me know.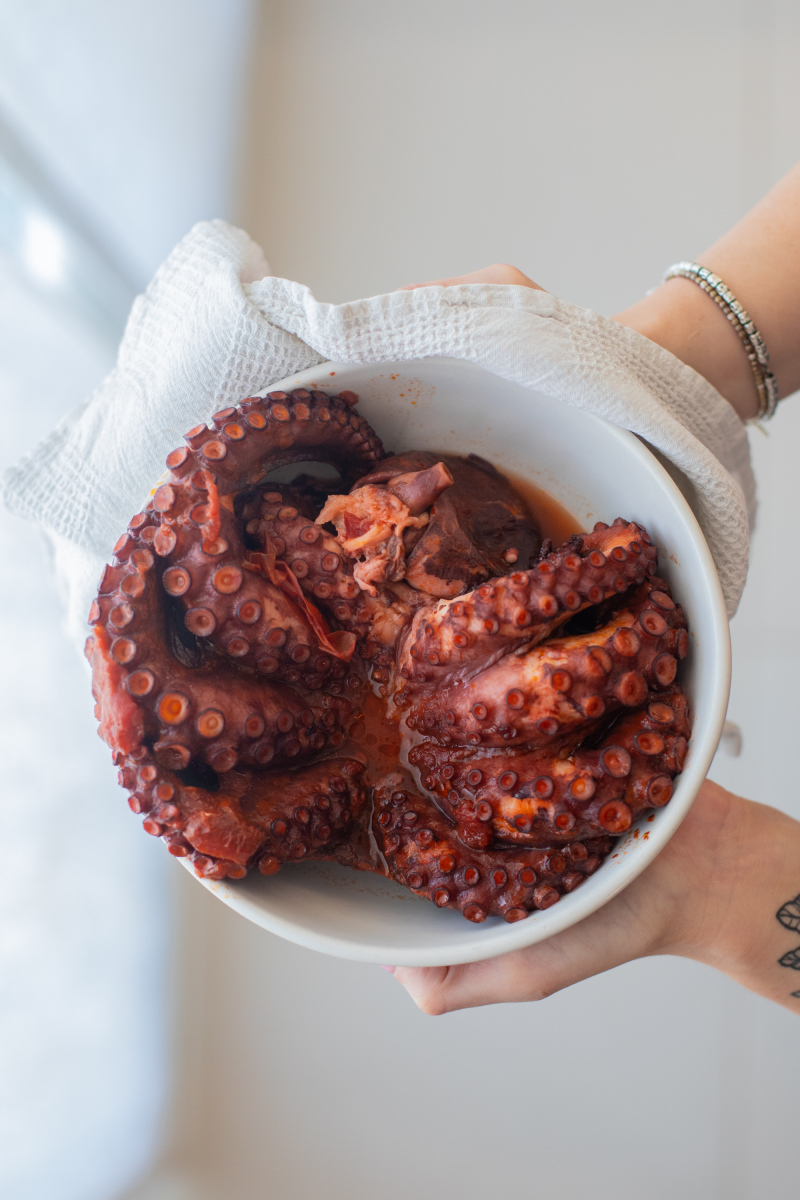 Steps
* You can ask for a clean octopus to the fish shop: if you decide instead to do it by yourself, remember that the suckers should be rinsed for a long time to prevent some grain of sand from getting stuck and then remove the beak (mouth), eyes and bag, still rinsing well at the end.


In a thick-bottomed saucepan, preferably made of cast iron, pour a generous round of oil, then place the whole octopus, seating it well.

Pour the can of peeled tomatoes onto the octopus, crushing them a bit with a fork: fill a third of the empty can with water, stir in the tomato paste and pour it all in the saucepan.

Peel the garlic clove, insert it with a toothpick and toss it in a saucepan.

Turn on the fire and cook covered (leaving a small space to let the steam out) for about 1 hour: check the cooking of the octopus by pricking it with a fork, which must stick without resistance, without feeling gummy but only tenderness.

At this point, let it cool for some minutes then extract the octopus from the sauce, cut it into small pieces and toss them back into the sauce, adjusting salt and pepper and removing the clove of garlic. In case the tomato had remained too liquid, boil it over a medium-high flame while you cut the octopus.

Cook the spaghetti al dente, drain and pass them in the saucepan with the octopus: chop the parsley, add it immediately and serve it very hot.




You are reading:
Spaghetti with tomato and octopus sauce