Pumpkin gnocchi with butter, sage and pine nuts
30 September 2018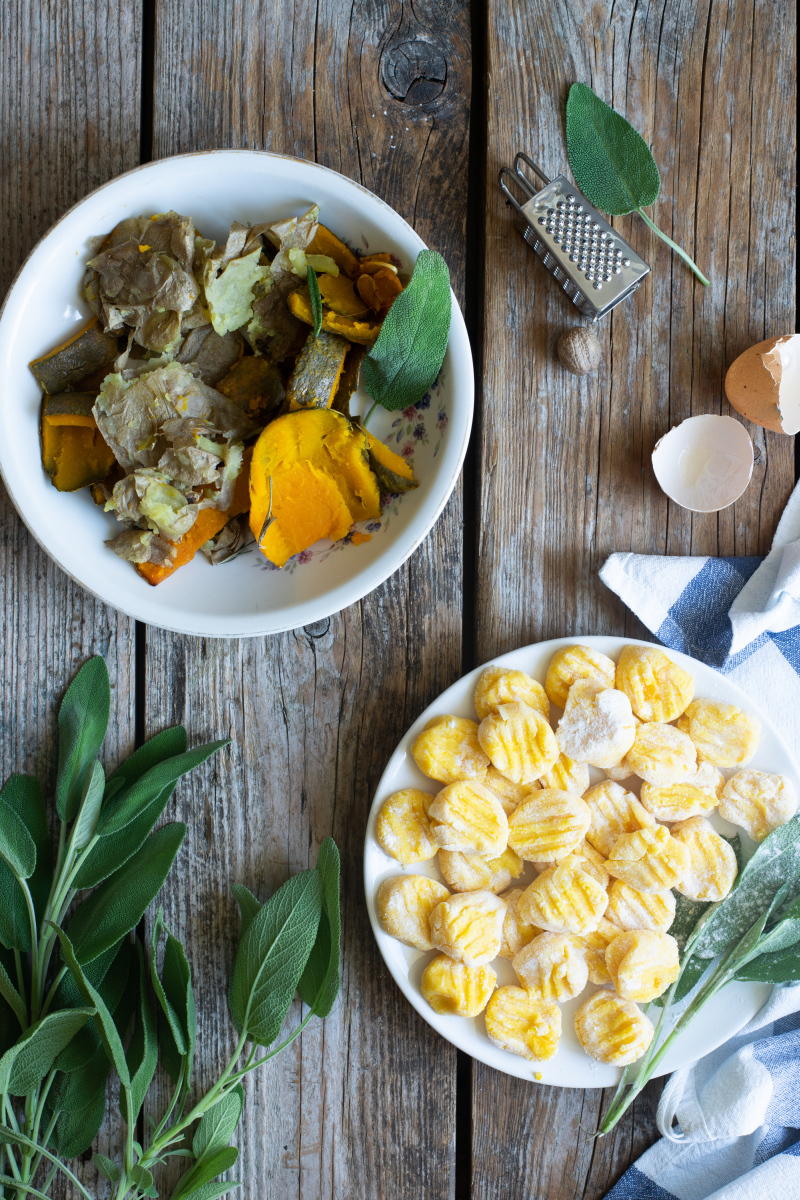 Ingredients
Potatoes, about 700 g
Pumpkin, about 350 g
Flour, about 200 g
1 egg
Butter, 50 g
Sage, 5/6 leaves
Pine nuts, 30 g
Salt and freshly ground black pepper
Last week I organized a cooking evening with some friends, during which we made together all dishes based on pumpkin.
It impresses me how much the pumpkin is appreciated and how eagerly people expect its return in season: when I proposed to my friends to create a menu based on this vegetable they were really happy and even more stimulated by the fact of being able to immediate redone all the recipes that they would have learned.
They didn't know each other and it was interesting to see how the different attitudes to the kitchen and the different characters, in front of a plate of risotto made with their own hands, were melted in laughter and noises of taste.
There is the brave one, who asks me for one of my beloved knives and immediately starts to cut in silence with maniacal precision. There is the one who stays in a corner with folded arms and asks for clarification, until I put a wooden spoon in her hand and suddenly, as if it were a magic wand, he smiles with low eyes mixing the ingredients of the risotto. There is also who opens the bottle of a good wine, and it is also as important as others!
We cooked fusilli with pumpkin cubes, sausage and broccoli, which are timidly coming in season too, then a risotto with pumpkin, so creamy to become fondant, and porcini mushrooms softened in a warm vegetable broth.
We also baked pieces of chicken with potatoes and pumpkin roughly chopped, seasoned with liquid honey, aromatic herbs, salt and pepper.
A recipe that I wanted to share with them, but unfortunately there was no time to do, this is what I now share with you.
I like gnocchi but they can be tricky indeed; the result depends a lot on the potatoes but in this case I mix them with the pumpkin and the dough is more manageable. I have scattered flour puffs everywhere, but that's fine, it's for the cause.
The scent of butter that you will use to toast them, sizzle the sage still fragrant and green before winter: a dish that I hope will come into your kitchen repertoire, as in mine.
Notes:
If gluten gives you problems, you can cook them with a basic mixed gluten-free flour: the quantity you will use is very relative, add until the consistency is easily workable, more than the "normal" dumplings.
Keep a small portion as a dessert: in Veneto the potato gnocchi are served with sugar and cinnamon powder. Try this and let me know!
If you prefer almonds to pine nuts, choose the sliced ones and toast them too or choose unpeeled and coarsely chop. In general, all the dried fruit gives its best toasted ... keep it in mind, but be careful because it is also very fast to burn.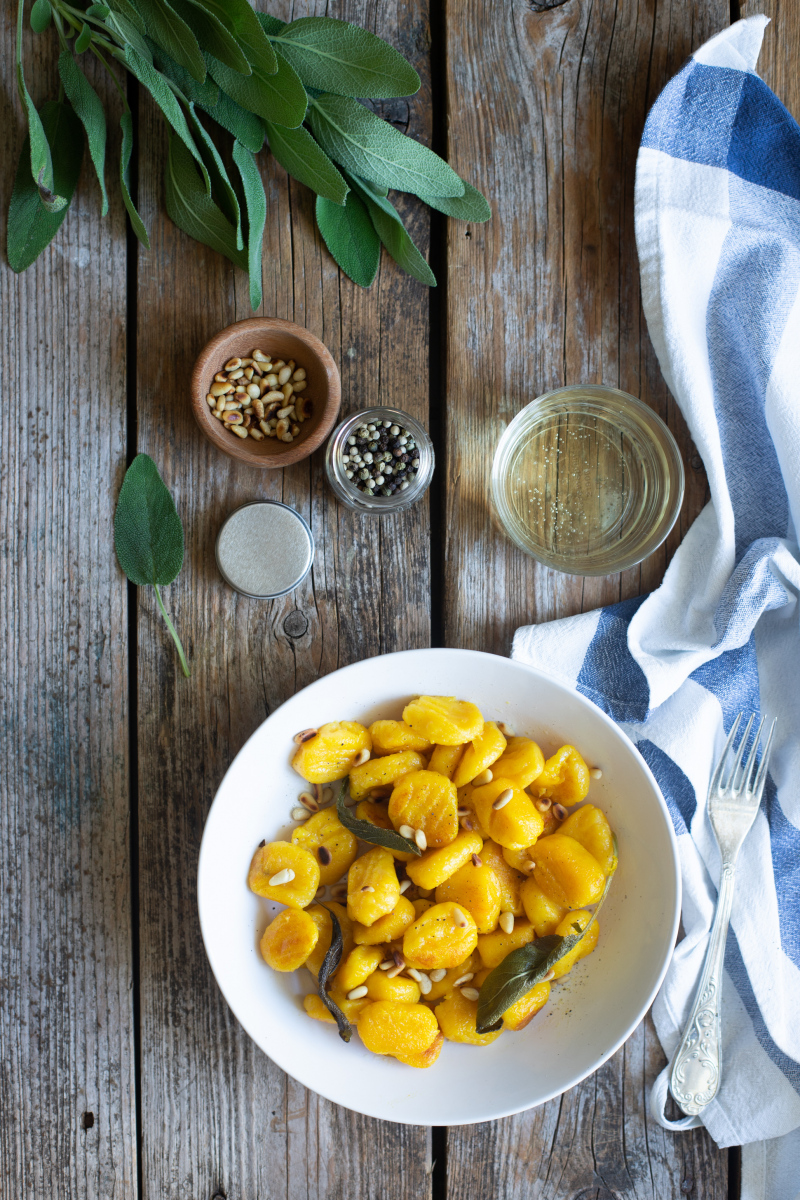 Steps
Wash the potatoes, scraping any trace of soil attached to the peel, then place them in a large pot of water, bring to a boil and boil until, by stinging them, they are tender and do not resist to your fork.
Also wash the pumpkin well, cut it into large pieces, place it in a baking tray covered with aluminium foil: cook at 200 degrees for about 40 minutes, about the time that potatoes will be cooked.
Once cooked both, let cool down then peel the potatoes and pass them to the potato masher collecting the pulp in a bowl. Using a spoon, separate aldo the pumpkin pulp from the peel you will throw, and add the pulp to the potatoes.
Stir well then add the egg and gradually the flour: you could use less, or maybe a little more ... check that the dough is well blended, not sticky, malleable. Attention because working the still hot pulp, it may seem necessary more flour: wait for it to cool a bit.
Shape the dough into rolls, rolling them on a floured surface, cut into pieces of about 1 cm and a half and then with a fork lightly imprint the marks of the prongs.

In a hot pan, toast the pine nuts and set aside.
In the same pan, melt the butter with sage and a pinch of pepper.

Boil a large pot of salted water and cook the gnocchi, drain them as soon as they come to the surface and pass them over high heat in the pan with the butter, so as to lightly toast them.
Serve very hot, if you like with grated Parmesan.

You are reading:
Pumpkin gnocchi with butter, sage and pine nuts