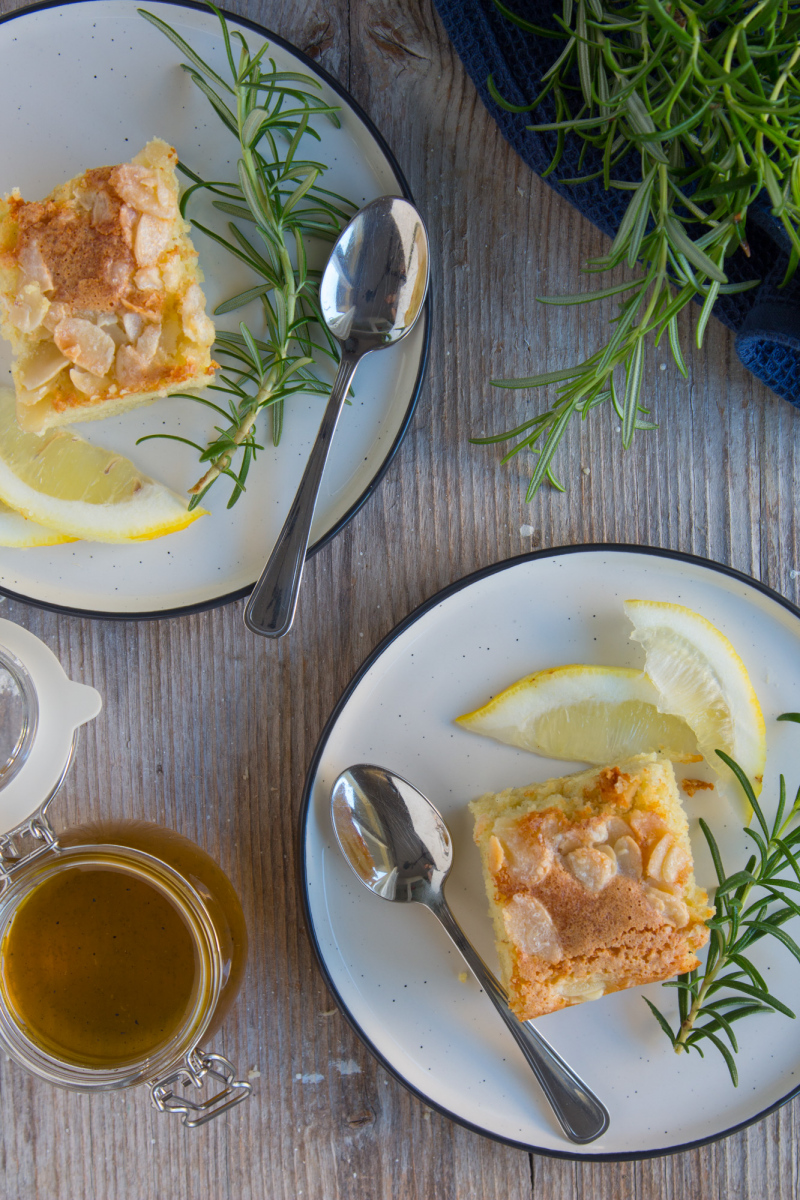 Ingredients
For the cake:
4 eggs, at room temperature
Butter (at room temperature for 1 hour), 120 g
Sugar, 200 g
Fresh vanilla in pod, 1
Untreated lemon, 1
Almond flour, 200 g
Rice flour, 3 tablespoons full
2 teaspoons of baking powder
1 pinch of salt
Ricotta, 200 g
Almonds in flakes, a handful
For the syrup:
Water, 150 ml
Fresh rosemary, 1 branch
Sugar, 150 g
1 untreated lemon
I live in the countryside but unfortunately I don't have a large garden, and I do what I can: I told you I created a small potted vegetable garden and there are already many small tomatoes hanging on the seedlings, many zucchini flowers, some strawberries.
What I strongly wanted are citrus plants: from the old house I had brought a lemon and a bit of chinotto, but over the last two years unfortunately I have seen them get worse and worse, from the leaves that have become more and more fragile and clear, the trunk that in some places it had no more sprouts or life. The lemon was caged in a structure to grow it upright and probably he was tired of being so limited and the chinotto was filled with an illness that made the leaves all dotted with something black ...
So this spring I took courage: I took off the lemon from the cage that forced it, I cropped without mercy and I reduced it to a small trunk that pointed upwards.
I also cleaned the chinotto in every single sick leaf, I removed all the parasites and transplanted into a larger pot with so much good soil and fertilizer.
I also bought a second lemon plant, not having much confidence in my ability to gardener ... but there was no need to eliminate anyone: the lemon cropped is reborn, very lush, with many flowers and leaves with a fragrant, sweet, characteristic scent , the chinotto has grown as never before and has a beautiful bush of leaves from which emerge some shy fleshy flowers and small fruits.
I was really happy with the success of my pruning, I was very proud of it because these plants have been living with us for about 10 years.
In this cake the scent of lemon is very important: choose untreated lemon, I recommend.f you like wet cakes too, you have to try this. An aroma of vanilla is added to sweetly complete the fragrance of citrus, with the amazing taste of rosemary to make your slice of cake more complex and lovable: it will become your favorite cake.
NOTES
This cake becomes seasonal based on the flavors and aromas you want to give. For spring and summer lemon and rosemary are perfect, but in winter you can try it with orange peel, cinnamon, a little ginger powder maybe. The syrup will be fine with the orange peel and with a cinnamon stick, but a piece of vanilla I would put it anyway, to sweeten and comfort the palate.
In this version I also prepared the syrup to complete it and give it a fresh and vibrant flavor: if you don't want to prepare it, there is no problem, the cake is delicious even without it.
Try it cold from the fridge in the summer, accompanied by a scoop of dark chocolate ice cream or a fruit salad. If you are brave enough and nothing scares you, pour over a bit of liquor instead of syrup, better if dark aged rum... be careful!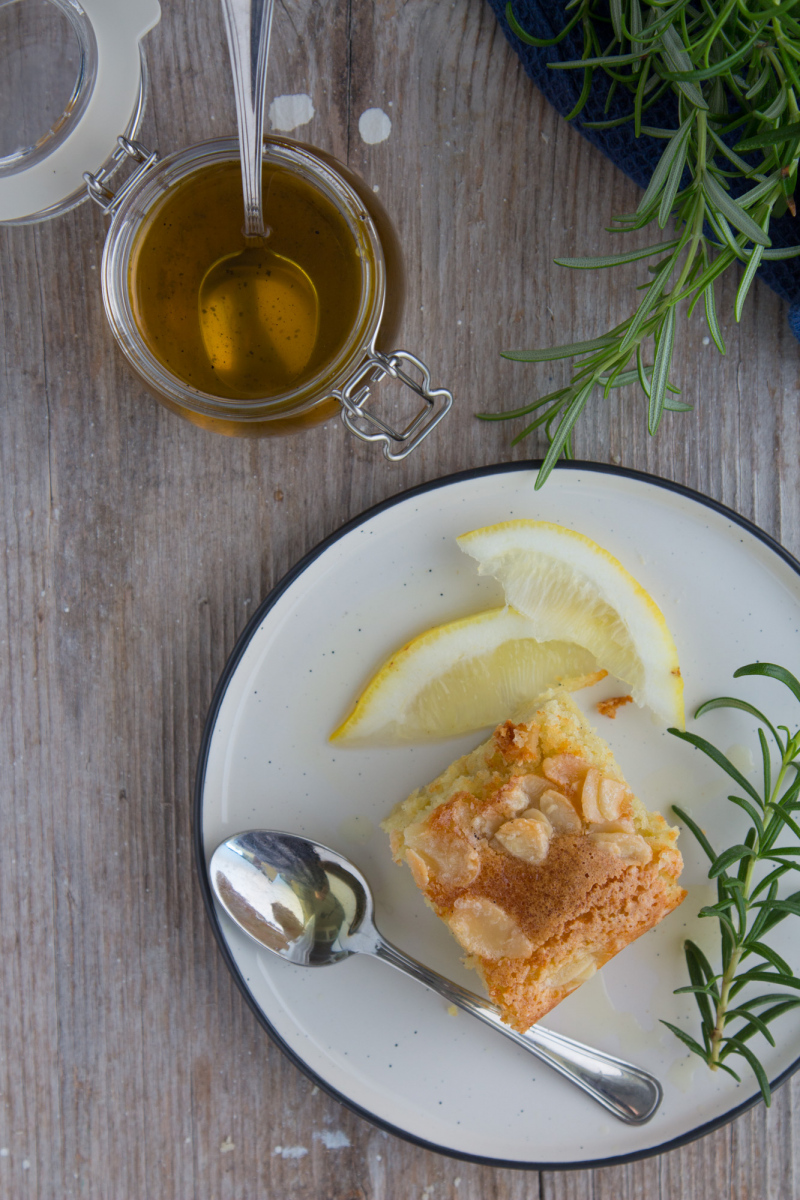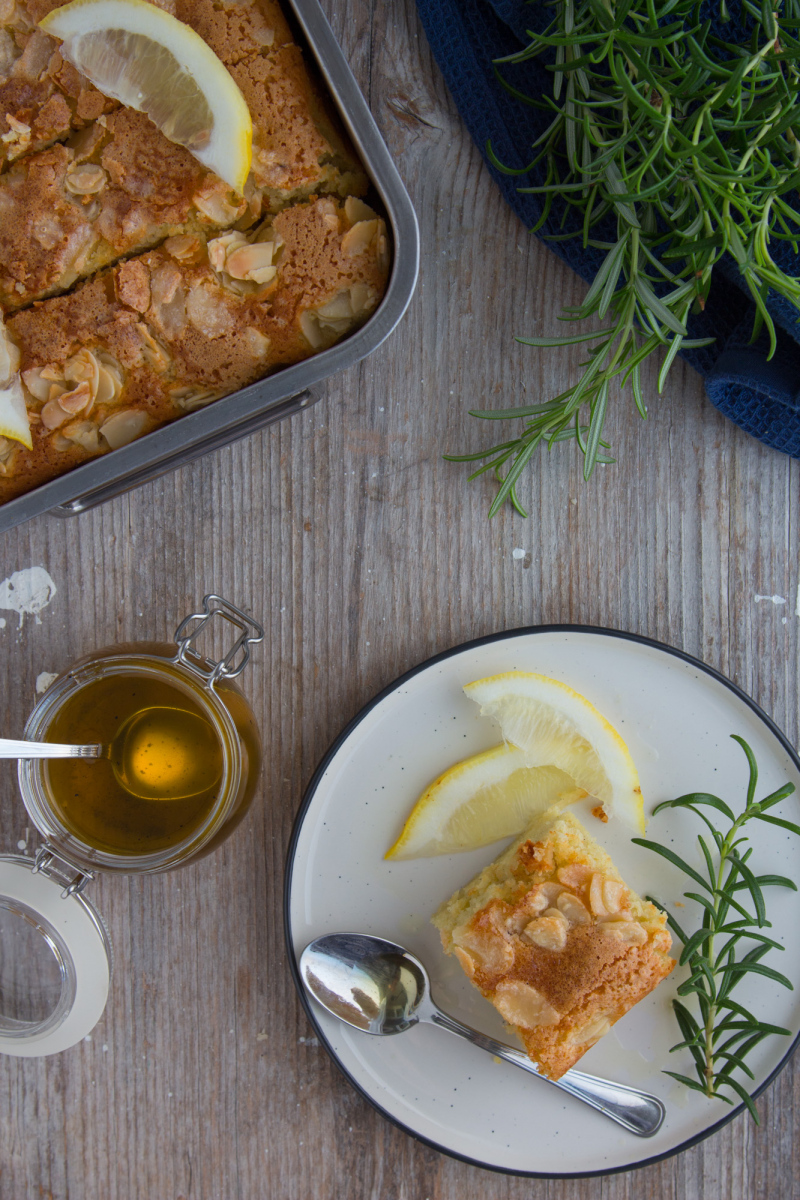 Steps
Turn on the oven at 160 degrees.
Prepare a round 20 cm diameter cake tin with opening circle, cover the bottom with parchment paper and stop it with the ring of the cake tin.

Now separate the yolks from the egg whites into two small containers.

Prepare 2 large bowls and 1 medium saucepan.

In the first bowl put the egg whites and start to whisk them with electric whips: when you see that they take volume, add a little sugar at a time and continue to whisk until, raising the whips a bit, you will notice that beautiful meringue peaks are formed firm.

In the second bowl put the butter, the remaining sugar, the seeds of the vanilla pod (dug the pod into the pot you have prepared) and the grated zests of a lemon.
With the same whisk as before, start to whisk until the mixture becomes clear and fluffy: with a spatula brings down the dough that will be spread on the edges and add one at a time the yolks, always continuing to whisk. Finally, add the almond flour, rice flour, salt, baking powder and ricotta: use only a few seconds the electric whips to mix everything.

With the silicone spatula you can now add the whites to the mixture, one third at a time, stirring from top to bottom without dismounting.
Pour the mixture into the prepared cake pan, smooth the surface well and sprinkle with almond flakes.
Cook for 40-45 minutes (until it's golden and firm to the touch).
Allow to cool completely in the cake tin and to remove it easily pass a knife blade along the edges.

While the cake is cooking, take the saucepan where you have thrown the vanilla pod, add the water, the lemon peel (not grated, remove it in slices) sugar and rosemary.
Cook over a low heat, allowing it to simmer until it has a nice yellow color and the consistency of a cough syrup.
Filter and put in an airtight container.


When both the cake and the syrup are chilled, cut some nice portions, sprinkle them with syrup and let me know if you liked it.

You are reading:
Almond, ricotta and lemon cake with rosemary syrup