Green vegetables risotto
06 April 2021
Ingredients
Fresh peas, 1 cup
Green asparagus, 10
New courgettes, 3
Shallot, 1 small
Extra virgin olive oil, 6 tbsp
Vialone nano rice, 320 g
Dry white wine, 1/2 glass
Vegetable broth, about 1 liter
salt
black pepper
Grated parmesan, about 30 g
Butter, 30 g
Untreated lemon peel, 1
I come back to these screens with a recipe that screams "sprinnnggggg" after a "virtual baby shower" in which we were overwhelmed by so many kind people and loving messages: thank you, we could not imagine more.
For me it was always too early to come out, probably I am not yet fully aware that the arrival of the little one is close but waiting for 10 long years made it seems more like an experience that you are looking at from a porthole, more than living in my own person (say the impostor syndrome). I exchanged many beautiful messages with girls who have lived the same experience with different results: there are many of us, let's not feel alone, let's help us get out of the labyrinth that is created our head and life.

While telling you glimpses of our life as real and normal people, the blog has always been a meeting place for Venetian cuisine, the culture of my region: I wanted to reassure you that it will not change the subject, it will not become a feed with little hands and feet, no. I owe this to my readers, to the work I do in creating material in line with the theme I have chosen, and also to ourselves as a family, out of respect for what we have always thought of this type of content. His new presence will obviously change some dynamics of time and productivity, and I intend to slow down a little: in the meantime I am stowing the freezer of goods for the moments when I will not want to cook, or it will not be a priority, and it's a lot of fun.

I promise I'll notify Baby D's arrival, yes.

And therefore, let's cook spring together: a risotto is always an excellent choice to enhance the vegetables of the period and when there are what I call "green vegetables" (peas, agretti, spring onions, new courgettes, asparagus ...) it is the first dish that I prepare to enjoy it to the fullest.
Risotto is one of my favorite dishes: I have recently also experimented with the version with brown rice, which I liked very much even though it has biblical cooking times and a poor absorption capacity of flavors. The mix of these vegetables is also perfect if you want to season a pasta (I recommend wholemeal or buckwheat for a nice contrast of flavor) or as a side dish for a nice buttered egg or as a filling between the layers of a creamy bechamel lasagna.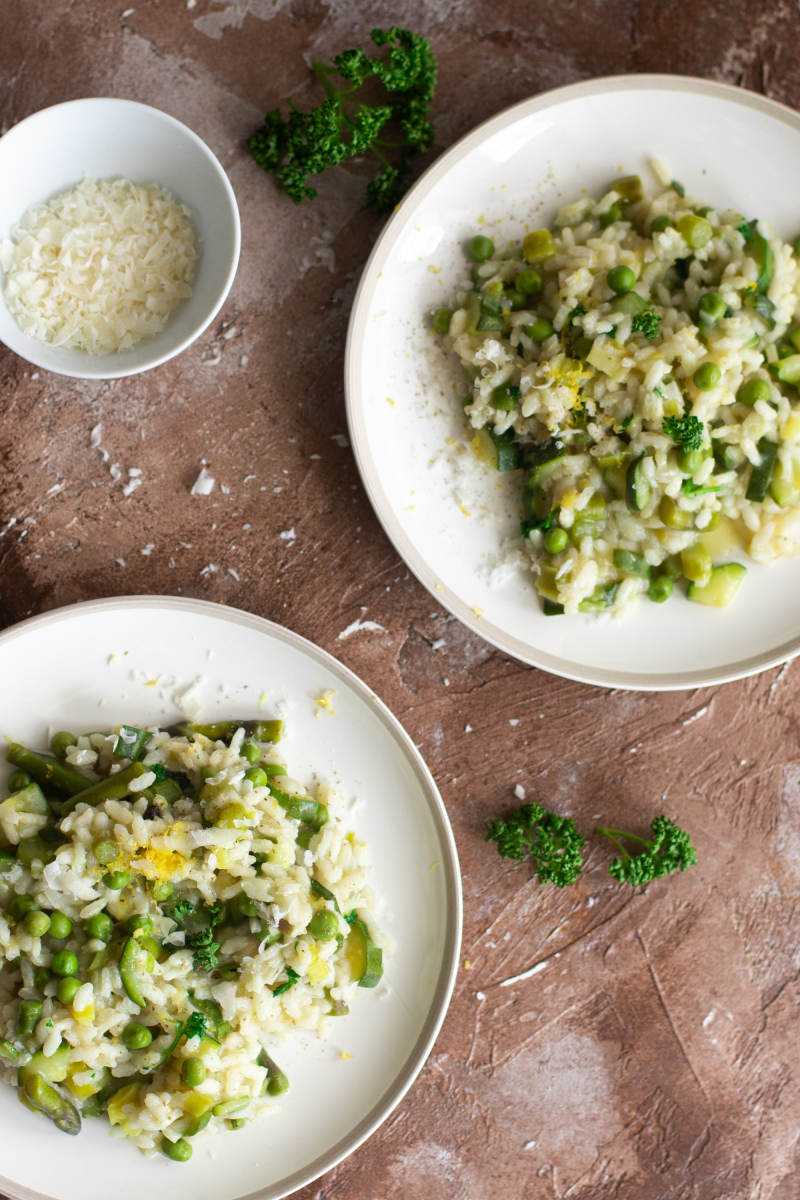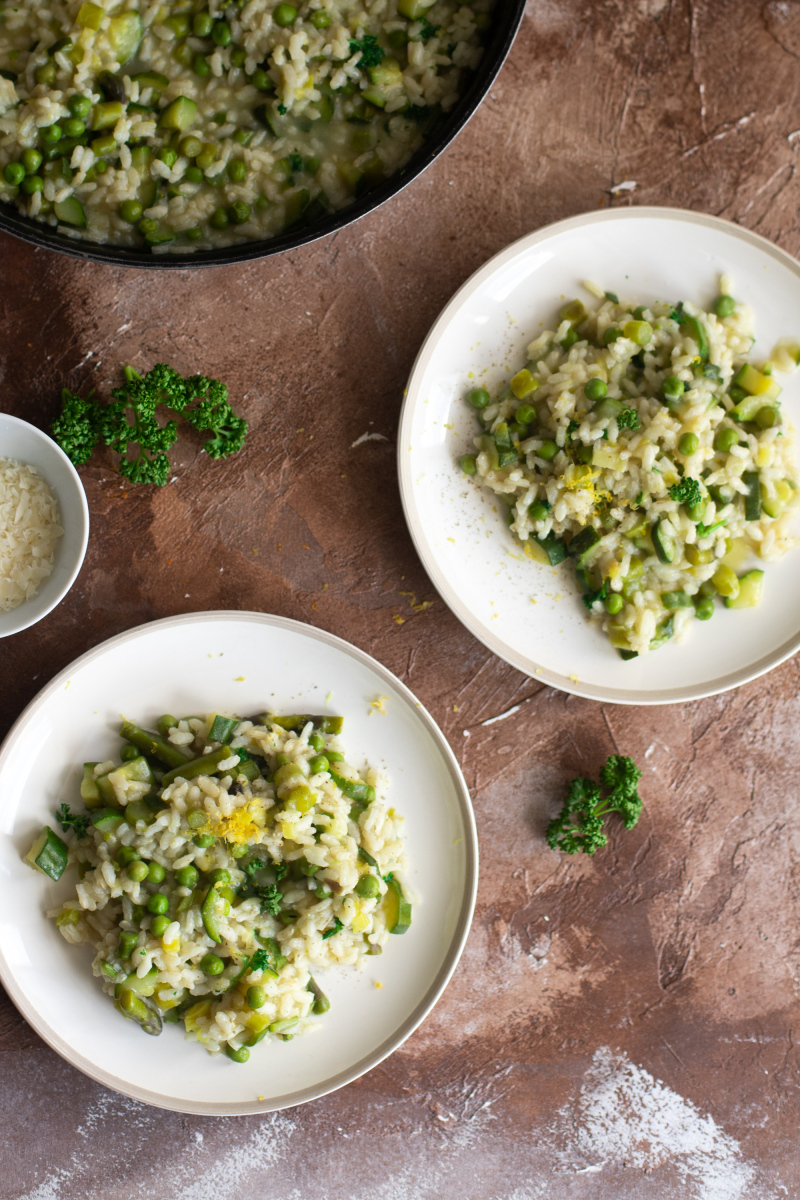 Steps
Fill a saucepan with water, bring to a boil and cook the peas keeping them "al dente".
In the meantime, cut the asparagus and courgettes very very thinly and heat the broth.
Chop the shallot very finely and pour it into a saucepan with the oil: simmer over a very low heat then throw the rice.
Toast, always stirring with a wooden spoon, then over high heat pour the wine and let it evaporate.
Lower the heat, add peas, courgettes and asparagus and add a ladle of broth at a time, until the rice is cooked (about 20/25 minutes). The vegetables, cut so thin, will cook over the time of the rice: maybe you will not use all the broth.
When the rice is cooked, turn off the heat, season with salt and pepper if necessary and stir in the butter, cheese and lemon peel.