Baked eggplant pan
19 August 2020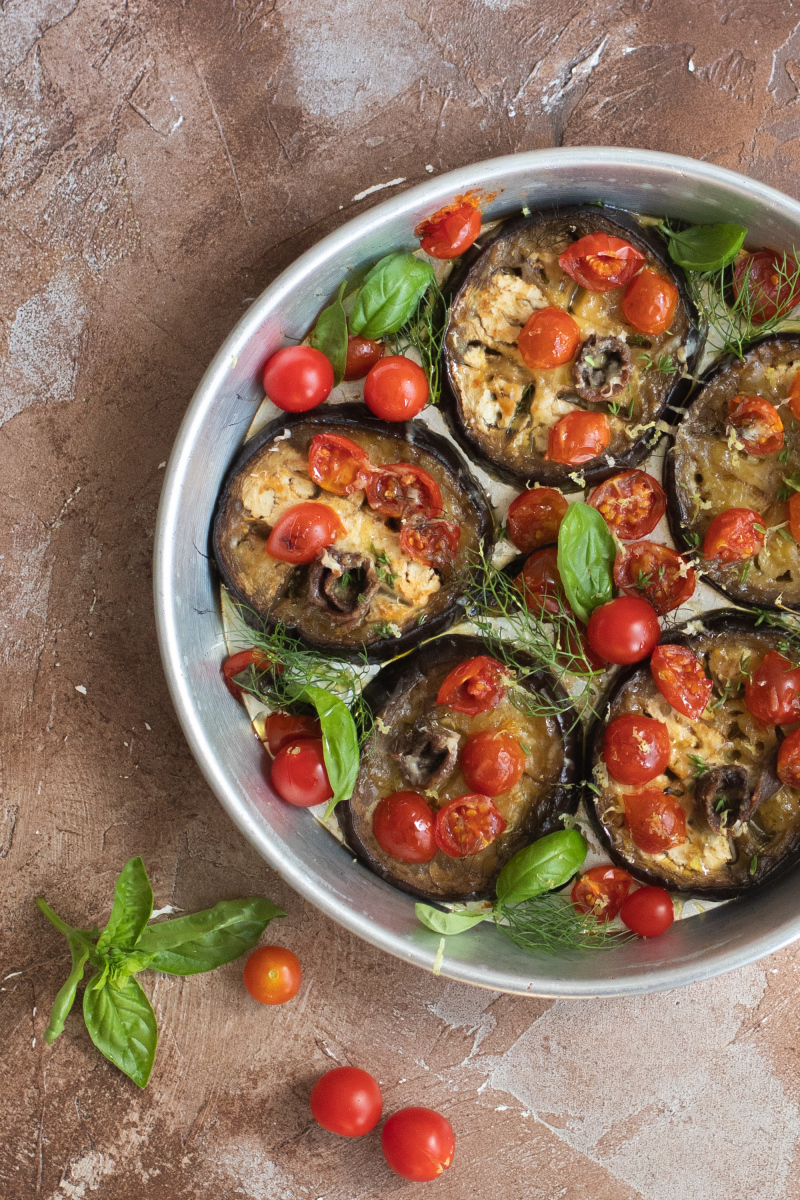 Ingredients
Eggplant
Cherry tomatoes
Anchovies
Wild fennel
Fresh basil
Grated Parmesan cheese
Salt and freshly ground black pepper
Extra virgin olive oil
Grated lemon peel
If you have received my summer newsletter with the recipe book on summer vegetables, you know that to talk to you about the aubergine, Valentina and I (from the blog Profumo di Limoni, which I hosted) have chosen, by chance, two recipes without doses: in the kitchen this method sometimes rewards, especially when they are not technical recipes but are preparations so simple that they can be accused of banality. Yet they are the ones that give the most satisfaction: they recall the confident and quick gestures of those in the family who cooked before us, recipes without doubts and with a strong personality.

Eggplants, simply sliced ​​thinly and grilled for example, have that smoked aroma that goes well with fresh tomatoes, peppers but also with pesto for example.
I suggest you to season short pasta with aubergines stewed in a pan and a nice spoonful of pesto (and if you want to exaggerate some cubes of provola or mozzarella), or cook them in slices in the oven like a pizza, with tomato sauce , some grated Parmesan cheese and some Taggiasca olives.

But today put them quickly in the oven, without wasting too much time ... you will feel that good with this recipe.
Steps
Cut the aubergines into finger-thick slices and arrange them on a baking sheet.
Cut the cherry tomatoes in half and add them to the eggplant.
Arrange here and there some chopped anchovies (a couple per eggplant), the fennel torn with your fingers, some basil leaves. Season with salt and pepper, grate a nice amount of Parmesan over everything so they will make the crust.
Finish with a good generous round of oil and bake at 180 degrees until ifpricked they are tender and golden (it will take about 25 minutes).
As soon as they are taken out of the oven, you can grate a little lemon peel over them.
Serve hot as a side dish, or as a single dish accompanied by a fresh salad.