Spaghetti with tomato sauce
19 August 2020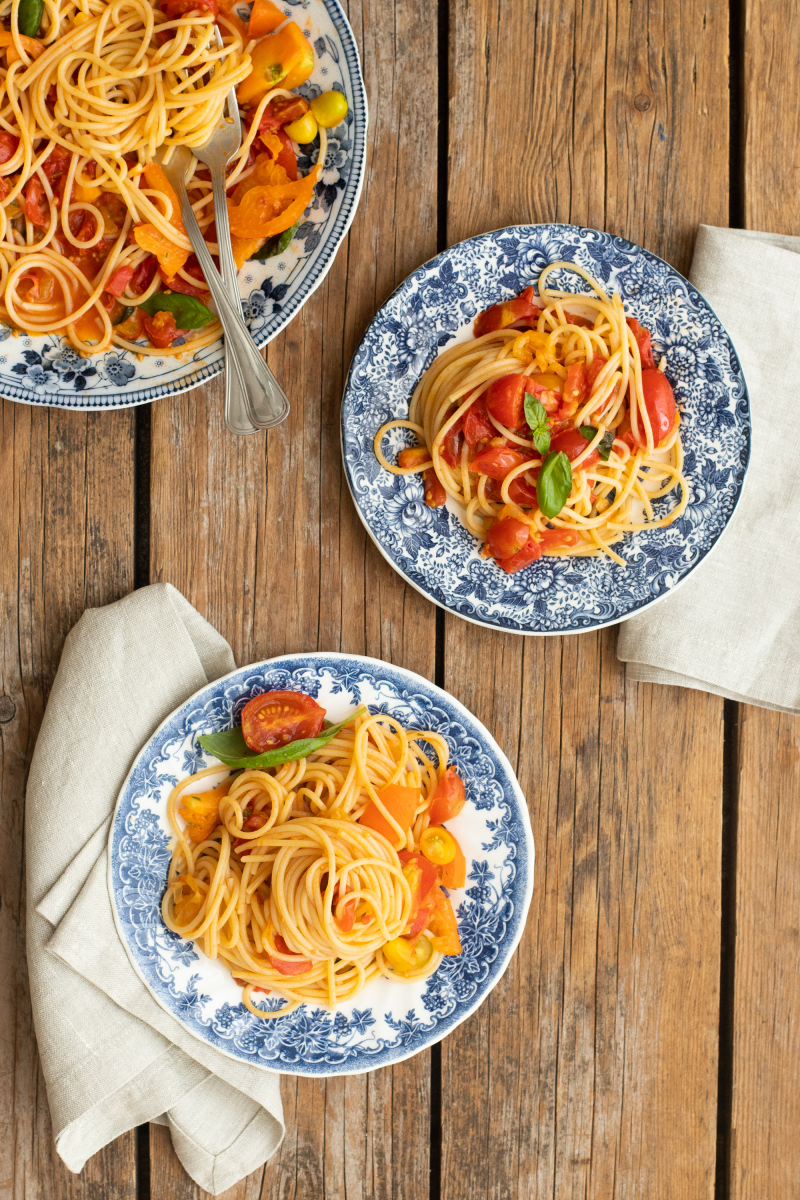 Ingredients
Extra virgin olive oil, 3 tbsp
Garlic, 1 clean clove
Cherry tomatoes, about 200 g
Salt
Freshly ground black pepper
Fresh thyme, the leaves of a sprig
Fresh basil, a few leaves, to your taste
Spaghetti, 160 g
If you like, grated parmesan or parmesan
Why should you try my tomato spaghetti recipe?
Why should my version be better than the thousand others that are online?
The answer is simple: it's no better, it's no different.
It's just mine, for what it's worth.

Learning to cook is a journey in stages: we approach it with fear, perhaps first trying an apple pie or a jam tart and slowly deciding if it's good for us, if we have satisfaction from kneading, from waiting patiently for the cooking time, to serve the food we have prepared with our hands.
At the beginning, at least for me, cooking is a creative interlude, if you have someone else who prepares everyday meals for us.
The fact comes when you are confronted with everyday cooking, that of subsistence, of the need to put something comforting on the table every day and, possibly, new and good: it is here in my opinion that the occasional cook is discriminated from the passionate cook.

I have always loved cooking even the simple plate of pasta with tomato sauce and yes, perhaps I reserve more care for everyday dishes than for those of special occasions, because for those occasions I reserve tried and tested recipes that I am not afraid of, shopping specifically for implement them.
When you open the fridge in the evening, however, and you realize what you have to put together a dinner with, well, sometimes that's where the real fantasy comes out in the kitchen.

So I take refuge in the simplicity of a plate of spaghetti with tomato sauce: nothing more seasonal, because you need summer tomatoes grown in the sun and rough with earth on the outside, with imperfect peel and warm and juicy flesh.
A clove of garlic, lots of fresh herbs.
And you need just a fork.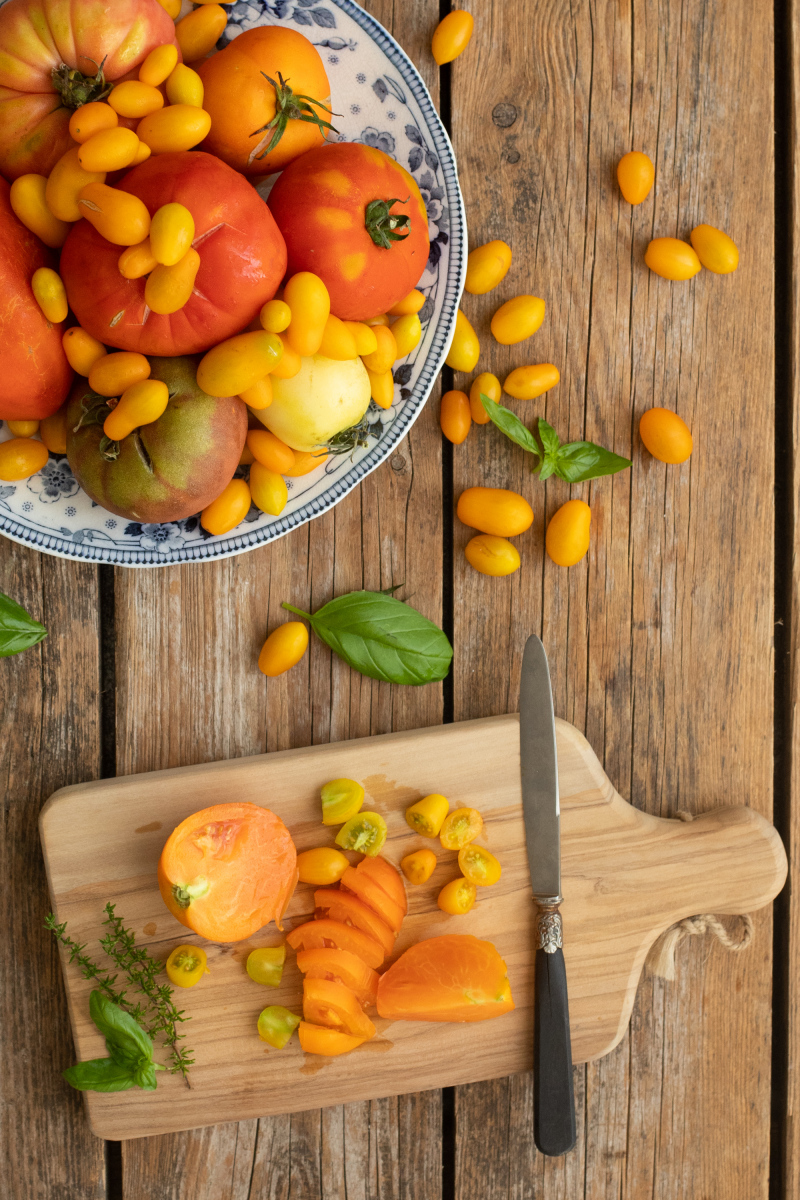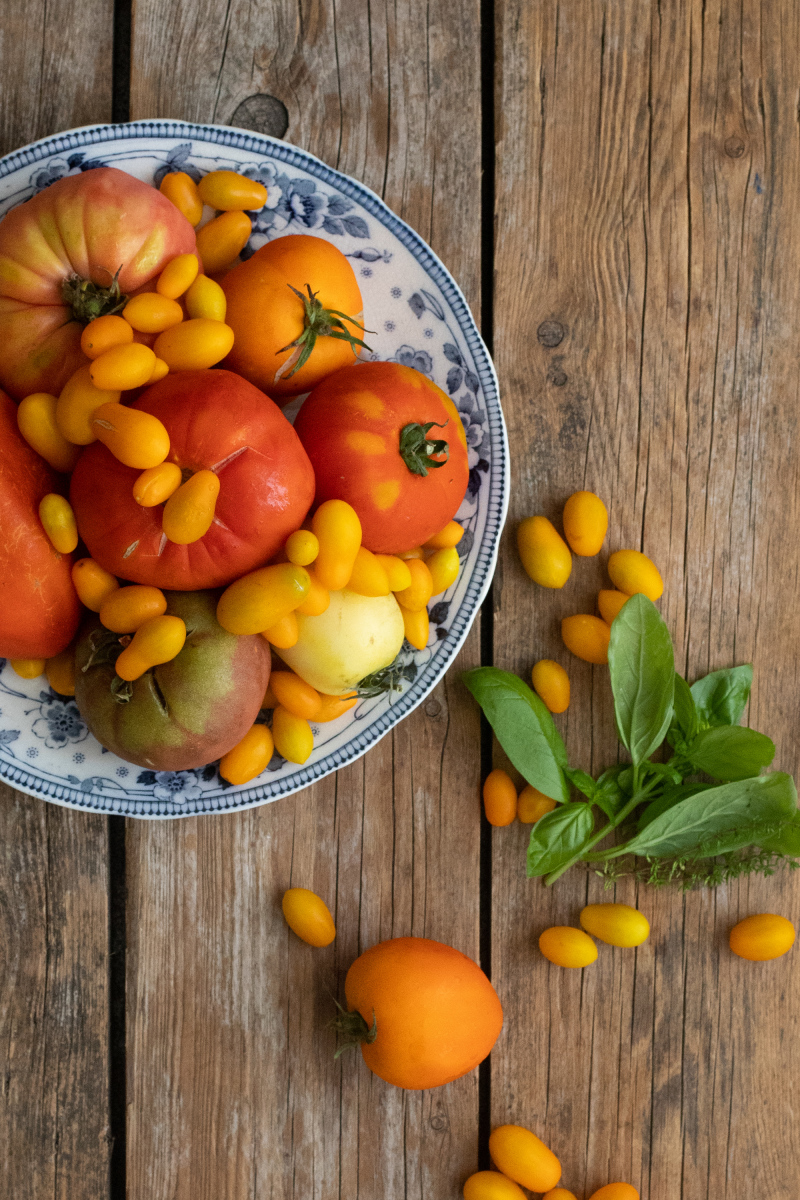 Steps
Heat the oil in a non-stick pan with the garlic clove: you can decide to remove it when it is golden or leave it. Add the tomatoes cut into 2 or 4 parts and season with salt and pepper.
Add the thyme and basil as well, then cook until the tomatoes are flaked.
Meanwhile, cook the spaghetti al dente in plenty of salted water, drain (keep some water) and pour them into the pan with the tomatoes. Over low heat, mix the spaghetti well with the sauce and, if you need, add a couple of tablespoons of cooking water.

Serve hot, if you like with a sprinkle of grated Parmesan or Parmesan.