Fried radicchio
11 January 2020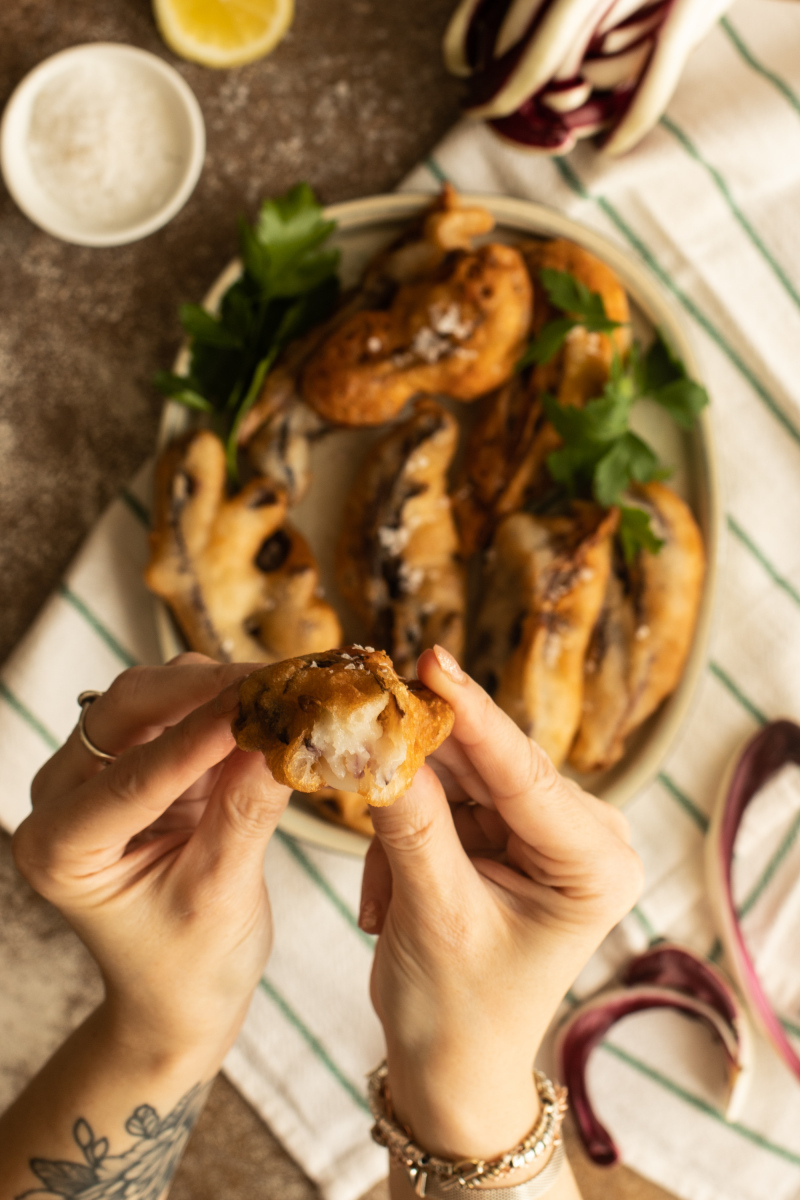 Ingredients
3 pieces of red radicchio di Treviso
200 g of 00 flour
200 g of water
4 g of dehydrated brewers yeast
A pinch of fine salt
Seed oil for frying
Salt flakes (Maldon)
How often do you fry?
There are people who never fry and I don't trust them!

Seriously, without exaggerating and using good ingredients, some fried food occasionally fits and does not even hurt.
I prefer to fry vegetables: naked and raw with a sprinkling of flour to obtain a crispy crust, or grated and combined with an egg and a little flour to cook soft frittelle or surrounded by a delicious, soft batter.

My grandmother used to thinly slice ​​a courgette and put the slices in a colander of the metal ones that stand on their own, sprinkled abundantly with the flour and gave them a strong shake to eliminate the excess: she dipped them in boiling oil and they came out crisp and dry, like the potato chips.
One year at Christmas, my mom received the fryer as a gift, and since then occasionally the "fried fish sunday" was organized: also in this case a sprinkling of flour and a nice dip of the basket in oil. Unfortunately, however, the fryer dated in the 90s unworthily ended its service this year because of me, which by mistake I turned it on without putting oil in it, melting the "engine".

When I decide to fry, I always have a little bit of performance anxiety: I don't have much skills with this type of cooking though ... I did a great exercise.
I choose a good seed oil, which I love so much extra virgin olive oil that I don't feel like using it for frying: I prefer the flavor of fried food anonymously and lightly, I want to feel the true taste of vegetables or other ingredients well predestined.
And a few days ago I had an idea: why not fry the radicchio?
Eh, how come I never thought of it before?
But I reserved for him a dip in the batter first: I got a bite so soft inside and crispy outside that I ate ... too many.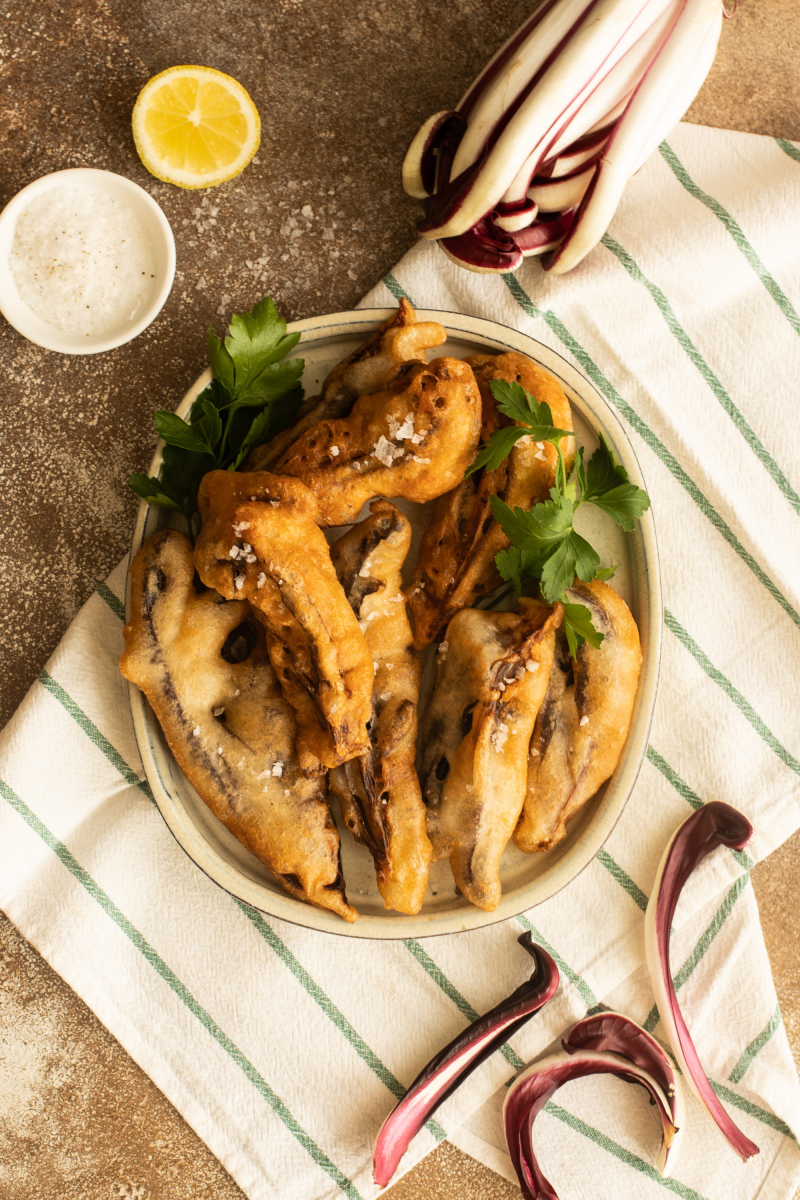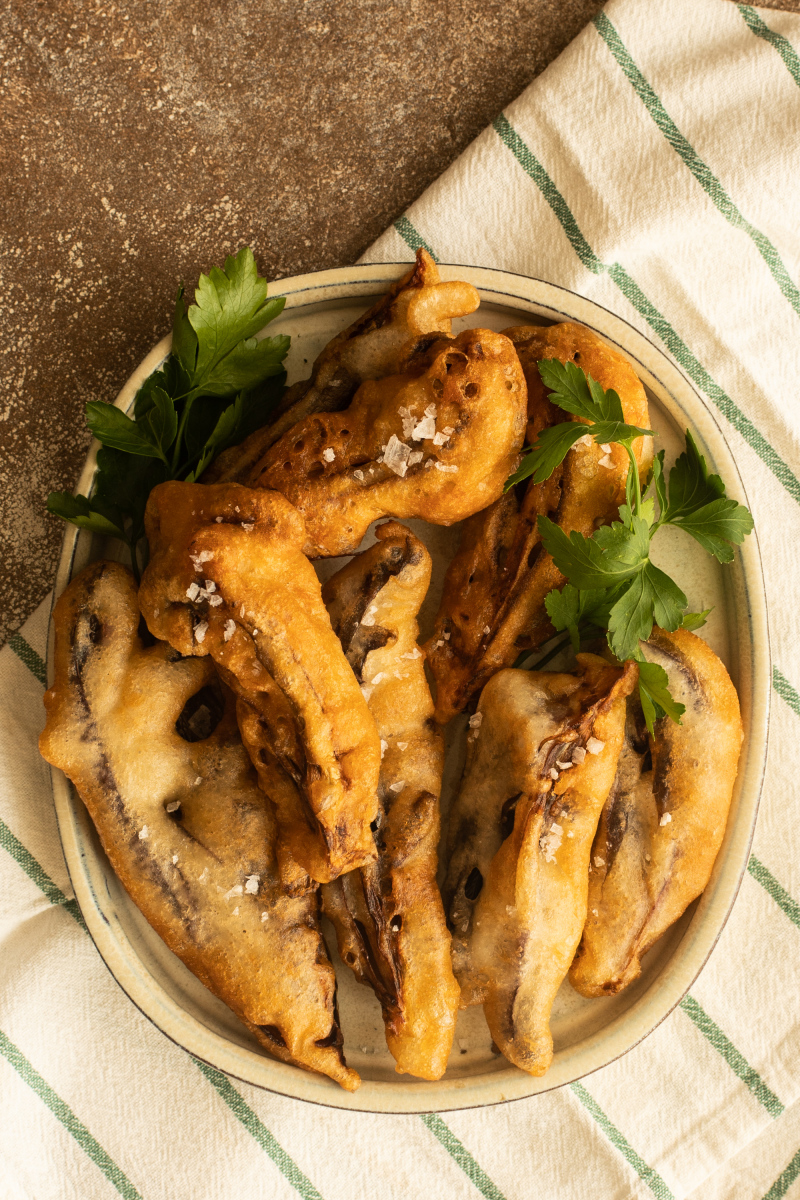 Steps
In a glass bowl mix the flour, water, a pinch of salt and the brewer's yeast: you will get a thick batter. Cover with plastic wrap and wait 30/40 minutes, then lift the bowl and take a look at the bottom: if you see many small bubbles, it is ready.

Now heat the oil for frying.
Wash and dry the radicchio then cut it into quarters, keeping the bottom intact so that the leaves remain attached: holding it by the bottom with kitchen tongs or your fingers, dip each quarter into the batter.
Let everything be well covered but let the excess flow.
Fry until the batter is swollen and golden on the outside, drain on kitchen paper and serve hot with a little salt flakes.