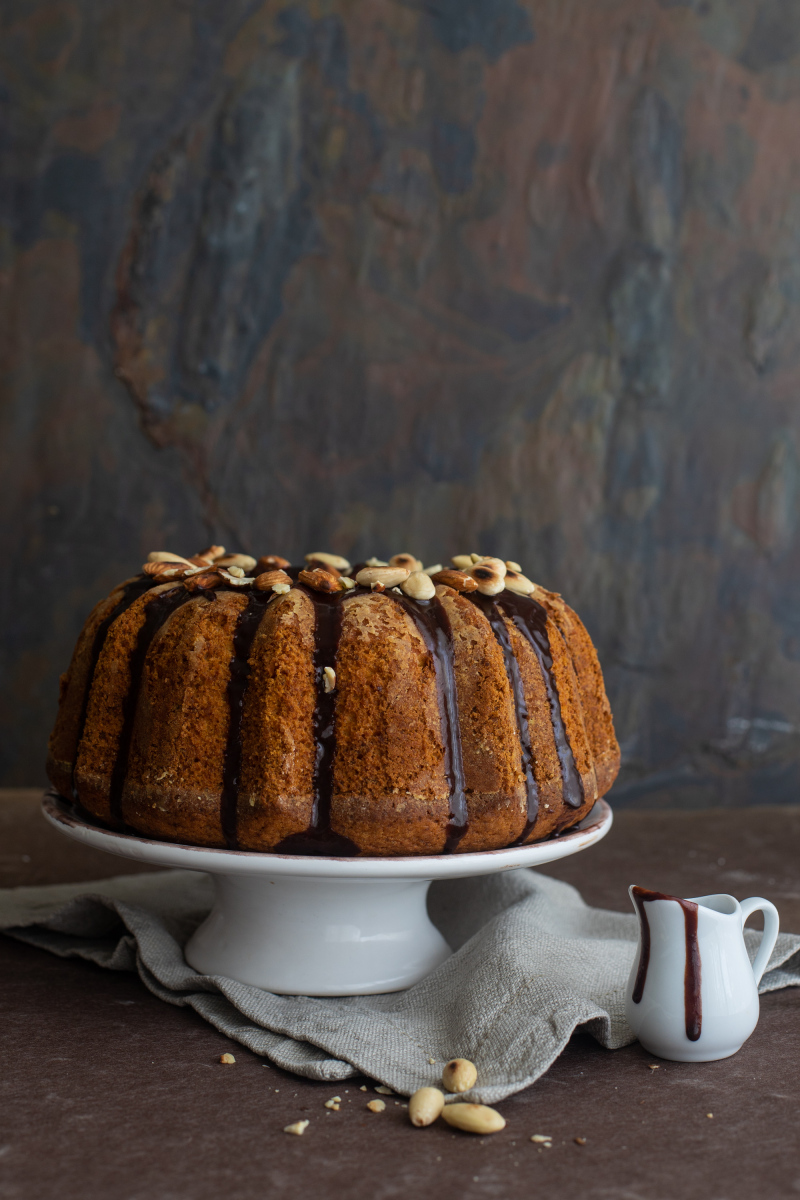 Ingredients
Sugar, 350 g
Eggs, 5
Pumpkin, 380 g (weight peeled)
Milk, 120 ml
Seed or rice oil, 150 ml
Cinnamon, 1/2 teaspoon
Orange or mandarin marmalade, 3 teaspoons
Dark rum, 3 tbsp
Flour 00, 420 g
Almond flour, 180 g
Salt, 1 pinch
Yeast for cakes, 1 sachet
For the icing:
Dark chocolate, 100 g
Sugar, 75 g
Water, 125 g
Butter and flour for the mold
The first real autumn day is when I feel my feet cold, I want a blanket when I sit on the sofa and I urge the need for cinnamon.
I know that now on the social networks this crunchy feeling of chilling, of cuddling in the warmth of our house and of scent of hot spiced chocolate is emphasized a lot, but for me it is really a magical season in the fall: I start walking again outside, covering myself well, I take pleasure in eating warm dishes and I like to light the oven to spread scents of cake and baked breads up to the bedroom, which will hang in the air accompanying us even in sleep time.
At this time of the year the pumpkins are at the peak of production and taste and for me it is an immense gift. I love to use pumpkin in the kitchen and I find that it goes perfectly with vanilla, nutmeg, sage, black pepper and of course cinnamon; the latter is mainly used in sweet preparations, just think of the Christmas cookies, but in Veneto on occasion it is also used in savory recipes. It goes very well with fruit, which is why it is delicious in apple pies, but I would like to say that its warm flavor also lends itself well to peaches, raspberries and pears. A pinch of cinnamon in a cup of warm milk will amaze you pleasantly, almost like in a beef stew.
Today I let the pumpkin and cinnamon meet to get a very high, almost imposing, moist and fragrant cake.
It's not difficult to realize if you organize yourself well with the ingredients, you'll see.
If you want to eat it for breakfast, it's perfect even dusted with icing sugar, but if you want to serve it with a cup of tea for an afternoon of chat, well, I'll leave you my friend Emanuela's chocolate glaze recipe and you won't be surprised when they will ask you for the recipe.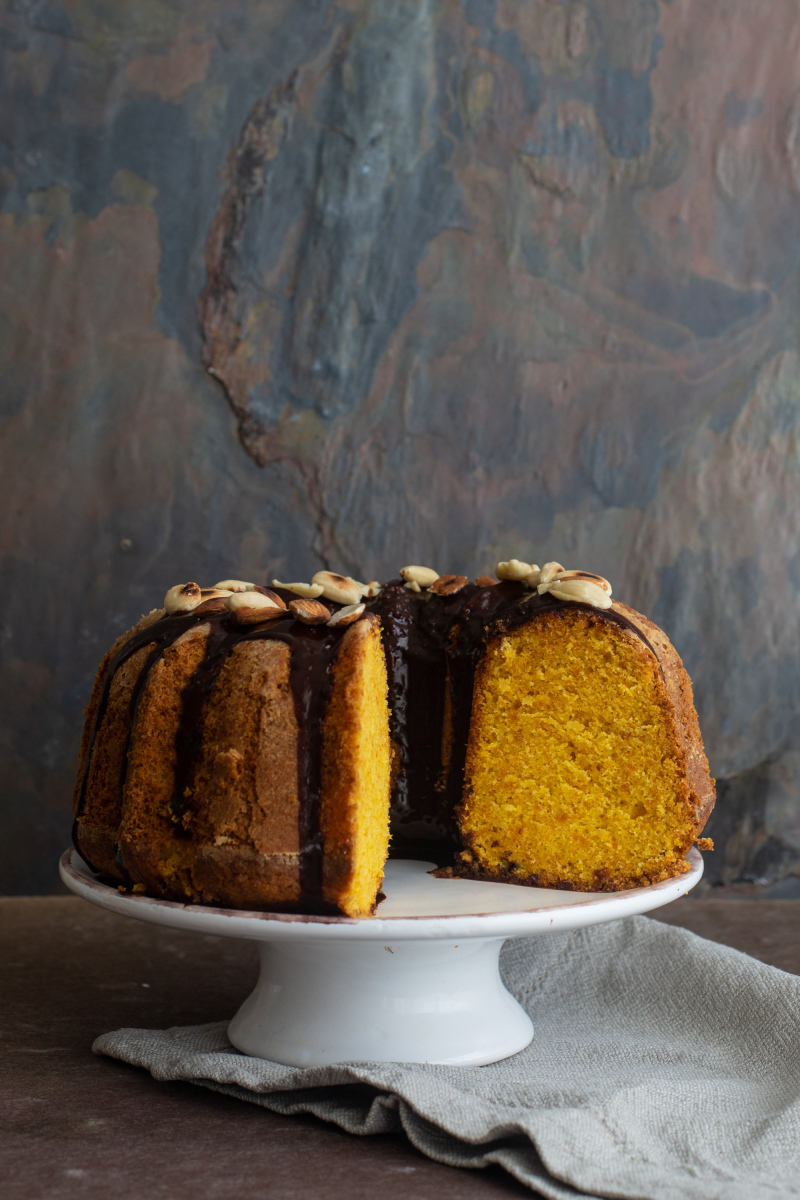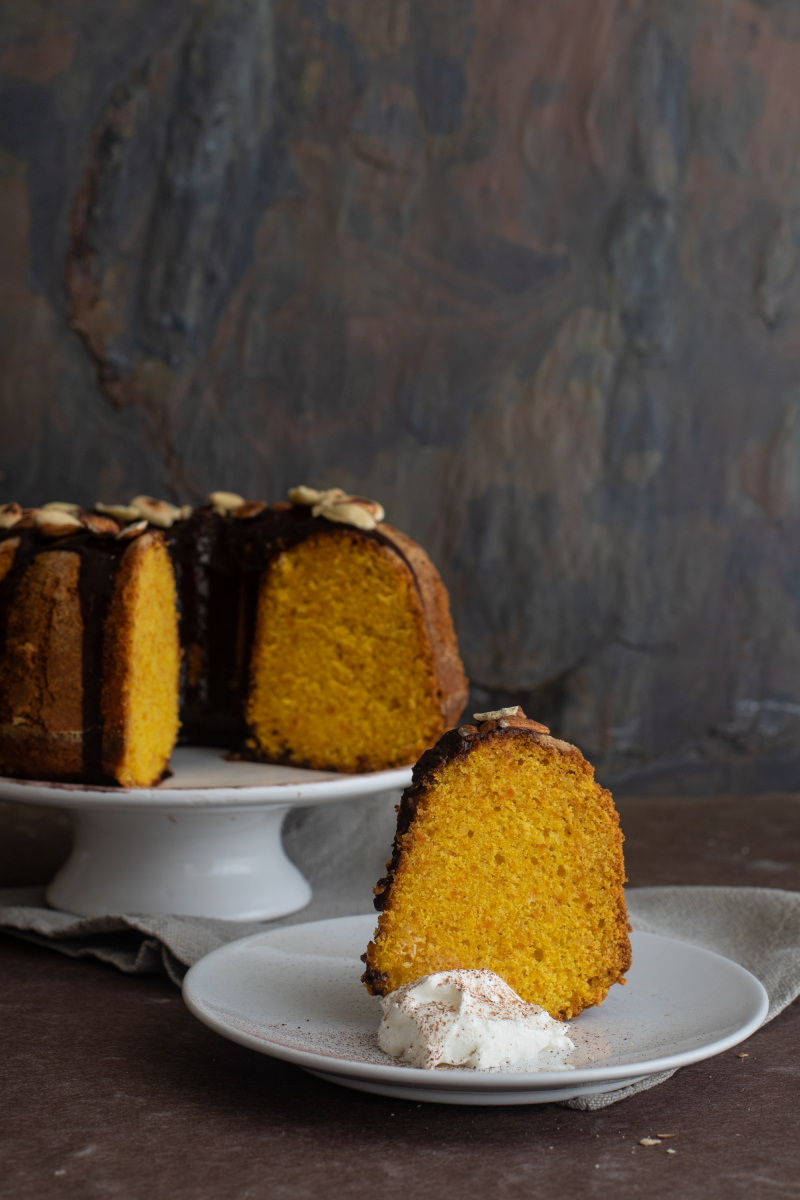 Steps
The dose is important because the classic bundt mold has a diameter of about 23/25 cm and is very large.
If you want to cook it in a smaller cake pan, you can halve the dose.

First, weight and prepare all the ingredients so it will be easier to bake the cake.
You can also already wash, peel and cut the pumpkin with a sharp knife in medium pieces.
Grease and bundle the bundt mold and put it in the fridge.
Prepare two large bowls.

Now that everything is ready, start by separating the eggs.
In a first bowl beat the egg whites until stiff and slowly add two tablespoons of sugar while beating, taken from the total.
In the second bowl, instead, pour the egg yolks, add the rest of the sugar and work with the whisk until they are fluffy.

Now put the raw pumpkin in a mixer with milk, oil, cinnamon, jam and rum and blend until you get a liquid cream: this will take some time and patience, until you see very very small orange dots.
Add the whipped yolks to the pumpkin cream, stirring slowly.
Now add the 00 flour, almond flour, baking powder and salt, stirring gently.
Finally, add the egg whites as well, mixing without disassembling.

Pour into the big bundt mold and bake for 45/50 minutes at 170 degrees, doing the toothpick test to see if it's also cooked inside before taking it out of the oven.
Before removing it from the mold let it cool very well.

For the icing:

In a saucepan, put water and sugar and boil slowly to obtain a syrup.
Add the chocolate pieces and move out of the heat, mix vigorously until it is melted, then put a few minutes on the heat again to obtain a viscous and uniform sauce.
Leave to cool a bit then pour on the cake.