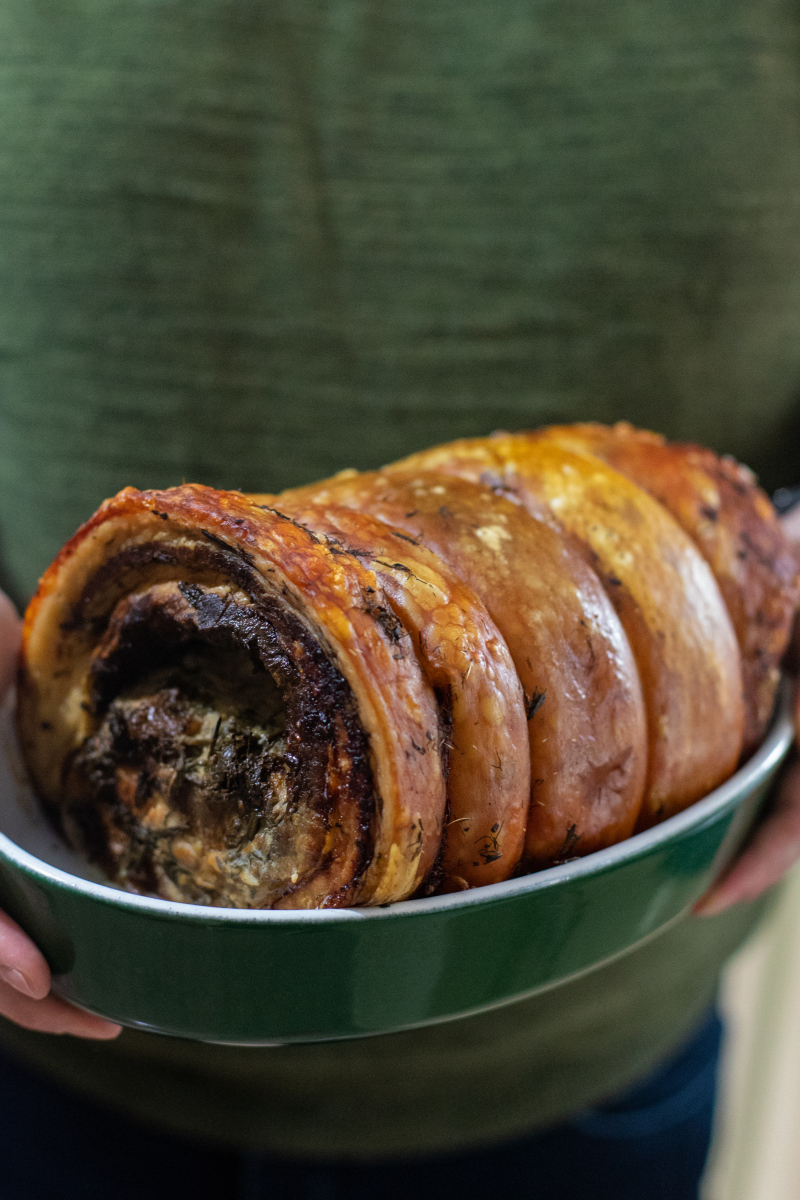 Ingredients
Pork belly with rind in a single slice, about 2.5 kg
Rosemary
Sage
Thyme
Wild fennel
Marjoram
2 cloves of garlic
Salt and freshly ground black pepper
Extra virgin olive oil
Time:
15 min. + about 3 hr. cooking time
I don't know exactly what my butcher thinks about me.
We have never been ourselves in conversations about what I do in life, but certainly I must have confused him. I still feel relatively young, by birth, from the height of my 36 years, but I make a butchery shooping much more similar to an eighty-year-old.
The fact is that his eyes get wider when I ask for liver or when I want the whole chicken, because I will get it boneless by myself: he even tried to propose to me to buy the stuffed chicken roll, which is already nice, but I declined. Maybe he doesn't see me able to arm me with a knife of considerable size and firmly remove every bone from the chicken, or maybe he thinks that the liver impresses me, I don't know: the fact is that I appreciate poor cuts much more than a fillet or a slice of juicy duck breast.

My passion for long cooking makes it easier, because even the most tenacious cut, if left to cook for a right time, becomes tender and appetizing: juicy stews to serve with steaming polenta, assobuchi that come off by themselves from the bone, pork shanks whose meat is transformed by the effect of marinating in beer or wine .. and I could go on like this for a long time.
Pancetta makes no exception: in a respecful barbecue, bacon slices are never missing, which we roast over the fire until the fat drips down and leaves spaces for those small pieces of very soft meat.
But, until now, I'd never tried to cook it whole like a roast.

Thanks to the advice of my Tuscan kitchen-life support group, I bought a nice piece of pancetta (pork belly) with rind (which is essential) and a lot of meat attached: there is absolutely nothing difficult in this preparation, because it is seasoned in a few minutes and then the oven does the rest of the work ... I just had to stay in adoration and move the timer a little further in, because it took almost three hours of cooking.
It's important to choose fresh herbs and do not be afraid to abound: with a small expense of meat you will get portions for a dozen people, with them and your great satisfaction.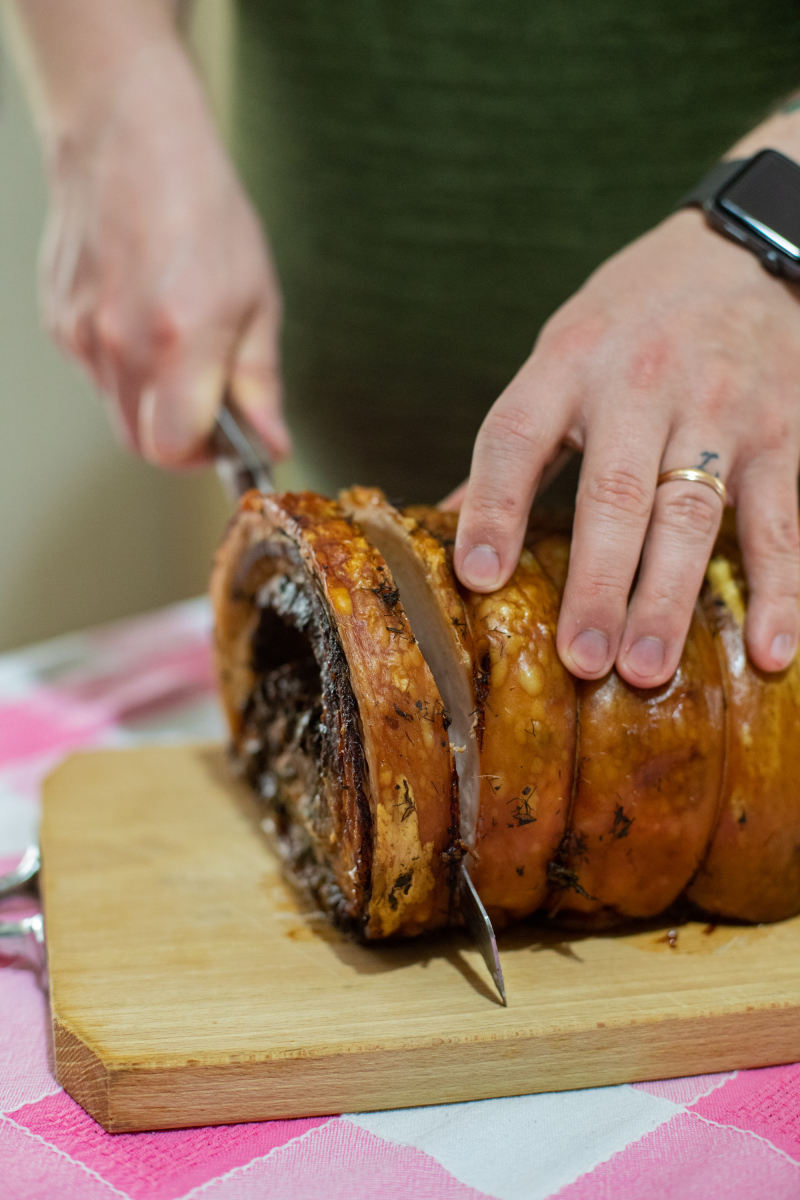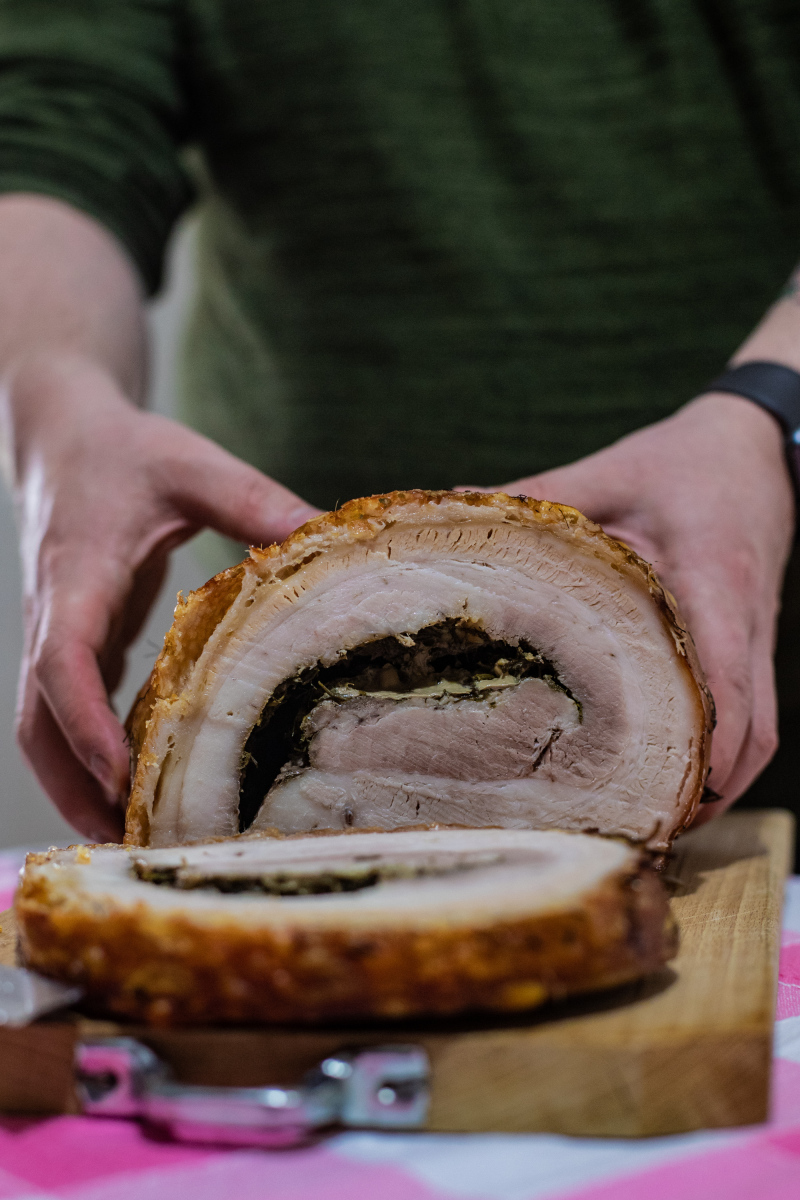 Steps
Check if there are no animal hairs on the rind: in that case, burn them on the flame over the stove

Cut all the herbs and garlic in a fine mixture, then add 2 teaspoons of salt, 2 tablespoons of oil and freshly ground black pepper as you like.
You can also do this in the mixer, if you want, putting everyone in at the same time.

Season the bacon both on the side of the meat and on the side of the rind, massaging the herbs well, then roll up and tie with some kitchen string, as if to get the shape
of the porchetta. Leave it in the fridge for a couple of hours to marinate.

When it's ready to b cooked, wait until it has returned to room temperature, place it on a baking sheet with some oil on the bottom and put a meat thermometer in the heart.
Cook at 200 degrees for about 3 hours, but check when it comes to 75/80 degrees: that's the perfect point.
If the rind tends to cook too much, lower the temperature of the oven a little or cover it with aluminum foil.

You will slice it more easily when cold, but it is good to eat it hot: I advise you to slice it thinly, then cut it into pieces and heat it in the oven for a few minutes, covering it with aluminum to prevent it from drying out.