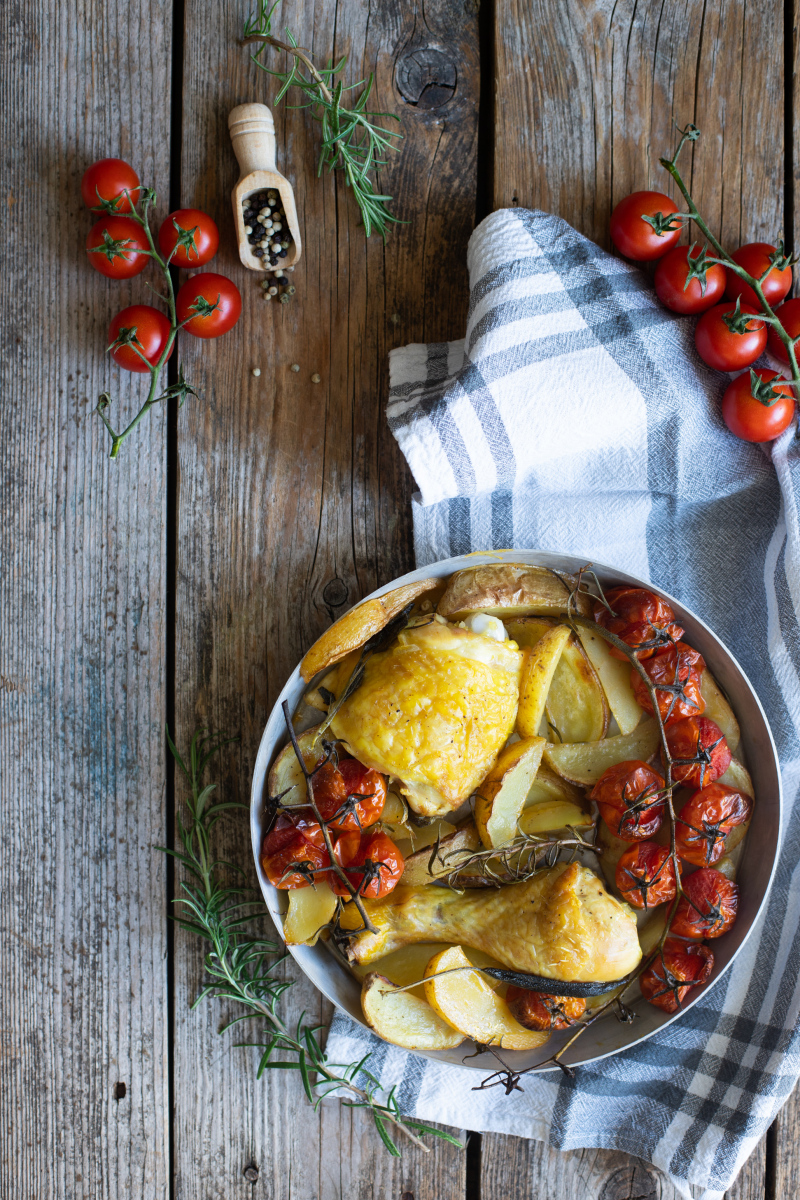 Ingredients
Chicken, 4 pieces
Datterini tomatoes, 10
Potatoes, 3
1 sprig of rosemary
Some sage leaves
Extra virgin olive oil, 4 tablespoons
Fine salt and black pepper
Every morning I spend almost the whole 45 minutes journey to work on the phone with my mother, we update and talk about this and that: this morning she informed me that she must go the supermarket for buying food for the next week, when we will host for the weekend my uncles and cousins ​​who come to visit us from Turin but will not go the day of the offer with 10% discount on all the shopping, because it will be crowded, as every time, with epic scenes of swollen carts, people wandering among the departments in a resolute way in search of the product to be stocked, endless queues at the checkout.
I would like to buy food at the market, wander through and be able to choose the goods on display: I cannot. Working for 8 hours a day, in conventional time, I would never find a night market ... even if it would be a good thing, right?

What makes me think, however, is for what people argue that 10% discount: frozen foods, prepared food, packaged cold cuts, gastronomy. And still many cordon bleu, sofficini, risotto-ready-to-go in an envelope and dried vegetables soups.
Putting something appetizing over the table every day can be a challenge, even sometimes from an economic point of view but I thought we had enough of semi-prepared food, pre-fried, predigested, that in recent years the food consciousness has really changed a lot better.
But in fact fresh food, to be stowed, require work: if you buy a bean case, you have to work and then freeze them, if you buy a lot of strawberries, you have to turn them into jam to preserve. And time is lacking for many and not everyone loves spending the weekend in the kitchen like me.
And then I feel even more lucky to have an empty freezer, because I could choose fresh food and because I found time to cook it.

Lover of the kitchen, but not a martyr in the kitchen... so now I have a trick to cook dinner when I have no time or desire: I put everything in the oven. And this chicken with potatoes, great classic, I always prepare it that way.
Minimum work, great result though.

NOTES

I recommend you two books today:

- "Fifty shades of chicken. A tasty sexy parody "by F.L. Fowler, a funny parody of the most famous sexy saga of the 50 shades. The recipes of the book, all based on chicken of course, are not however a joke: balanced and innovative, unpredictable flavors. I've already tried some, I also really liked them.

- "Sheet pan suppers" by Molly Gilbert: for those like me who are fascinated by the oven fired dinners, with that ingredients that after cooking reveals a greedy, satiating and comforting mix, always for the principle of minimum work, great result.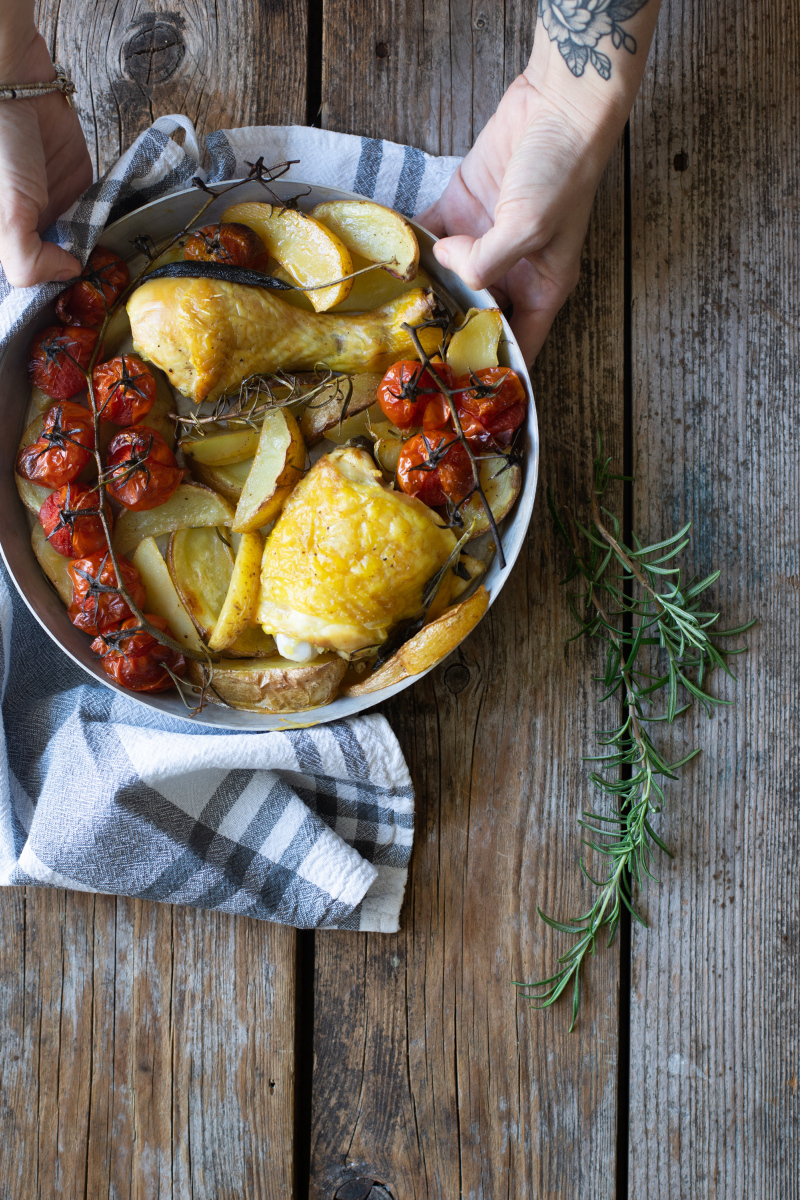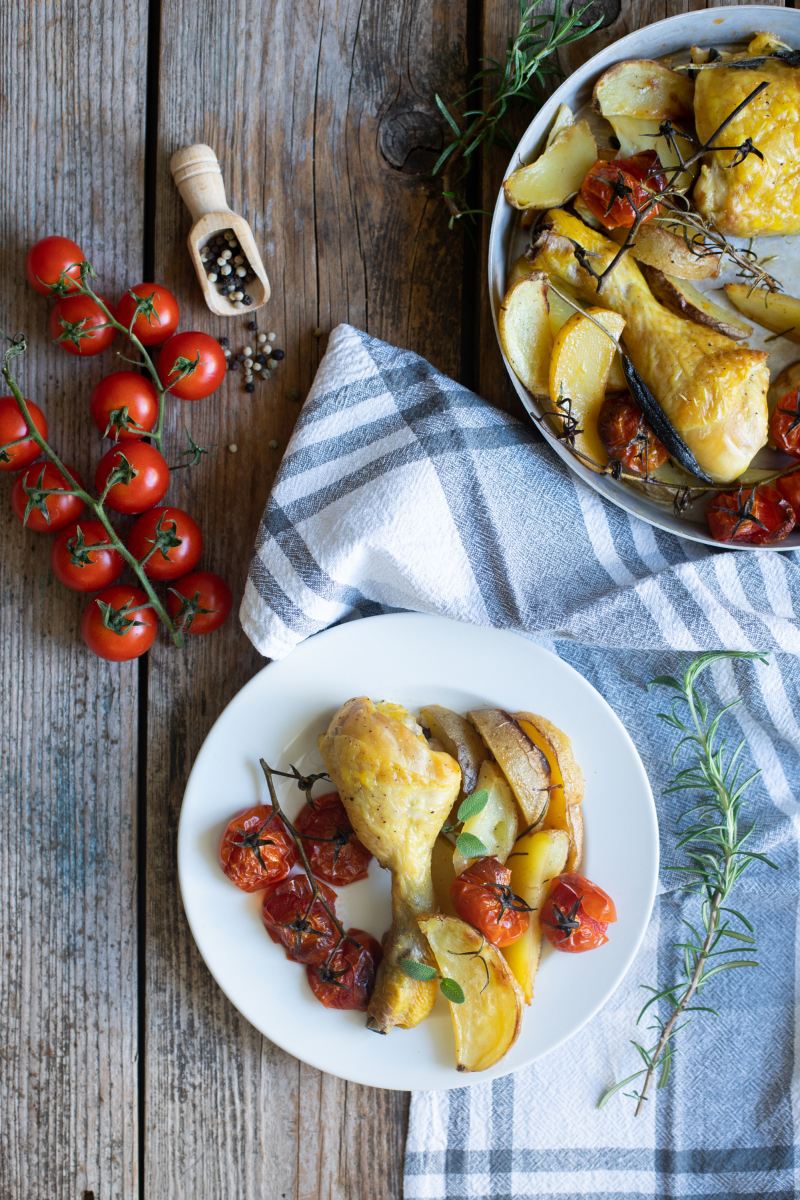 Steps
First, cover a pan with parchment paper.

Peel the potatoes and then cut them into medium-sized pieces.

Wash the tomatoes and, if you can, not remove them from their twig.

Place the pieces of chicken on the oven pan, add the potatoes all around and place the tomatoes in the empty space.

Season with oil, a generous pinch of salt and pepper: before putting in the oven add sage and rosemary then cook for about 1 hour, or a little more, at 180 degrees.

Check the cooking of the chicken by cutting it near the bone, where there will not be any red traces of blood and the meat must be white and firm.