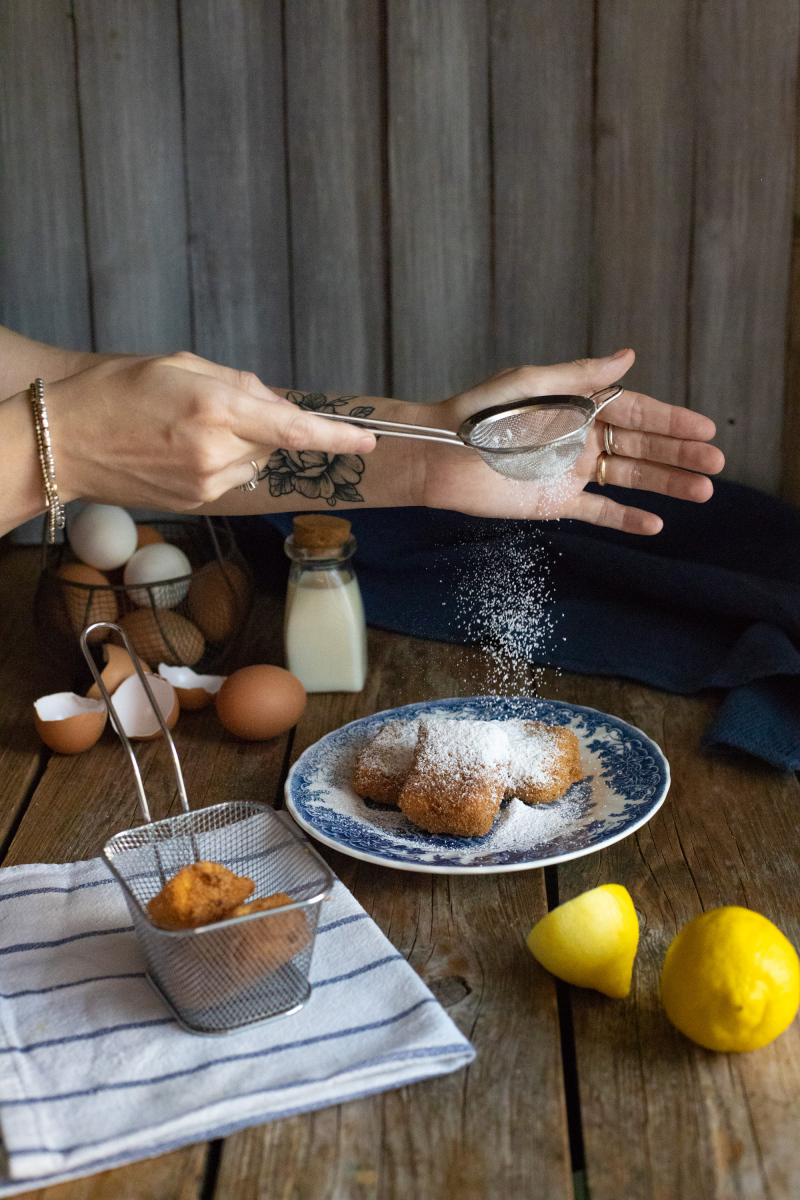 Ingredients
Milk, 1/2 litre
Egg yolks, 3
Caster Sugar, 100 g
Corn Starch, 40 g
White flour, 40 g
Grated zest of half lemon
Cinnamon
To bread and fry
Eggs, 2
Breadcrumbs about 100
Oil to fry
To serve
As a child I asked countless times to my mother and my grandmother to prepare the fried cream, but I have not been satisfied even once.
I was fascinated by this sweet probably after reading it in one of the very vintage cookbooks that my mother kept in the living room bookcase, with those dishes photographed so close, full of 80s decorations and aspic in jelly, with plastic backs and the funny writing, but so real and not very glossy.
I looked forward to these delicious crunchy bites in the outsid, with a soft inside, which are also part of the culture and history of Veneto ... I imagined it was not so different from the preparation of fried polenta that was so normal to find on the table on holidays.
The reason for the "no" in short, I've never understood: I think they thought it was too laborious or maybe they did not see it as a "normal" dessert, where for normal I mean a fruit tart or an apple pie.
And yes, in my house we have never been excessively healthy and we have never demonized a fried dish well done and with the correct frequency: my sister and I were eaters of snacks, sofficini and pizzette cooked in the toaster, with that smell of burnt plastic every time some cheese dripped onto the hot bottom.
Remembering the "no" received, I decided to prepare the fried cream on my own: comforting and relaxing to wait for the cream to thicken on the fire, slowly simmering, scraping the bottom with a wooden spoon to prevent it from sticking and wait until it is thick enough to veil with conviction the back of a spoon.
Then a good rest, which tests your patience and your throat, while the cream cool down and prepares for breading and dipping in boiling oil.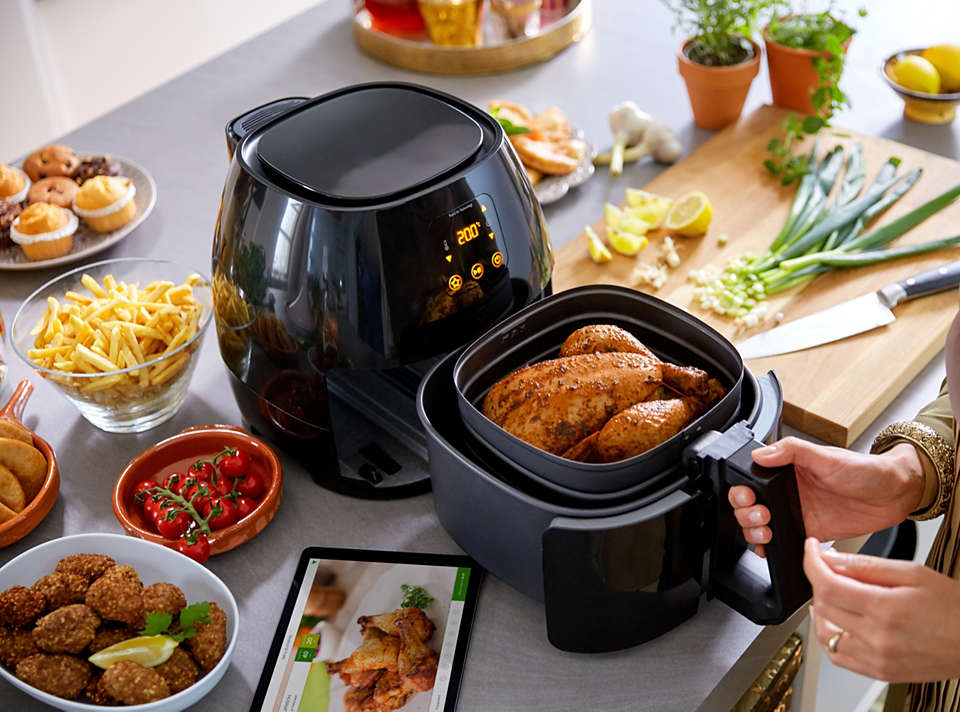 I still remain a great gourmand and I do not disdain a fry well done, in good oil, at the right temperature: but to have something fried sometimes more I have to choose an healthier and lighter alternatives.
Philips AirFryer, an innovative
air fryer
that with its Rapid Air system fry perfectly with a minimum amount of oil or fat, helps me. With Airfryer you can also forget about the pan: it gets so much less dirty, the temperature is perfect and controlled and therefore the food is cooked in a uniform way, the air circulates giving way to foods to brown and create that delicious outdoor crust.
Do not forget that it is also a safer solution, especially if there are children in the house and a container full of hot oil as the fryer is not really your first choice, and it is also cheaper as a cooking method because instead of 3 liters used in media you will only need ... a teaspoon of oil for each fry. In the case of fried cream I find it perfect, to avoid mistaking the temperature of the oil and to find myself with an oily dessert: I think there is nothing worse than an oily fried dish, especially when sweet. The end result is a crispy outside and deliciously soft inside, equal to what you would get with frying in the pan but without burned crumbs.
You will also notice that Philips AirFryer is a complete appliance, also effective for baking, roasting and grilling, so you will use it for a lot of other preparations.
I go to prepare the fried cream and put the kettle on the fire to prepare a good green tea to accompany it.
And phone my mother and my grandmother, to tell them that I offer him a couple of delicious, hot and crispy turbot like they have to be.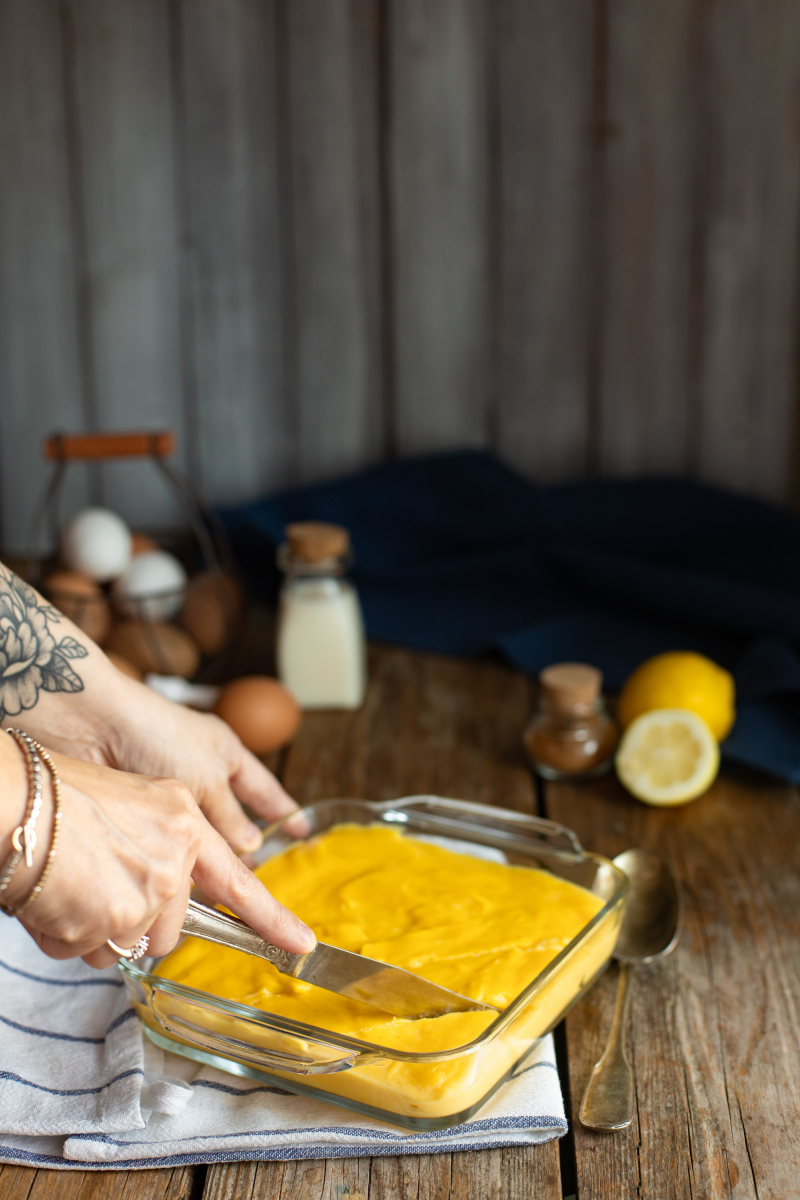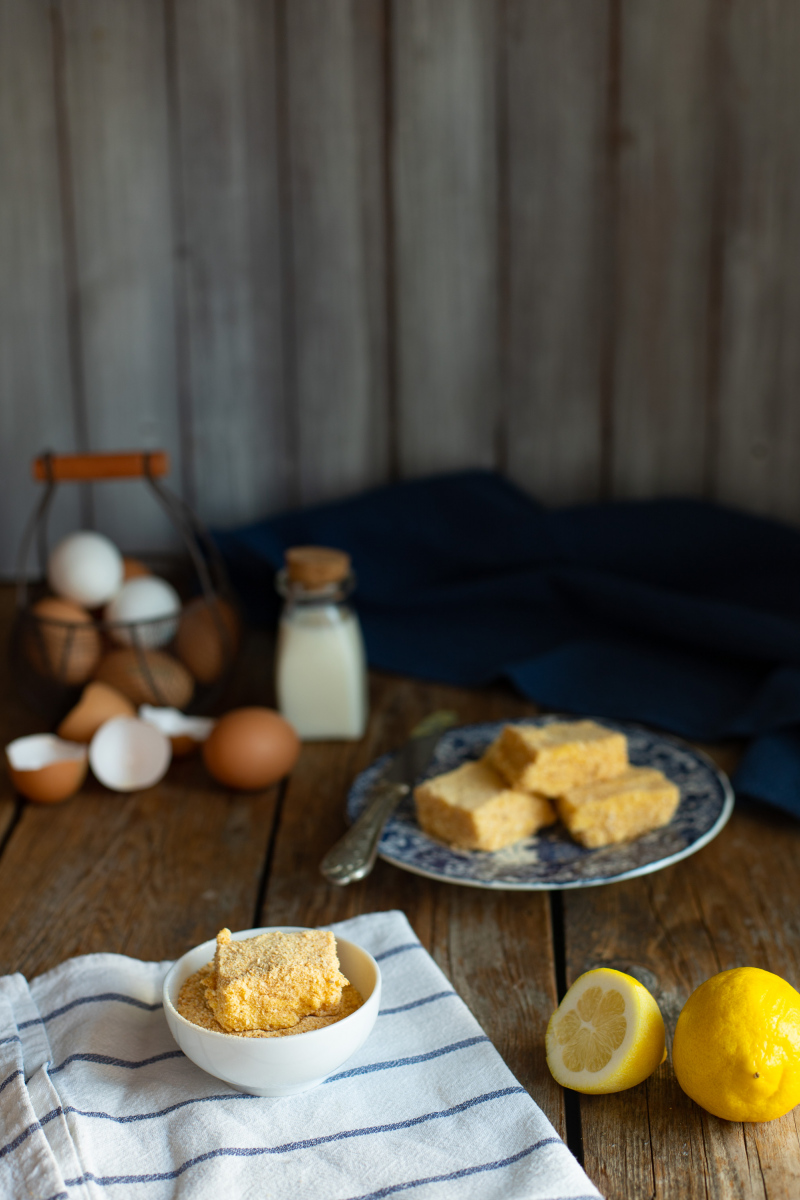 Steps
Place a saucepan on the stove and heat the milk.

Meanwhile, in another saucepan, mix the egg yolks, sugar, cornstarch, flour, lemon zests and a good pinch of cinnamon with a whisk.
Turn on the heat and continue stirring to add the milk.
Never stop stirring, otherwise that is when the lumps will form or the cream will stick.

Once thickened very well, pour the cream into a baking dish (better if glass made) and allow to cool at room temperature for at least two/three hours,

When the cream is cold, heat the oil in the pan then cut the cream into squares (tradition would like to rhombus, but do as you prefer!):
pass it in the two slightly beaten eggs, bread it on each side with breadcrumbs and fry quickly, bringing it to browning.


Serve hot with powdered sugar or rolled into caster sugar.